Slim and portable is the contest when it comes to productivity laptops, with many of the big names pushing for devices that are unbelievably thin, without compromising performance and battery life.
The HP ENVY X360 is a perfect case in point. At only 12.07 x 8.45 x 0.59 inches, this is one of the most compact laptops I've ever seen and used. Don't let its size fool you though, as this productivity powerhouse has more than enough tricks in the hat to keep you interested.
Design and Build Quality
The HP ENVY X360 is a rather straightforward looking laptop. You get a dark finish with a glossy HP logo on the lid, some badges on the lower right side, an ENVY branding, and that's it.
Sometimes, keeping it simple is the way to go. And in this case, it works very well. You can safely take this laptop to any cocktail party, to your morning business meeting, and even for a trip to the nearest cafe. It keeps things simple, yet elegant. It's not a device that screams "Oh yes, I'm powerful, compact, and I've got a shiny badge," but is rather relaxed; that's a plus, at least for me.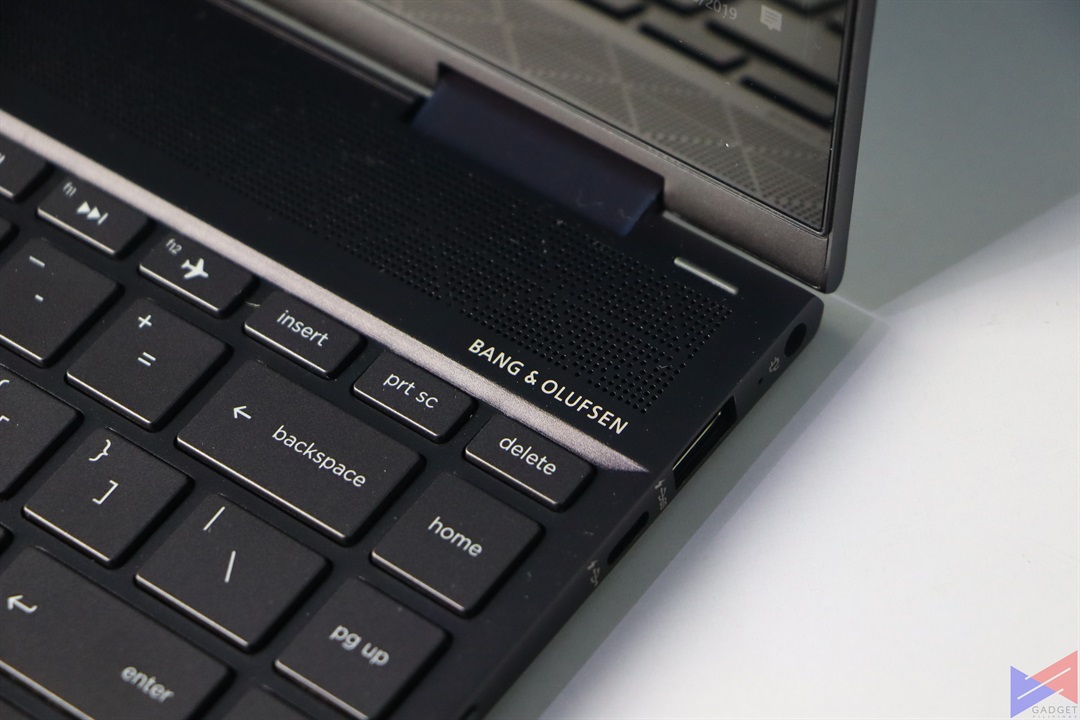 Just below the screen is the Bang and Olufsen speakers, which actually sound good, with a good balance of bass and clarity that fits most genres of music, and is are loud enough for a small room. We expected a lot from Bang and Olufsen, and it delivered fantastically on this laptop.
Oddly, HP has decided to place power button on the left side, which is pretty unconventional. It's illuminated, at least. There's also a USB 3.1 port, an exhaust grill, and a microSD card reader. On the right side is another USB 3.1 port, a USB Type-C port, a volume rocker, and the power port. I know, that's not a lot, but at least it's enough for a mouse and a storage device.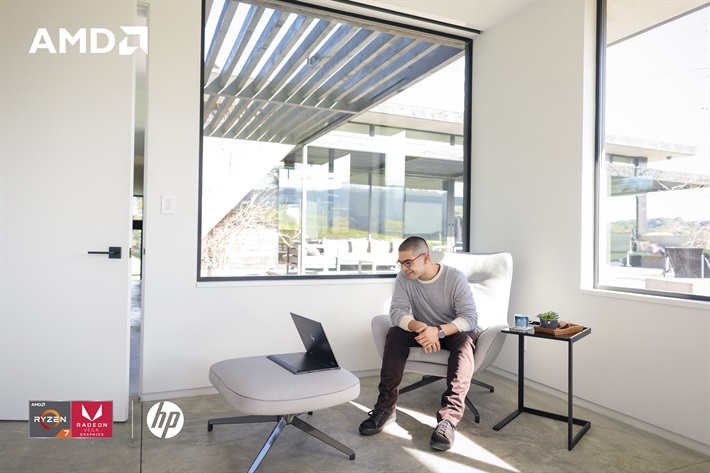 The keyboard isn't anything special, but is quite comfortable to type on. It's responsive, and there's just enough space between each key to minimize unintentional keypresses. It's backlit, which is very helpful when using it at home, say when its lights out time already, and someone's sleeping beside you.
Talk about the display, you get a 13.3″ FHD IPS micro-edge WLED touchscreen with satisfactory brightness. The bezels aren't as thin say as the ones in the ZenBook 13, and a few millimeters off the top and bottom would've been nice though. It's not distracting or anything that ruins the experience.
Performance
The HP ENVY X360 is also compatible with Windows Hello. Facial Recognition works extremely fast, which is very convenient as you no longer have to remember passwords. This is a feature that some consumers might find important and useful.
When working in tablet mode, the screen isn't the most responsive that I've used as it still occasionally misses input. It's enough to give you a decent writing experience using the supplied pen, which has two dedicated buttons that are used to, for instance, erase writings or doodles.
Moving back to the hardware, HP ENVY X360 is powered by an AMD Ryzen 7 2700 quad-core processor, backed by 8GB of DDR4 2400 SDRAM, and a 256GB PCIe NVMe M.2 SSD. For graphics processing, it boasts an AMD Radeon RX Vega 10.
We compared the HP ENVY x360's with the ASUS ZenBook 13 using 3DMark:
Cinebench R30 (CPU)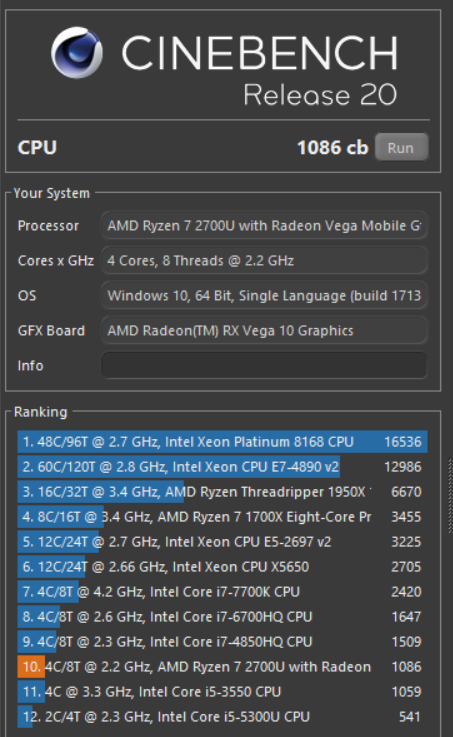 With real world usage scenario, HP ENVY X360 is also capable of handling slightly heavier workload than your usual suite of word-processing and spreadsheet such as basic video editing. This is what AMD Ryzen 7 2700U can offer to the table. You don't need to spend much on computing and – in this case – writing device that delivers outstanding performance without spending too much.
As you can see, the HP ENVY X360 doesn't fall behind too much against the ASUS ZenBook 13 in terms of benchmark results, considering that their competitor's laptop is slightly more expensive. This, again, shows another impressive selling proposition of the HP ENVY X360 with AMD Radeon RX Vega 10 – value for money. 
Crystal Disk Mark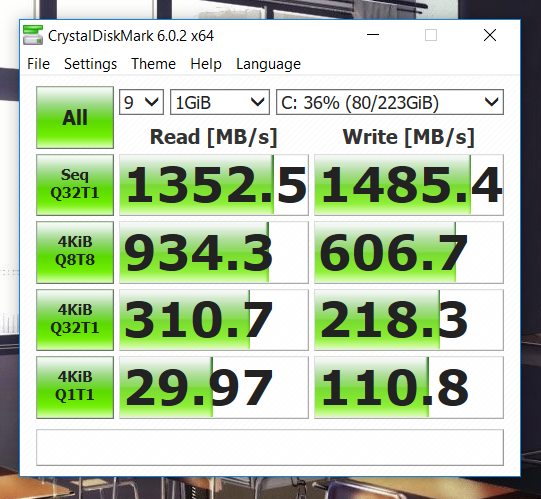 Read and write speeds are as fast as expected from an SSD, As such, the laptop is also quick to boot up.
We also tried to play Dota 2 on it, and HP ENVY X3600 performed decently, though at the fastest preset (lowest setting). Thermals were also well-managed as the GPU temperature only peaked at 69°C.
Software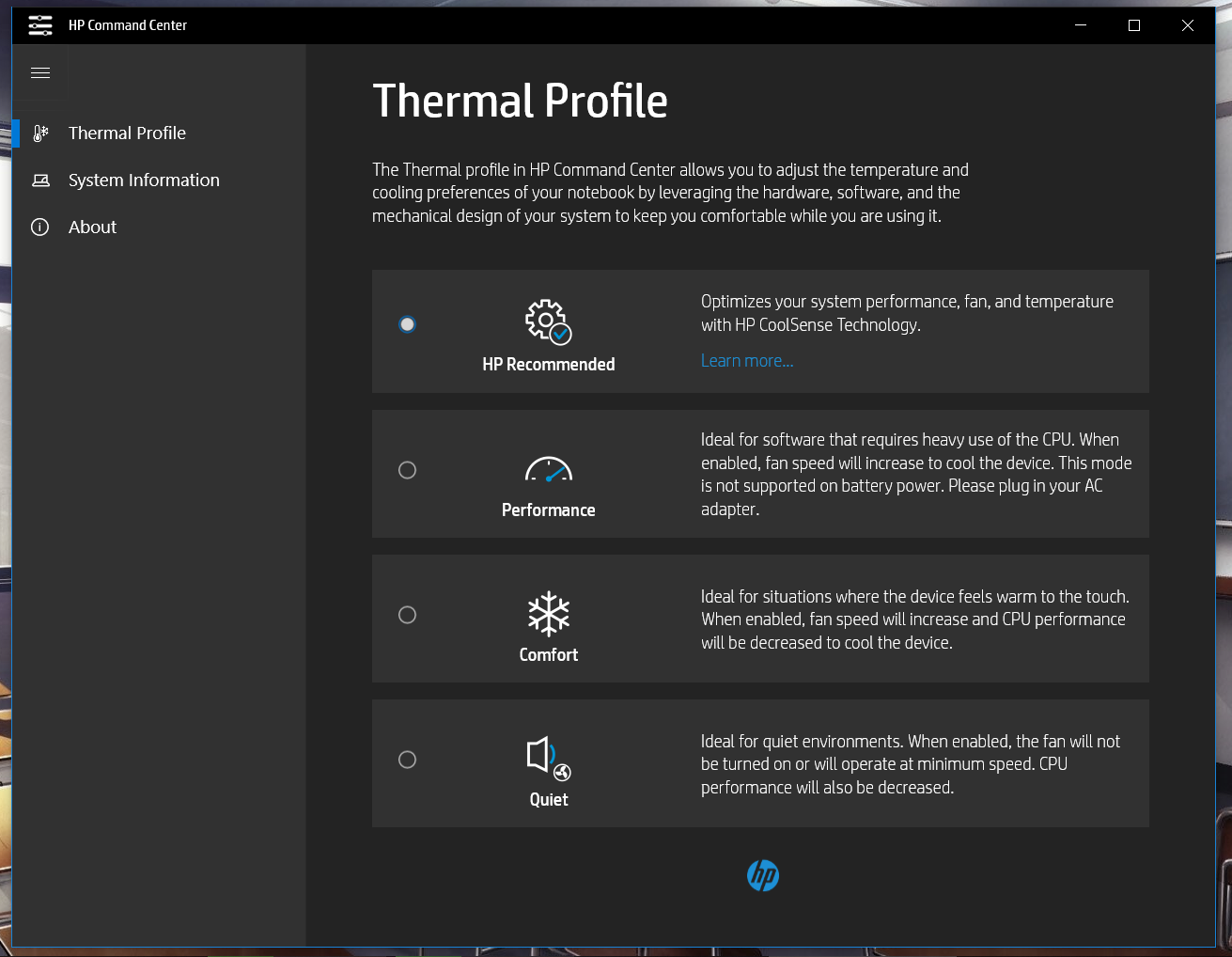 HP ENVY X360 runs on Windows 10, and you do get a bunch of pre-loaded HP apps, which include Command Center that basically serves as a central hub for managing Thermal Profiles, and viewing system information.
There's also the Bang and Olufsen Audio Control app, which lets you adjust all sound-related settings, and even tune the sound signature to your liking.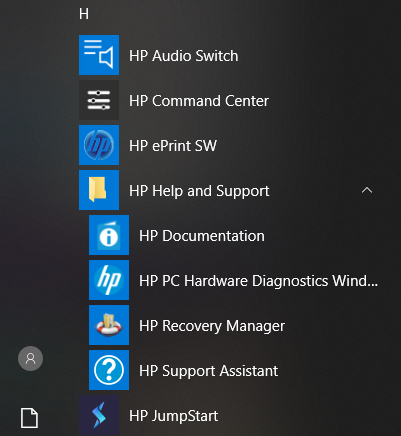 Apart from those, everything is pretty much Windows Default.
Battery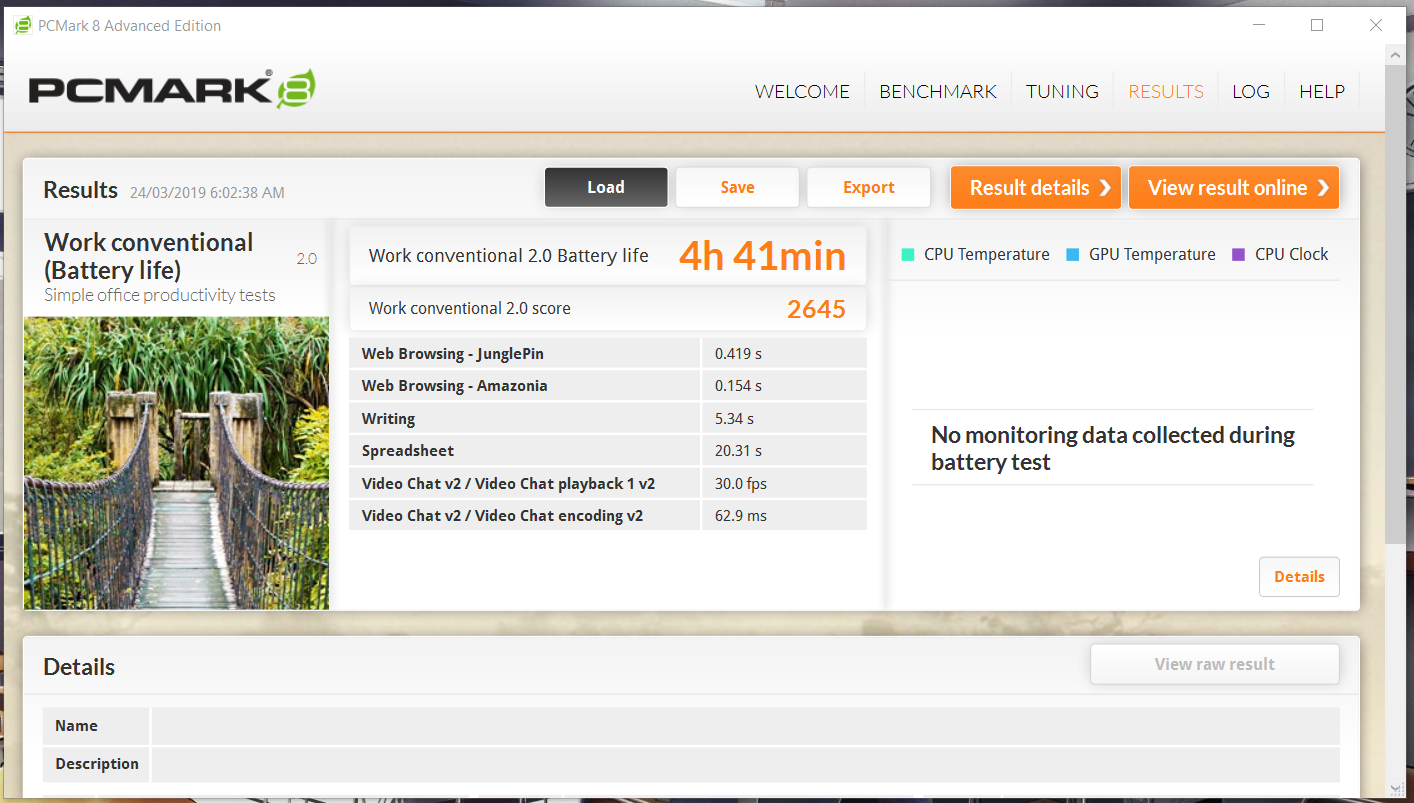 At 50% brightness and 80% volume, the HP ENVY X360 managed to yield almost 5 hours of uptime in a single charge, which is pretty decent, considering how compact it is.
Verdict
HP ENVY X360 is a well-rounded companion that takes your work seriously with its performance and looks. It allows you to have a bit of fun after the meeting, as you can still play games on it. As a tablet, it still needs work on reading inputs from the pen, but using your fingers to navigate websites using the touchscreen is quite an enjoyable experience.
It's however, a complete joy to use as a laptop. The keyboard is comfortable to type on, the screen is bright enough, and its speakers
are also among the better ones I've tested. The latter gives you great sound quality that's loud enough for your small room.
It does suffer from a shortage of ports. It's most likely a design limitation, but one more USB port would've made it a sweeter deal. Performance-wise, it handles your typical office workload, even basic video editing, and can also play a few games. Oh, and it's got decent battery life as well. All, in all, HP ENVY X360 should be on your list if you're looking for an ultra-compact laptop that has a good combination of performance and looks.
[su_spoiler title="Disclaimer" style="fancy" icon="plus-circle"]HP is an advertiser of Gadget Pilipinas.[/su_spoiler]
Emman has been writing technical and feature articles since 2010. Prior to this, he became one of the instructors at Asia Pacific College in 2008, and eventually landed a job as Business Analyst and Technical Writer at Integrated Open Source Solutions for almost 3 years.