Today, we'll be doing a performance comparison (by means of gaming) between two of the most sought out mid-range phones in the market, made by two of the most prominent brands in the country.
Both the Samsung Galaxy A50 and OPPO F11 packed with capable hardware and features that promise a premium experience for a price that won't break the bank. The Galaxy A50 for example, has a triple rear camera system, and an in-display fingerprint sensor. The OPPO F11 on the other hand, has VOOC 3.0 flash charge technology.
The OPPO F11 retails for PhP15,990, while the Galaxy A50 is at PhP17,990. The question is, is that difference really worth it? or are you getting the same or even more, for the more affordable option?
Specifications
| | OPPO F11 | Galaxy A50 |
| --- | --- | --- |
| Display | 6.5" FHD+ IPS | 6.4" FHD+ Super AMOLED |
| Processor | Helio P70 (Octa) | Exynos 9610 (Octa) |
| RAM | 6GB | 6GB |
| Storage | 64GB | 128GB |
| Rear Camera | 48MP + 5MP | 25MP + 8MP + 5MP |
| Front Camera | 16MP | 25MP |
| OS | Android 9 + ColorOS 6 | Android 9 + One UI 1.1 |
| Battery | 4,000mAh | 4,000mAh |
Benchmarks
Before we get into the gaming part, let's compare the two phones on Synthetic Benchmarks – AnTuTu and Geekbench 4.
There's about 5,000 points difference in the A50 and F11's scores in AnTuTu, but daily performance says otherwise. Both of these phones deliver a great user experience for typical tasks such as email, web browsing, social media, music, videos, and photos. The software in both devices is also well-optimized, and runs fluid and smooth.
The Exynos 9610 on the Galaxy A50 has a slight lead over the F11's Helio P70 in multi-core performance, while the latter is slightly better in single-core performance.
Of course, these benchmarks don't always reflect real world performance, so we decided to play a few games with both phones, to see which one's the better gaming device. Using Gamebench, we'll be able to measure actual FPS, CPU usage and more. We'll be playing three games – PUBG Mobile, Mobile Legends and Real Racing 3.
PUBG Mobile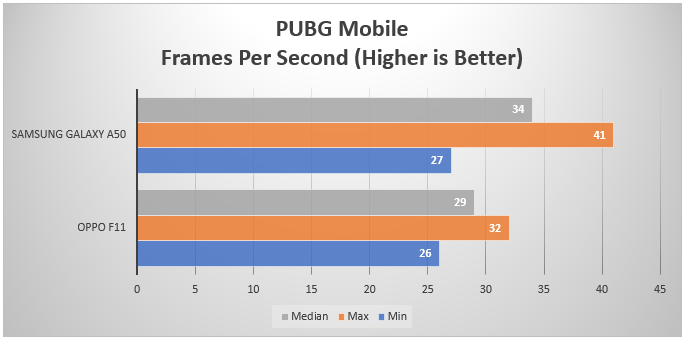 For PUBG Mobile, the OPPO F11 was tested at HD + High Frame Rate setting, the highest it could go. Surprisingly, the Galaxy A50 was also tested at HD quality, but can be cranked up to Ultra Frame Rate setting. In fact, quality can even be set to HDR. Both were tested with Anti-Aliasing OFF, and Shadows ON.
In this game, the Galaxy A50 delivered a better experience with smoother animations and movement, passing the 30 fps mark in average FPS. Don't get me wrong, the OPPO F11 also handled the game well, but visuals were less fluid, and compared side by side, the game just looks better on the A50 in general.
Mobile Legends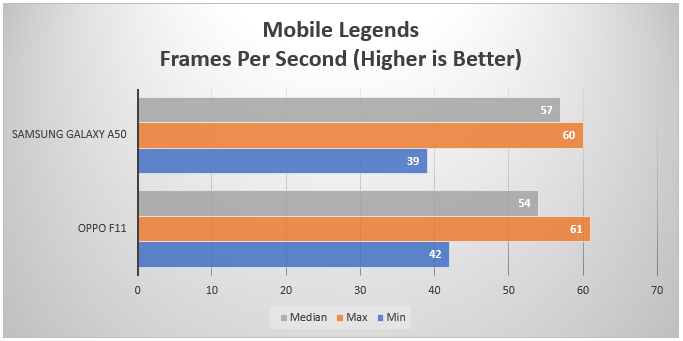 Of course, why will we forget the game that everyone, or at least so many loves, Mobile Legends. While It's a known fact that the game is optimized to run decently even on lower-end devices,  having that HD display and High FPS setting makes a lot of difference, and not every device can handle that feature.
Fortunately, the option was available for both the F11 and Galaxy A50, and performance-wise, both ran the game smooth and fluid, like butter, with all settings cranked up to the highest.
Real Racing 3

Real Racing 3 isn't exactly the most demanding game out there, but It's one of those which can explicitly show the difference in performance. In this case, the F11 did suffer from a few frame drops, while the A50 noticeably handled the game much better, with minimum FPS not dropping below 40.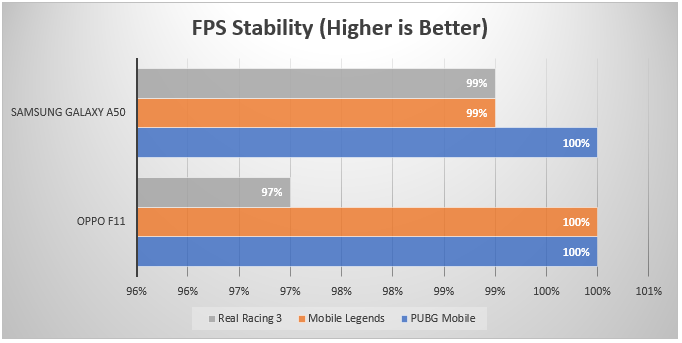 Of course, what good is it that a phone can play a game at high FPS, if it can't sustain it? FPS stability is the amount of time that the actual FPS was very close to the median. In this case, the Galaxy A50 aces the test, with 99% stability on Real Racing 3 and PUBG Mobile, and 100% on Mobile Legends.
The OPPO F11 also does an excellent job at maintaining optimal performance in Mobile Legends and  PUBG Mobile. It does however, fall a bit short on keeping up with the action on Real Racing 3. But hey, 97% isn't bad at all. It's just that that dropped frame might occur at the wrong moment, say when you're about to win a race.
Verdict
Against the slightly more expensive Samsung Galaxy A50, the OPPO F11 still did well on every game we threw at it well. Fine, you won't be able to crank that FPS setting to Ultra on PUBG Mobile, but the experience is still enjoyable. and the two actually perform pretty much the same in Mobile Legends and Real Racing 3.
So, if FPS is everything to you in PUBG Mobile, and you don't mind the price difference, by all means, get the A50. Otherwise, the OPPO F11 still offers a great gaming experience, for slightly less.
Emman has been writing technical and feature articles since 2010. Prior to this, he became one of the instructors at Asia Pacific College in 2008, and eventually landed a job as Business Analyst and Technical Writer at Integrated Open Source Solutions for almost 3 years.