Unlike other brands with 6 months iteration, Samsung sticks with annual follow-ups to its flagship Galaxy series. As the first smartphone announced with the latest flagship Exynos or Snapdragon SoCs, the Galaxy S Series' follows an order to set the trend, if not dominate the industry during the 1st quarter of a new calendar year.
Samsung Galaxy S10+, its titular flagship device in the series, positions Samsung as a major innovator in the industry. While some of its features are not apparently alien to consumers, Samsung presents them in a very marketable way and fortunately devoid of misrepresentation and exaggeration.
Design and Build
The Galaxy S10+ is a smaller and lighter iteration of the Galaxy S9+, but its screen-to-body ratio has drastically increased by almost 5%. With the new Galaxy series, you're getting a smaller phone but with a bigger screen real estate. Therefore, you're given a wider space to consumer media and touch area when playing your favorite games.
The notch is ditched this time in favor of a hole punched through its AMOLED glass screen. They call this Infinity Display, or also known as Infinity O. While we've seen something similar from China's Honor V20, the one on Galaxy S10+ is entirely different as it's the first kind of design on an AMOLED screen. In fact, its screen has lots of new features under the hood, but that's something I'll talk more about later on.
It feels lighter but retains a very solid build (7.4% lighter than last year's Galaxy S9+). It feels similar to Galaxy Note 9, with slightly tapered corners that deeply hugs its curved AMOLED screen.
In terms of physical buttons, you don't actually get something new here. Bixby button is still here, which you can remap to switch a different application. On top of it are the volume buttons; while the sleep/wake button is placed on the right side of the device. As the phone is relatively slim, you can easily get hold of these physical buttons at portrait orientation.
Infinity O Display
This latest smartphone sports an all-new dynamic AMOLED display. There are many reasons why it's new and something that Samsung took time to put on their smartphones. This new display makes the Galaxy S10+ HDR10+ certified, which makes it more accurate because of its improved level of contrast and brightness.
Does it really make a difference? It does, but the content available to take advantage of HDR10+ on mobile devices will develop over time. Thankfully, you can see different it is as you can make HDR10+ videos, which is limited to rear camera recording at 4K 30fps. Colors and visual consistency to the original subject are better and more accurate thanks to dynamic tone mapping. This comes with a bit of expense though:  quicker battery drain and file size. I'll talk more about this in a different segment.
CNET made a deep dive of the good things about HDR10+ that no other reviewers could have done better.  You can check out their article here. We couldn't agree more with what they said in their tests, but to summarize the findings: with dynamic AMOLED on Galaxy S10+, you get better quality of videos and photos, and insane brightness levels.
I/O and Sensors
The new Galaxy S10+ hosts a plethora of new innovation. Yes, the Infinity O display is just a fraction of everything new in this device. Another highlight unprecedented feature is the embedded Ultrasonic Fingerprint Sensor underneath the smartphone's screen. It deserves its fancy name, but don't take its fanciness lightly. It picks up fingerprint data that no other smartphones can do at the time of this posting.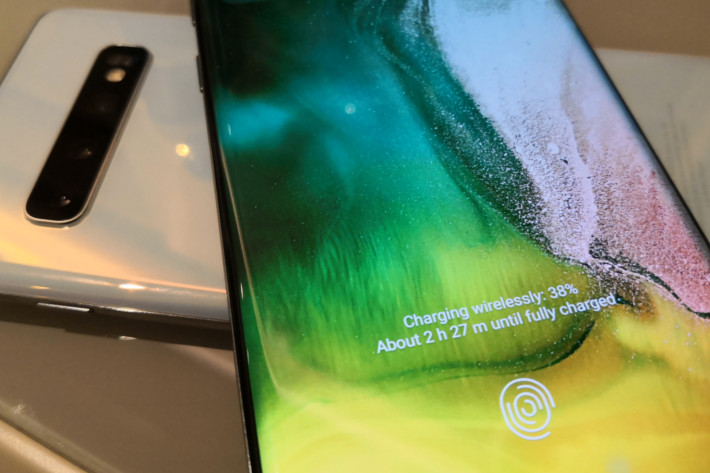 Ultrasonic Fingerprint Sensor is a security and technology powerhouse. Unlike other fingerprint sensors, it doesn't read 2D and flat data of your fingerprint but rather scans its three-dimensional aspects and contours with high-frequency soundwaves through the glass. It's amazing! This means that not only does it reads your finger quickly, but it scans it securely. In case you're also privy on security, an authentication agency certified Ultrasonic Fingerprint Sensor as something that adheres to biometric and security protocols.
This new smartphone is generous when it comes to I/O or input/output features. First, the phone still has a 3.5mm headphone jack, which is something that a lot of smartphone companies start ditching as we speak.
We're looking at you Huawei and Apple. Type C USB is  OTG compatible, and if you have the compatible peripherals like Type C dongle, mouse, keyboard and HDMI cable, you can pretty much transfer the Galaxy S10+ into an all-in-one device.
And while this other feature is part of the battery department, it is worth mentioning that Samsung has finally implemented reverse wireless charging on the Galaxy S10+. It isn't fast reverse charging, but it should be able to charge another smartphone and Qi wireless charging accessories like the Galaxy Buds.
The first smartphone with WiFi 6 IEEE 802.11ax wireless specification standard
We are also happy to report the Samsung Galaxy S10+ (and its other subvariants) are compatible with the latest IEEE 802.11ax wireless specification standard. or also known as Wifi 6. Full deployment of the latter is expected this year, and we're happy to report that even our Exynos-powered Galaxy S10+ is fully compatible with our ASUS Republic of Gamers AX11000. If you want to enjoy and maximize your Galaxy S10+'s high speed and wider frequency range WiFi 6, then you better check out ASUS ROG's AX11000 or its other latest AX-compatible routers.
https://www.facebook.com/gadgetpilipinas/videos/276737706526035/
For starters, the Galaxy S10+ – with the right router at hand – has better throughput speed up to 4 times better than WiFi AC.  This is extra beneficial to those who enjoy fiber internet connection and 5G powered network. Unfortunately, the Galaxy S10+ does not have 5G compatibility, and the Philippines does not yet have fully deployed 5G network available.
Performance
Samsung Galaxy S10+ is the fastest Android smartphone we have tested at the time of this writing. Contributory factors are its brand new Exynos 9820 SoC, which includes two custom cores that are dedicated for processing power, two Cortex-A75 for optimal performance and four Cortex-A55 for greater efficiency. With all these cores working together, you get a smartphone that isn't just fast enough to cope up with your needs, but also intelligently makes itself efficient for a whole day of use.
It is also more intelligent than ever before with its dedicated NPU, which is on top of the 8 cores that function to make itself useful. Its Neural Processing Unit makes itself smartly useful, rather than just being useful. It is in charge of optimizing battery, CPU, RAM and even the smartphone's temperature. All these optimizations are done through the AI's understanding of how you use your device at a specific point of usage time.
This, from my consumer's perspective, is very useful when playing mobile games and taking photos or videos. Galaxy S10+ stands out better than our experience with Huawei Mate 20 Pro, as the former's AI does not make me feel I'm overpowered by it. It puts me in control, and it minimally assists me while giving me the option to let it (AI) to take the wheel. This draws evidently with the plethora of controls to program AI implementation: from Bixby, to camera settings, and down to simply stopping the charging process once the battery is fully jacked up.
Software
Android Pie on Galaxy S10+ is like a breath of fresh air. We've seen how it worked on Galaxy S9 with One UI, but the way it's implemented on S10+ felt smoother and more native. This is unarguably one of the best features of the S10+, and we found ourselves enjoying our experience of using the device.
Performance Benchmarks and Battery Life
I ran two benchmark methodologies on Galaxy S10+: Antutu 3D Benchmark and played games while Gamebench is running the background for a more "real-life" benchmarking. games we played are the most resource demanding games that are available on Google Play at the time of this writing.
As seen on the table below, our Galaxy S10+ managed to reach 360,117 score, which makes it faster than any of the smartphones we tested so far.
As for the Gamebench scores, check out the following results:
PUBG (Maximum Settings at High FPS Mode)
Median FPS: 38fps
FPS Stability: 99%
Estimated Playtime at full charge: 3h 37m
Battery Drain: 28% per hour
Average Memory Usage: 600MB
Peak Memory Usage: 653MB
AoV (Maximum Settings)
Median FPS: 60fps
FPS Stability: 96%
Estimated Playtime at full charge: 4h 38m
Battery Drain: 22% per hour
Average Memory Usage: 653MB
Peak Memory Usage: 760MB
Alliance vs Empires (Maximum Settings)
Median FPS: 40fps
FPS Stability: 92%
Average Memory Usage: 725MB
Peak Memory Usage: 797MB
Talion (Maximum Settings)
Median FPS: 32fps
FPS Stability: 61%
Estimated Playtime at full charge: 3h 18m
Battery Drain: 30% per hour
Average Memory Usage: 614MB
Peak Memory Usage: 674MB
Darkness Rises (Maximum Settings)
Median FPS: 44fps
FPS Stability: 73%
Estimated Playtime at full charge: 4h
Battery Drain: 25% per hour
Average Memory Usage: 757MB
Peak Memory Usage: 854MB
If you're an avid gamer, and you always want to jack everything up, when playing games similar to what we played during our benchmark at LTE, the phone will last at around 5-6 hours. We are going to hold another run of this test in the next few days via Facebook Live. This is almost doubled at 12 hours and 27 minutes at continuous web surfing at 150 nits brightness. This also somehow matches Tom's Guide in his battery benchmark: 12 hours and 35 minutes. Galaxy S10+ undoubtedly has an insane battery life, and this is highly recommended to people who do not want to become "wall huggers".
Here comes an even better part: with its included charger, you can fully charge this smartphone for only 1.47 hours. Yes, 1.47 hours for 12 hours of usage. Meanwhile, it can get fully charged at 2.40 hours via fast wireless charging – a big improvement from Galaxy Note 9.
Photography
The Samsung Galaxy S10+ is a powerhouse of a camera phone. For the purpose of visualizing its quality as a camera, I had to compare it with last smartphone we reviewed with equally good camera performance.
I have been using this for more than 2 weeks now, and I can definitely affirm that it performs just as good as my Huawei Mate 20 Pro, but I find it superior in terms of selfie camera.
I put up my topline observations for the purpose of easy reading, and I hope you will also check out the sample photos I prepared. Unedited and uncompressed copies of the photos may be downloaded from here.
MAIN CAMERA
Triple
12 MP, f/1.5-2.4, 26mm (wide), 1/2.55″, 1.4µm, Dual Pixel PDAF, OIS
12 MP, f/2.4, 52mm (telephoto), 1/3.6″, 1.0µm, AF, OIS, 2x optical zoom
16 MP, f/2.2, 12mm (ultrawide)
Features
LED flash, auto-HDR, panorama
Video
2160p@60fps, 1080p@240fps, 720p@960fps, HDR, dual-video rec.
SELFIE CAMERA
Dual
10 MP, f/1.9, Dual Pixel PDAF
8 MP, f/2.2, depth sensor
Features
Dual video call, Auto-HDR
Video
2160p@30fps, 1080p@30fps
Topline observations:
• The cameras focus really fast even at low light scenarios.
• Colors are highly accurate, and not too blown out.
• No issues on artifacts.
• Wide angle lens produces photos with crazy barrel distortion. Thankfully, there is a setting in the camera – under SAVE OPTIONS – that automatically fixes any distortion when shooting with the wide – lens.
• Live Focus is better and more refined than S9+.
• AI image processing is not as aggressive as other camera smartphones.
• AWB needs some tweaking. Default white balance is yellowish. This may be easily fixed via software patch. This is a minor issue.
• Shot suggestion, when enabled, helps in composing photos!
• New AR Emoji is better and more fun this time.
Portrait Shots
When taking portrait shots, Galaxy S10+ showed its prowess in terms of sharpness, color reproduction, texture and the applied bokeh. Mix this with the capability of the phone to render artificial effects like Blur, Spin, Zoom and Color Point. These effects add drama to portrait shots. If you wish to replace your next social media profile photo, I personally recommend using Blur and Color Point.
Landscape
This is where Galaxy S10+ stands out. Color reproduction is top notch, and the AI is not as aggressive as the one from Mate 20 Pro. The phone doesn't have a night mode similar to Huawei Mate 20 Pro and OPPO R17 Pro, but its Scene Optimizer is good enough to automatically tweak settings in various conditions.
Wide
Galaxy S10+ has the widest ultra-wide camera we've used on a smartphone. Huawei Mate 20 Pro has a Leica ultra-wide angle lens with 16mm equivalent. Galaxy S10+ has an ultra-wide angle lens equivalent to a 13mm. Barrel distortion may be an issue on the S10+, and Samsung is aware of this. Similar to what they did on A7 and A9, they built in a fix under SAVE OPTIONS, which automatically fixes any distortion when shooting with the wide – lens. It isn't a perfect execution, but acceptable by our standards.
One issue that I have with the photo taken with its ultra-wide angle lens is the prominent unnecessary grading that usually appears on skies. We really hope that Samsung will notice this and issue a fix via a software patch.
Selfie
Galaxy S10+ has 2 cameras in front: a 10mp camera that has PDAF features and another 8mp that does depth sensing. The 10mp sensor needs the 8mp when taking Live Focus photos to simulate effects blur and color point. If you try to enable Live Focus while covering the rightmost front camera (8MP depth-sensing), you will have a photo that's devoid of any effects. It is differently done on S10 and S10E as the effects are done digitally or via software.
The front cameras on S10+ are the best we've used, even better than iPhone XS Max and OPPO R17 Pro. Color reproduction, texture and sharpness are great and noise is minimal.
Videography
If you fancy making vlogs or cinematic videos, this smartphone is perfect for you. Not only that you can shoot HDR10+ 4K 30fps videos with this, but it has a feature that can put the previous smartphones we reviewed to shame – Super Steady.
Samsung did an excellent job in improving the video shooting capabilities on the S10+, and I am very sure that people who are into creating such contents would love this smartphone.
Verdict
As a flagship smartphone, the Samsung Galaxy S10+ is tough to beat. The standards Apple and Huawei set last year seemed to challenged Samsung, and boy they responded with both angst and ardor.
Samsung Galaxy S10+ Review: Tough to Beat
What's Good
Exceptional battery life
Impressive screen quality
Near perfect photo and video capture quality
3.5mm Headphone Jack still exists
Future Ready
WiFi 6 Compatibility
What's Not
Face Unlock needs to be toughen up
Giancarlo Viterbo is a Filipino Technology Journalist, blogger and Editor of GadgetPilipinas.net, He is also a Geek, Dad and a Husband. He knows a lot about washing the dishes, doing some errands and following instructions from his boss on his day job. Follow him on twitter: @gianviterbo and @gadgetpilipinas.