Gaming fans are once again in for a treat, as Gariath Concepts brings this year's Esports and Gaming Summit (ESGS), also co-presented by PLDT Home Fibr and Smart, happening this October 26 to 28, at the SMX Convention Center in Pasay City.
The Big Gaming and Tech Brands continue their support
Leading brands from the gaming and tech world are back at it again to showcase their latest titles and products. ASUS Republic of Gamers will feature their latest lineup of gaming laptops, and is also set to launch the highly anticipated ROG Phone. On the other hand, brands such as MSI, HyperX, Predator, HP Omen, ViewSonic and Logitech will also grace the event with their own lineup of activities and exclusive deals.
Kojima Productions will also be making a presence in the event by selling exclusive merchandise. Capcom will be showcasing their latest titles such as Resident Evil 2 Remake and Devil May Cry 5. On the local developers side, Secret Six will be back with more activities for Project Xandata, and Synergy 88 will be promoting their animated series project Barangay 143. There are also a ton of other publishers who will be promoting their new hit titles, including Gameclub, Gumi, Gravity, Monstronauts, Most Played Games, Ranida Games, NetEase Games, GMA New Media, Valofe and more.
Experience more Esports Action
After months of intense DOTA 2 and Tekken 7 action, the finalists for the Road to Nationals are set to make ESGS 2018 their grand battlefield. At stake is a total prize pool of Php1.2 million for DOTA 2 and PhP 300,000 for Tekken 7. A bigger prize is also looming: a chance to be drafted as part of The Nationals, the country's first franchise-based esports league.
The Grand Finals will be broadcasted via a livestream on GG Network's Facebook Page, Sports 5's YouTube page, and on Aksyon (Ch. 41 on UHF) on October 27 at  7PM, and October 28 starting at 6PM.
Top teams for DOTA 2, Starcraft 2, Hearthstone, VainGlory, and Counter Strike: Global Offensive will also duke it out at the World Electronic Sports Games Philippine Finals for a spot to be the country's representative for the SEA Finals happening at the end of 2018.
There's also the MESA Open, where the best mobile esports players will battle each other for supremacy. Hearthstone, Mobile Legends and VainGlory will all have their respective tournaments for the three-day event.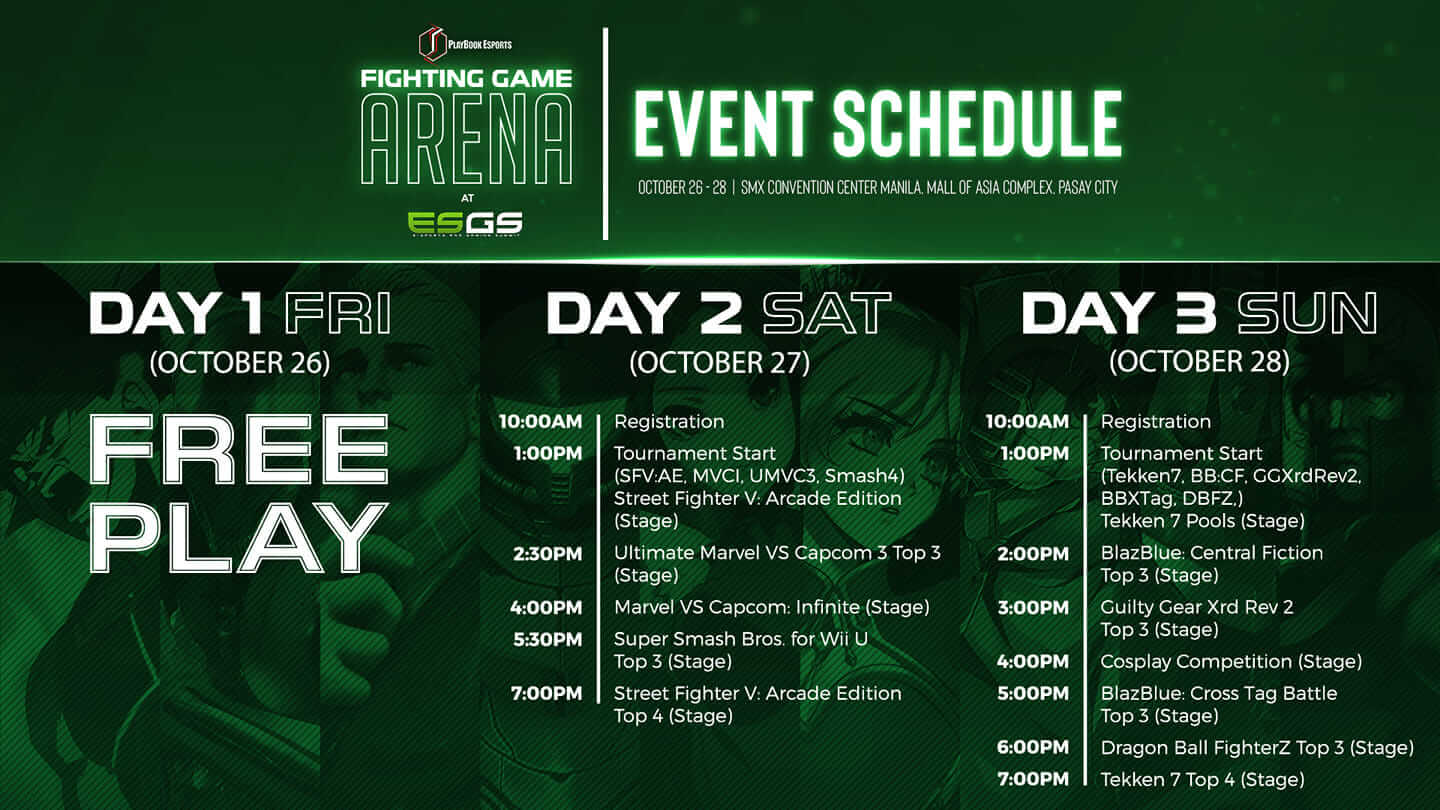 Playbook Esports will also be hosting a series of fighting game tournaments at the Fighting Game Arena. Witness the different fighting game communities as they showcase the best plays and moves from popular fighting game titles. What's more, winners for Tekken 7 Street Fighter V: Arcade Edition, Super Smash Bros. for Wii U, Blazblue Cross Tag Battle and Dragon Ball FighterZ will also represent the country at EVO Japan 2019 on February 2019 on Fukuoka, Japan.
The Local Game Developers Rule Once Again

ESGS will also set the spotlight for homegrown talent, as indie game developers will be able to showcase their creations at the Indie Fiesta. The Independent Game Developers Association will go full support for the young and aspiring developers, where attendees can try out a total of 40 upcoming games. The Game and Developers Association of the Philippines will also conduct workshops and seminars at the GameOn Area.
More merchandise for everyone
Expect  a lot, yes, a lot of merchandise at ESGS. With the Artist Alley, fans can check out fan arts, ask for artwork commissions, and purchase other awesome works from talented artists. There's also a merchandise area for those who want to buy action figures, apparels and other cool stuff. Of course, ESGS-Exclusive merchandise will also be on sale!
Cosplay goes Fighting Games

Of course, ESGS will not be complete without a Cosplay competition. This year, contestants will compete in their best fighting game costumes, along with their best moves. Evaluation will be done by Kang Dupet, Loki Heart and Tessa. The competition is powered by Animax Philippines and organized by Anime Alliance.
Schedule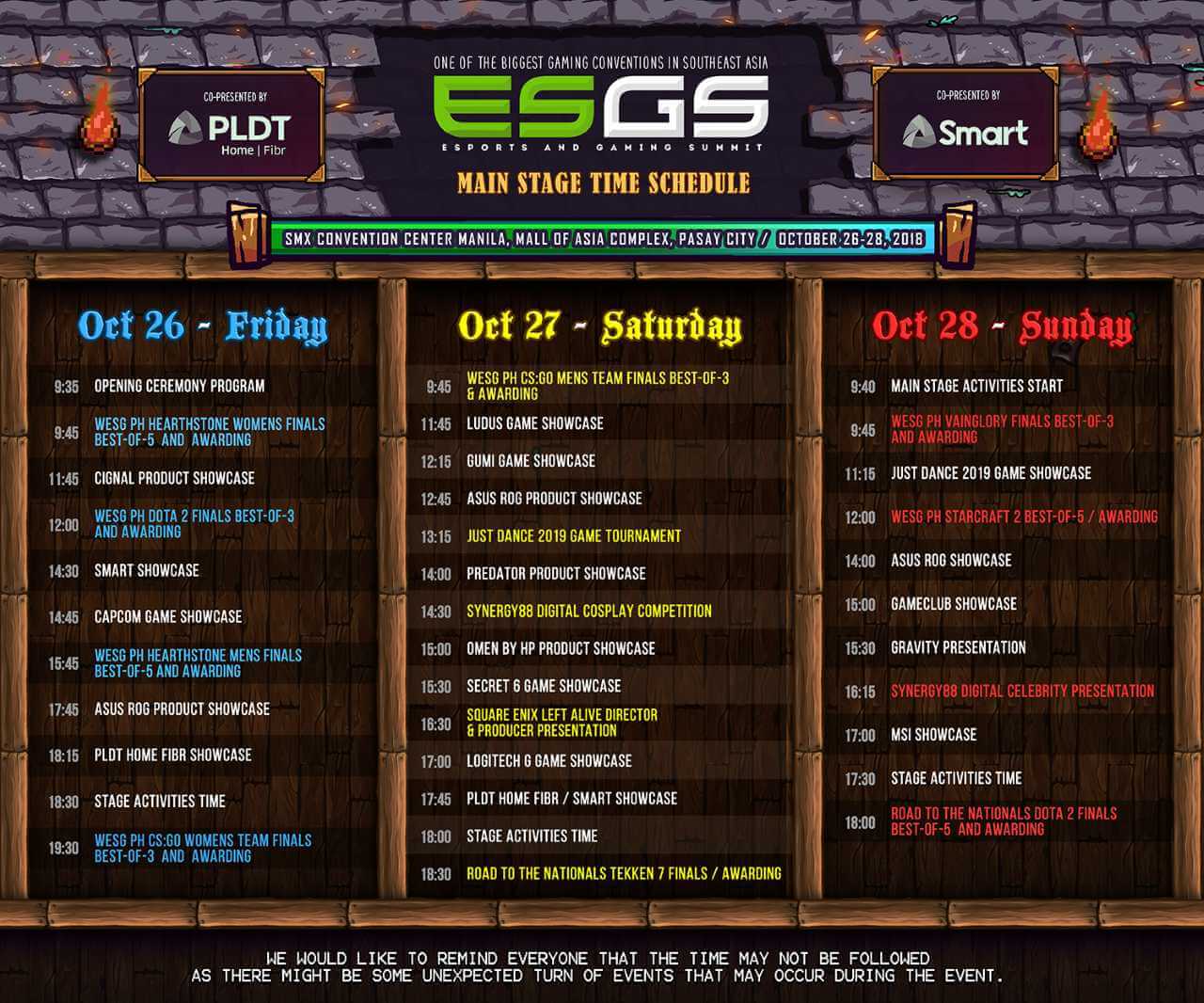 "We are astonished by the excellent level of play that Filipino esports athletes have shown all throughout the Road to The Nationals qualifiers. We are fully committed to supporting our esports athletes by providing them with opportunities from the grassroots level, all the way up to creating the first franchise-based professional league in the Philippines. PLDT and Smart are not only building esports teams for The Nationals – we are also ensuring that gamers are equipped with the best gaming experience through our PLDT Home FIBR and Smart LTE networks." 
– Andrew Santos, FVP-Consumer Marketing Head for PLDT and Smart.
"The past three months have truly shown the potential of esports in the Philippines and the immense amount of talent our country possesses. We look forward to seeing the finalists compete at the Road to The Nationals grand finals and bring esports in the Philippines to the next level."
– Coach Chot Reyes, President and CEO of TV5
For more information, you may visit the ESGS Facebook Page.
Emman has been writing technical and feature articles since 2010. Prior to this, he became one of the instructors at Asia Pacific College in 2008, and eventually landed a job as Business Analyst and Technical Writer at Integrated Open Source Solutions for almost 3 years.