I've come across a number of wireless in-ear headphones in the past, and while most of them sounded decent for the price, they usually fell short in other areas, such as connection stability, comfort, volume, and isolation.  Thus, I was very keen on trying out the WF-1000X from Sony, as I also own a couple of their audio products, and most of the time, they were impressive.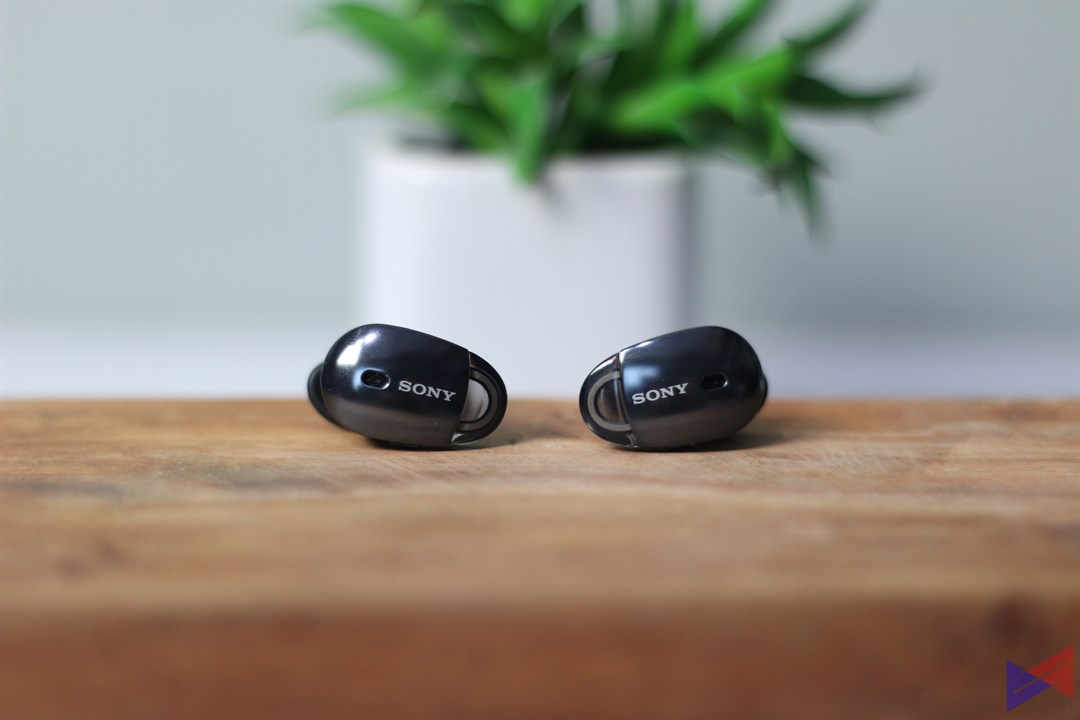 At PhP9,999, this pair is priced much more than any of those wireless headphones that I've tried, and for good reason. Sony has equipped them with Digital Noise Canceling, which mutes most of the sound from your surroundings. It means you get a more enjoyable listening experience, and that's apart from a ton of other features.  Question is, are these really as good as what the paper says? Let's find out.
Specifications
[table id=167 /]
Design, Build Quality, Comfort
The Headphones themselves are primarily made of a combination of a rubbery material, and hard plastic coated with a glossy finish. Actual size is just right, and enough so that they aren't highlighted when you're wearing them. They're also light, which makes you feel like you aren't wearing them at all.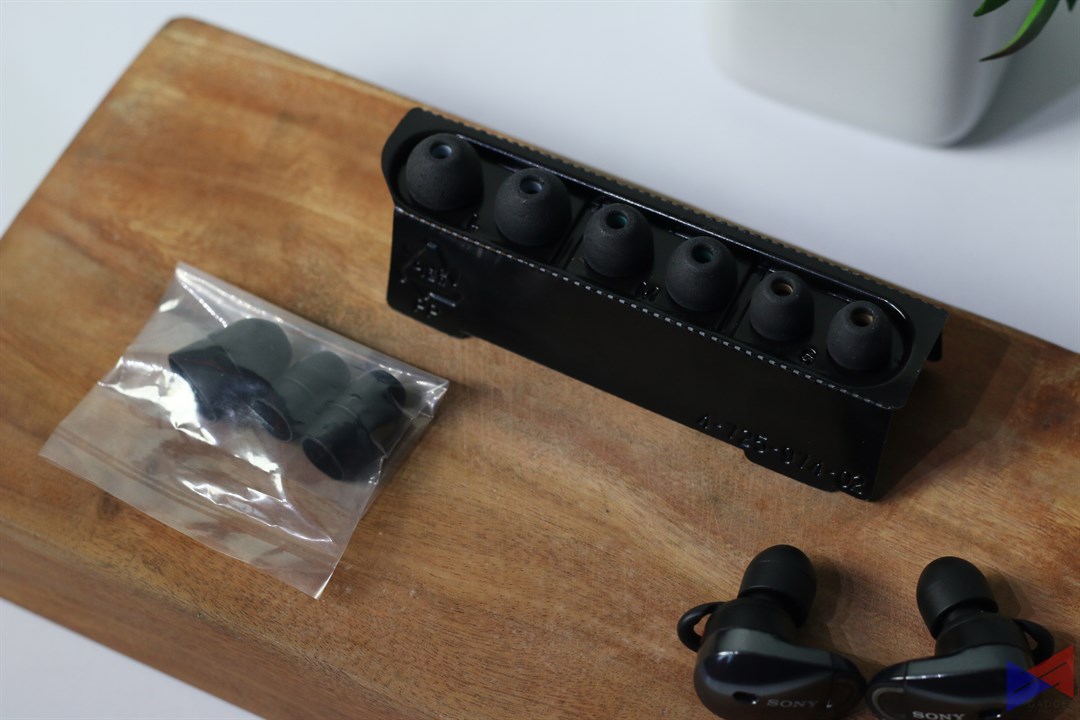 When you find the right tips, these headphones can actually give a good seal. They tend to stay in place too, even when you're moving about. They're also very comfortable to wear, even for long hours.
Do note that for calls, one earpiece acts as a speaker and the other as a microphone, so you'll only hear the other person's voice on one side.
For headphones of this type, you'd expect waterproofing, the WF-1000X doesn't have that. I did take them out on a drizzle and they survived but, I wouldn't try it again.
Ease of Use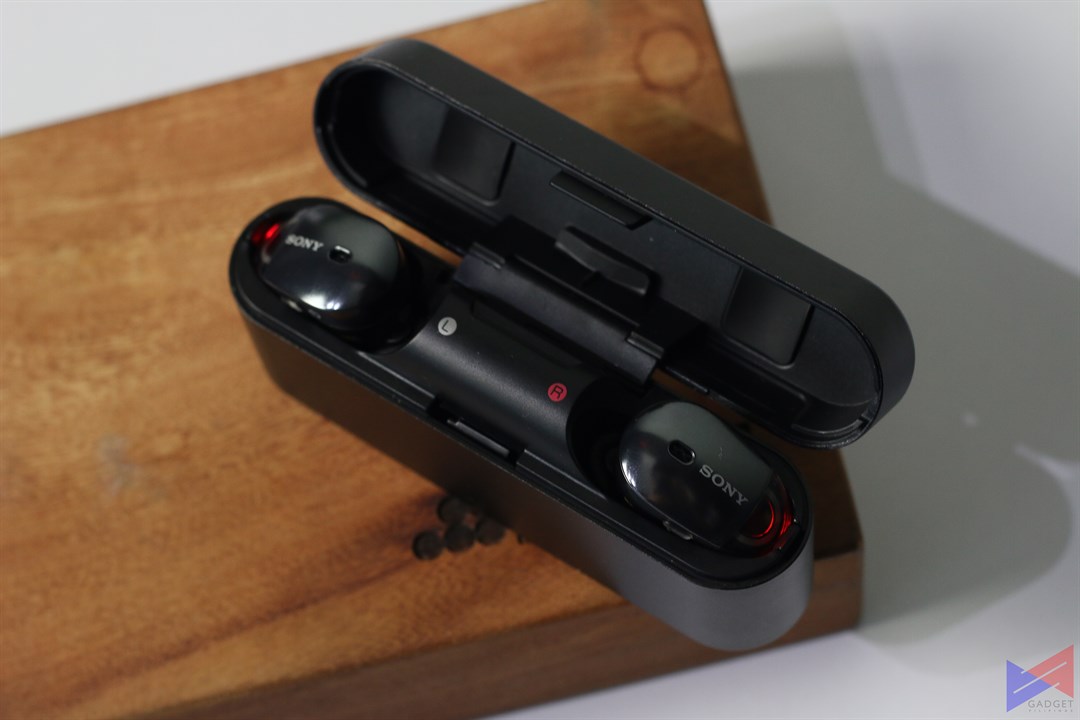 Setting up the headphones is very easy. You can pair it to your device via Bluetooth, manually or using the Headphones Connect App.
If your device has NFC, just tap the lower section of the carrying case to the section of the phone where the NFC chip is located, and the pairing will automatically start.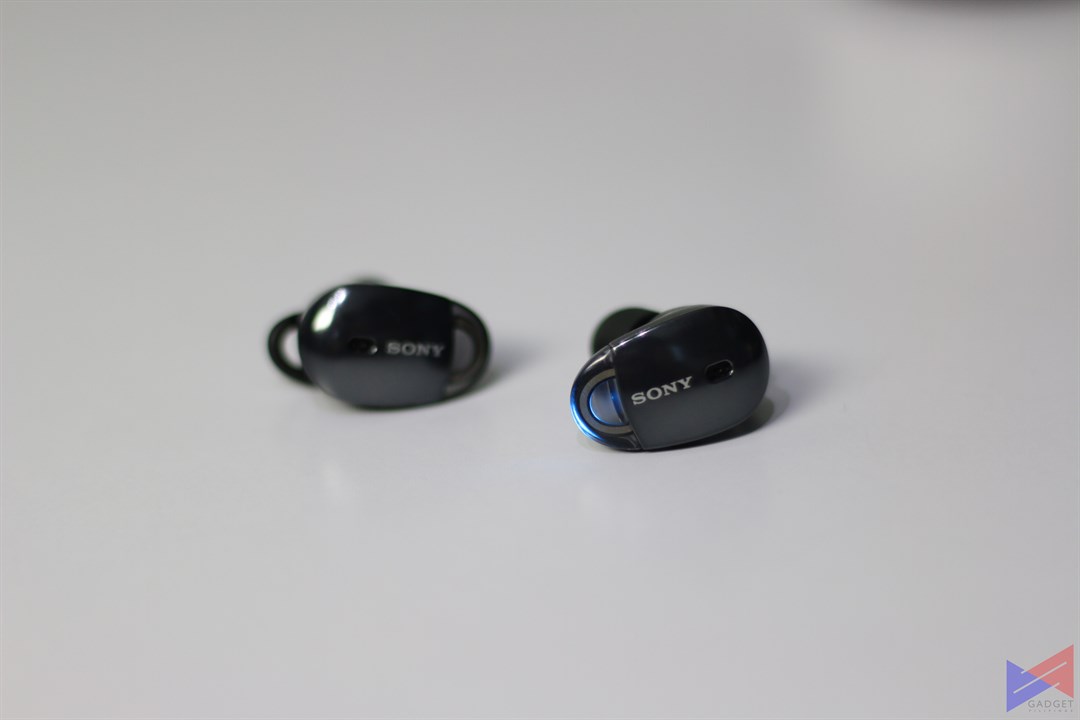 Both earpieces are fitted with an LED indicator, which shows you when they're paired or in pairing status. There's also a button on each, the left for adjusting the level of Noise Cancellation, the right for answering and ending calls, controlling playback, and launching your voice assistant.  The buttons are quite distinct and are easy to find by feel. Sadly, there's no way to control the volume from the headphones.
Noise Cancelation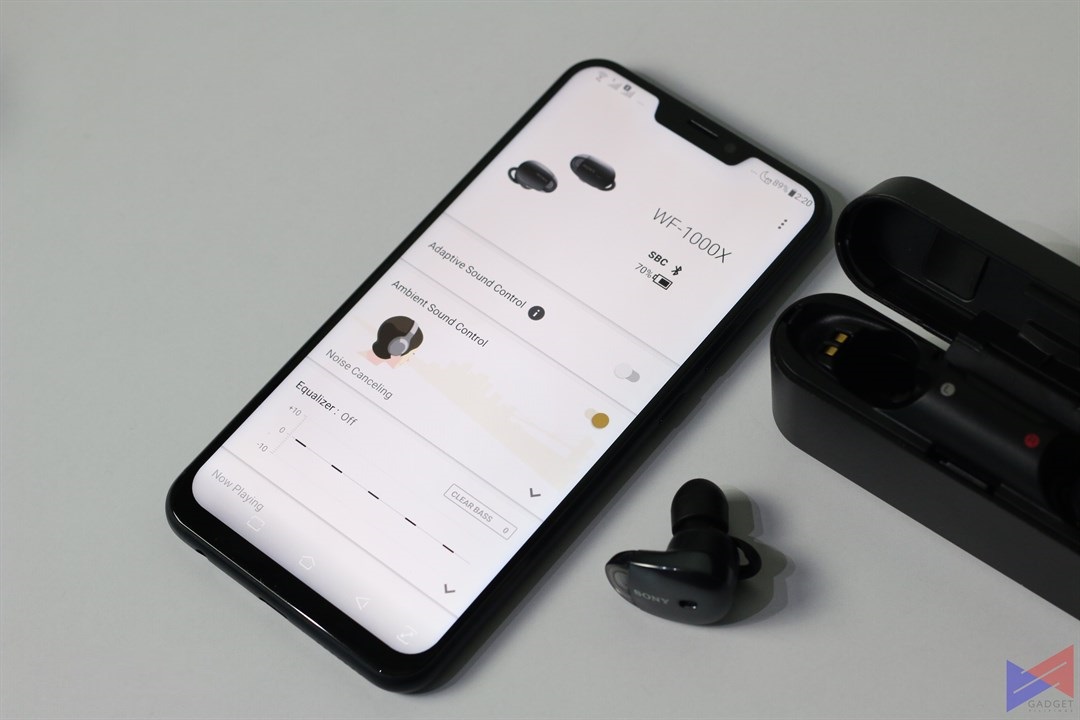 While you can control the level of Noise Cancelation using the button on the earpiece, you can simply use Sony's Headphones Connect app to manage the headphones' settings. It also indicates the battery level for your convenience.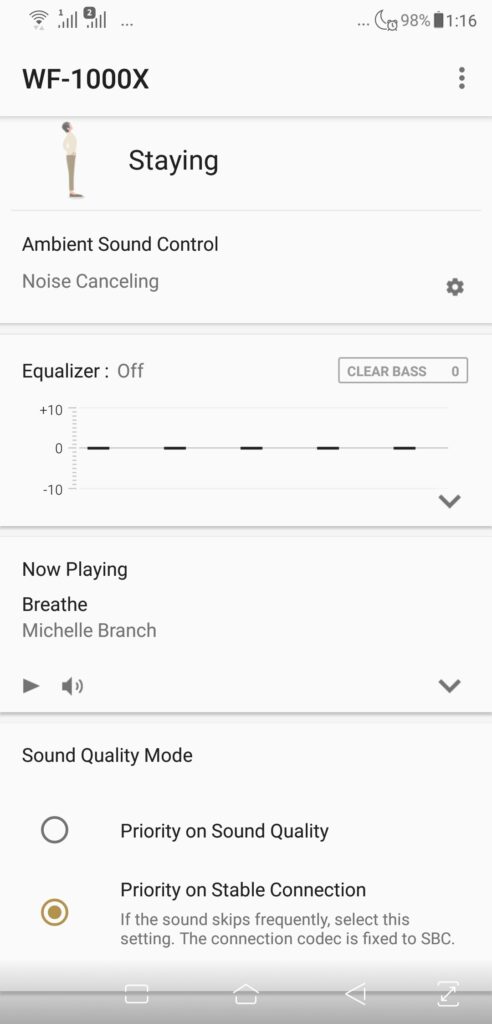 Ambient Sound Control lets you adjust the level of Noise Cancelation to three types –  There's Ambient Sound – Normal Mode, which basically lets you hear the sound of people and cars, Ambient Sound – Voice Mode, which mutes out engines but still lets you hear conversations, and Full Noise Canceling, which almost blocks out everything.
Does it actually work? I couldn't tell the difference between Normal Mode and Voice Mode, but I'd say Full Noise cancellation is enough to block out the sound of the bus engine, and the people talking behind me, and much of the sound coming from the TV. It's not perfect, but it works.
Do note though that you might hear a bit of a hissing sound at times, when music isn't playing. That's basically noise cancelling that's kicking in. Don't worry, because it does go away on actual playback.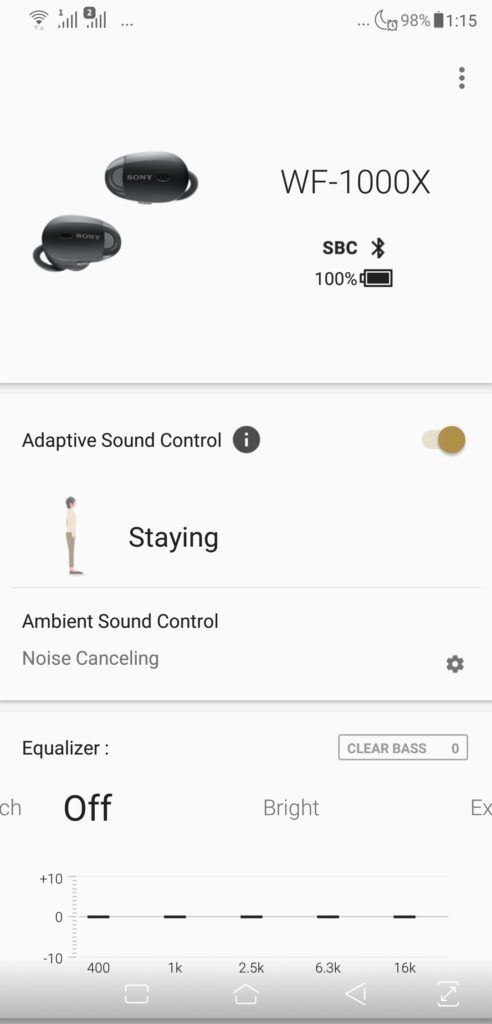 Confused as to which mode to use? Sony has also added a feature called Adaptive Sound Control, which lets the headphones decide which mode to use depending on what you're doing.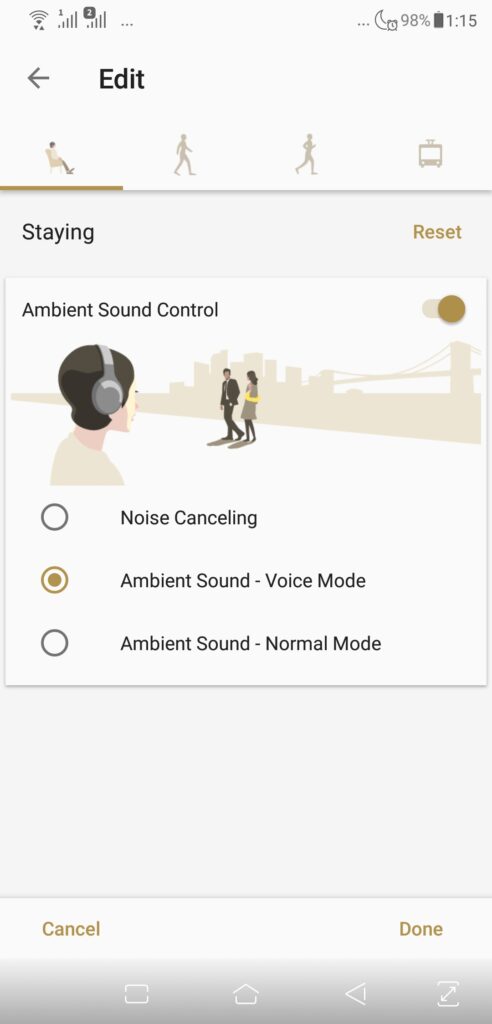 For example, it sets it to Normal Mode or Voice Mode when you're walking, so you're still aware of cars passing by. Hop on a bus, and it automatically switches to Full Noise Cancelation, so you can enjoy the music for the trip. You can manually set which mode it will use for every activity.
While it's a good feature to have, and the concept is brilliant, it can be inaccurate at times, saying you're walking when you're just sitting down or stationary, it's also quite slow to adjust. I personally prefer it disabled.
Sound Quality
For this test, I paired the WF-1000X with an ASUS ZenFone 5. Though I'm not an audiophile, I'll try to describe the sound in the simplest terms I can think of.
From a general perspective, the WF-1000X has the familiar Sony sound that you get with their wired in-ear monitors – you get a balanced signature that doesn't put any of the frequencies up front. Basically, a bit of everything.
Bass. If you're a a bass head, you'll probably feel a bit unhappy with this. The amount of bass is just right to keep the track alive. It packs a punch, but not enough to blow you away.
Vocals. I do have a lot of ballad in my playlist, and the WF-1000X makes me appreciate them even more. Words are clearly enunciated, there's no cracking or distortion even at high volume, and that sweet crisp "S" sound is there. Seriously, try listening to some vocal or acoustic tracks and you'll know what I mean.
Treble. The WF-1000X can get to some points wherein you think you'll get sibilance, and then suddenly, it exhibits control and prevents that. Sort of almost being too bright, but then stops at the edge, and goes to being gentle and caring. There are times wherein it can get a bit too bright.
Soundstage.  Pretty standard, as if you're in the front row, and the band is performing up front with speakers on the side.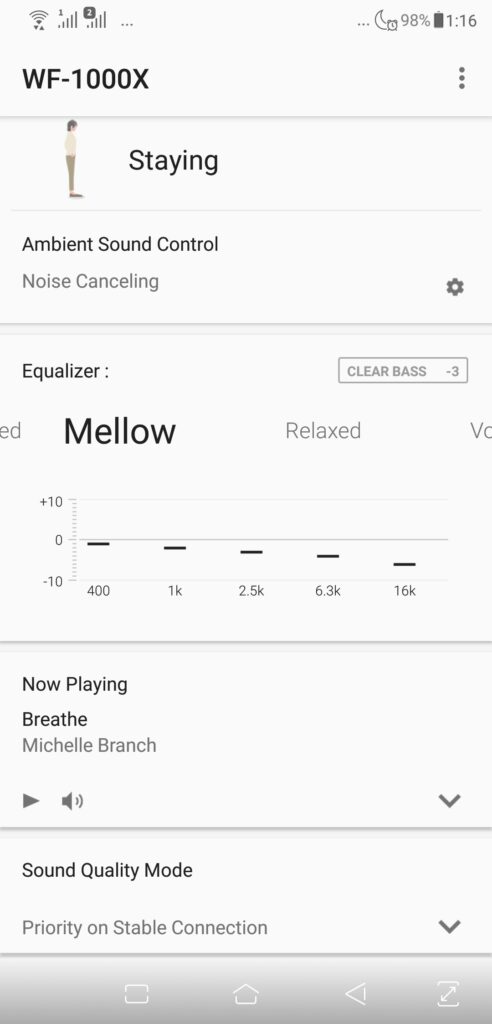 The Headphones Connect app has an equalizer that you can manually tweak, or you can choose from the presets provided.
Connectivity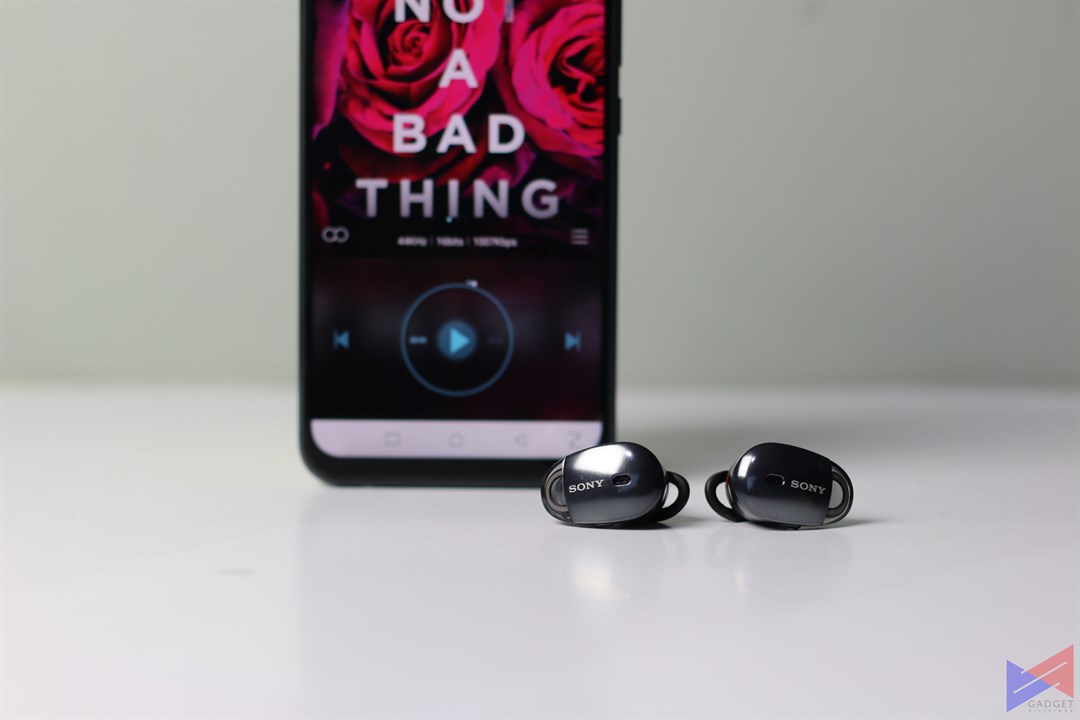 As far as range is concerned, I was able to go to about 10 meters away before the sound started to suffer from cuts. One issue I had with the headphones is that audio on the right earpiece gets cut-off every now and then, even when the source is just in my pocket.  There was even a time when the right earpiece totally disconnected.
Battery Life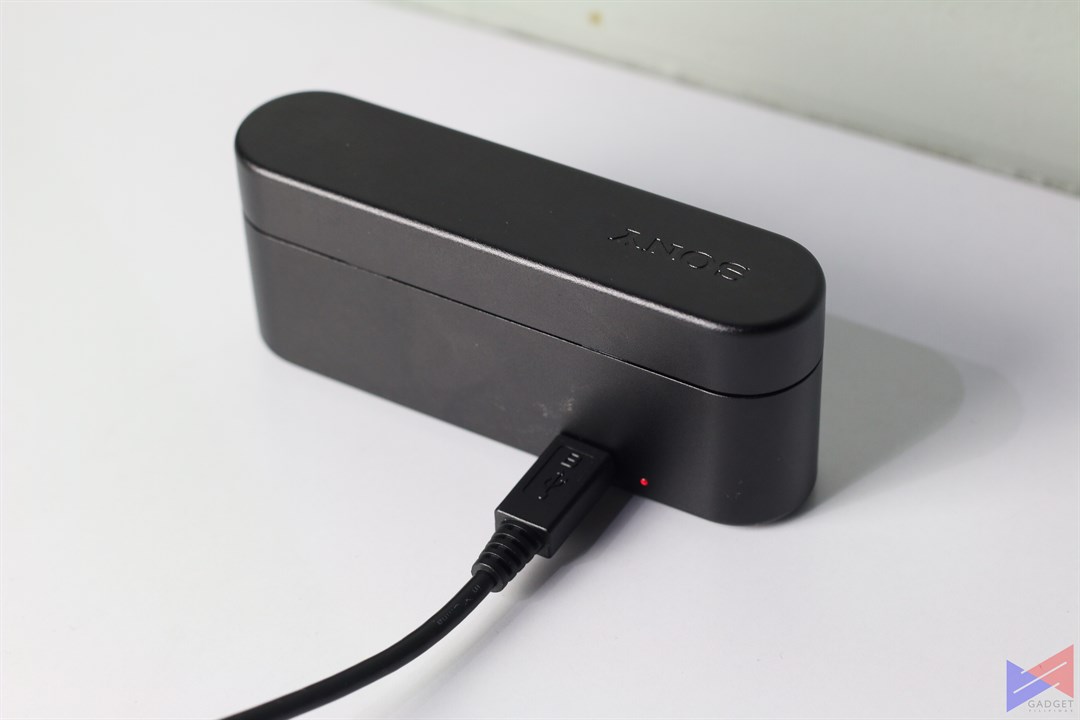 Sony claims that the WF-1000X will last up to 3 hours with a single charge. With volume playing from 60% to 90% depending on the track, and Adaptive Sound Control ON all throughout, the Headphones lasted 2.5 hours, which is less, but close enough. And while that's good for them, I personally think that it's too short for today's commuting standards.
It's even worse with Noise Canceling ON all the time – which only yielded about 2 hours of playback. Sure, you have the handy charging case which can fully charge the headphones in under 1.5 hours for a maximum of 3 times. But wouldn't it be better if you had more time before having to put them there?
Emman has been writing technical and feature articles since 2010. Prior to this, he became one of the instructors at Asia Pacific College in 2008, and eventually landed a job as Business Analyst and Technical Writer at Integrated Open Source Solutions for almost 3 years.