The ASUS ROG Strix Hero was highly regarded as a gaming laptop that's right at the sweet spot of the balance of performance and price. And at COMPUTEX 2018, barely a year after its launch, ASUS announced its successor, the ROG Strix Hero II.
Disclaimer: Since the unit that we received was an Engineering Sample, we resorted not to post any benchmarks for this write-up, as the results may greatly differ from what can be expected from a retail unit. As such, we've already requested for a retail unit, and will be posting a more detailed review including fps charts, temperature tests, and a battery test soon.
Specifications
[table id=160 /]
Design and Build Quality
At first glance, the Hero II seems to be a slightly more compact version of its predecessor. Its bezels are also noticeably thinner, which means you get a higher screen-to-body ratio, and more real estate for your games.
The ROG Logo sits just below the screen, along with a webcam for video conferencing and streaming.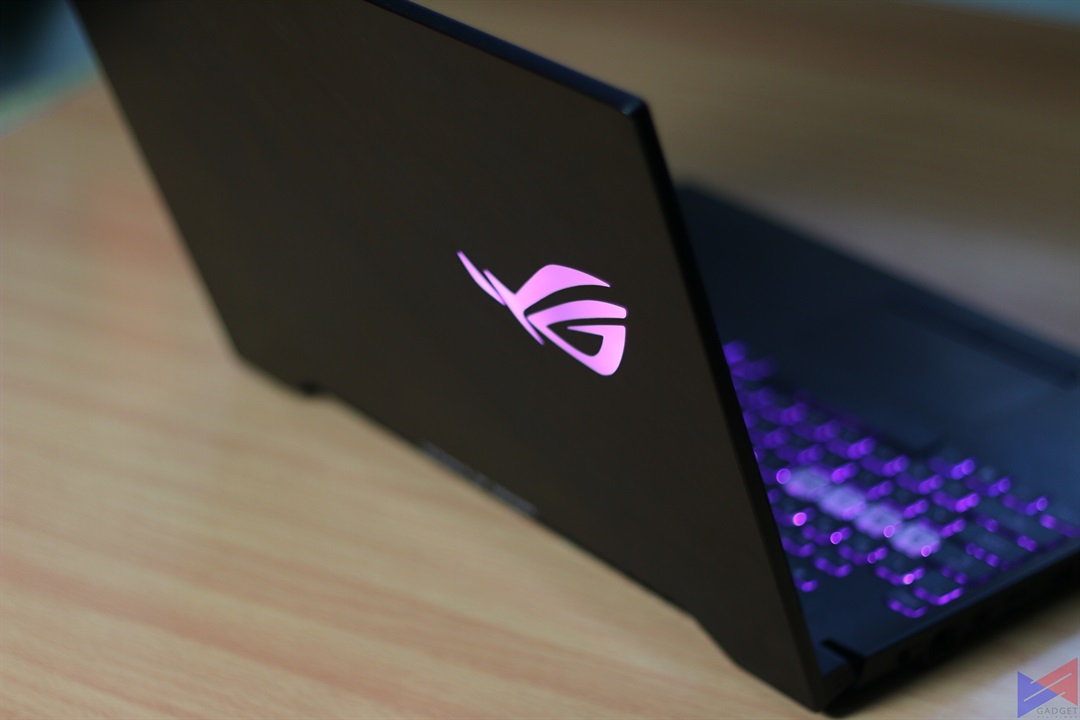 ASUS sure knows how to add more flair to their gaming laptops, as the ROG logo in the lid now has RGB lighting.
There's also a new RGB-lit bar at the chin. While it's certainly eye-candy, it would be nice if it had other functions, such as telling you when your wi-fi signal is weak, or at least indicate when the temperature is too high. It can even be a color-coded indicator of your HP in-game!
Speaking of the display, the Hero II has a 15.6-inch IPS display with either 60Hz or 144Hz of refresh rate, depending on whether you get the i5 or i7 variant. Being an IPS display, colors are rich, text is sharp, and viewing angles are decent. I personally would've liked a bit more brightness, but that's just my own taste.
The keyboard has good spacing between keys, and the keys themselves are very responsive. And while it's not as enticing to type on as a full mechanical keyboard, it certainly does the job. It's also RGB backlit, with three levels of brightness. Unfortunately, you can't customize the RGB lighting per key, but only with zones.
The ROG and media keys are completely separated from the rest, which means there's less chances that you'll accidentally press them during gameplay. If there's one thing that feels a bit off, it's the up arrow key, which is placed between the CTRL and Insert keys.
Another thing I've noticed is that the Num Lock button doesn't have an LED indicator similar to the Caps Lock button. There's no on-screen notification as well, so you won't know when it's ON or OFF, which can be a problem especially when typing passwords.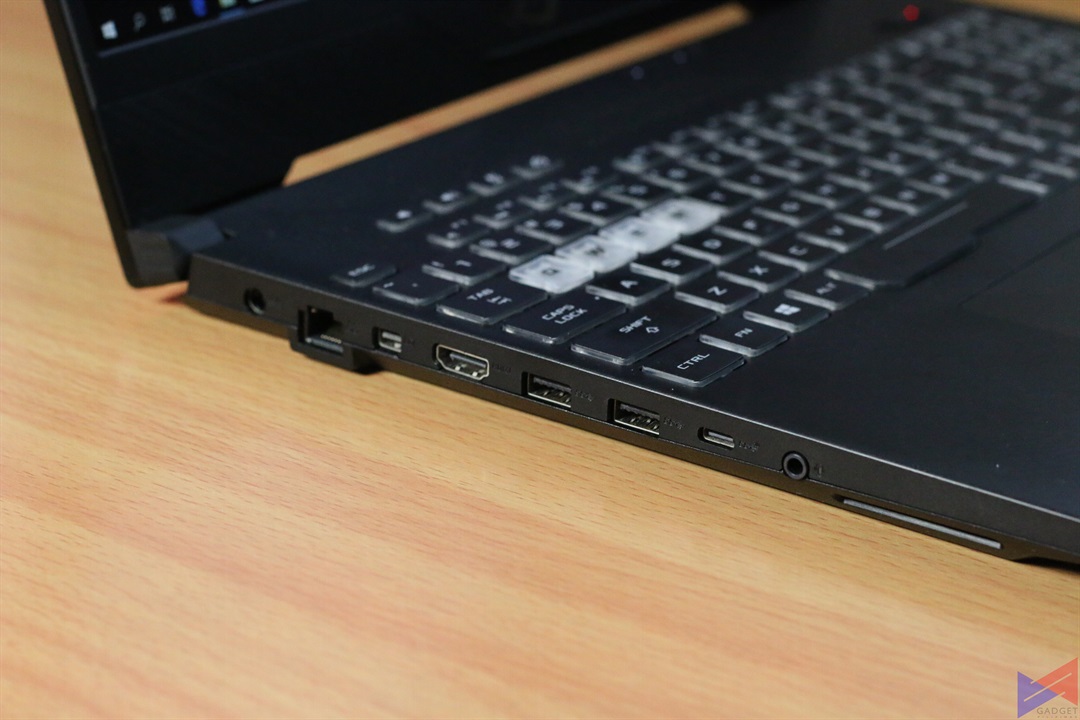 As far as ports are concerned, you get a total of four USB ports, one Type-C, one USB 3.1 Gen 2, and 2 USB 3.1 Gen 1. There's also a Mini DisplayPort, and HDMI 2.0 port, an ethernet port, a combo jack, a kensignton lock slot, and an SD card reader.
Performance
The Hero II that was sent to us runs on an Intel Core i5-8300H processor, along with 12GB of RAM, a GTX 1060 3GB, a 120GB Solid State Drive, and a 1TB Hard Disk Drive. The laptop was quick to bootup, and apps opened as quick as expected. The sound that it makes on the splash screen unfortunately, cannot be turned off.
Thanks to its Trapezoid-cut lid, the Hero II benefits from a 23% increase in thermal efficiency. Add to that, its 12V fans are also fitted with more blades, for improved cooling. Now of course, that's still on paper, so we'll have to test to see whether it really works.
Unfortunately, the unit we had was an engineering sample, and benchmarks weren't allowed, yet. But what I can tell you is that even though this machine was made with MOBA games in mind, it still does a good job for other genres, even those fast-paced ones such as racing and FPS.
Both Dota 2 and Project Cars ran smoothly at close to their highest settings. As for PUBG, I had to play with medium to low settings to get a decent experience. Our performance benchmarks will have to wait until we get our hands on an actual retail unit. So our apologies if we can't show any fps graphs for now.
Software
Unexpectedly, the Hero II (at least the review unit we had) came with only a few pre-installed apps. Everything else is gaming related.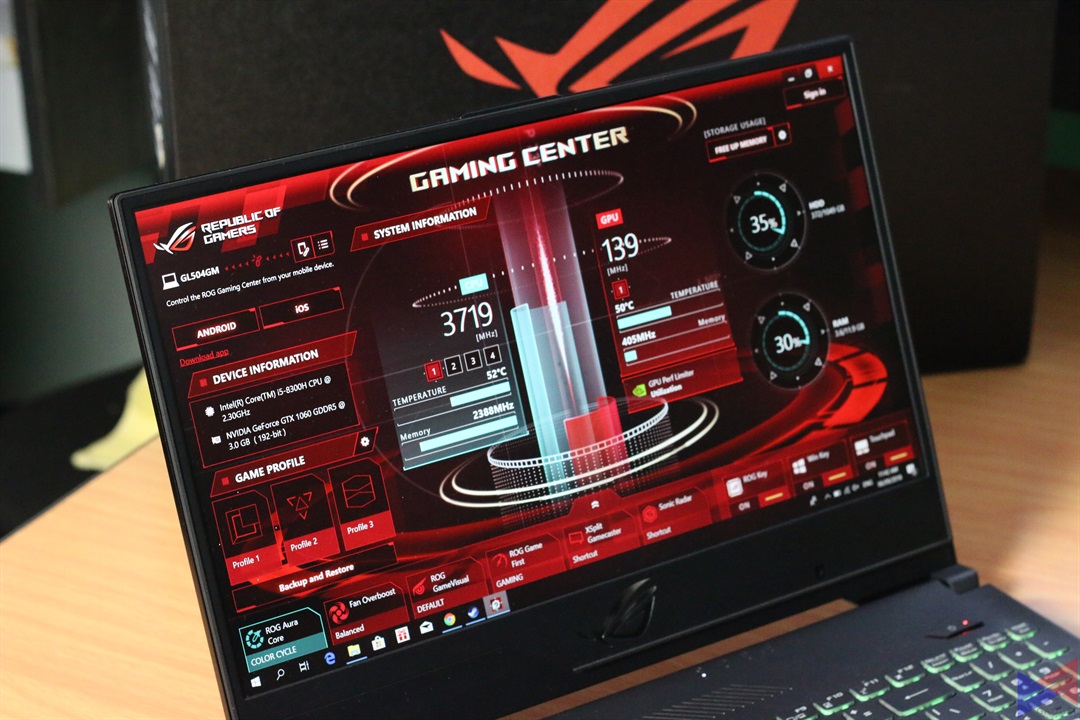 The ROG Gaming Center is a central hub for monitoring the laptop's performance, and adjusting other settings such as fan profiles, RGB lighting effects, and more. There's GameVisual, which like in brand's gaming monitors gives you a number of display presets, depending on what your're doing.
I do like to keep it to the default setting, but your preferences may vary. It also has Sonic Radar, which can be used to determine the direction where a particular sound is coming from. I personally don't use it, but it's a great addition.
The ROG Strix Hero II is also Aura Sync capable, which means you can synchronize the RGB lighting effects with compatible peripherals such as a mouse or an external keyboard.
Initial Verdict
While we don't have actual gaming benchmarks yet, we can say that the ROG Strix Hero II is a step up on its predecessor on so many aspects. Its more compact frame combined with thin bezels also contribute to a more symmetrical look.
While the added RGB elements are welcome, I also wished that they aren't only for show. The keyboard is very responsive and is comfortable to type on, though the position of the up arrow key isn't the most ideal. You're also covered with just about every port you'll need.
Software-wise, there's significantly less bloatware, and almost everything else is quite useful. The ROG Gaming Center for example, gives you quick access to essential information such as CPU and GPU temperature, and settings such as Aura Sync settings, Fan Profiles, Game Visual, and more.
The ROG Strix Hero II is currently available in ROG Concept Stores for a starting SRP of PhP 104,995. Stay tuned to Gadget Pilipinas for our full review.
Emman has been writing technical and feature articles since 2010. Prior to this, he became one of the instructors at Asia Pacific College in 2008, and eventually landed a job as Business Analyst and Technical Writer at Integrated Open Source Solutions for almost 3 years.