Soul Electronics has always been under our radar since they made their products available in the Philippines. Their wide range of bang-for-the-buck audio devices and solutions are praised for impressive design and quality. Fortunately, 3 weeks ago, we got a call from one of their representatives and asked us to review one of their mid-range high efficiency, over-ear Bluetooth headphones, the Soul Impact OE Wireless.
Inside the Box
Soul Impact OE Wireless' retail box has inside it all the necessary components you need to get it up in running. The hard carrying case has a robust quality, not to mention its stylish look and feel. At its PhP6,990 price tag, I highly praise Soul Electronics for including this case, which allows me to carry the headphones everywhere I go without worrying about breaking any of its moving or frail parts. Seldom do I find a headphone, at its price, with a carrying case.
Tucked inside the case is the audio cable (just in case you don't want to go wireless, obviously), a micro USB cable (to charge the headphone) and the Soul Impact OE Wireless.
Build
One thing that I like about the headphone's design is its headband. It is made of premium fabric, which seems can last for quite a while, albeit susceptible to dust and dirt. Fabric usually attracts dust, and it's quite painstaking to take it off. However, that's a drawback that I can easily take as opposed to having a faux leather headband that may crack usually after a year of usage.
The headband, based on our careful inspection, does not seem to be user-replaceable. We didn't see any screws to unclasp both ends of the band from the fabric. However, I commend Soul Electronics for its sturdy and flexible build.
Adjusting it is as easy as sliding the headphone body, and it can easily be stowed in the carrying case by bending the hinges of both ends.
Adjacent to the adjustable headband are the wires that can connect both headphones. The wire – due to its placement – may be highly vulnerable to wear and tear, and that's something to look at when handling this headphone.
Obvious to its design is its pallet ornament, which shows Soul's logo. Controls are placed behind the earshell in this order -volume up, volume down and on/off button. The 3.5mm headphone jack is just beside the on/off button. The micro USB port, on the other hand, can be found at the left earshell.
The earmuff is made of faux leather, ladened with soft and thick foam. This ensures comfortability on using it for a long period of time without worrying about having sweaty and muscle-stressed ears. Having tested this myself, the foam helped but it didn't quite eliminate the inconveniences of wearing an on-ear headphone.
Oh, and speaking of it being advertised as over-ear headphones – it is – by my standards – an on-ear headphone, by way of its design; portability, noise rejection (which I will discuss a bit), comfort and even sound clearly make it an on-ear headphone, not an over ear.
Sound Quality: Amazing Overall Balance and Midrange Quality
For the purpose of my test, I used the Soul Impact OE on the following devices and sound:
Devices:
Music:
Mundo, IV of Spades (flac, 882kbps)
Boundlesss, Keem the Cipher (flac, 676kbps)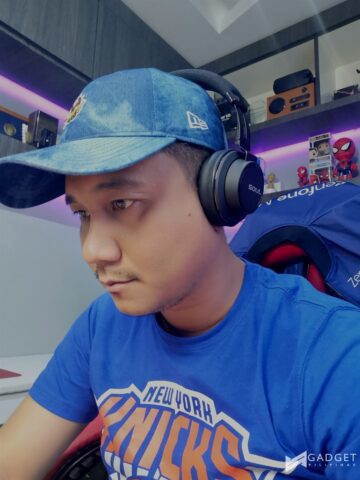 Overall Balance
Impact OE on both wireless and wired modes have acceptable frequency balance, with very little emphasis on lows at some points. Percussive pulses in the song Mundo by IV of Spades are rendered quite balanced, and the guitar strums are clear and with good amount of emphasis on high frequency. Overall, Impact OE evenly covers all both ends of frequencies.
Midrange Quality
As percussions and strings fade away to give way for vocals, Impact OE perfectly renders it with so much clarity and delivery. This isn't the case for Boundless as it does not have any vocals due to its lo-fi genre. Unique Salonga's voice on Mundo is lifted enough for us to both adulate his voice and the headphone we're using. This shows the superiority of this headphone when it comes to midrange quality, as we usually find vocal lines in this frequency.
Battery Life
Soul Impact OE can go a long way for a single charge. Having tested this for more than a week, I can concur that a single can let you use this headphone for 15 hours max. This is something that most of the premium wireless headphones we've used, but unmatched compared to headphones at a similar price point.
Verdict
We have not highly recommended a Bluetooth headphone lately, and this could be the first time we'd do it this year with the Soul Impact OE. Given its affordable price, it excelled our expectations as music lovers! Its superiority in the midrange quality and overall balance departments makes it a must-buy for hi-fi music lovers with a less than PhP7,000 budget.
Soul Impact OE Wireless Bluetooth Headphones Review