The Xperia lineup from Sony has made quite a buzz by the essence of its unique physicality and design. Over the years, Sony's take on smartphones maintained the boxy and squared-off design. During the course of this year, we saw many innovations to smartphones like bezel-less displays and gaming smartphones with outstanding battery life. But Sony maintained its less ergonomic feel with its all-glass boxy design. despite of these features, can the Sony Xperia XZ2 live up to its predecessors? This is our ultimate question in reviewing this device.
Design
The Sony Xperia XZ2 has a 5.7″, 18:9 Full HD+ display with HDR compatibility. It's quite a lot to take it in but as you can see, the XZ2 doesn't follow the notch trend and we're very happy to see that. The display resolution is 1080 x 2160, with good viewing angles and excellent color reproduction – this is the true power of the TRILUMINOS™ Display.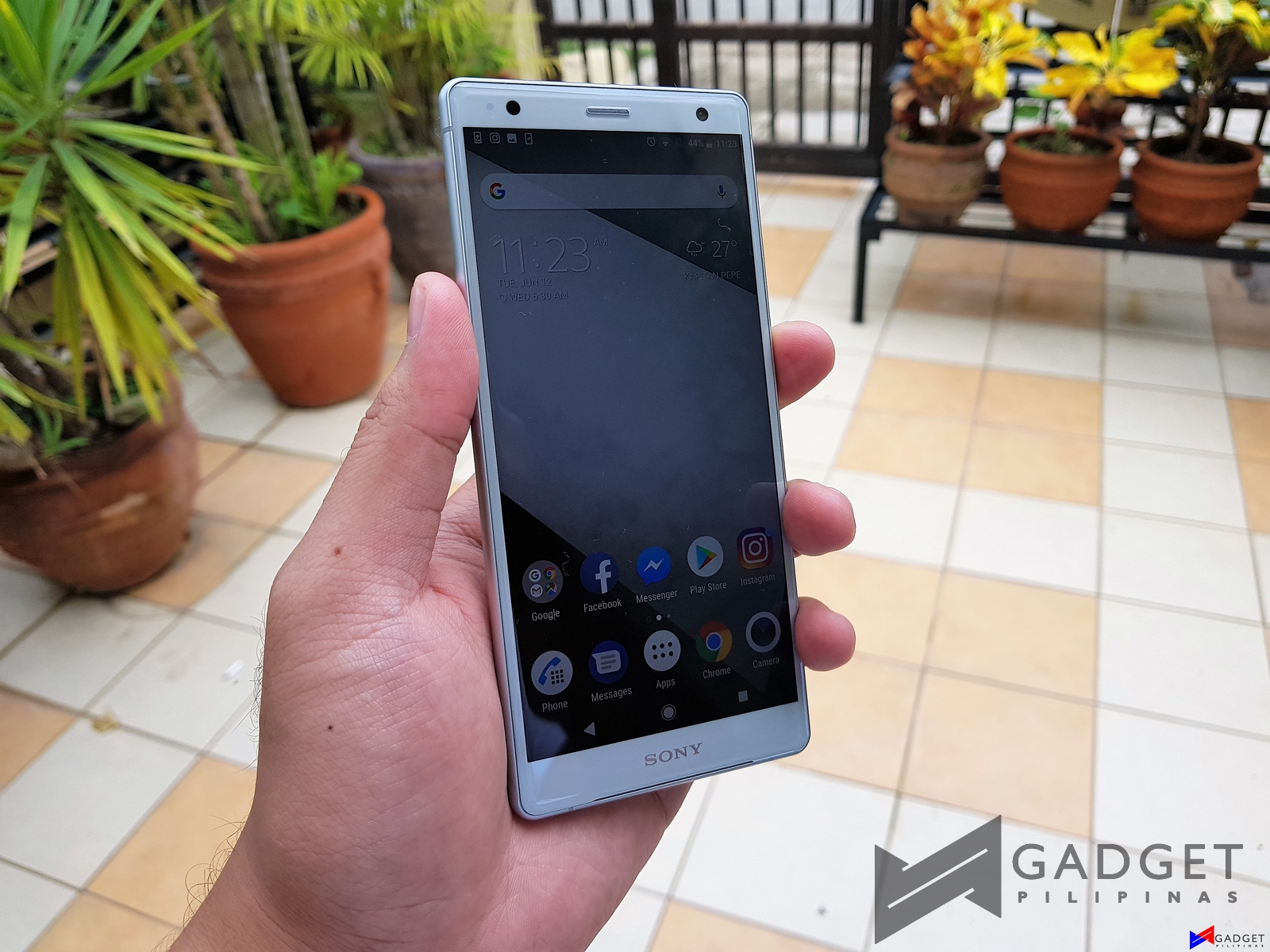 Both the front and back of the XZ2 are covered by Corning Gorilla Glass 5, which makes the device slippery as you can imagine. With this kind of glass, it's also very prone to drop this phone so you might want to invest in a case. The XZ2 is enveloped with aluminum sides that add to its 'premium' feel.
In front of the device, you'll find the 5MP front facing camera with a 23mm wide angle lens, the earpiece and sensors. Below, you'll find the Sony branding.
At the top, you'll find the dual Nano SIM with a microSD card slot that can take up to 400GB of storage. Below you'll find the USB-Type C port. The XZ2 doesn't have a headphone jack, but Sony has successful added two stealthily-placed and loud front-facing speakers.
The right portion is where all the buttons stay. The volume rocker is normally placed at the upper right, while the power button is awkwardly placed at the center. A dedicated shutter trigger is at the lower part for quickly launching the Camera app.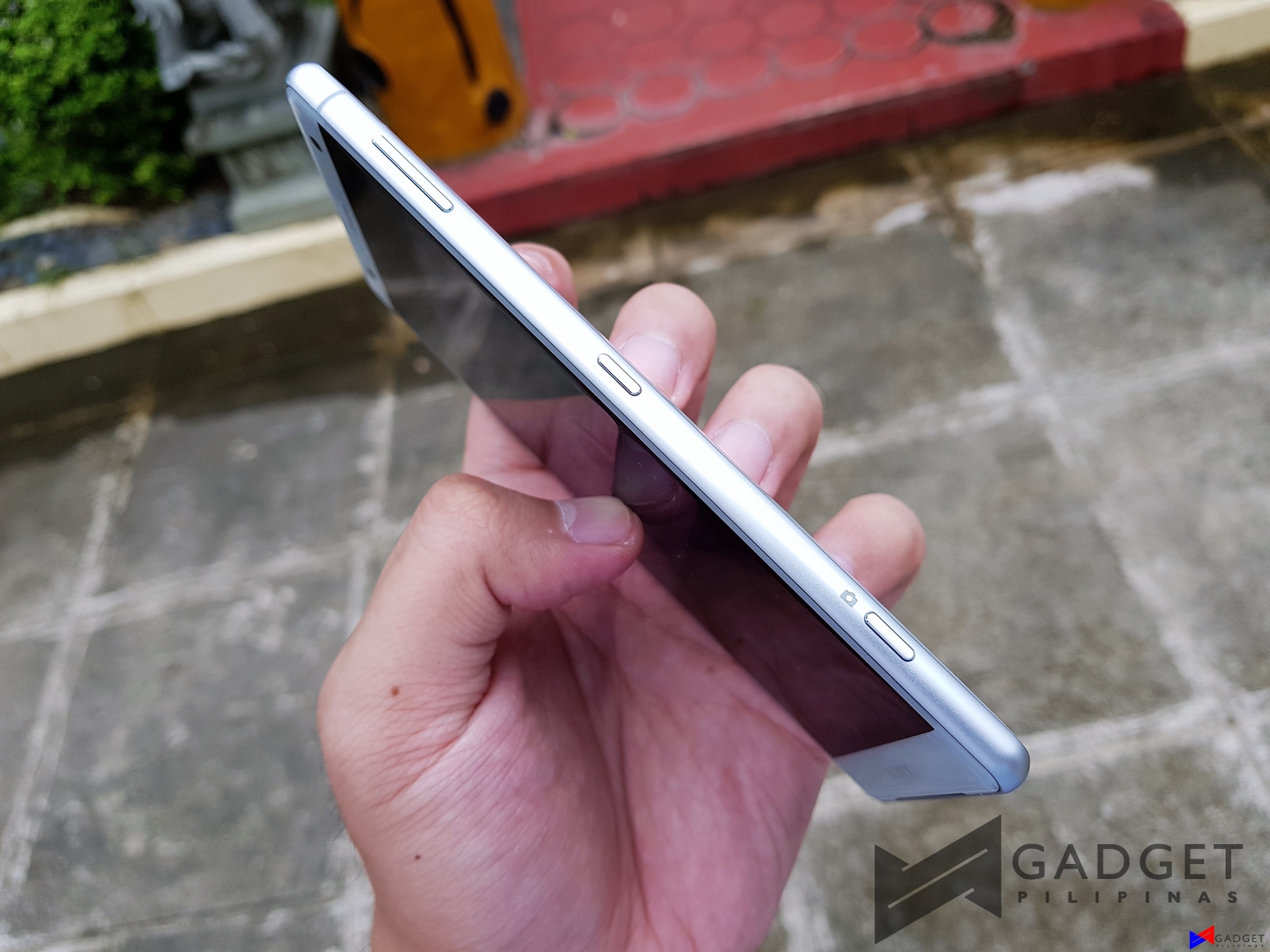 Sony is known for including the fingerprint sensor within the power/wake button at the side of the device. For the XZ2, It's now placed  just  below the camera lens, at the dead center of the device. Unlocking the phone puts me into a position where I can almost accidentally drop it.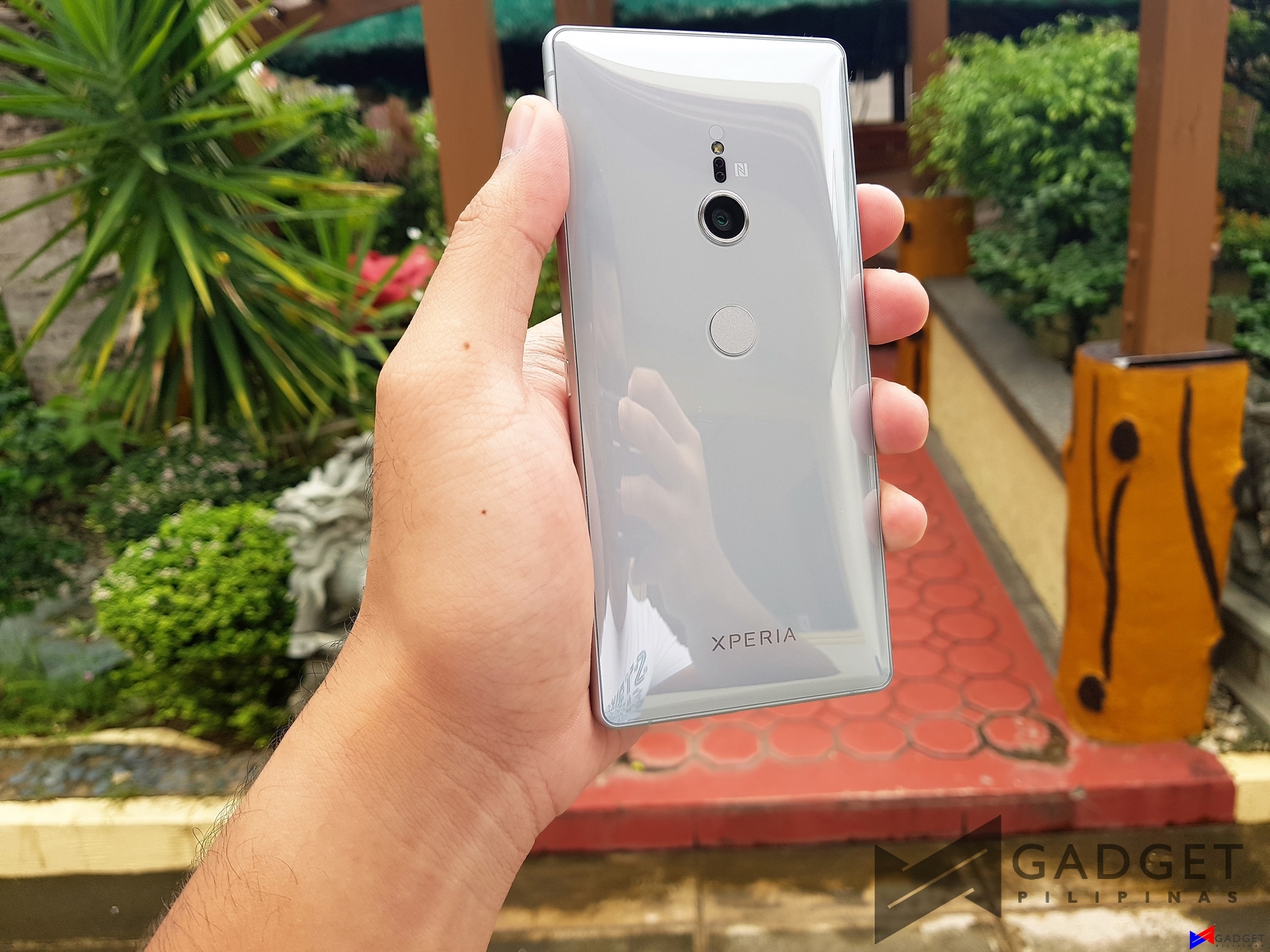 Moving on, the XZ2's main feature is its main camera. The 19MP Motion Eye camera is capable of capturing 4K HDR videos and 960 fps super slow motion videos. It has a lot of features to take in but one that particularly stood out was 3D Capture that lets you use the camera to create 3D models of your face.
Display
The Sony Xperia XZ2 has excellent viewing angles, thanks to the 5.7-inch with TRILUMINOS™ Display. While some of the big smartphone companies use OLED displays, Sony stood its ground by using LCD.
With an 18:9 display, you have a lot more room to expand your viewing experience and entertainment. Not only that, the Sony Xperia XZ2 is also capable of playing HDR content. With the high dynamic range (HDR) capability, colors are more lifelike, and contrast is enhanced. However, this is only limited to a few apps – YouTube and Netflix.
Performance
Thankfully, the Sony Xperia XZ2 is powered by Qualcomm's powerful processor, the Snapdragon 845. As far as recent reviews go, this chip can easily score 98 percent better than other smartphones in AnTuTu benchmark.
While being paired by only 4GB of RAM, I never experienced any lags and crashes with the device. It is undeniably snappy and multitasking works like a breeze. For the gaming side, the XZ2 is capable of playing any demanding games like PUBG Mobile, Need For Speed: Rivals and Asphalt 9.
Battery life of the XZ2 is what I've been expecting. With 27% left for the battery, I still have 8 hours and 10 minutes remaining. Apart from this, the STAMINA mode, which is unique to Xperia phones, can limit the phone's functionality to improve battery life.
Camera
Like what I've said earlier, the XZ2's best feature is the main camera. Its extensiveness of features like the 4K HDR Movie Recording , 5-axis stabilization and 960 fps super slow motion video recording makes it the best Sony smartphone yet. However, the Camera placement is quite a bummer, as it can easily catch smudges and get dirty every time you unlock the device if you're not familiar with its placement.
Sony first introduced the 3D Creator on the Xperia XZ1 and now, they've added some improvements. You can now create a 3D model of yourself by using the front-facing camera and get outstanding high resolution models. To smoothen these models, you can sculpt them digitally for more lifelike look.
Software
The XZ2 uses Android Oreo 8.0 which is also being used by the Xperia XZ1. It would be nice if we could see an Android Oreo 8.1 update for this device but nevertheless, the experience is noteworthy.
Sony uses a skin on top of Android and it is quite lightweight. There's the Google Search bar on your homescreen and Google Now on the left side. You can also buy themes if you're into that but for us, the default theme is good as it is. But all in all, the Sony experience will never disappoint you.
We're just hoping that Sony upgrades the XZ2 to the recently announced Android P.
Sony Xperia XZ2 Specs
| | |
| --- | --- |
| Processor | Snapdragon 845 Octa-Core |
| RAM | 4GB |
| Storage | 64GB (Expandable) |
| Display | 5.7-inch FHD+ |
| Rear Camera | 19MP MotionEye, 960 fps super slow motion recording, 4K HDR video recording, 8x Digital Zoom |
| Front Camera | 5MP, Wide-Angle Lens |
| Protection | IP65/IP68 |
| OS | Android Oreo |
| Audio | Hi-Res Audio Certified, LDAC, Qualcomm aptX HD |
| Battery | 3,180mAh with Quick Charge 3.0 and Qnovo Adpative Charging |
Our Verdict
Sony Xperia XZ2 is certainly one of the best smartphones we've ever reviewed. That's aside from the few setbacks like the super slippery grip and wrong choice of camera and fingerprint sensor placements. The sheer performance of the Qualcomm Snapdragon 845 and Sony's prowess in imaging, which is reflected in the main camera make it worth its PhP43,990 price tag.
What's Good
Great Main Camera
Fantastic front-facing speakers
Awesome HDR display
With 4K HDR Movie Recording
Fast charging and good battery life
What's Not
Back panel can get very slippery
Camera and Fingerprint Sensor Placement
No headphone jack
Gianfranco is the co-founder of GadgetPilipinas.net. He graduated from Far Eastern University. A Psychology student turned tech-savvy. He's currently the HR Supervisor of Blip Media and one of the content producers of Gadget Pilipinas. He enjoys playing competitive video games and binge-watch American TV series.