I bought my PSP last November 2006. I got the first model – the PSP 1000K, commonly known as PSP Phat. I bought it for Php 19,500 back then. Now, it already costs Php 9,000.00 (modified version – available in Greenhills, the haven for techies).
The Playstation Portable has evolved to different dimensions and sizes. It had gone anorexic from fatboy and rabbity-CPU speeds from turtle-ish CPU speeds. Undoubtedly, the evolution, though not yet fully complete, is totally impressive. Aesthetically, the differences among PSP 1000, 2000 and 3000 are minute; however if you take a look at the inside of these gadgets, then you would have to give me more spaces and time to talk about. This, however, is not what I want to speak of. I would like to give you my impressions to the new PSP – the Playstation Portable Go.
The PSP Go is not just the smaller spanking newer version of the PSP but it's badder.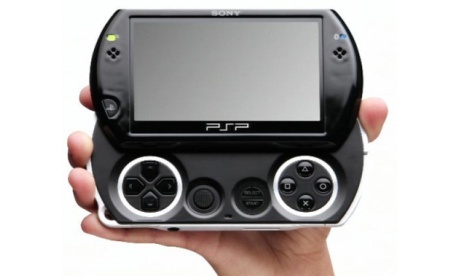 The PSP Go, to be released on 1 October
Click Read More for further information.
It's badder and far better than it predecessors because of its hardware and aesthetic specs.
My Impressions:
1. Although Wikipedia says that the battery is removable on the PSP Go, many claim that it isn't removable by normal means. This might send DarkAlex and developers of Despertar del Cementerioto to their retirement. Or maybe not. (Pinoy-Layman's term: Medyo matatagalan pa para magkaroon ng ways to install Custom Firmwares to the new PSPs.)
2. The new save state feature of the PSP Go is uber-cool. This means that you can pause the game, exit to to the Cross Media Bar and play your favorite grunge music, then get back to last state your playing. This is different from the save-and-load we are used to. Think of our good ol' SNES emulator for PC save state – that basically captures what this feature means.
3. Faster CPU Speeds means better fluid gameplay. This new PSP boasts better CPU thus expect better gameplay. If Ipod Touch/Iphone sorta "killed" the Nintendo DSi or the PSP, PSP Go is very worthy to be its latest rival when it comes to fluid and better-graphics gameplay. No touch-screen for the PSP tough.
[youtube=https://www.youtube.com/watch?v=QypIvuYDPn0]
4. PSP Minis excite me. Sony will debut 15 titles and would eventually introduce 35 more by year end. Games will include the ones that were introduced to Ipod Touch/Iphone gamers like Fieldrunners, Puzzle Scape, Alien Havok, Sudoku, Pacman Championship Edition, Championship Manager, Burn Zombie Burn 2D, Funky Punch, Breakquest, and Melody Bloxx.
A screenshot of a game developed for PSP Minis.
Yes, this new gadget excites me but will I buy it?
My answer is 'NOT YET'. Though this PSP is packed with lots of new features, it wouldn't be practical for me to get it at this stage. I wouldn't even pre-order it from Amazon now. My PSP can still play PSP games. I don't need a Go to further my gaming experience. The only problem I have with my PSP is its battery life. I can buy a spare battery from Amazon, Ebay or TipidPC! 32Gb is helluva lot of space for games. I can always backup my PSN downloads or my PSP ISOs into my PC if I need more space for new games or PSP minis.
My point is that buying a PSP Go now is quite impractical (it's $350!). If you're planning to buy it, I suggest that you wait till Christmas where prices of gadgets usually drop. Or wait until Sony slashes Php 10,000 off the price (after 3 years, I think).
Giancarlo Viterbo is a Filipino Technology Journalist, blogger and Editor of gadgetpilipinas.net, He is also a Geek, Dad and a Husband. He knows a lot about washing the dishes, doing some errands and following instructions from his boss on his day job. Follow him on twitter: @gianviterbo and @gadgetpilipinas.