Introduction
AMD is slowly completing its Radeon RX 6000 series graphics card lineup with the recent launch of the AMD Radeon RX 6600 XT, a sub $400 graphics card aimed at budget gamers playing at 1080p resolution. The AMD Radeon RX 6600 XT is AMD's answer against Nvidia's RTX 3060, priced at $329. The AMD Radeon RX 6600 XT offers the same features found on the latest RDNA 2 architecture. Unlike the rest of the RX 6000 lineup, the AMD Radeon RX 6600 XT is not offered in a reference design and is only available at AMD's GPU partners housing third-party designs. Hence, the RX 6600 XT that we will be using in this review is the XFX Radeon RX 6600 XT Merc 308 graphics card.
RDNA 2 Architecture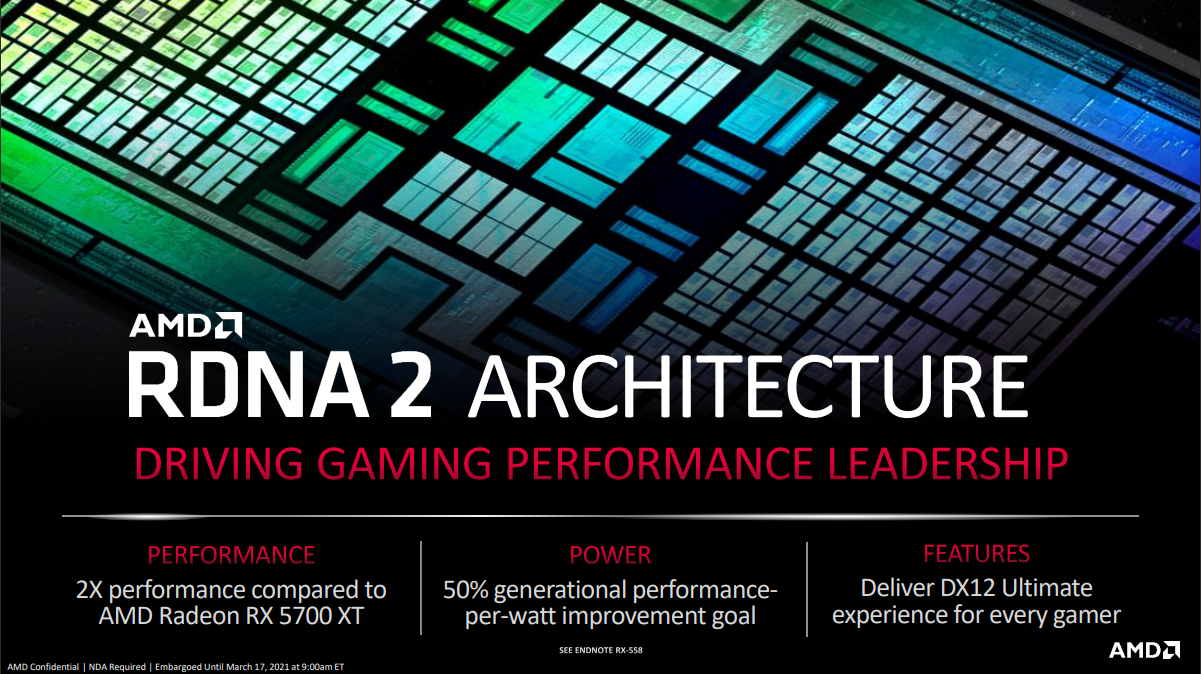 The RDNA 2 Architecture, commonly known as Big Navi, is the generational evolution of the RDNA Architecture found on the RX 5000 series. While both are under TSMC's 7nm process, the architectural improvements on RDNA 2 allow AMD's RX 6000 series to be DX12 Ultimate certified and have Ray Tracing capabilities.
AMD Radeon RX 6000 Series
| | | | | | |
| --- | --- | --- | --- | --- | --- |
| | Radeon RX 6900XT | Radeon RX 6800XT | Radeon RX 6800 | Radeon RX 6700 XT | Radeon RX 6600 XT |
| GPU | Navi 21 XTX | Navi 21 XT | Navi 21 XL | Navi 22 XT | Navi 23 XT |
| Compute Units | 80 | 72 | 60 | 40 | 32 |
| Stream Processors | 5120 | 4608 | 3840 | 2560 | 2048 |
| Ray Accelerators | 80 | 72 | 60 | 40 | 32 |
| Texture Units | 320 | 288 | 240 | 160 | 128 |
| ROPs | 128 | 128 | 96 | 64 | 64 |
| Game Clock | 2015 MHz | 2015 MHz | 1815 MHz | 2321 Mhz | 2359 Mhz |
| Boost Clock | 2250 MHz | 2250 MHz | 2105 MHz | 2581 Mhz | 2589 Mhz |
| Memory | 16GB G6 | 16GB G6 | 16GB G6 | 12GB G6 | 12GB G6 |
| Infinity Cache | 128 MB | 128 MB | 128 MB | 96 MB | 32 MB |
| Memory Clock | 16 Gbps | 16 Gbps | 16 Gbps | 16 Gbps | 16 Gbps |
| Memory Bandwidth | 512 GB/s | 512 GB/s | 512 GB/s | 384 GB/s | 256 GB/s |
| Memory Bus | 256-bit | 256-bit | 256-bit | 192-bit | 128-bit |
| Total Board Power | 300W | 300W | 250W | 230W | 160W |
| MSRP | $999 US | $649 US | $579 US | $479 US | $379 US |
As of writing, the AMD Radeon RX 6600 XT is AMD's cheapest RDNA 2 GPU offering with an MSRP of $379 US(Php 19,306) next to the Radeon RX 6700 XT at $479 US. Being $100 or 20 percent cheaper than the RX 6700 XT, the RX 6600 XT comes with 20% fewer cores, 33% slower memory bandwidth, and 30% less power consumption.
| | | | |
| --- | --- | --- | --- |
| AMD Radeon | Price | Nvidia GeForce | Price |
| AMD Radeon RX 6900 XT | $999 | Nvidia Geforce RTX 3090 | $1499 |
| AMD Radeon RX 6800 XT | $649 | Nvidia Geforce RTX 3080 | $699 |
| AMD Radeon RX 6800 | $579 | Nvidia Geforce RTX 3070 | $499 |
| AMD Radeon RX 6700 XT | $479 | Nvidia Geforce RTX 3060 Ti | $399 |
| AMD Radeon RX 6600 XT | $379 | Nvidia GeForce RTX 3060 | $329 |
Being at the sub $400 mark, the AMD Radeon RX 6600 XT's sits a tight spot as it's priced in between the Nvidia RTX 3060 and RTX 3060 Ti which are both under the $400 mark. While some may argue that the RTX 3060 Ti's base price-cutting is close to the $400 ceiling, the same can also be applied to the RX 6600 XT as the RX 6600 XT does not have a reference version, unlike the 3060 Ti FE. Meaning it's unlikely that we will see RX 6600 XT selling for $379 as board partners put in their premium with each of their cooling shroud, designs, and custom clock speeds are taken into account in the overall price.
XFX Speedster MERC 308 Radeon RX 6600 XT – A Closer Look
XFX is one of the few brands to have a vertical style packaging for its graphics cards. It's refreshing to see such a simple design on the front without many pictures, holofoil texts, and the like. You are greeted with the MERC 308 branding at the very center of the front packaging with the graphics card model and highlighted features on the bottom part. Moving to the back shows a glamour shot of the XFX Merc RX 6600 XT alongside feature highlights of the RDNA 2 Architecture.
Packaging contents are relatively simple with only the Radeon RX 6600 XT Merc 308 GPU, warranty card, and driver packet. We appreciate the removal of the CD Drivers as it's frankly outdated, and by the time users get their hands on a GPU, the drivers on the CD will surely be outdated. This also reduces the cost, which in turn lowers the supposed price of the XFX RX 6600 XT Merc 308.
XFX has one of the cleanest designs for this generation of GPUs yet still boasts a premium feel due to its elegance. The flat black cooling shroud has different sized perforation-like circles spanning across the area and silver outlines for the three 80mm fans.
There's a glossy MERC branding on the left side of the backplate of the XFX Speedster Merc 308 Radeon RX 6600 XT, with the other right part having a cutout of the XFX logo as well as different sized circle perforations. There's also a cutout where the PCB ends to allow for better airflow. The practice of leaving a cutout on the part of the backplate where the PCB ends seems to be common for the latest RTX 30 series and even the RX 6000 series graphics cards.
Case compatibility won't be an issue with the XFX Speedster Merc 308 RX 6600 XT as it only takes up 2.25 slots which is fairly slim for today's standards. Following the simplistic design, the side only shows the XFX logo on the left and the Radeon RX 6600 XT branding on the right with a good amount of space exposing the heatsink fins for better airflow.
The rated TDP of the AMD Radeon RX 6600 XT starts at 160W and can slightly vary depending on the board partner, especially for OC edition variants. 160W is fairly okay for a budget card, and it's 10-watts less than the RTX 3060. The XFX Speedster Merc 308 Radeon RX 6600 XT requires only one 8-pin PCI-E connector. There's a BIOS switch next to the power connectors, which allows you to switch between different profiles, but in the RX 6600 XT Merc case, both profiles have the same configuration. For benchmark purposes, we tested the graphics card in the out-of-the-box default configuration.
The IO bracket has the XFX logo cut out along with some small perforations for airflow. You get the standard IO configuration for the XFX Radeon RX 6600 XT Merc sporting three Display Port 1.4a and one HDMI 2.1 port. What's a little weird about the configuration is the HDMI port is in the center; we usually see the HDMI port on either end for more effortless connectivity, especially if you're plugging a cable from the back of the case without any clear line of sight.
Benchmark Setup and Methodology
Gadget Pilipinas' testing philosophy is to provide detail-oriented results as accurately as possible that our readers can replicate our tests given that these conditions are met. Different benchmarking apps and sequences are used depending on the component or device being tested.
AMD Radeon RX 6600 XT Review Test Bench Specs
CPU
AMD Ryzen 9 5950X
COOLER
Corsair H100i RGB PRO XT 240mm AIO – Noctua NT-H2 Thermal Paste
MOTHERBOARD
ASUS ROG Crosshair VIII Hero (Wi-Fi)
MEMORY
Tforce XTREEM ARGB 16GB(2x8GB) 3600Mhz DDR4
GPU
XFX Radeon RX 6600XT Merc 308 | Adrenalin 21.58.2
Palit RTX 3060 StormX | GeForce 471.96
STORAGE
WD SN750 2TB SSD
POWERSUPPLY
FSP Hydro PTM Pro 1200W 80+ Platinum Power Supply
OPERATING SYSTEM
Windows 10 Pro Build 19041
DISPLAY
Lenovo Legion Y27Q Gaming Monitor
We use CapFrameX 1.6.5 Beta as our FPS capture and analysis tool for all our gaming benchmarks. The latest build version of Windows 10 and WHQL certified drivers are used for our benchmarks. Readings such as temperatures and power draw are recorded using HWMonitor and HWInfo64 as well as other relevant software are used for cross-checking.
Benchmark list
SuperPi 32M
wPrime
AIDA64 Memory Benchmark
Geekbench 5
Cinebench R20
Google Octane
V-Ray
HWBot x265
Handbrake
Blender
Corona Renderer
3DMark
DOTA 2
Rainbow Six Siege
Metro Exodus
Far Cry 5
Shadow of the Tomb Raider
GTA V
F1 2020
Cyberpunk 2077
Assassins Creed: Odyssey
Horizon Zero Dawn
Godfall
XFX MERC 308 Radeon RX 6600 XT – Synthetic Benchmarks
3DMARK
3DMark is the go-to benchmark for gamers because of the ability to share and compare results online. We tested the AMD RX 6600 XT both in Fire Strike and Time Spy to get a good gauge of DX 11 and DX 12 API performance.
GeekBench 5
Geekbench is a multi-platform benchmark that's used to gauge CPU performance and compare them across Windows, Mac, and Mobile. Geekbench 5 is the latest version It doesn't rely on memory as much as the previous Geekbench 4, making it a great tool to measure both single-core and multi-core CPU performance. For our GPU reviews, we both measure OpenCL and Vulkan performance.
VRAY
V-Ray Benchmark is a stand-alone version of V-Ray developed by Chaos Group. It is designed to test the CPU and GPU by rendering sample scenes at a fixed amount of time. V-Ray is a plug-in mostly utilized by 3D computer graphics software applications mainly for industrial design, product design, architecture, film, and video game production. V-Ray is not limited to 64-threads as it supports multi and mega-threading.
XFX MERC 308 Radeon RX 6600 XT – Gaming Benchmarks
DOTA 2
Most gamers play at least one of the following free-to-play titles: League of Legends, CS: GO, Dota 2, and/or Fortnite. Dota 2 is a good representation of the F2P titles as it is the most demanding game in the spectrum. The benchmark will give you an idea of the graphic card's relative performance on other lesser demanding titles. Our benchmark sequence is based on a replay of OG vs. Liquid in the TI9 grand finals from the team fight that happened from 28:30 to 29:30.
Far Cry 5
FarCry 5 is an FPS game published by Ubisoft and uses the Dunia engine. It heavily relies on and takes advantage of DirectX 11 to render a realistic environment that makes it taxing to both the CPU and GPU.
Rainbow Six Siege
Rainbow Six Seige is one of the few popular AAA games that's still popular in 2021 due to its competitive gameplay mechanics. R6S uses the AnvilNext game engine, which the game's publisher, Ubisoft, developed. As of writing, Rainbow Six Siege is currently the most popular Tom Clancy title beating out Wildlands, Breakpoint and even, Division 2.
Cyberpunk 2077
Cyberpunk 2077 is arguably the most hyped game of 2020. Developed by CD Projekt Red, the dystopian open-world, action-adventure RPG sports is one of the most demanding titles to date. Cyberpunk 2077 also supports three Ray Tracing settings as well as DLSS which makes the game a great tool to measure Ray tracing performance for both AMD and Nvidia graphics cards.
Shadow of The Tomb Raider
Shadow of The Tomb Raider or SOTR is the latest installment of the Lara Croft Tomb Raider franchise. Developed by Square Enix, SOTR uses the Foundation engine and is further enhanced by Eidos Montreal. STOR is also one of the first games to come out with Ray Tracing and DLSS support.
Metro Exodus
Metro Exodus is the third Metro game trilogy based on Dmitry Glukhovsky's novels. The game is a first-person shooter with survival horror and stealth elements. The post-apocalyptic game uses 4A Engine by 4A games. Released last 2019, Metro Exodus remains to be one of the most graphically pleasing and demanding games that's popular to date.
Assassin's Creed: Odyssey
Assassin's Creed Odyssey is the latest franchise installment from Ubisoft. It's by far the most popular and stable Assassin's Creed title since AC IV: Black Flag. It uses the AnvilNext 2.0 game engine, an updated version of Rainbow Six Siege's game engine, and uses the DirectX 12 API.
F1 2020
F1 2020 is the official video game of the 2020 Formula 1 and Formula 2 championships developed by Codemasters. F1 2020 is the twelfth installment in the franchise and uses the Ego Engine 3.0. F1 2020 is a good representation of racing games thanks to its realistic graphics and fairly demanding spec requirements.
GODFALL
XFX MERC 308 Radeon RX 6600 XT – Temps and Power Draw
Across our whole suite of graphics cards, the XFX Radeon RX 6600 XT Merc 308 managed to get the lowest power consumption at only 146 Watts peak load during our testing, 24 watts lower than the single-slot Palit RTX 3060 StormX.
Despite the superb efficiency in power draw, the RX 6600 XT falls behind spectacularly against the Palit RTX 3060 StormX. Although the RX 6600 XT Merc 308 has a larger heatsink surface area and two more fans against the single-slotted, single fan RTX 3060 Storm, the RX 6600 XT recorded a peak temp of 76°C, which is frankly hotter than I would expect on a 2.25 slot, triple-fan cooler.
Conclusion
At 1080p, the XFX Radeon RX 6600 XT Merc 308 performs admirably as we get an average frame rate of 140 across our 10-game benchmark suite. Running the latest AAA games on high settings should not be a problem for the RX 6600 XT, which is the target resolution of the GPU. Bumping up the resolution shows the framerates favor the RTX 3060 despite having lesser VRAM than the RX 6600 XT. Not to mention the efficiency in both temps and power draw that the RTX 3060 draws.
Performance-wise, the AMD Radeon RX 6600 XT is an excellent card, but that's just where it ends for the GPU. XFX has done a remarkable job with its Speedster MERC 308 variant in terms of build quality and performance, but that alone couldn't make the RX 6600 XT enticing in the market. Its $379 pricing makes it more awkward for the GPU as you can get the same level of performance with the RTX 3060 for $50 less, or you could bump it up to a 1440p capable GPU in the form of the RTX 3060 for $20 more. Luckily for the AMD Radeon RX 6600 XT, its GPU shortage price of $560 puts it at around $100 less than the average shortage price of the RTX 3060. That said, in today's current GPU prices, the RX 6600 XT is a no-brainer choice as it's simply the cheapest latest generation GPU that can play 1080p game titles with ease. However, once the prices revert, the only way for the RX 6600 XT to allure its potential owners is to have its price slashed, which AMD has done quite a few times in the past with the RX 5000 series. So, if you're in desperate need of a 1080p graphics card today, the AMD Radeon RX 6600 XT in the form of the XFX Speedster Merc 308 RX 6600 XT is your best bet leaving you no regrets in the future as you'll be able to game on framerates on high settings with a touch of Ray Tracing capabilities and FidelityFX resolution. Now, if you're from the future where prices have settled, then the RX 6600 XT is a great choice for those looking to extract the highest framerate without caring for the fancy Ray Tracing setting available in 1080p under the $400 mark.