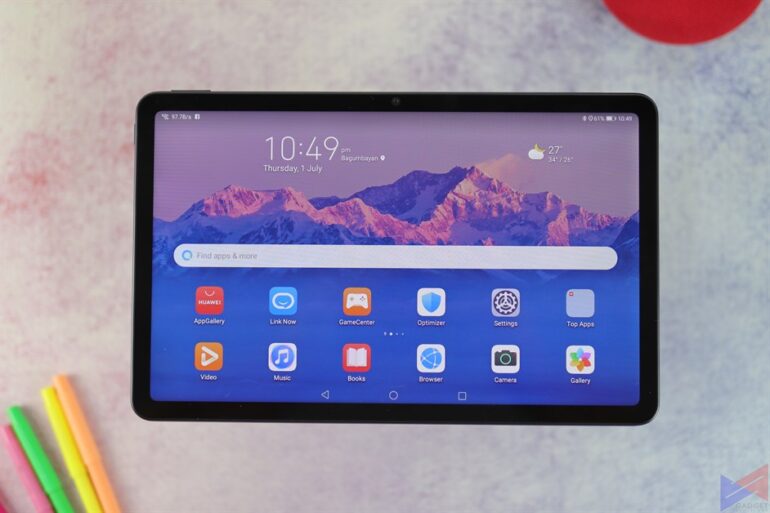 In this time where the classroom and the meeting room are now in the virtual space, both students and the workforce are more in need of devices that can handle the demands of everyday productivity, and the after-work entertainment through media consumption and gaming. In short, an all rounder.
While smartphones are totally and laptop have taken most of the spotlight, some people still prefer something that's not as big as the former, and not too small as the latter. Something that has more real estate to see more people when on an online meeting.
That's where the Huawei MatePad 2021 comes in, delivering that space for learning, while also being a device good for entertainment and play, all while being able to be easily carried around and put away.
Huawei MatePad 2021 Specifications
| | |
| --- | --- |
| Display | 10.4-inches FHD+ IPS, 84% Screen-to-Body Ratio |
| Processor | Kirin 820 |
| RAM | 4GB |
| Storage | 128GB |
| Camera | 8MP Rear, 8MP Front |
| OS | EMUI 10.1 (Based on Android 10) |
| Connectivity | USB Type-C |
| Battery | 7,250mAh |
Design and Build Quality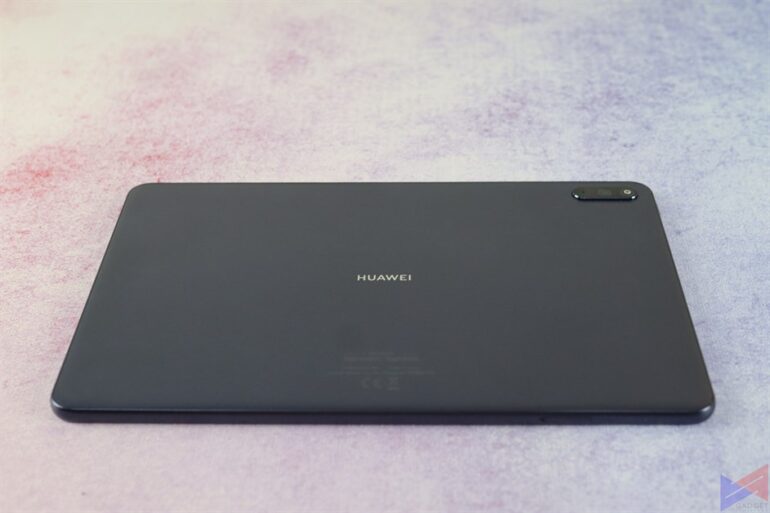 Sleek, elegant. That's how I'd describe the MatePad 2021 in terms of design. You get the Huawei branding at the back on a matte metallic surface. The panel is plastic, as far as I can tell, but the tablet doesn't feel flimsy at all, but rather, well made.
Oddly, Huawei decided to put the power button on top, whereas you'd expect it to be on right, along with the volume rocker. Perhaps they were on a notion that you'll be using the tablet in landscape mode anyway, which is partly true based on my own usage pattern.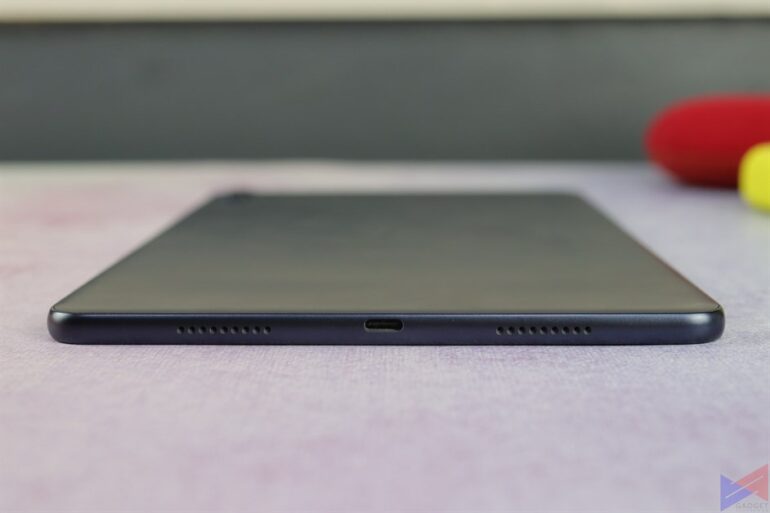 There's no headphone jack, but you do get a 3.5mm to USB-C dongle out of the box.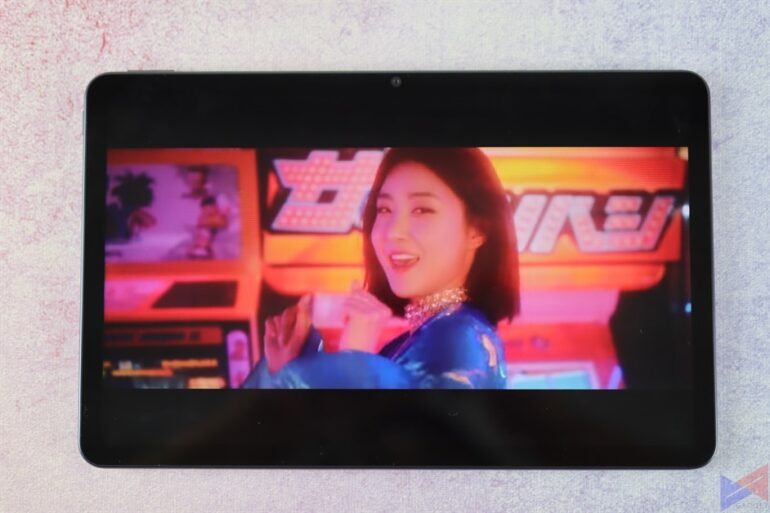 Upfront, the 10.4-inch FHD+ IPS display is surrounded by thin bezels, plus an 8MP snapper on side, which again gives the impression that they want you to use this in landscape, even for meetings.
Speaking of which, the IPS display showcases punchy colors and sharp text – definitely a great screen to watch movies, lectures, and play games on. It sticks to a standard refresh rate, but visual still appear as smooth as they should be.
For added productivity, you can connect this to Huawei's Smart Keyboard, and it's also compatible with the Huawei M-Pencil, for a more natural writing experience and for creatives who like to create art digitally.
For entertainment, Huawei has equipped the MatePad 2021 with four speakers with sound by Harman Kardon, as well as support for Histen 6.1, which features and equalizer and a bass boost. It's loud enough with no noticeable distortion at high volume, the clarity of vocals is pretty decent, bass?, not so much. The high-end is airy enough without piercing .
Performance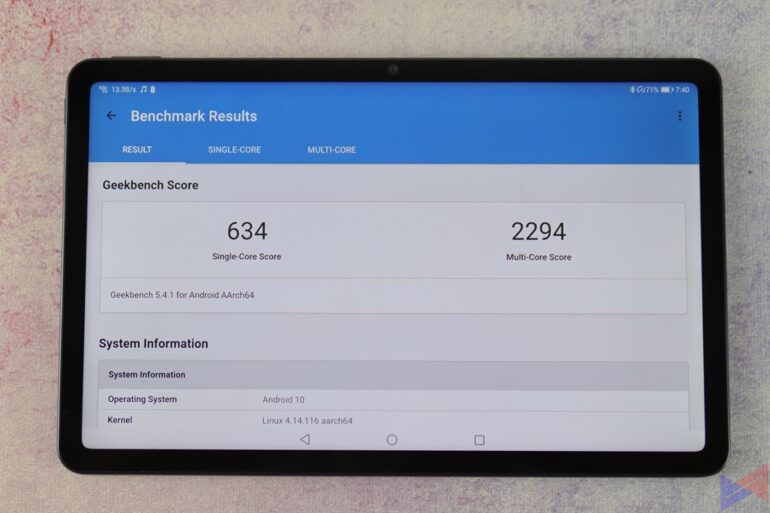 The 7nm Kirin 820 is certainly more than capable to handle typical scenarios like web browsing, social media, media consumption, and even gaming. There's 4GB of RAM, which, while not as much as you'd see on some phones, is still enough for light multi-tasking. Maybe 6GB would've been a better deal though.
For gaming, MatePad 2021 can run Ragnarok Next Generation at its maximum settings with only minor slowdown when there's a lot of players on screen. Genshin Impact, on the other hand, can feel sluggish at times when at its lowest settings. Mobile Legends players will be more than delighted, as this supports HFR Mode and can run the game at Ultra setting with no issues.
For media consumption, the device is fantastic for watching videos online, thanks to the larger screen that makes you appreciate the details in the content just a little bit more. It's also great for listening to music, thanks to four speakers.
Camera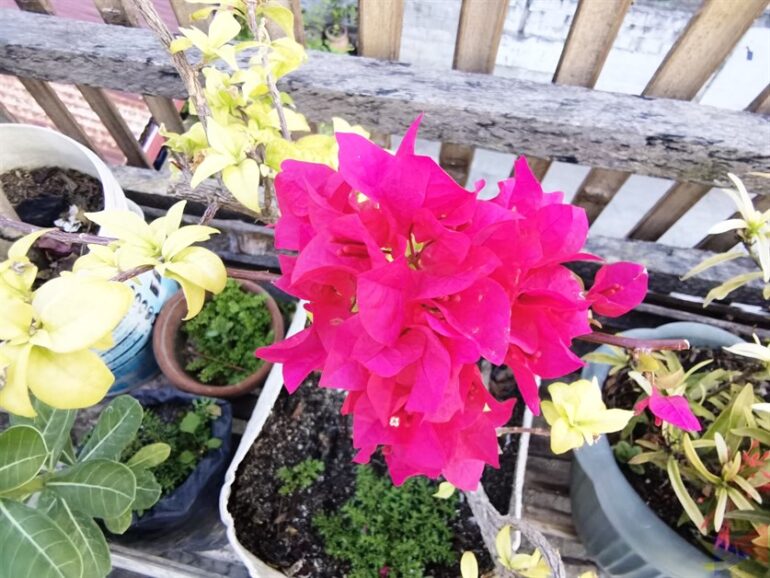 Despite only having a single 8MP camera at the back, the MatePad 2021 can still capture some decent looking photos. The lack of a depth sensor means the bokeh effect isn't as refined, but as far details, color, and texture are concerned, this camera does the job.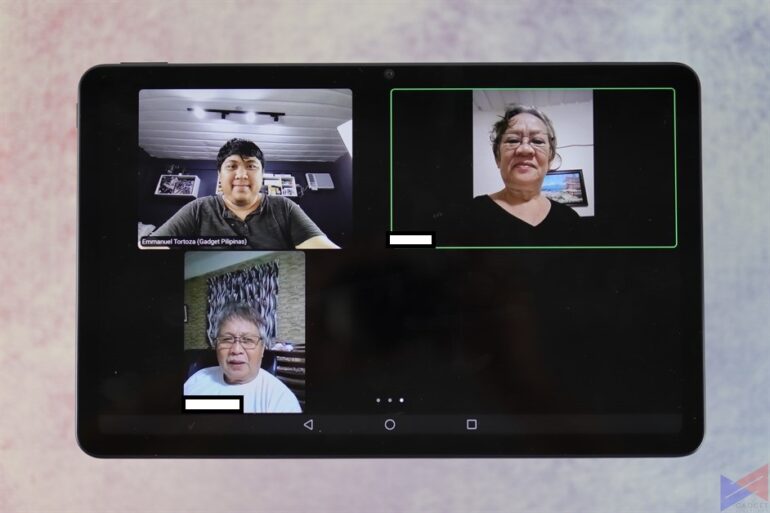 The front houses a wide-angle camera, which makes sense if you're going to use it for meetings or learning sessions. As far as image quality is concerned, it's decent, and that's all you'll need, anyway.
Software
Now, this is always the tricky part when reviewing a recent Huawei device. The short way to describe it is that if you're someone who can't live without Google apps (which is completely reasonable) and you're not willing to tinker a bit to get them working, this tablet isn't for you.
If, however, you're one who wants to try a "Google-Free" solution, or is someone willing to learn a few tricks in order to get access to those apps, then this is actually a good use case.
Before we get to that, however, let's talk about what the MatePad offers, raw.
Of course, your main app market will be Huawei's AppGallery, which has actually grown quite a lot in terms of apps. In fact, some local apps are even there.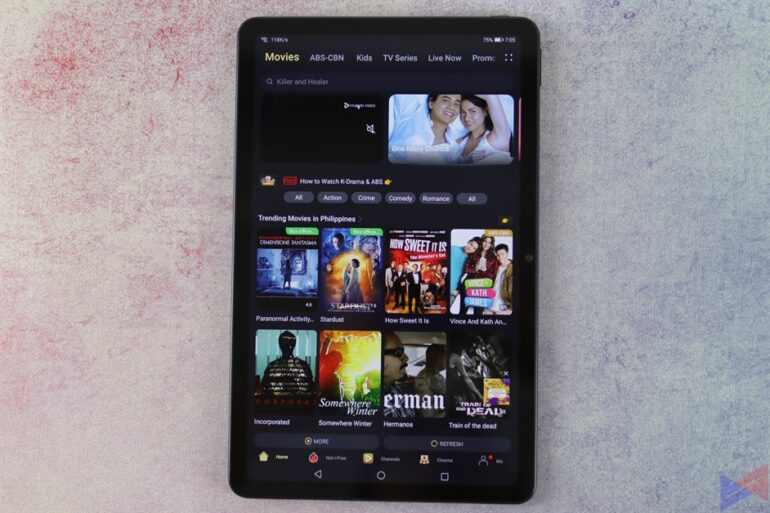 For videos, there's Huawei's own video streaming service, Huawei Video, which, in fairness, has a decent library, again, not as expansive as YouTube. Huawei Music is also one of the apps you'll be relying on, and I'm actually impressed by a lot of the hidden gems I've come across there.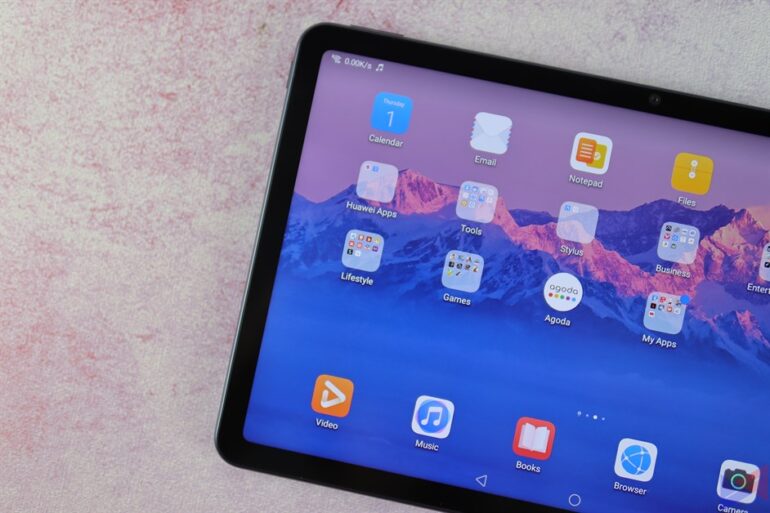 The only complaint I have is that there's just too many things that are "partly" pre-installed. I say that because you do get a lot of folders that contain app recommendations, which I think should just be optional, as these eat up a ton of space on your home screen.
Apart from the above, there's an email client which accepts Gmail, a Calendar app, a Notepad app, a File Manager, a browser, and an optimizer. So you can probably say that it's as barebones as it could go. The rest of the apps are up to you.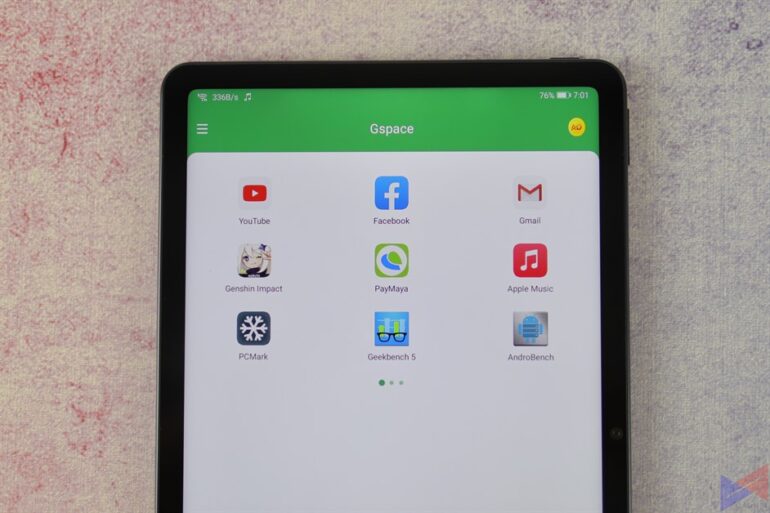 Now, let's talk about how I managed to run Google apps on this thing. Simple, use GSpace, which is actually available on the AppGallery too. From there, you can access apps like YouTube, Google Maps, Google Drive, and of course, the Google Play Store, from which, you can now install apps like Facebook. Once you have the apps on GSpace, just create a shortcut for each app on your home screen, and you're good to go.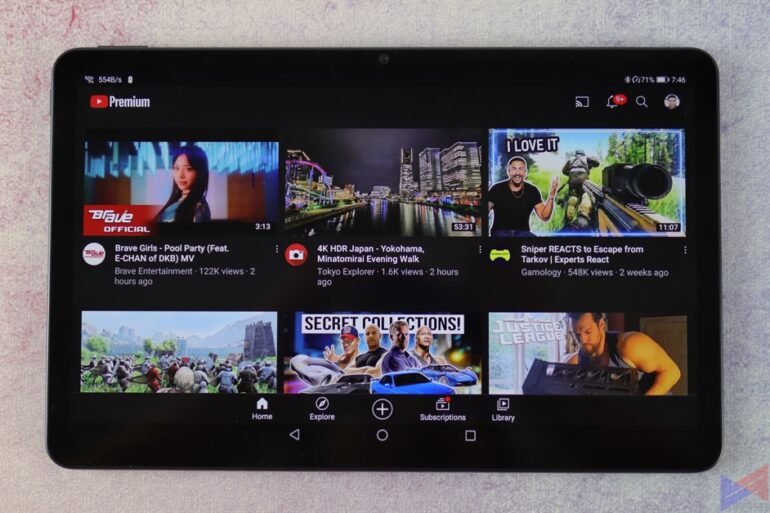 This also allows you to sign in with a Google Account, which, in turn, means you can take advantage of your YouTube Premium account for an ad-free experience. As for Netflix, just install it via Aptoide and you're good to go. You're going to be stuck with SD quality, but again, that's better than nothing.
The only caveat with this solution is that you may run into some ads when opening apps, but hey, this is better than nothing, right?
Huawei Share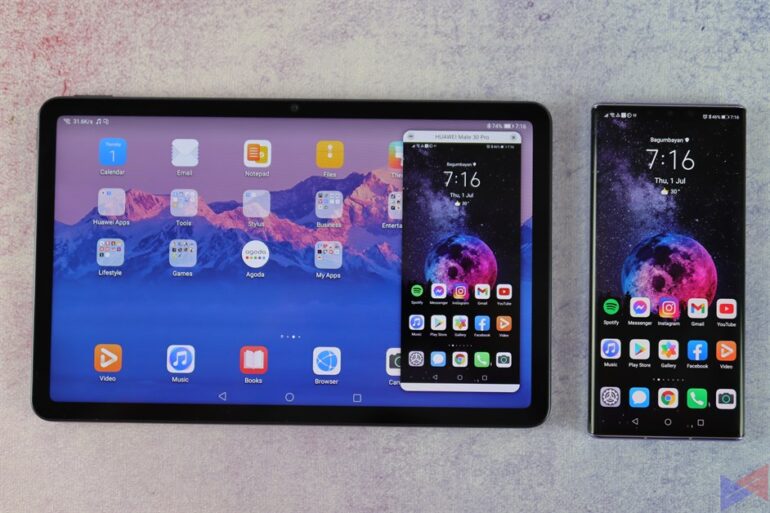 Huawei focuses on collaborative features, that's why the MatePad also features Multi-Screen Collaboration, wherein you can connect a compatible Huawei smartphone to the MatePad and be able to control the smartphone from the tablet's screen, quickly transfer files between both devices, and allow the phone to utilizes the MatePad's speakers, keyboard, microphone, and camera. You can also take calls from the tablet.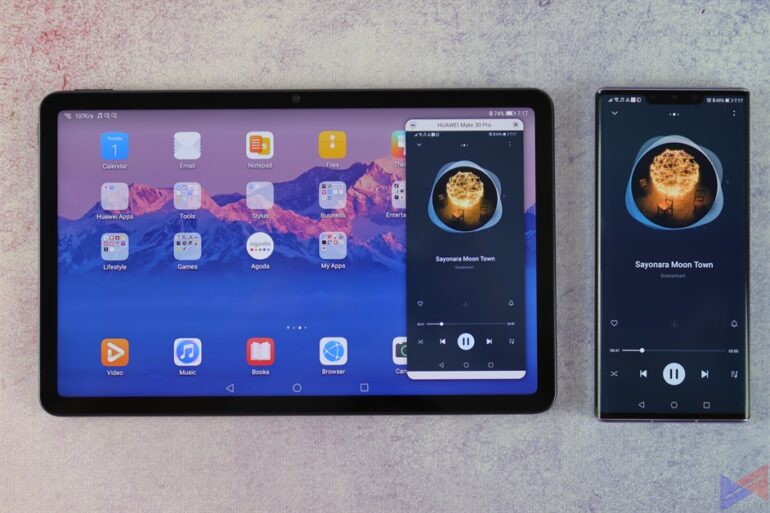 For example, I'm using the MatePad 2021 to access the music player on my Mate 30 Pro, playing music through a speaker that's connected via Bluetooth to my tablet.
Kids Corner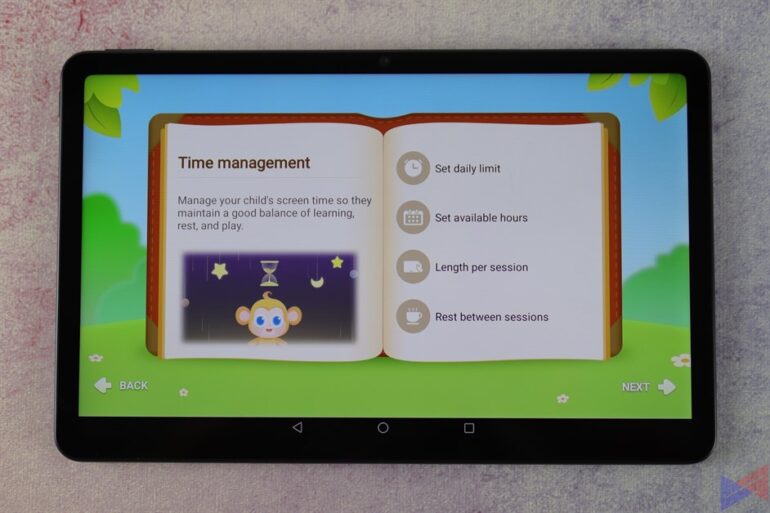 For kids, the Huawei MatePad 2021 provides a safe and manageable space for learning and fun. For one, it warns the user then they're eyes are too close to the screen. Parents can also set exemptions to the app limits for say, e-learning apps to ensure that there will be no interruptions should say, virtual classes go longer than the set limit.
Frequently accessed apps can be added to the first page of the home screen, which can also be locked with a password to ensure that kids will only use these apps with supervision.
Battery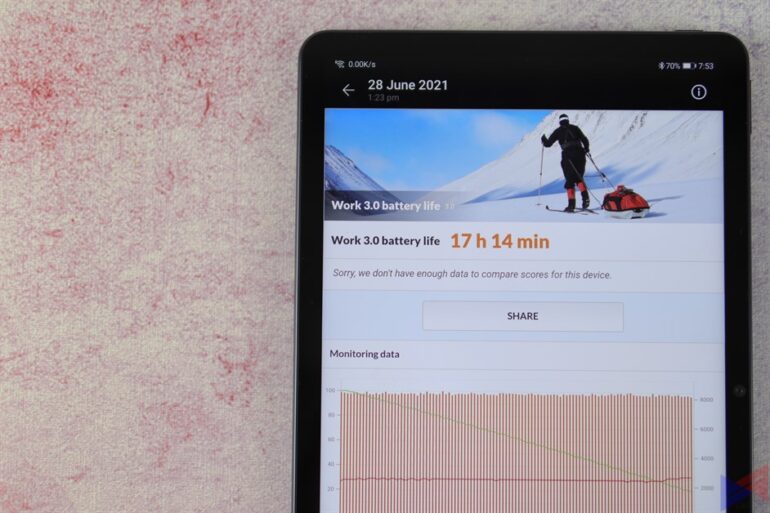 Using PCMark's Work 3.0 battery benchmark which simulates tasks like simple video editing and data manipulation, the Huawei MatePad 2021 was able to score 17 hours and 14 minutes, which is a great result.
Of course, the drawback of having a big battery is that it takes a while to recharge. Using the in-box charger, zero to full took around 2 hours. Not exactly an issue for me, as I can allot that time to other things, but for some, that will be quite a wait.
Huawei MatePad 2021 – Verdict
For the most part, the Huawei MatePad 2021 delivers most of what you'll need in a tablet for entertainment and productivity. It offers a good-looking display that's great for media consumption, it can game, properly, it's got decent cameras, and exceptional battery life.
Honestly, the only flipside to this device, is of course, the lack of Google Apps, which, let's face it, are being used by a lot a of people. While Huawei's AppGallery has certainly progressed a lot in terms of its library, it still hasn't reached that point that it can completely replace the Google Play Store.
Of course, it becomes a different ballgame for those who are willing to take some extra steps so that they can still enjoy Google Apps, though with a minor caveat – ads. Taking this path makes this tablet just as capable as any other, with the bonus of Huawei's collaborative features which, by the way, work very well and really offer convenience.
Would I recommend it? that depends. If you're willing to take those few extra steps, then this is a great tablet. Otherwise, it's totally understandable to go for something else that doesn't require as much tinkering. You're paying PhP 18,999, after all.
Emman has been writing technical and feature articles since 2010. Prior to this, he became one of the instructors at Asia Pacific College in 2008, and eventually landed a job as Business Analyst and Technical Writer at Integrated Open Source Solutions for almost 3 years.