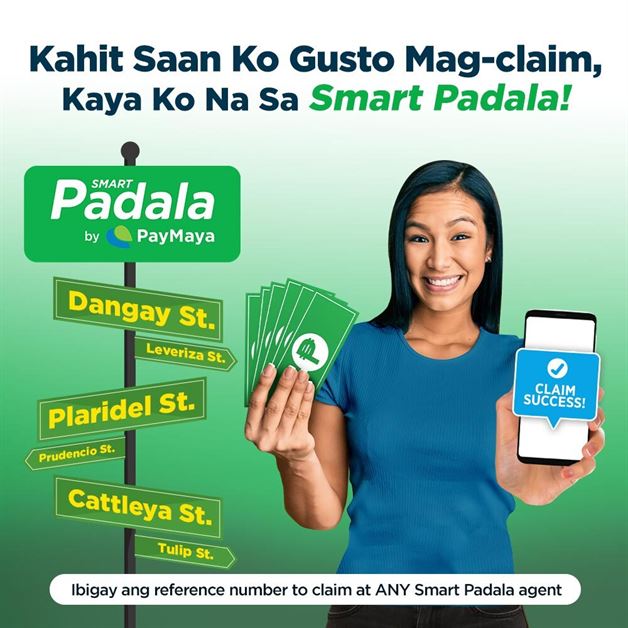 Collecting your remittance has never been easier! You can now walk in and collect funds sent by loved ones at any of over 40,000 Smart Padala agents across the country with Smart Padala by PayMaya's Claim Anywhere service.
With this new Claim Anywhere service, all the sender needs to do is provide the recipient's phone number, and funds can be easily claimed by their recipient at any Smart Padala agent in the country.
This new service makes receiving money much easier and hassle-free. Customers don't have to pay additional charges on top of the transaction fee to avail of this convenient option. Smart Padala by PayMaya customers just need to follow these simple steps:
The sender goes to a Smart Padala agent and chooses the Claim​ Anywhere service to send money. 
The sender provides his ID, the recipient's name and mobile number, as well as the funds and transaction fee. 
Both sender and receiver will receive a text message confirmation with the claim reference number. 
The receiver provides the claim reference number to any Smart Padala agent to claim the funds.  
Once customers have already claimed their remittance, they can also pay for their utility or government bills or even purchase prepaid load at their trusted Smart Padala agents.
For more information on PayMaya's products and services, visit www.PayMaya.com or follow @PayMayaOfficial on Facebook, Twitter, and Instagram.
Emman has been writing technical and feature articles since 2010. Prior to this, he became one of the instructors at Asia Pacific College in 2008, and eventually landed a job as Business Analyst and Technical Writer at Integrated Open Source Solutions for almost 3 years.