The growth of 5G connectivity in the country has accelerated wildly. Telecommunications company in the Philippines like Smart has been aggressive in rolling out network upgrades, which can definitely upgrade the connected lifestyle of Filipinos.
A few weeks ago, Smart announced Smart Bro 5G Rocket Wifi, a pocket-sized 5G device that can let users share their connection to more people. In this review, we'll give you our insights and feedback about this new device; and tell you if it's worth your investment.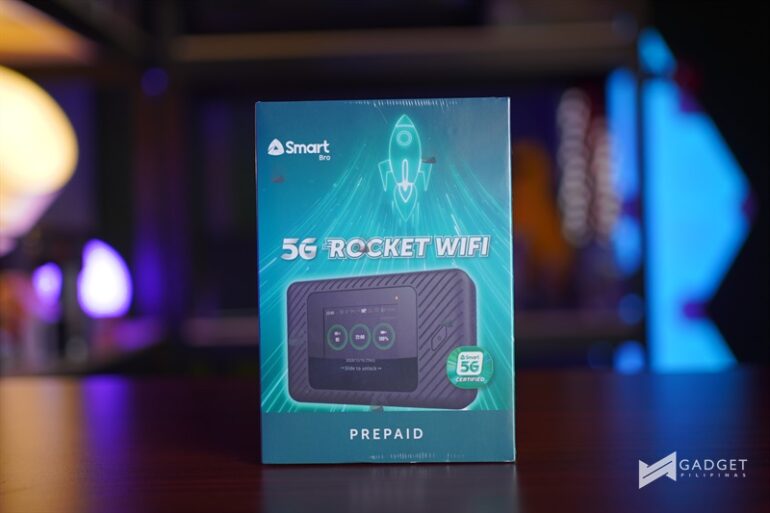 Build
The new Smart 5G Rocket Wifi is about the size of two decks of playing cards. The device is based on model M5G-7760, manufactured by Green Packet. The manufacturing company was founded in California in 2000, and headquartered in Malaysia, with branch offices in China, Singapore, Hongkong and Taiwan.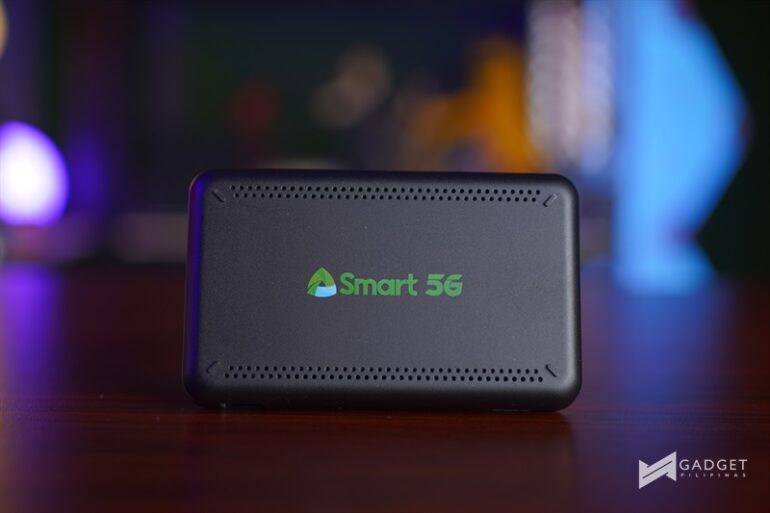 The device has a LCD touch panel, which most of its functions and operations may be controlled. Beside it is sleep/wake button that responds very well when pressed. The router may also be used a standard router that will let you extend your 5G connection thru an additional extender, thanks to its LAN port. It also has Type C port for charging and USB tethering.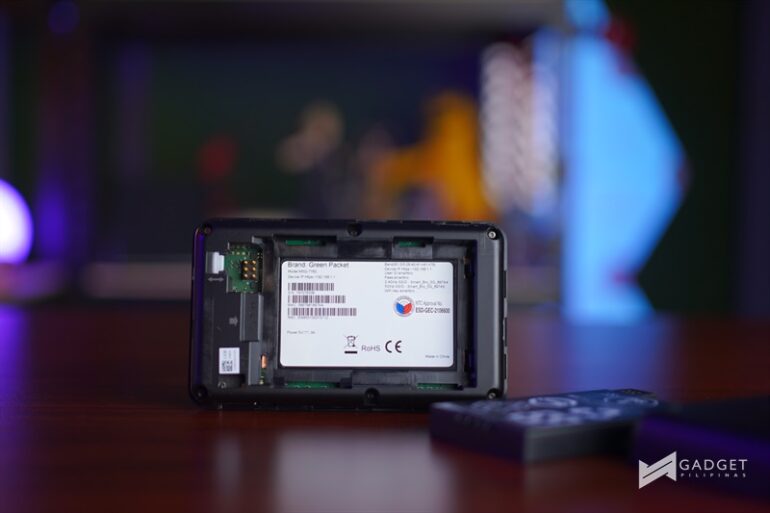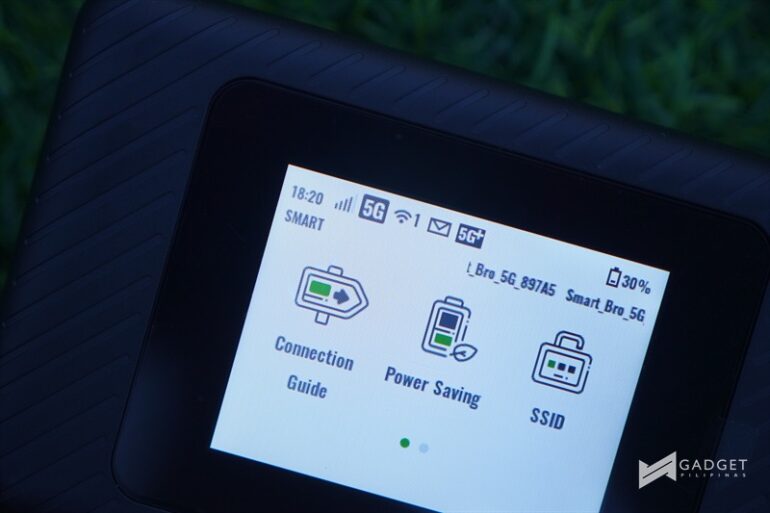 Popping off its back cover will reveal a 5,260mAh Li-ion battery that can last for 7 to 8 hours from a single charge.
Software and Setup
The Smart Bro 5G Rocket Wifi uses a MiFi software with WebUI for easy and noob-friendly operations. Pressing the sleep button turns on the screen and provide contextual menus to unlock and select specific functions.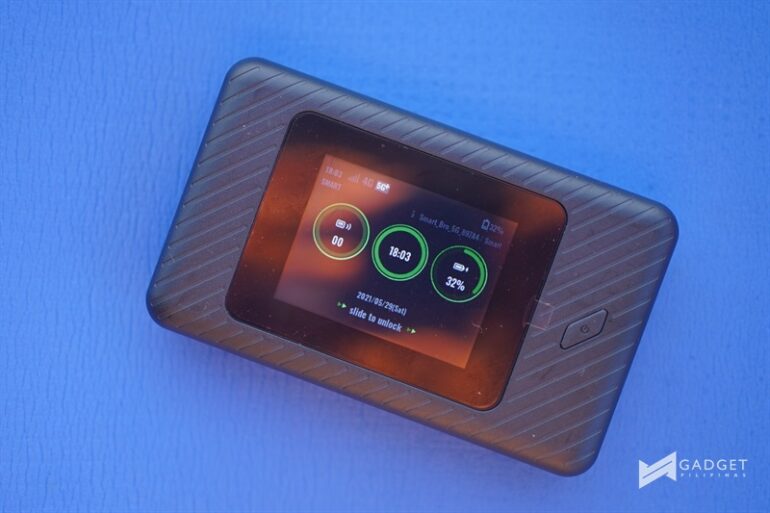 The menus are very minimal and require little know-how, which is beneficial for users, regardless of age and tech-savviness. Thumbs up to Smart and their manufacturer for agreeing to use this type of menu as I find this really easy to use. In fact, even my wife who isn't as tech-savvy as I am did not have any troubles using the device by herself.
However, while using the pocket router is easy, loading it may be a little challenging especially for first time users. Setting this up easily requires two major steps: (1) connect via the pocket router; (2) download GigaLife on your smartphone. For as long as you have these two requirements, you should not have any issues setting it up and even topping up its load, moving forward.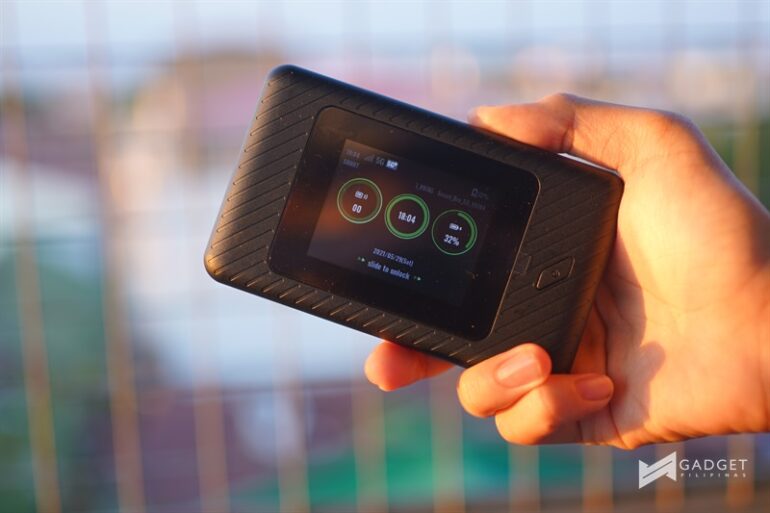 Once you have connected your smartphone to your router, GigaLife will pull the necessary data and information about your prepaid subscription plan annexed to the device. Loading it up is easy, and you have three ways of doing so: (1) use QR and e-Wallets (PayMaya, for instance, which grants you a chance to receive 100% cashback; (2) use your debit/credit card or wallet; or (3), buy a prepaid card and load it to the associated number to the SIM inside the router. From this point on, you can subscribe to plans available, renew or check usage. Signing up for a GigaLife account is optional.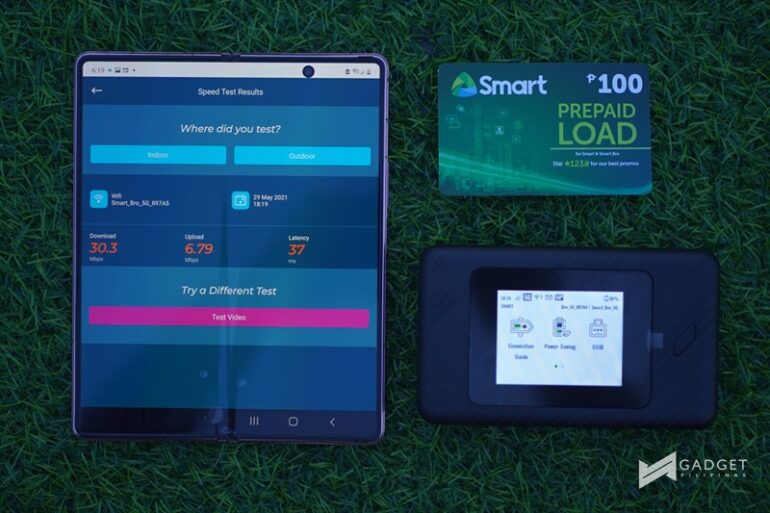 In my case, I always subscribe to All Data 299, which only requires PhP299 for 24GB sharable data for all sites and apps for 30 days. This brings more value for money especially to those who are heavy internet users. For more prepaid data subscription plans, check this link.
Connection Quality
Checking the quality of the signal is tricky so I devised a way to test and get the necessary data. We used SpeedTest and Open Signal in most instances in the following areas: (1) Las Pinas; (2) NLEX; (3) Cabanatuan City; (4) Eastwood; and, (5) Mandaluyong.
| | | |
| --- | --- | --- |
| Location | Download | Upload |
| Las Pinas 1 | 56.90 | 15.60 |
| Las Pinas 2 | 7.58 | 12.50 |
| Las Pinas 3 | 30.30 | 6.79 |
| Las Pinas 4 | 18.80 | 21.50 |
| Mandaluyong | 597.00 | 85.00 |
| NLEX 1 | 23.90 | 4.47 |
| Eastwood | 961.76 | 78.99 |
| Cabanatuan | 37.00 | 8.27 |
| AVERAGE | 216.66 | 29.14 |
Based on my location test, the best 5G locations are in Eastwood and Mandaluyong. While we didn't test in other areas, my colleagues told me that some spots in Makati get around 745mbps for download. These are prime 5G locations, and do not represent the performance of all locations with 5G signal throughout the country.
For actual 5G signal stats, I highly encourage you to check out OpenSignal. It shows detailed stats and locations where 5G is available. Smart, for instance, has over 2,700 5G signals across the country, and it can be seen via OpenSignal.
One thing is for certain, the Smart Bro 5G Rocket Wifi can clearly connect with 5G connection, but it's performance is based on the coverage of connection in the area. For your reference, this pocket wifi is compatible with the following bands: B1, 3, 5, 28, 40, 41, N41 and N78. I suggest that prior to investing in one, be sure to consider the following factors:
Your place of work has 5G signal
Your home/place (assuming your working from home) has strong 5G signal
Be mindful of the extra subscription cost involved. You have the option to get this via postpaid or prepaid plan. If you're getting via Postpaid, you have the option to get Signature Data S, Data M, Data L and Data XL. If you're getting a prepaid plan, you can buy this outright for PhP15,990 on this link.
Keep in mind that while you can connect up to 15 devices to this pocket router, speed and performance will be greatly affected by usage per connected device.
It is also worth noting that the Smart Bro 5G Rocket Wifi has Wifi6 or AX feature, which is a big deal especially for streaming and downloading huge files. If you want to know more about Wifi6 and its benefits, check out this article we wrote about another brand's Wifi6 router.
Verdict
The Smart Bro 5G Rocket Wifi works as intended. It connects flawlessly to Smart's 5G infrastructure, but its speed and performance is based on 5G coverage in the area. The aforementioned factors are needed to be considered prior to buying one to avoid buyer's remorse. Consider yourself blessed if your location is among the places with impressive 5G connection quality. Otherwise, you can either hold off your purchase or buy now and wait for the time when 5G is rolled out properly in your area.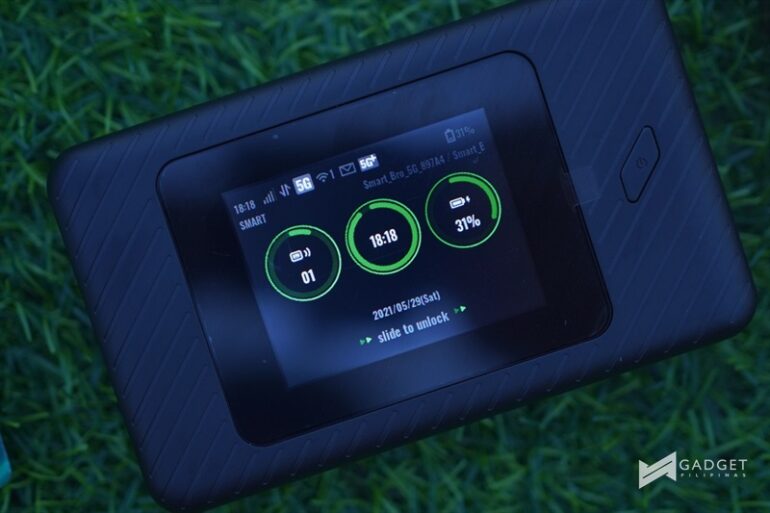 If you're buying a prepaid version of this pocket router, then you will not to consider the cost entailed. At PhP15,990, it's a tad pricier than 5G-powered smartphones sold in the Philippines. Smartphones, however, are not technically made for sharing connection at optimized and balanced speed. Pocket routers such as Smart Bro 5G Rocket Wifi has no problems doing this, apart from its very impressive battery life.
Giancarlo Viterbo is a Filipino Technology Journalist, blogger and Editor of GadgetPilipinas.net, He is also a Geek, Dad and a Husband. He knows a lot about washing the dishes, doing some errands and following instructions from his boss on his day job. Follow him on twitter: @gianviterbo and @gadgetpilipinas.