AMD has just unveiled the AMD Radeon RX 6000M mobile GPUs at Computex 2021. The new Radeon RX 6000M series is based on the RDNA 2 architecture comprised of the Raden RX 6800M, Radeon RX 6700M, and Radeon RX 6600M.
AMD Radeon RX 6000M series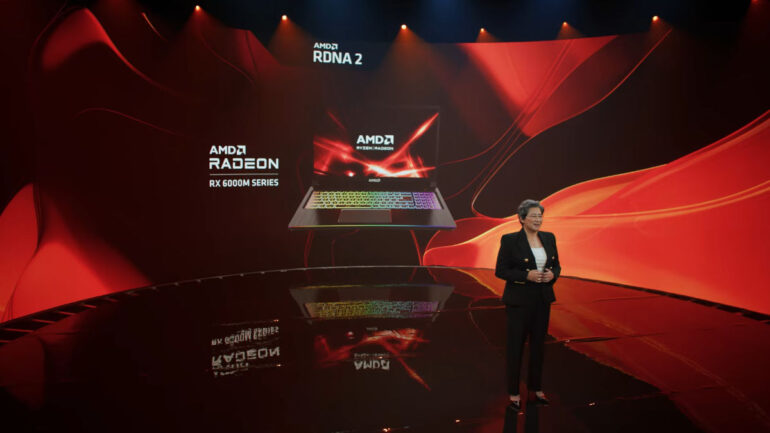 The Radeon RX 6800M features 12GB of GDDR6 vRAM, 96MB of Infinity Cache, and 40 compute units and ray accelerators. It will target systems of 145 watts and up and is said to offer a gaming experience at 1440p and 120fps.
The Radeom RX 6700M, on the other hand, has 10GB of GDDR6 vRAM, 80MB of Infinity Cache, and 36 compute units and ray accelerators. It is said to support gaming at 1440p and 100fps and target systems of up to 135 watts.
Lastly, the Radeon RX 6600M packs 8GB of GDDR6 vRAM, 32MB of Infinity Cache, and 28 compute units and ray accelerators. It is aimed for gaming at 1080p and 100fps and for systems with up to 100 watts of power.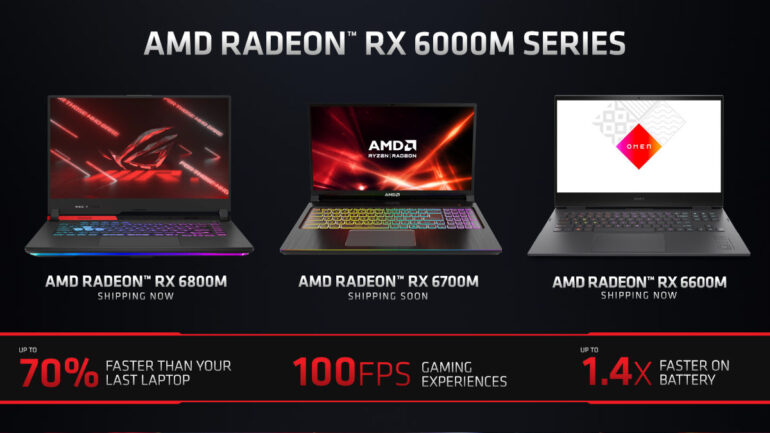 The Radeon RX 6800M is said to match the performance of an NVIDIA GeForce RTX 3070 or better depending on the optimization of a game. Depending on the price of the new mobile AMD GPUs, it could put pressure on NVIDIA-based gaming laptops.
AMD Advantage Design Framework
In addition to the new GPUS, the company also introduced the new AMD Advantage Design Framework. Which is the company's take on Intel's Evo platform.
AMD Advantage outlines a range of specs and features that device makers need to support to earn their certification. Among these include an IPS or OLED panel with 300+ nits of brightness and a refresh rate of 144Hz or higher. In addition, they'll need to support AMD FreeSync Premium and cooling that can prevent the WASD keys from going beyond 40°C.
The first two laptops to feature AMD Advantage certification are the ASUS ROG Strix G15 Advantage Edition and the HP Omen 16, with more laptops expected to arrive later on.
More AMD FidelityFX Super Resolution support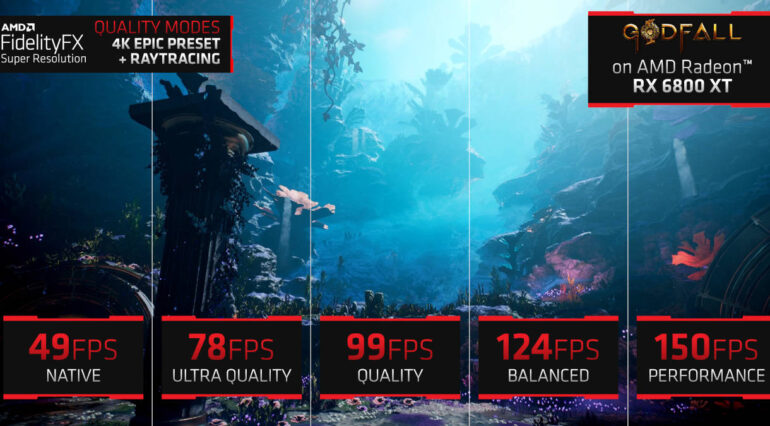 The company also announced the expanding support for AMD FidelityFX Super Resolution to multiple generations of GPUs like the Radeon RX 6000, Radeon RX 5000, and RX Vega, to name a few. Moreover, it is expanding to individual games like Godfall but will be on a case-to-case basis as developers will have to tweak the software to support the technology.
FidelityFX Super Reosultion is said to boost performance by up to 250% in some cases.
Ram found his love and appreciation for writing in 2015 having started in the gaming and esports sphere for GG Network. He would then transition to focus more on the world of tech which has also began his journey into learning more about this world. That said though, he still has the mentality of "as long as it works" for his personal gadgets.