At this time when working from home is being wildly accepted by consumers and organizations in the Philippines, Filipinos resort to buying or upgrading to a better setup. It's a reality that every investment comes at a cost, and the hunt for better deals is a serious effort for most consumers.
Tagged along with the hunt for better setup are accessories like headsets and cameras. While laptops usually have built-in speakers and camera, it's always best to have separate hardware to enhance call quality for zoom appointments. This is where accessories brand like Logitech comes in.
Let me introduce you to a bundle or two products from Logitech, which are proven to be among the best and affordable in their category – the crowd-favorite Logitech C922 Pro Stream Webcam and the Logitech H150 Stereo Headset.
Logitech C922 Pro Stream – still among the best since it was launched in 2016
Prior to upgrading the Logitech Brio last year, my go-to webcam was my Logitech C922 Pro Stream. It has been my most recommended webcam to my family and friends, and have quite a number of things to share about it.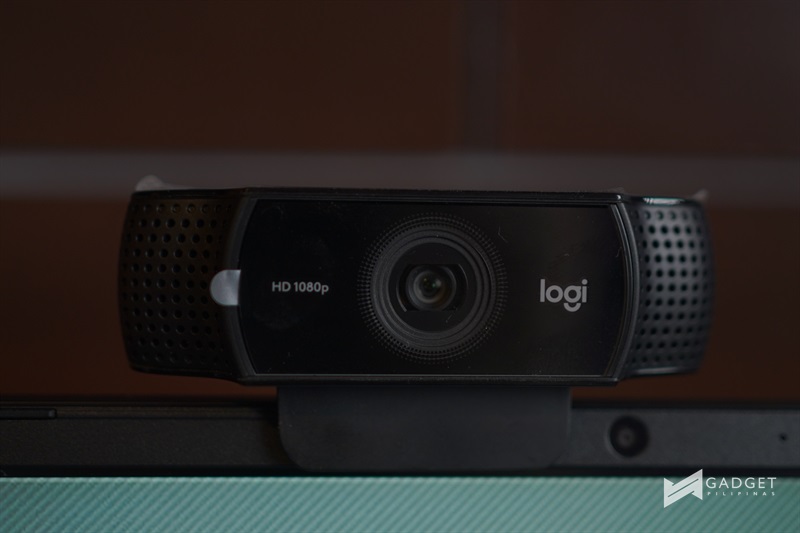 For one, while this particular model has been around since 2016, it has proven itself to be one of the most reliable and best cameras around. As a follow-up to the award-winning Logitech C920, this Logitech C922 Pro Stream is among the first ones that features true-to-life HD 1080 video at 30fps, or 720p at 60fps. If you are one of those who are tasked to present during Zoom or Microsoft Team calls, having a 30fps full HD camera can definitely project a lot of your details to your audience. Give yourself a ring light for additional illumination, and there's no doubt that you'll shine during your calls.
If you're after motion smoothness, however, then you can reduce its resolution down to 720p so you can bump up the frame rate to 60fps. This setting leaves a good and lasting impression on other attendees. This also works best for recording or streaming podcasts or creating content. Lowered resolution in favor of higher frame rate is usually preferred by viewers so if you're getting a webcam like the Logitech C922 Pro Stream, it's a good first step to stepping up your setup.
The application the brings out the best of the Logitech C922 Pro Stream is Logitech Capture. This is Logitech's proprietary application, which allows users to control settings and add overlay and stickers, to name a few. However, if you don't fancy using this application, the webcam has 100% compatibility with popular broadcasting apps such as OBS and XSplit.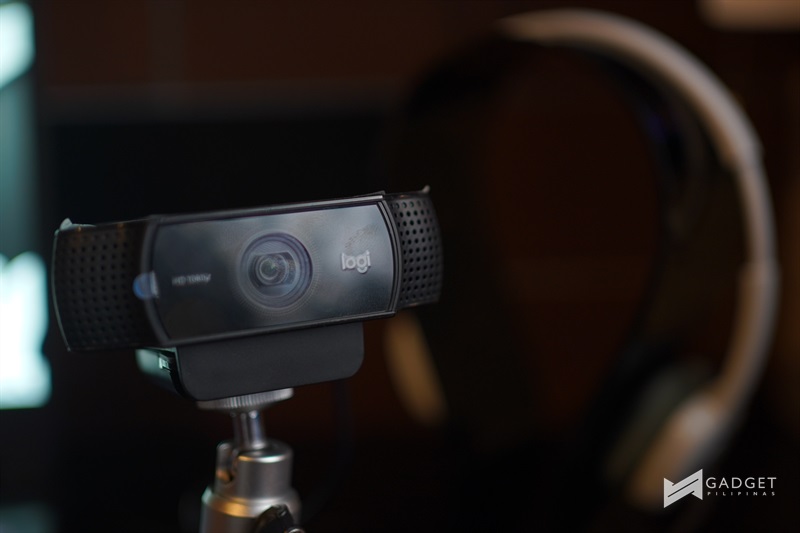 The camera's internal microphones sound great too! However, if you're going to use this for video calls, I would recommend that you get yourself a separate headset with microphone to avoid echo or feedback.
For your appreciation, here are sample photos using the internal camera of my Aorus 5 and the Logitech C922 Pro Stream. The camera on the Aorus 5 uses the default Microsoft camera app, while Logitech C922 Pro Stream using Logitech Capture.
Logitech H150 – Crisp and Clear
Moving to the audio side, this Logitech H150 delivers clear internet calls and music from your computer. This fits PCs with separate 3.5mm microphone-in and audio-out ports. If you have a single audio port, you can just simply use 2-to-1 adapter to this useful.
This stereo headset has quite a number of tricks up its sleeve. Apart from the in-line controller, which gives users full control over their audio experience, this headset's microphone has the ability to reduce background noise. This is something that users have been looking for nowadays. While this headset has basic microphone noise cancellation features, it helps quite a lot in filtering unnecessary noise. Couple this with software solutions like NVIDIA broadcaster and in-app AI-noise canceling features, the Logitech H150 is good headset for its price.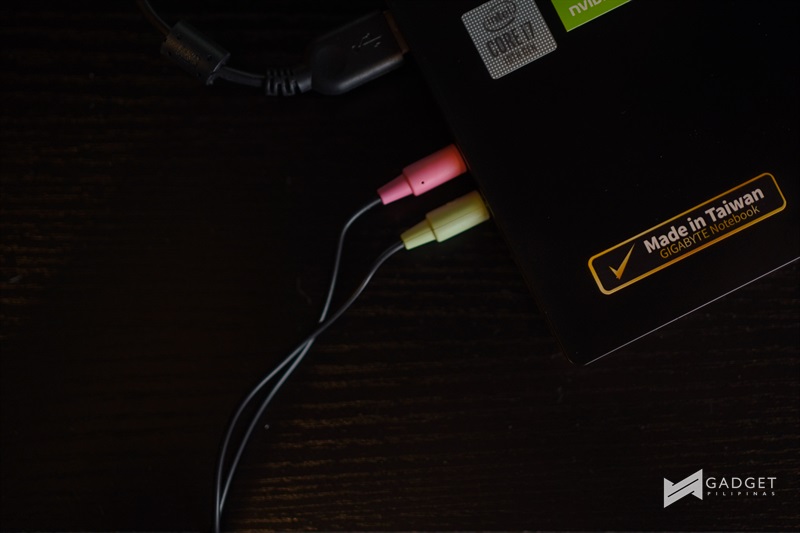 If you want to be more specific with its parts, this on ear headset packs 30mm driver with 122db -/0 3db headphone sensitivity. The microphone, on the other hand, is bi-directional and has sensivity of -44 dbv/PA +/- d2.5db. These data should give you an idea of how sensitive this headset is in both output and input. If you need more information, you can check out the nerdy specs below:
Logitech Headset H150
| | |
| --- | --- |
| Certification | • CE |
| | • EAC |
| Compability | Common calling applications across almost all platforms and operating systems |
| Warranty Period | 2 years |
| Stereo / Mono | Stereo |
| Unit dimensions (W x D x H) | 200 x 245 x 65 mm |
| Unit weight | 0.08 kg |
| Driver size | 30 mm |
| Cable Lengths | 180 cm |
| Audio Interface | Hardwired 3.5mm stereo plug x2 |
| Control | In-line analog control (vol, mute) |
| Sensivity – headphone | 122 dB +/-3 dB |
| Sensivity – microphone | -44dBV/PA +/- 2.5dB |
| Frequency Response – headphone | 20 Hz – 20 kHz |
| Frequency Response – microphone | 100 Hz – 6.5 kHz |
| Microphone Type | Bi-directional |
| Power Source | Analog |
| Headset bandwidth | 20 Hz – 20 kHz |
| Speaker Max Input Power | 20 mW |
| Speaker bandwidth music mode | 20 Hz – 10 KHz |
| Speaker bandwidth speak mode | 130 Hz – 10 Hz |
| Microphone bandwidth / frequency range | 100 Hz – 10 kHz |
| Operating temperature | 0°C~40°C |
| Storage temperature | -40°C~70°C |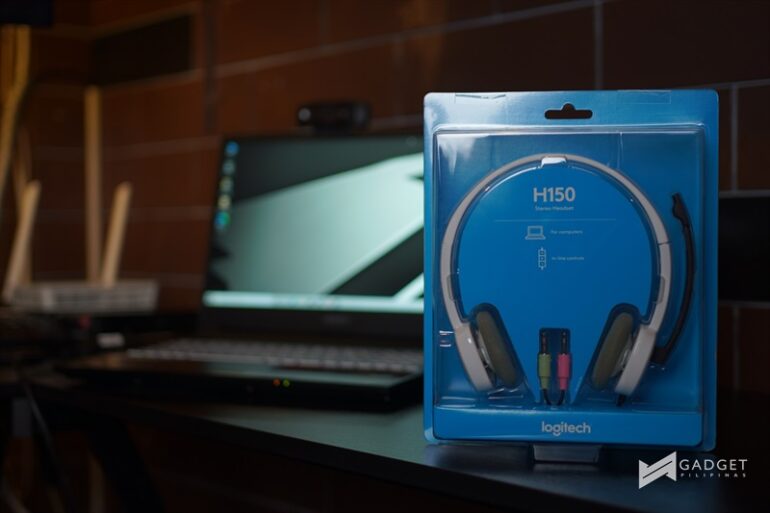 I prepared sample audio clips I recorded using the headset's microphone below if you want to know how the microphone sounds. As for the quality of the sound, it's something you would normally expect from an on-ear headset with foamed drivers slightly pressing on your ears. There's very small sound isolation, but I think the quality is acceptable for the price it offers. Lows are not as pronounced as highs. You'll notice hints of lows when listening to music and movie.
A mighty combo, now available for PhP7,275!
The Logitech C922 Pro Stream and Logitech H150 make a good team, and anyone who would want to have the right combination of audio and video solution should consider these items. The Logitech C922 Pro Stream and H150 are available for PhP6,490 and PhP785 respectively, or PhP7,275 if you both. Links can be found below if you fancy considering them to be your next purchases.
This article is sponsored by Logitech.
Giancarlo Viterbo is a Filipino Technology Journalist, blogger and Editor of GadgetPilipinas.net, He is also a Geek, Dad and a Husband. He knows a lot about washing the dishes, doing some errands and following instructions from his boss on his day job. Follow him on twitter: @gianviterbo and @gadgetpilipinas.