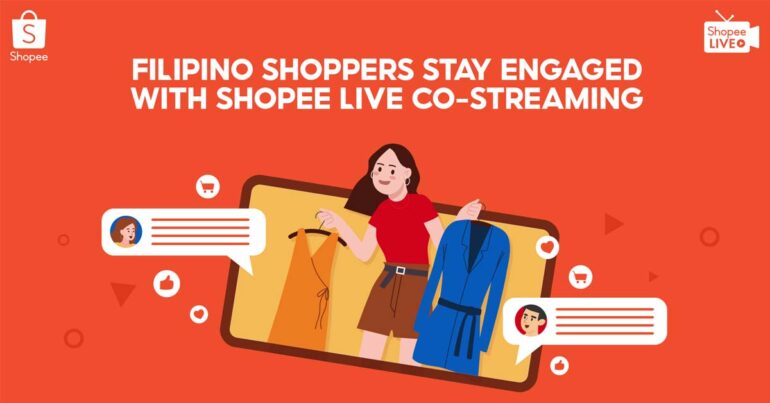 With more people turning to online platforms for their needs, brands and sellers are turning to entertainment features such as live streams to give consumers an engaging and fun shopping experience.
Shopee provides shoppers a more interactive online buying experience with a new co-streaming feature on Shopee Live, which lets stream hosts co-stream with one of their viewers for a more interactive experience.
Two live streamers explain how they are maximizing Shopee live for the 3.3-4.4 Mega Shopping Sale.
Miccolo Solis, Shopee seller and influencer, shared that he uses the poll feature the most. "It helps me engage with viewers. I can check their opinion on certain topics, especially about the products," said Solis. Polls also allow him to inquire about his customers' specific requests, budget range, and preferred styles. He also hosts games on Shopee Live to keep viewers interested.
For fellow influencer Quinito Villarosa, it's the latest 'Mine' feature that gives him feedback on what content customers want to see next, or what items they want to see featured or reviewed. To maintain a strong relationship with viewers, he connects with them even after the live stream ends. "I do a lot of 'OffLive' engagement. I still interact with them after the live streams, usually inside the many group chats we have on Facebook Messenger and even Instagram," said Villarosa.
Solis is excited to utilize the new Shopee Live Co-streaming feature as it gives him the opportunity to interact directly with viewers, making the live stream session more fun, enjoyable, and engaging. Villarosa, on the other hand, is already preparing for his next live stream. "I'm already asking my viewers what they want to see during my live stream so I can order it ahead of time. Being able to hold the items personally makes for a more interactive live stream experience," he said.
With features like Shopee Live, Shopee continues to improve the platform to make e-commerce more accessible and engaging for everyone. Solis and Villarosa encouraged other influencers to take advantage of Shopee Live and its many features as well.
"Just do it, it always starts with one step. Make it a habit and always enjoy the live videos. Watch other live streamers, observe what they are doing, and apply best practices to your own live stream," said Solis.
"Every day I wake up feeling blessed with this opportunity. I literally meet new people each time I open the Shopee app and prepare for another run of live streaming," Villarosa added.
Shopee 3.3 – 4.4 Mega Shopping Sale
The Shopee 3.3 – 4.4 Mega Shopping Sale which runs until April 4, 2021, will feature up to 70% off on authentic brands such as Havaianas Philippines, Huggies Philippines, realme, P&G Beauty, Pampers, Nestle, Garnier, Enfagrow, Unilever Beauty, Xiaomi, and vivo, on Shopee Mall. For more information, click here.
Don't forget to shop, buy load, and pay bills with ShopeePay to enjoy discounts and rewards. Top-up at least PhP300 on March 2 for a chance to win PhP20,000! for more details,click here,.