Introduction
Huawei's timing in releasing a value wifi router is perfect considering the prominence of having a reliable internet connection for Work-From-Home setups, media consumption and ofcourse, gaming. The newly released Huawei WiFi AX3 Wifi 6+ Router, on paper, looks like the ideal entry-level router to replace your stock ISP-issued modem router. For the price of Php 4,000, the Huawei Wifi AX3 is marked as the cheapest WiFi 6 enabled router in the Philippines. Despite being the cheapest, Huawei managed to include premium features on the AX3 router such as NFC one-tap, and TrustZone Security. The question is, do the features make it a compelling purchase or a gimmicky one at best? Let's find out in this review.
[rtoc_mokuji title="Contents" title_display="left" heading="h3″ list_h2_type="round" list_h3_type="number1″ display="close" frame_design="frame6″ animation="slide"]
What is WiFi 6?
Wifi 6(or IEEE 802.11ax)  is the latest generation of Wi-Fi technology that succeeds Wi-Fi 5(802.11ac) in terms of speed, at a whopping 9.6Gbps versus the previous 3.5Gbps. The substantial speed increase is a result of an increase in capacity and improved transmission efficiency thanks to OFDMA and 1024-QAM technologies. The use of MU-MIMO antenna technologies also aids in the transmission and reception of simultaneously connected devices.
What is WiFi 6 Plus?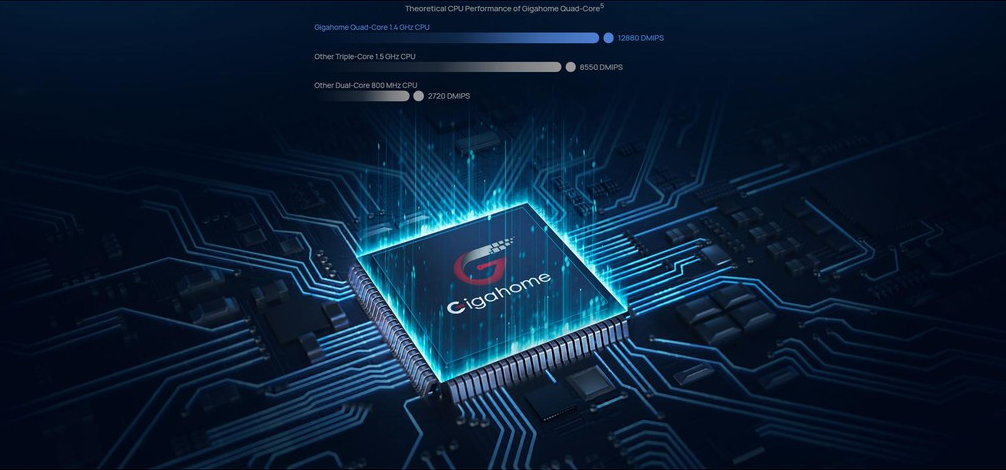 WiFi 6 is the universal standard set by Wi-Fi Alliance while WiFi 6 Plus is essentially WiFi 6 with a few alterations or improvements made by Huawei and is approved by Wi-Fi Alliance. The key difference between the two is within the chipsets. Standard Wifi 6 uses Broadcom or Qualcomm platforms to power these devices whilst Huawei uses its own chipset, specifically Gigahome and Kirin chips for its devices. Routers use the Gigahome 650 chipset and Huawei's client devices such as smartphones, tablets, and laptops use the Kirin W650 chipset. The integration of chipset-level improvements allows Huawei's Routers to have better overall performance, network speed, and wall-penetrating capabilities.
Huawei WiFi AX3 and Huawei's Wifi 6 devices support 160Mhz bandwidth which doubles the maximum theoretical network speed compared to the traditional 80Mhz bandwidth rivaling AX3000-level routers. Huawei smartphones have a better overall connection on the AX3 router thanks to the Gigahome and Kirin chips which is essentially the core behind Wifi 6 Plus. An improvement in the CPU department translates to more features for the WiFi AX3 such as one-tap NFC, which was not supported on the dual-core version of the AX3.
Model
WS7200
Processors
Gigahome Quad-core 1.4 GHz CPU
Wi-Fi
• 802.11ax/ac/n/a 2 x 2 & 802.11ax/n/b/g 2 x 2, MU-MIMO
• Wireless speed is up to 2976 Mbps (2.4 GHz: 574 Mbps; 5 GHz: 2402 Mbps)
Interface
• WAN: One 10/100/1000 Mbps Ethernet port
• LAN: Three 10/100/1000 Mbps Ethernet ports
Security
TrustZone Security, Anti-brute force algorithms, WPA3, Firewall, DMZ, PAP/CHAP, DMZ/DoS attack protection
Button
H button for one-key pairing and WPS compatible
Independent Reset
LED Indicator
1 state indicator light
Software Functions
• APP: HUAWEI AI Life App
• Huawei Share (Tap to Connect), Huawei HiLink & 802.11v protocol, IPv4/IPv6, PPPoE/DHCP/static IP address/Bridge WAN connection methods, Wi-Fi timer, Guest Wi-Fi, Device speed limiting, MAC address filter, Parental control, VPN pass-through, DMZ / virtual server
Colour
White
Dimensions
225 x 159.2 x 39.7 mm (8.86 x 6.27 x 1.56 inches)
Weight
About 403 g (0.89 lbs)
Note: This review shares similar parts to our Huawei Wifi AX3 Unboxing and First Impressions article. Skip to the benchmarks page if you've already read our article.
Huawei Wifi AX3 Unboxing and First Impressions
The packaging on the Huawei Wifi 6+ AX3 Router is very elegant; it shows a render of the AX3 Router in a white background with its core specs listed under the name. The box is considerably smaller compared to most routers, even budget ones.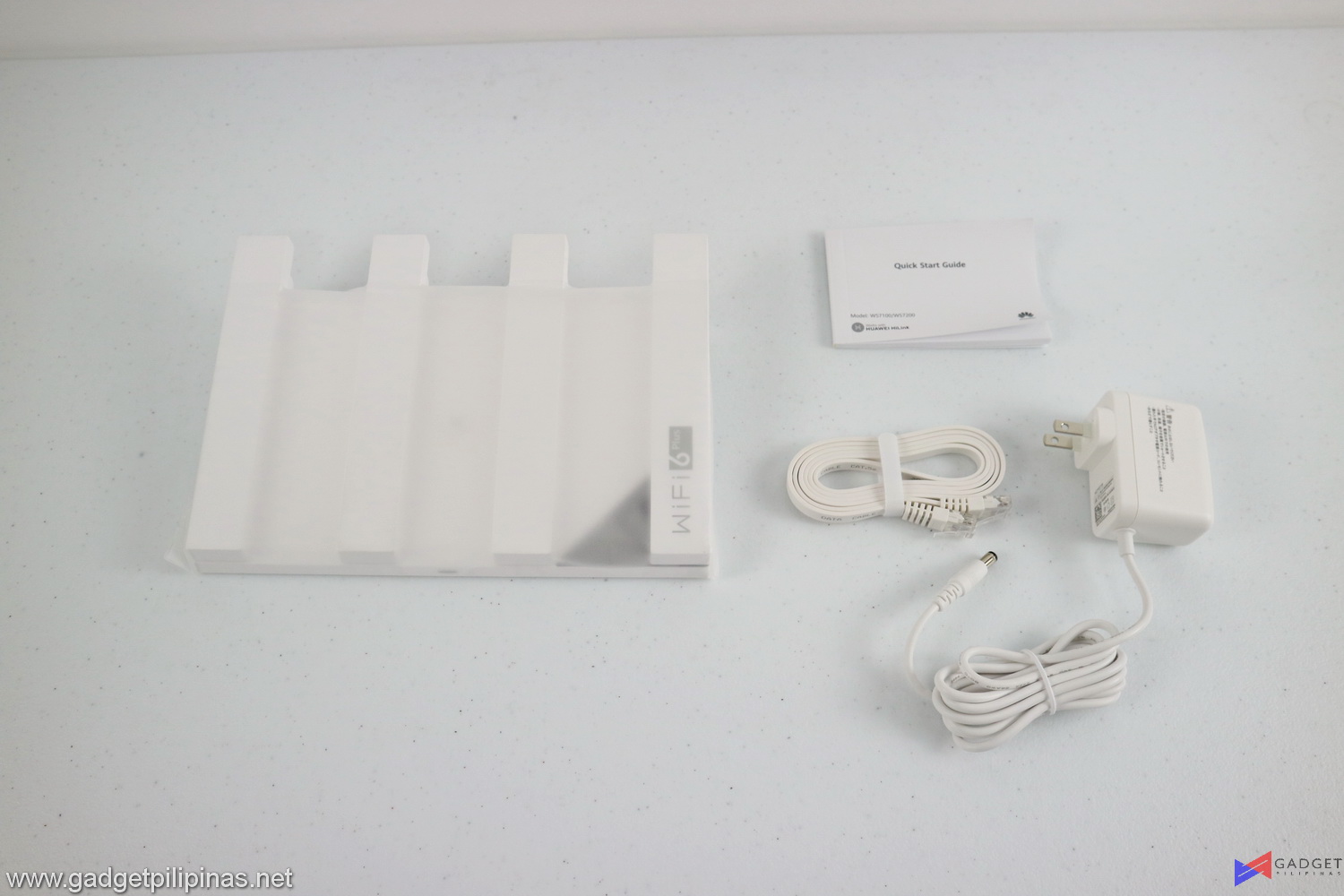 The packaging contains the Huawei AX3 Router, a power adapter, manual, warranty card, and a 1-meter CAT 5e ethernet cable.
The main reason why Huawei was able to do such very slim and compact packaging is due to the Huawei AX3's antennas. The router's antennas are slim and can fold, unlike most routers where the antennas are detachable.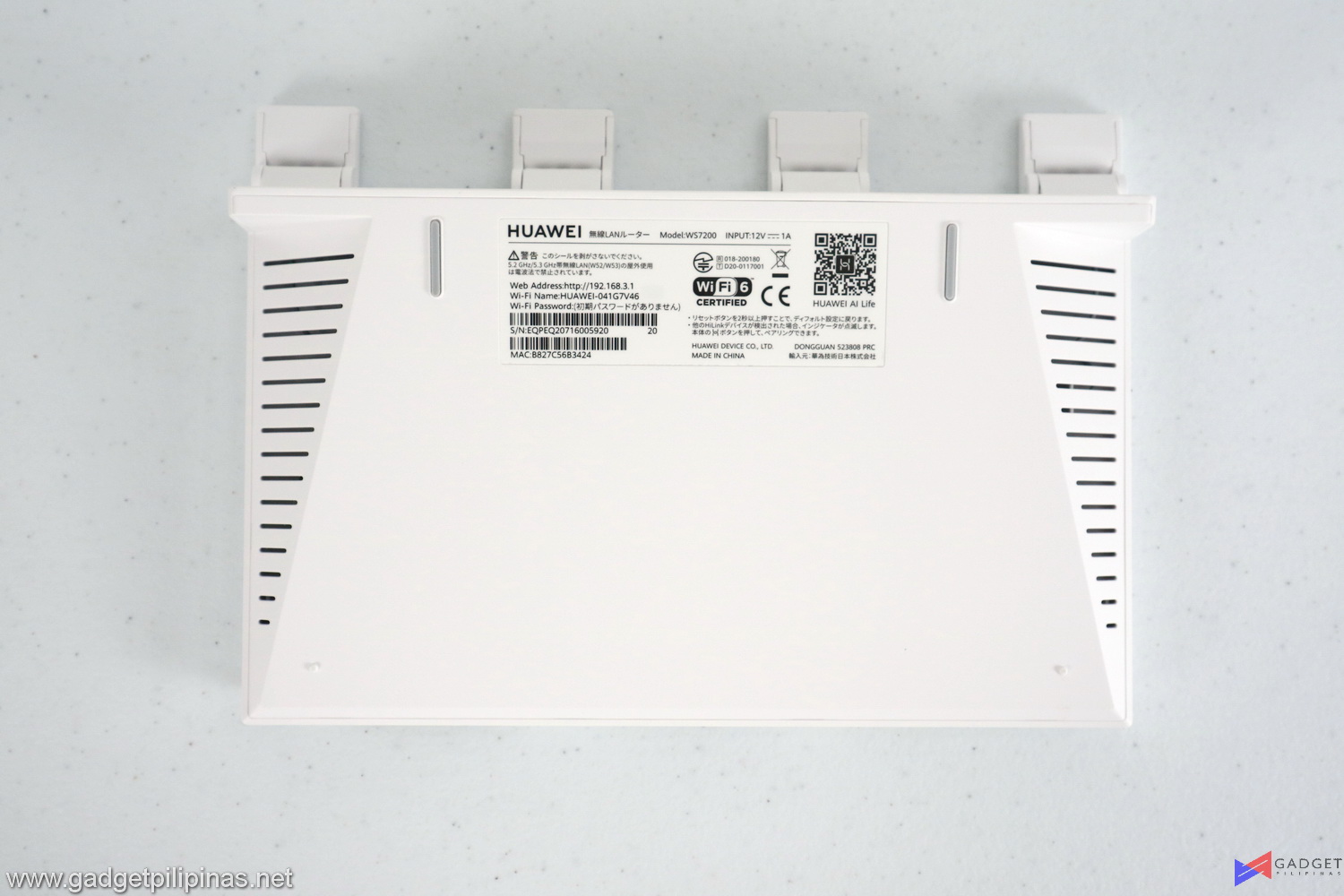 Underneath you can see two grills for ventilation as well as the label sticker where you can see the default WiFi name and password. Our unit seems to be a Japan SKU as Japanese characters are seen in the packaging and on the back of the router.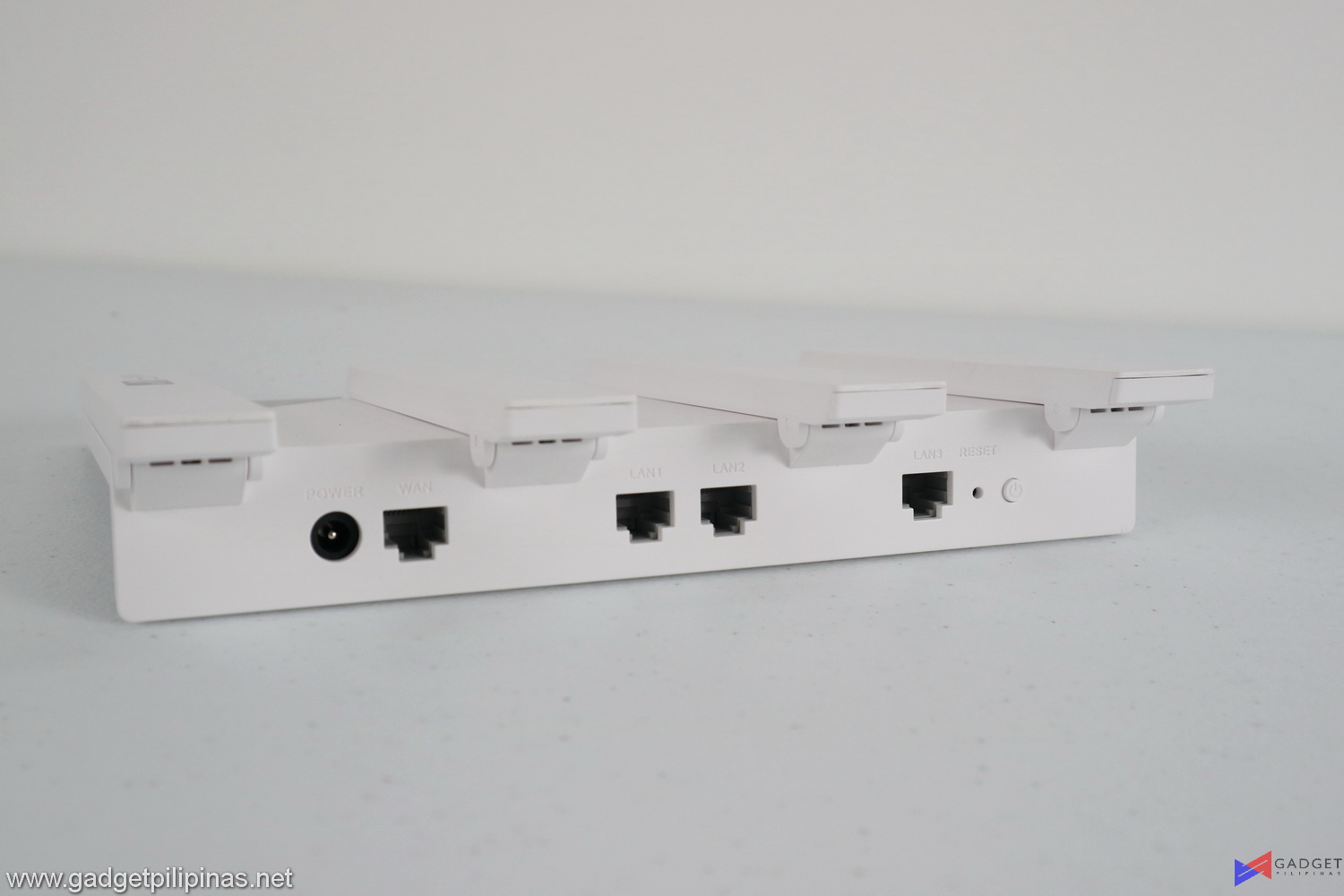 Connectivity-wise there are three LAN ports available aside from the dedicated WAN port, reset button, power button, and DC-in.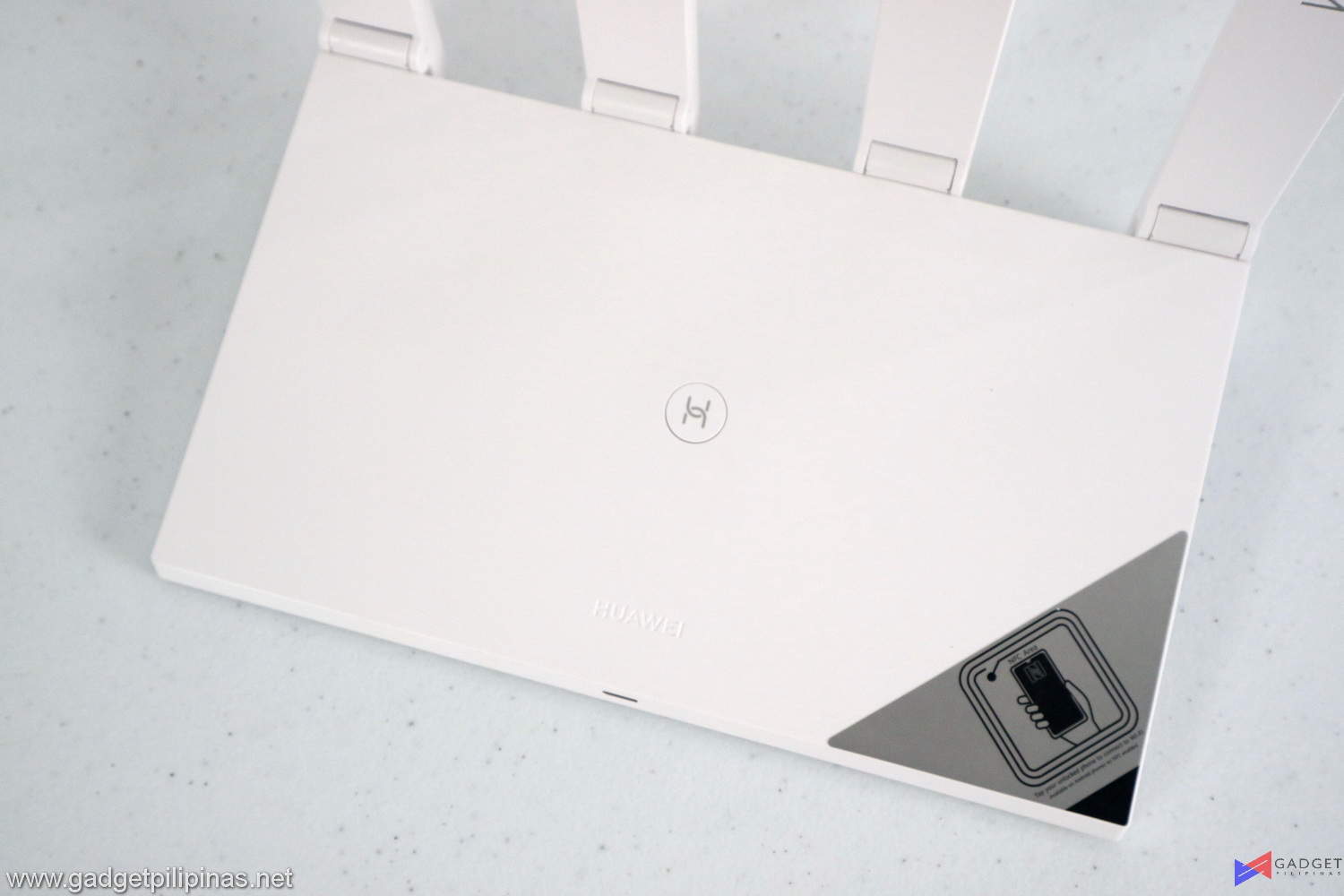 One of the most unique features of the Huawei Wifi AX3 Router is its NFC ability. The NFC implementation allows users to simply tap their phone to the router in order to connect to the WiFi.
Mobile Setup Guide – Huawei Life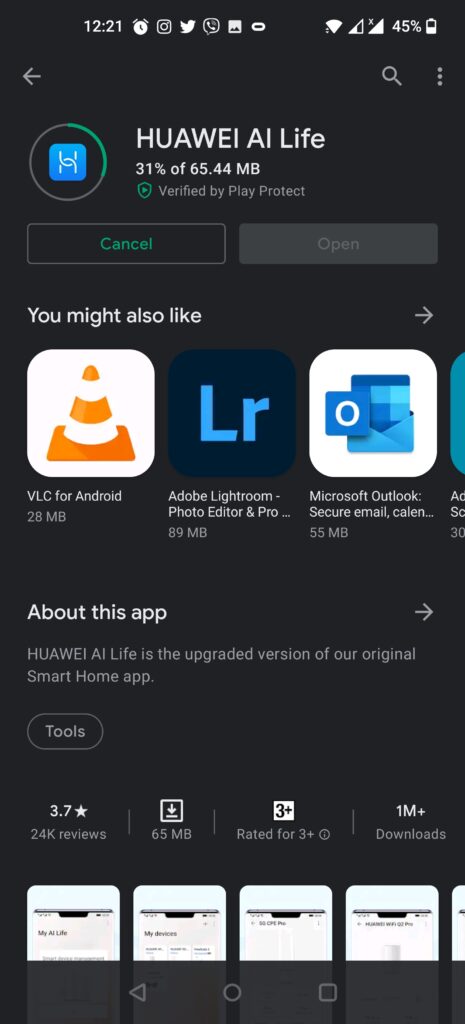 Setting up the Huawei Wifi AX3 Router is very convenient thanks to the help of the Huawei AI Life app. You can download the Huawei AI Life App on the Google Playstore or Huawei's very own App Gallery.
Once you've plugged in the router, all you need is to let the app scan for devices. Once you see the router, simply press connect, agree to the terms and conditions. The next step requires you to simply fill up the Wifi credentials and router login credentials. If you can't seem to find your device after scanning, you can also use the AI Life app to scan for the QR code located at the back of the Huawei AX3 router.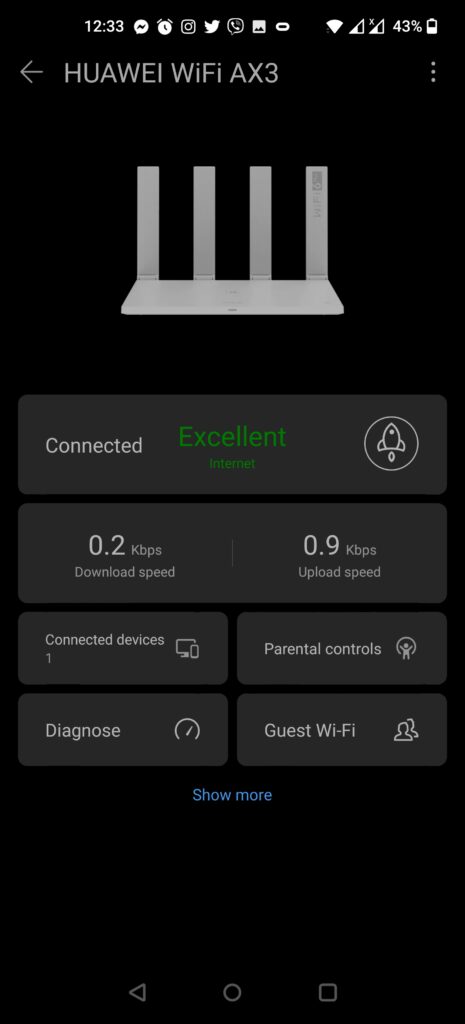 After completing the setup, you will be redirected to the dashboard where you can tinker with the Huawei AX3's settings. We'll explore this in our upcoming Huawei AX3 Review.
Huawei Wifi AX3 Browser Setup Guide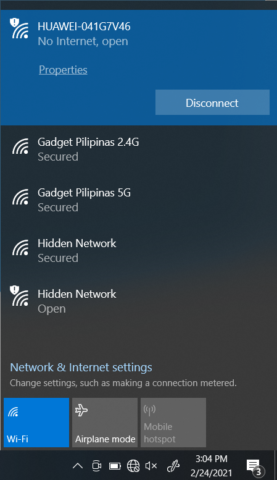 Connect to the Huawei AX3 Wifi
Open your browser and go to 192.168.3.1
Check the terms and conditions and press the connect to internet button.
Fill up the Wifi credentials as well as router login credentials
Test Setup and Methodology
In order to have a fair comparison and benchmark in this review, we will reduce the number of uncontrollable variables by having a fixed number of devices connected to each router during the testing period. Additionally, all routers are configured by having separate channels to reduce network congestion.
The test area will be the author's two-story house with a 100mbps PLDT FIBR plan. As mentioned earlier, the Huawei Wifi AX3 is stacked up against a Stock PLDT modem-router, and the ASUS RT-AC59U V2. Our device of choice to run the speed test benchmark via the OOKLA speed test mobile app is the OnePlus 8 Pro.
Unfortunately, the stock modem router couldn't be transferred due to the short fiber optic cable that the contractors used to install our internet connection. Hence, the decision to place all of the routers in the same area for a more fair and controlled environment.
Huawei WiFi AX3 2.4Ghz Speedtest Benchmark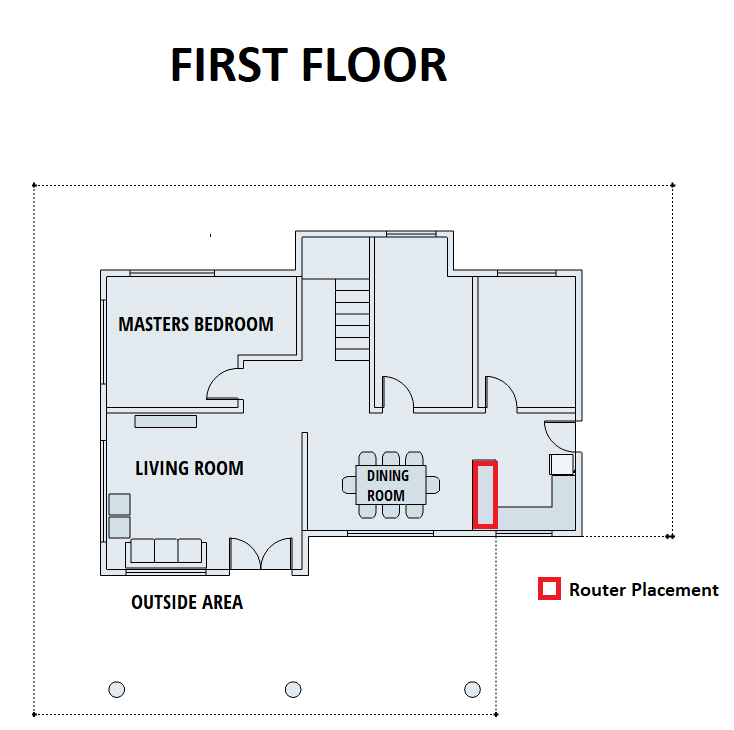 Our test consists of the dining room which is located next to the routers as well as the master's bedroom, living room, and outside area.
DINING ROOM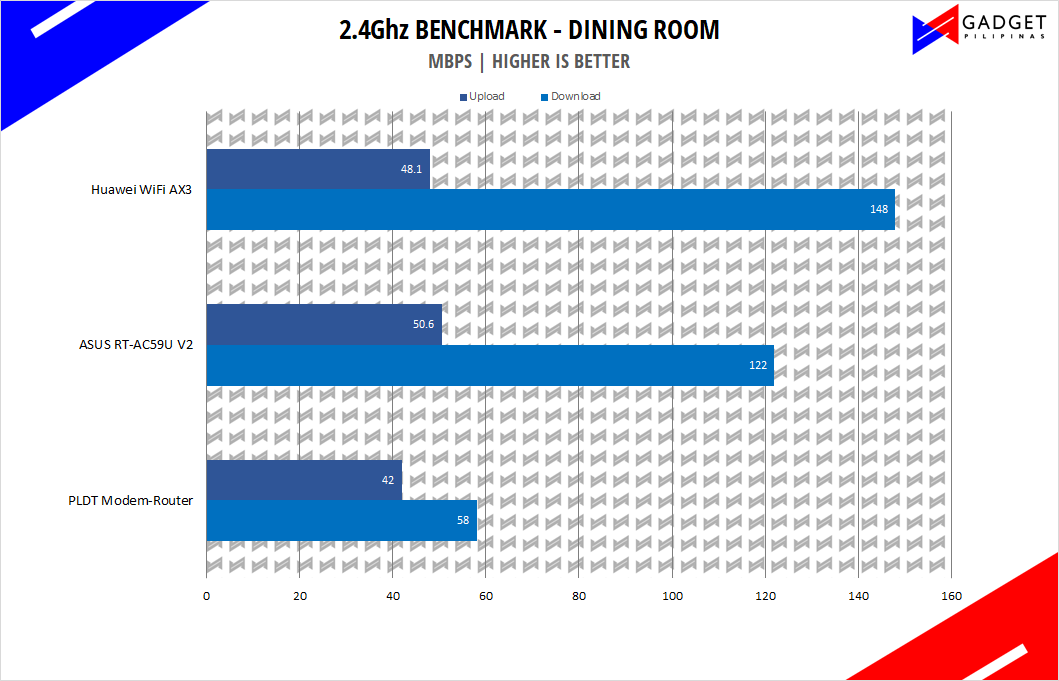 MASTERS BEDROOM
LIVING ROOM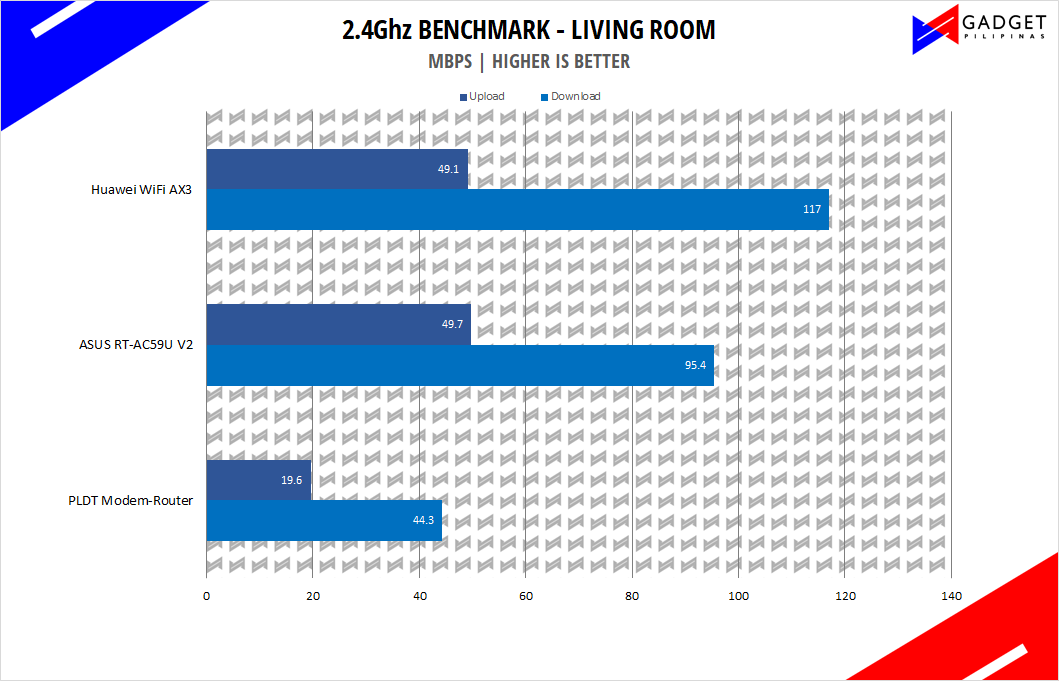 OUTSIDE AREA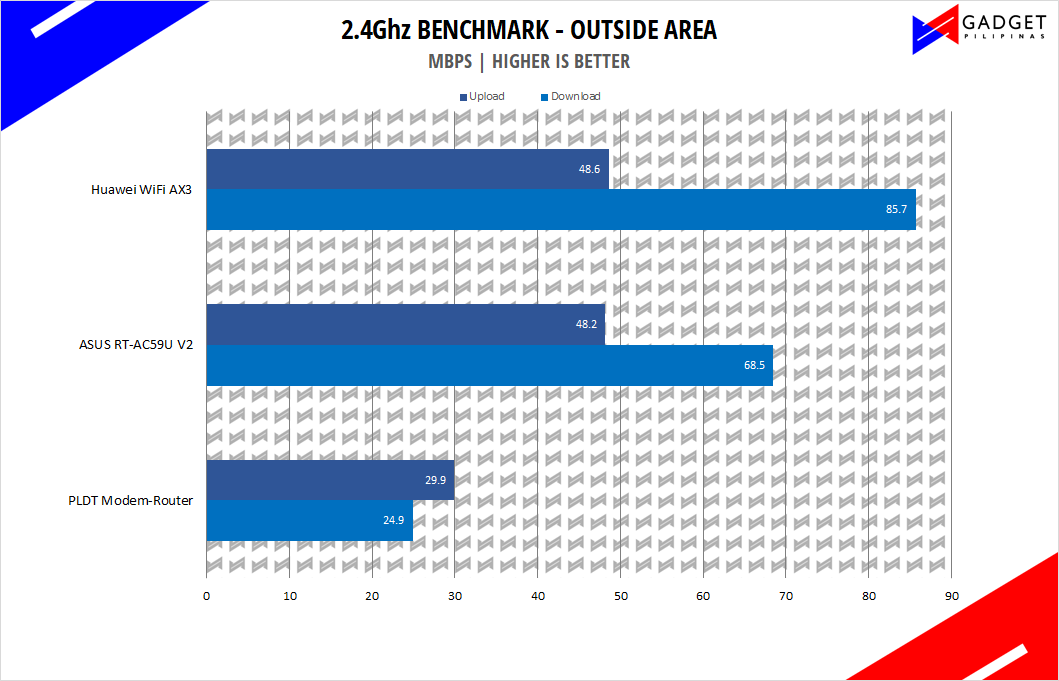 Huawei WiFi AX3 5Ghz Speedtest Benchmark
DINING ROOM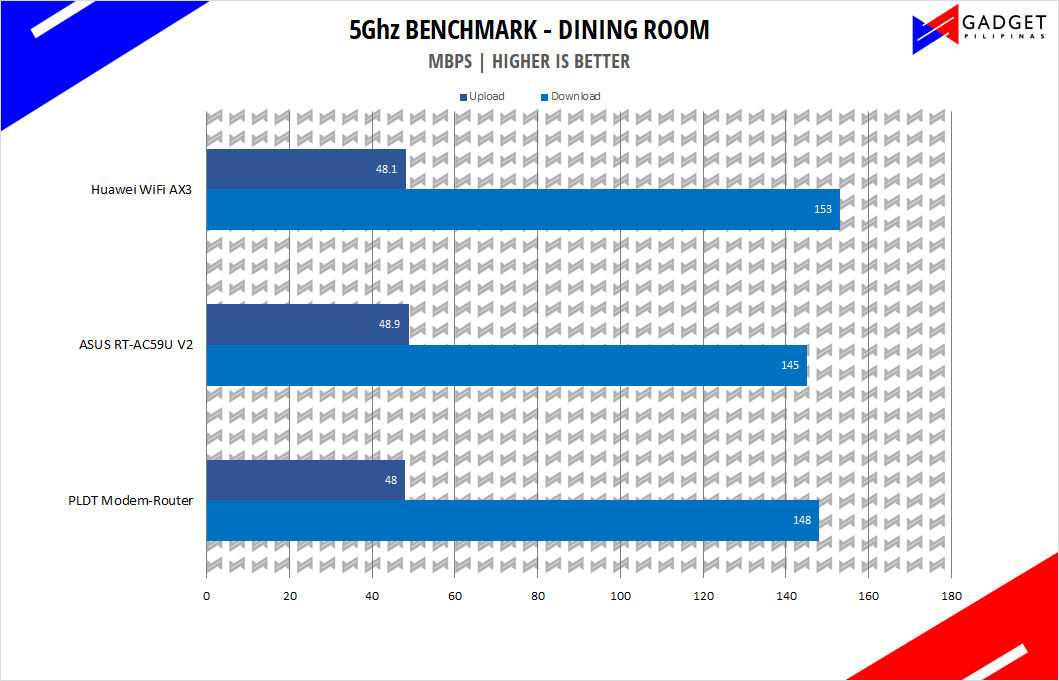 MASTERS BEDROOM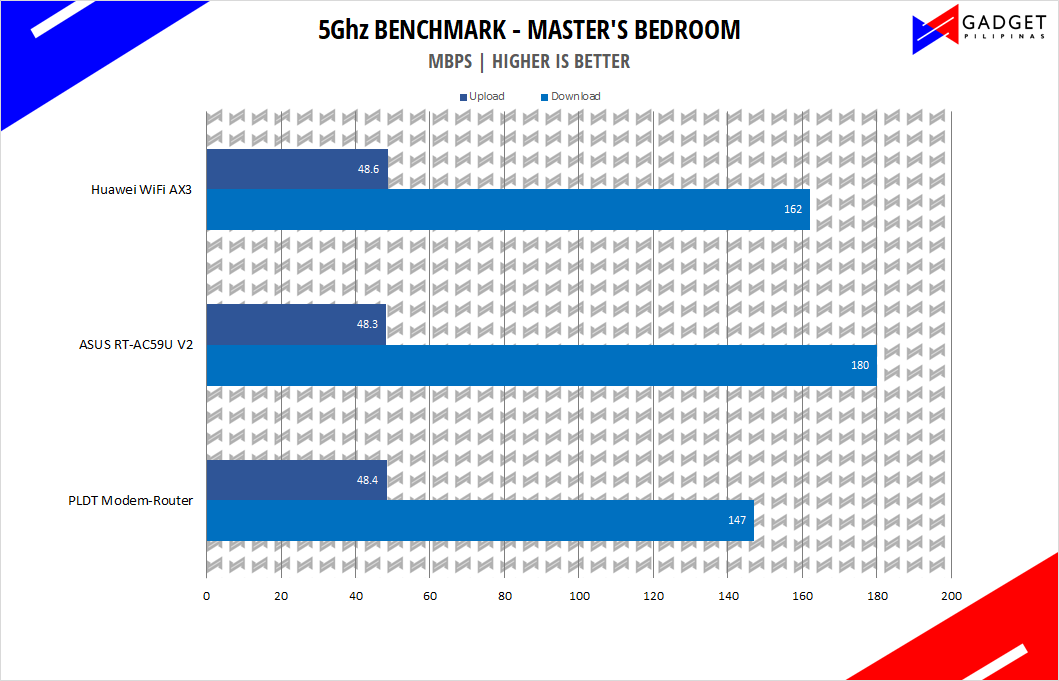 LIVING ROOM
OUTSIDE AREA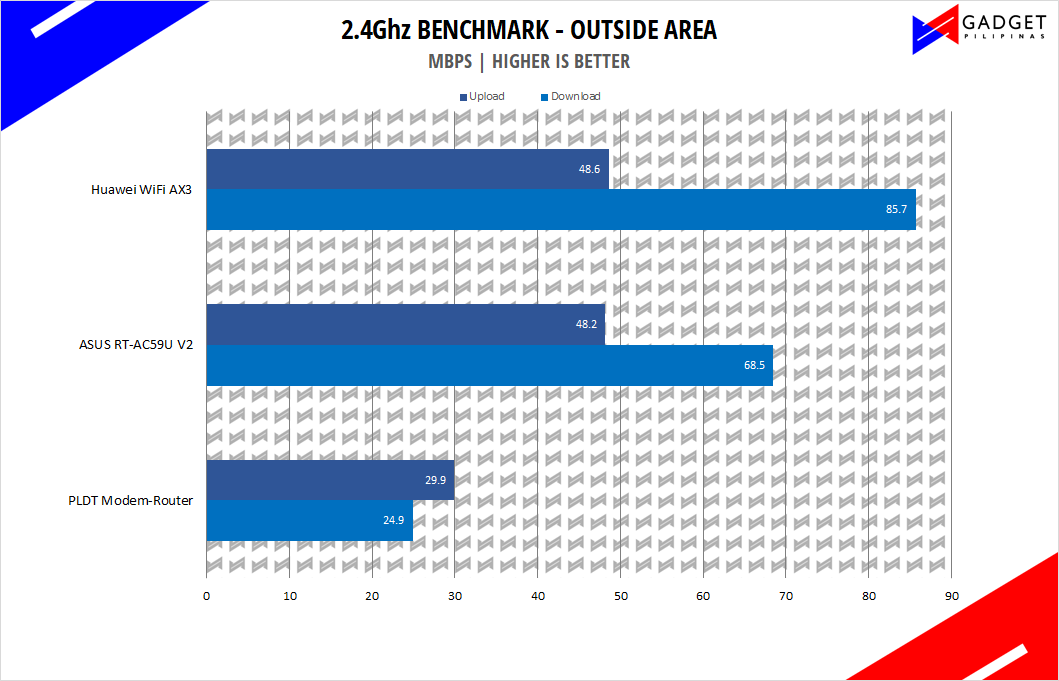 Huawei AI Life App
Depending on your experience with routers, the AI Life Router Dashboard can be seen as straightforward or dull. New users will have an easy time navigating through the app whereas experienced users will find it lacking in terms of settings.
Most users will spend their time on the connected devices section to manage connected devices. Users can limit bandwidth, block users, and even set a timer that will automatically disconnect devices once the time has passed. The One-touch Diagnosis feature is very useful especially for non-techy people for troubleshooting internet or router-related issues.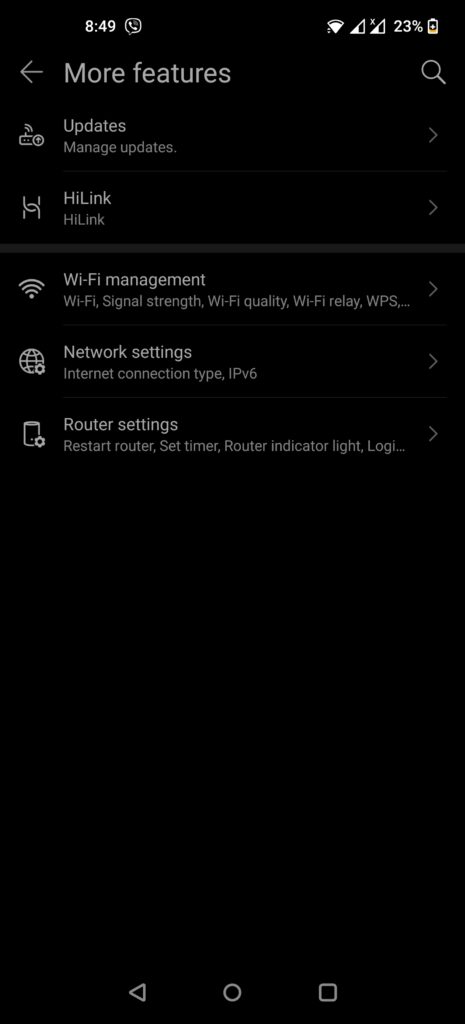 Complex settings can be found in the "show more" section which allows you to tinker with Wifi settings, IPv6 settings, and router behavior. You'll mostly go to this section for firmware updates or to remotely restart the AX3 router.
CONCLUSION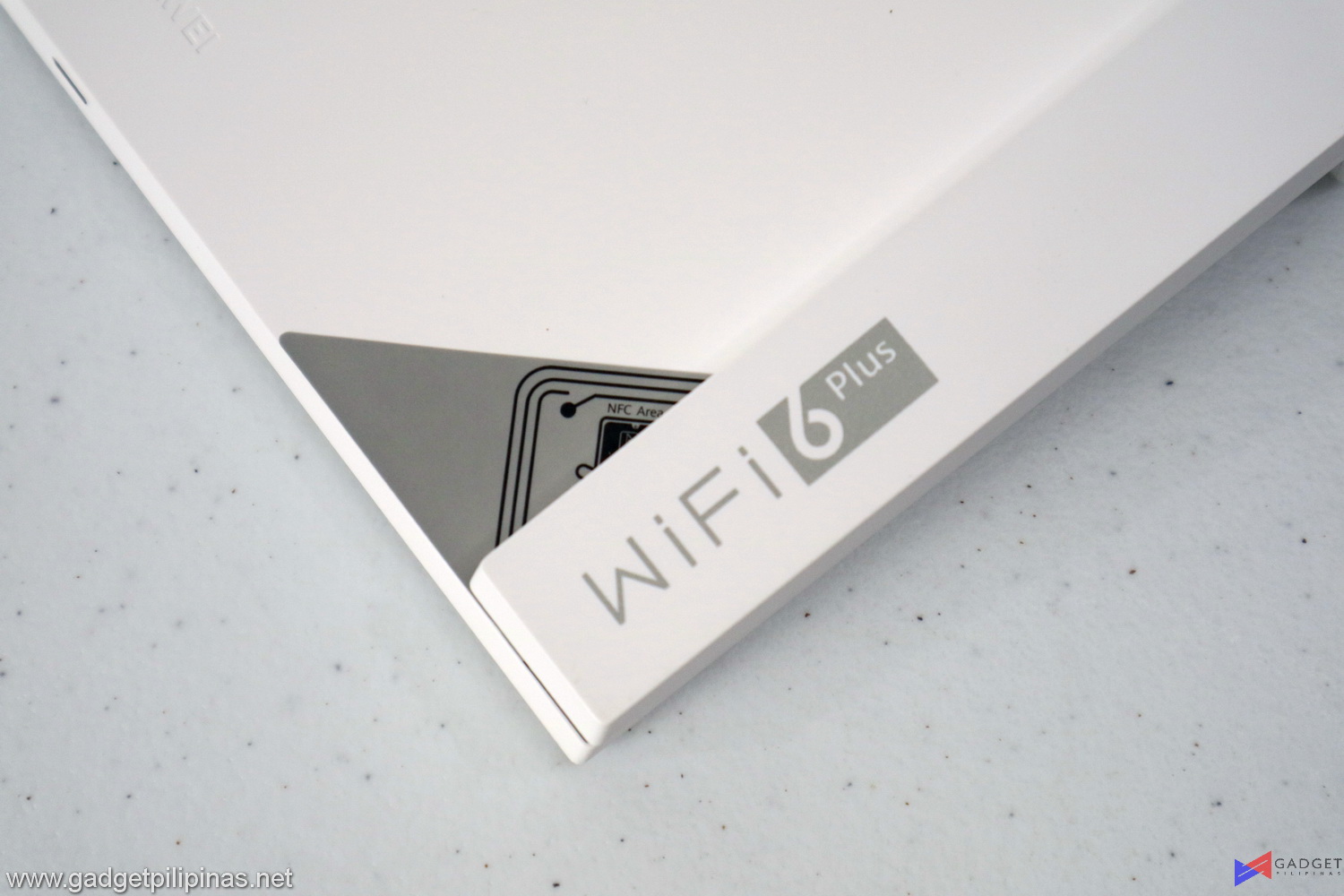 One area that the Huawei Wifi AX3 lacks is physical connectivity. There are only three usable ethernet ports compared to the usual 4-port for routers. Additionally, a router boasting such speeds should have a USB port to expand its functionality and take advantage of the beefy bandwidth. Moreover, the antennas are not as adjustable compared to other routers. That said, the Huawei Wifi AX3 Router shines where it matters most – the bandwidth. Its competitive pricing and unique chipset allow users to experience a quality router that can deliver stable fiber-optic speeds which can only be previously be achieved with expensive routers.
Hands down, the Huawei Wifi AX3 Router is an excellent router thanks to its price, features, and ease of setup. If you're looking to replace your ISP-provided router to improve internet stability and bandwidth, then the Huawei WiFi AX3 is the most affordable and practical solution.