PLDT Home, through the PLDT Smart Foundation (PSF), recently turned over one thousand units of Home WiFi Prepaid to the Department of Education (DepEd) to enable public school teachers to experience faster and more reliable internet connection as they conduct online classes.
"We are happy to assist the DepEd and its teachers in conducting online classes and facilitating learning among students amid the restrictions brought about by the current pandemic. Our support to the country's dedicated and hardworking teachers has always been profound. Our gratitude to them, immeasurable. The PLDT Home WiFi Prepaid will definitely help them manage digital education and reliably connect with their students."
– MA. ESTHER O. SANTOS, PSF PRESIDENT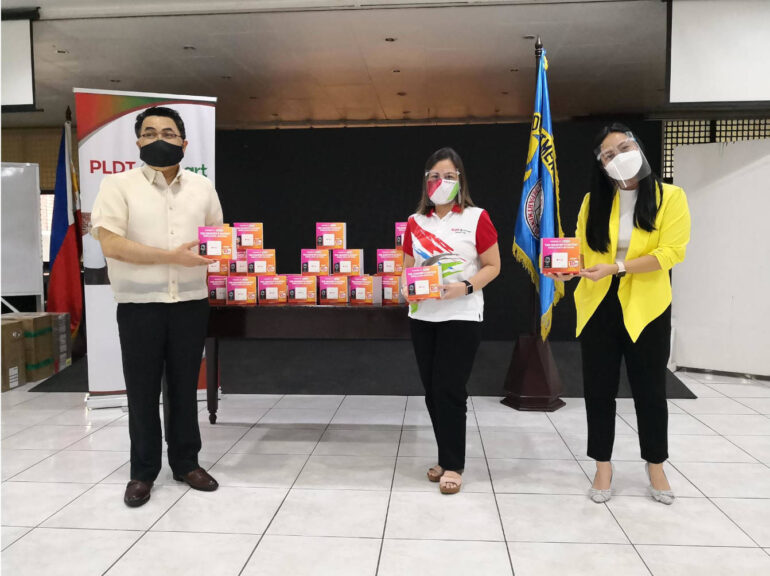 The Home WiFi Prepaid units form part of the proceeds from the PLDT Home-sponsored virtual concert, At Home with PLDT: No Learner Left Behind held in July last year. The company supports the No Learner Left Behind movement which aims to maintain quality education of students affected by the pandemic with projects and partnerships to deliver the tools and proper learning environments.
The livestreamed concert was conducted for the benefit of students, educators, and schools nationwide. Donations during the virtual event were coursed through the PSF PayMaya and bank accounts.
"We really appreciate these donations from PLDT. Thank you! The Home WiFi Prepaid will be a great help to teachers in their online classes. These units will be distributed to them as soon as possible and we will immediately send to PLDT the list of schools actually receiving the units."
– TONISITO UMALI, DEPED UNDERSECRETARY
Earlier, the company and PSF turned over five sets of School-in-a-Bag to the DepEd and distributed Home WiFi Prepaid units and load cards, also part of the virtual concert's proceeds, to deserving scholars of AHA Learning Center and Kris for Peace Organization, among others.