Marshall has been a household brand for audio products. In fact, I've listened to some of their products, especially their speakers, and have always been impressed with how much sound it can produce relative to its size.
The Uxbridge Voice is a perfect example of such. For such a small body, this speaker aims to deliver loud, and great sound, with all the convenience of Bluetooth, and Google Home. Does it do a good job? let's find out.
Design and Build Quality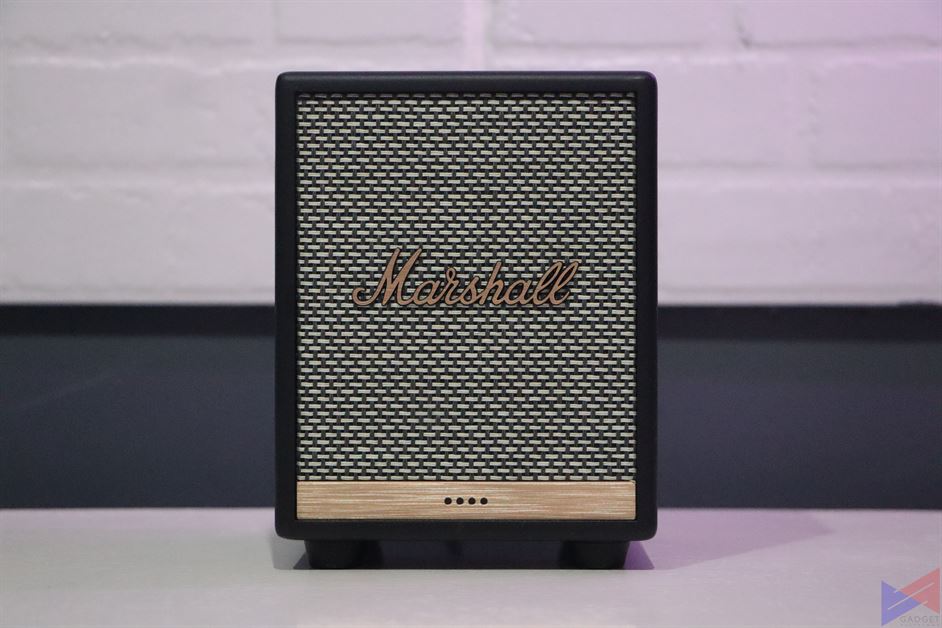 One of the things I like about Marshall speakers is the look. It's a perfect combination of that retro premium aesthetic that goes across the brand's entire lineup. This makes the devices a single identity that's easy to recognize.
As with most Marshal speakers, the brand's logo is placed at the front, along with a black housing that's got a semi-leathery feel to it.
At the top of the Uxbridge are three rockers, one for volume, and the other two for setting the bass and treble. There's also a button for disabling the microphone to avoid accidental activations by voice. At the back, there's another button that's used to pair the speakers.
Despite being extremely portable, the speaker still needs to be connected to an outlet to work, which, to me is a letdown. It would've been perfect if it had a rechargeable battery built-in, which would mean you should be able to bring and use it anywhere.
But then again, perhaps what they were really gunning for, is something that brings great sound without consuming a lot of space, which it does a great job of.
Another feature I wish they included is 3.5mm input, so you can directly connect it to your own source, say a phone or laptop.
Features
One of the key features of this speaker is Google Assistant which you can use to do a lot of things using voice commands – fire up your music app, check the weather, do searches, ask for a joke, and a whole lot more. You can also use the speaker to control any Google Home devices that you may have.
Uxbridge voice can also be used as a multi-room speaker, meaning you'll be able to play a different song on different speakers in different rooms or play one song for all of them. For Apple device users, it also works with Apple's AirPlay.
Sound Quality
The Uxbridge Voice can get really loud for its size.
Bass is punchy and has more than enough impact without overpowering the vocals, which vocals, on the other hand, are very forward, perhaps too forward in some tracks, reducing details of what's going on in the background.
The high frequency is delivered with good airiness and clarity without being piercing and sibilant.
Marshall Uxbridge Voice – Verdict
For its PhP11,590 price tag, the Marshal Uxbridge Voice offers impressive sound quality and loudness for a speaker of its size.
It also gives you the flexibility of being able to adjust bass and treble, something you don't usually see on speakers of this size. Google Assistant also adds a ton of convenience, being able to active features, and most importantly, enjoy your music using voice commands.
While being rechargeable would've been a nice feature, Marshal has a dedicated lineup of portable speakers that do exactly that. This one's more of getting excellent sound for less space.
Emman has been writing technical and feature articles since 2010. Prior to this, he became one of the instructors at Asia Pacific College in 2008, and eventually landed a job as Business Analyst and Technical Writer at Integrated Open Source Solutions for almost 3 years.