PlayStation 5 Standard Edition Review
Pre-ordering a PlayStation 5 was one of the most controversial news in the tech scene in the world, not just in the Philippines. I had difficulty myself because the online store I purchased this retail unit from had several server issues, which prompted them to re-open their pre-orders the following day.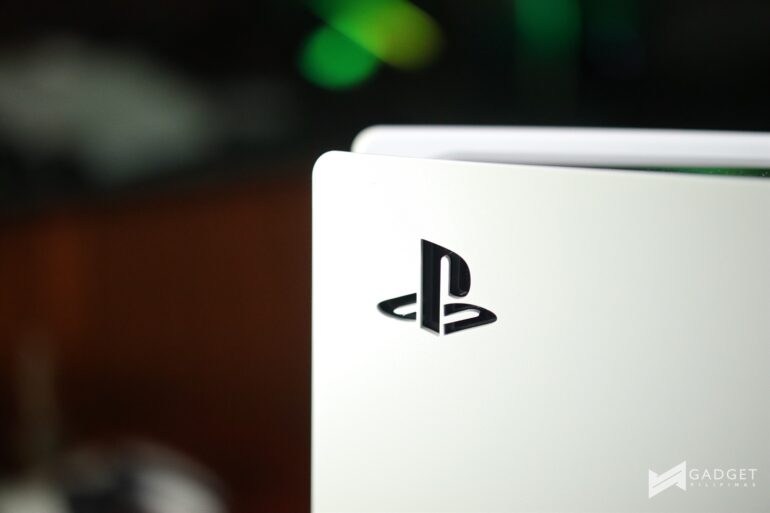 PlayStation 5's pre-order experience seems to reflect the current state of the world and supply of the PlayStation 5. The world apparently wants to detach from the real world, which coincidentally reflects the increase in demand for gaming consoles, peripherals, and upgrade parts. 
Everything may already be old news to some of you, so here's a quick rundown of everything inside the box: What we have is the standard edition PlayStation 5 – I know it's huge, but I'll get into that later. Apart from the unit, you'll get an HDMI 2.1 cable; a USB-C to USB-A cable that you can use to charge the controller; the DualSense controller; and a black base.
Build and Form
The PlayStation 5 is unapologetically huge. In its horizontal position without the base, our standard edition PS5 measures 15.35 inches in width, 10.23 inches in depth, and 3.62 inches in height. It's hefty too at 4.5kg, which makes it the heaviest current-gen console right now. So, yes – this is truly a big and thicc boy; and the chances of Sony coming up with a slim version of the PS5 is not far-fetched in the near future.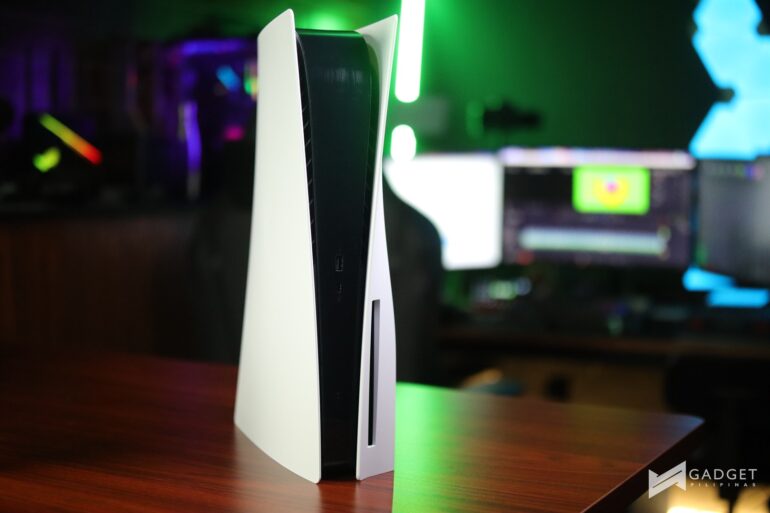 If you want additional perspective, here's how the PlayStation 5's build and design stack up with the PlayStation 4.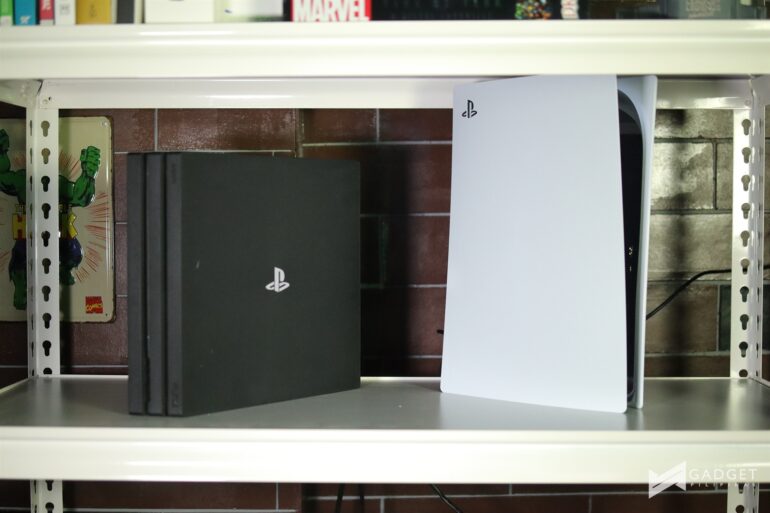 I believe that the PlayStation 5 looks better in its upright or vertical position. I think it's initially made to be placed that way; and – to be honest – it does look better when placed beside a TV or on a console table.
Memes-aside, the PlayStation 5's design is not actually out of this world. From being a huge air purifier to a gigantic modem, the PS5's design seems to be inspired by everyday appliances. However, whether this relative insight of mine is true or not, the fact that Sony poured their creative juices into this new console is definitely unquestionable.
Engraved in the faceplate are PlayStation micro symbols, which also add texture to the console. It's a very tiny detail in its design, which is definitely going to wow both PlayStation fans and enthusiasts.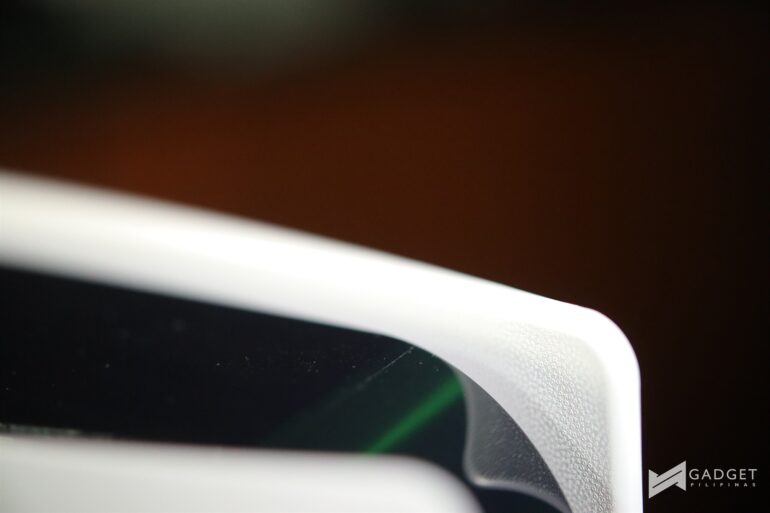 The customizability of the PlayStation 5 is definitely one of its best kickers! The plates can easily be removed and may be customized however you want. Unfortunately, customization services are still scarce at this time but I don't think that it'll take a long time for them to sprout and become easily available in the future. However, if you're a hardware modder, and you don't care about messing up the original look of your device, the PlayStation 5 can be your playground.
In fact, days before I pre-ordered the PlayStation 5, I was looking at Dbrand for custom skins for the unit. It was available during the hardware announcement, but it was later removed because it may just pose issues in applying the sticker to the plates thereby causing the company some problems.
Now, what I don't like about its design – and this is just my personal opinion – is its middle panel in the piano-black finish. It's a huge smudge magnet and may easily be scratched off especially if you're not careful about inserting USBs into the ports.
Ports and I/O
Speaking of ports: the standard PS5 has 2 ports in front: A hi-speed USB Type-A port and another SuperSpeed USB Type-C port that can support up to 10Gbps. There are 2 additional Type A ports at the back, which also support SuperSpeed.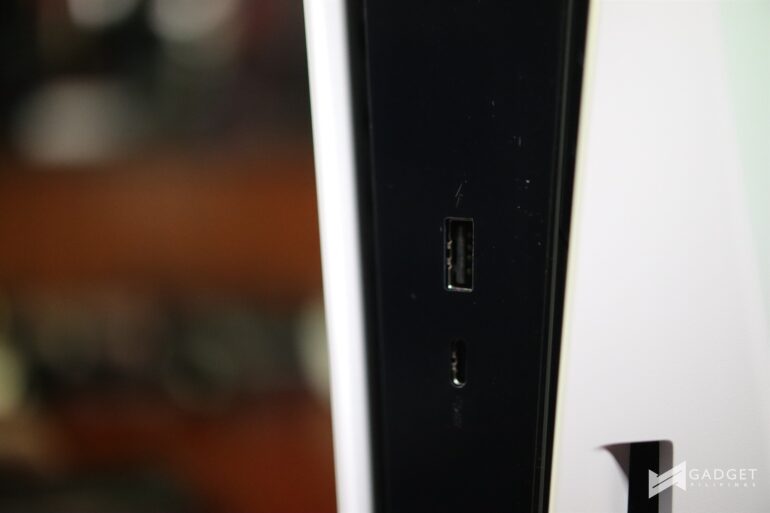 In my case, I would normally use the Type-A port in front for charging or using the DualSense controller. There is definitely no effect in terms of latency and connection because the controller does not require SuperSpeed connection at all. The SuperSpeed Type C port in front, on the other hand, can be used for other peripherals that support SuperSpeed. This feature can be very useful if you want to store and play PS4 games on an external storage and play it on the PS5. If you don't have an external drive with USB Type-C, you can connect it to the rear Type As ports at the back, which also support SuperSpeed. The USB Type A in front, as mentioned earlier, does not support SuperSpeed.
Before doing this, I had to connect the drive to the PS5 and formatted it as extended storage. Everything in the drive will be removed. Then, I ejected the drive and connected it to the PS4. I transferred the games that I want to play on the PS5 and connected them back to the PS5. The PS4 games popped up on the dashboard once right after I connected it back on the PS5. I find this an easy and quick way to play your PS4 games on the PS5 without having to waste a lot of time and drive space instead of redownloading everything on the PS5.
At the back, you'll get additional USB ports that support SuperSpeed. You can use these to transfer or run your PS4 games on the PS5. There's also an HDMI port, which sports HDMI 2.1. An ethernet port is also included so you can connect directly to the internet or to a PS4 unit for game transfer.
Performance
What you're actually getting on the PlayStation 5 are new generation power and speed. You're basically getting a faster CPU and more GPU teraflops than the PlayStation 4 Pro. It's a generational leap from the previous generation, and the performance of games on this console is really impressive.
| | | |
| --- | --- | --- |
|   | PlayStation 5 | PlayStation 4 Pro |
| CPU | 8-core, 16 thread, up to 3.5Ghz (variable frequency) | 8 Jaguar Cores, 2.1GHz |
| GPU | 36 CUs at 2.23GHz, 10.3 TFLOPs (variable frequency) | 36 CUs at 911Mhz, 4.2 TFLOPS |
| Memory | 16GB GDDR6 | 8GB GDDR5 |
| Internal Storage | Custom 825GB SSD | 1TB HDD |
| External Storage | NVMe SSD slot, USB HDD | 2.5-inch HDD, USB HDD |
| Optical Drive | Ultra HD Blu-ray | Blu-ray |
| Video Output | 4K at 120Hz, 8K | 4K |
| Weight | 10.54 pounds | 7.3 pounds |
If you want to be nerdy about its specs, this is running with a custom AMD Ryzen Zen 2 and AMD Radeon RDNA 2-based graphics engine. Complementing it is a 16GB GDRR6 memory with stunning 445GB/s of bandwidth.
One of the major features of the RDNA 2-based graphics engine is hardware-based raytracing. This will make it compatible to render games with ray tracing content, and display impressive looking and cinematic gameplay experience. In my case, I played Astro's Playroom, Spider-Man: Miles Morales, and Call of Duty: Black Ops Cold War with various techniques of raytracing and they indeed make the games look gorgeous as expected.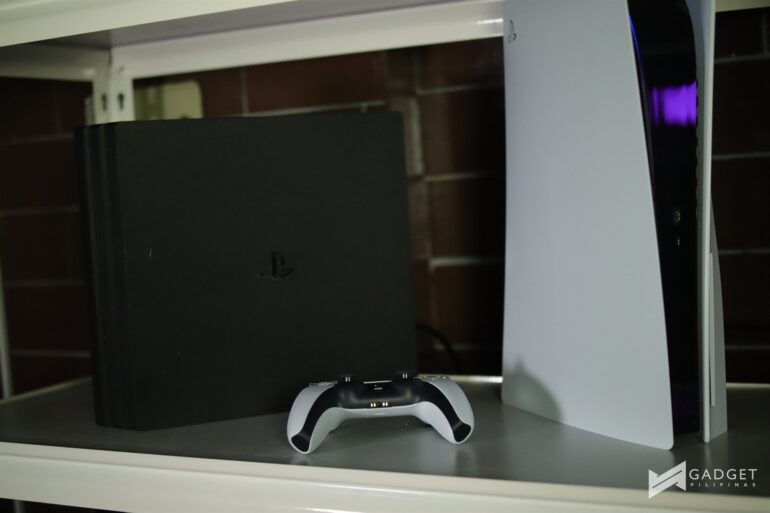 Reflections and shadows look better with this mode turned on. I appreciate how the developers of Spider-Man put raytracing to the game, which definitely brings additional dynamism to the experience. New York looks stunningly better with ray tracing enabled, and I really don't mind sacrificing a bit of FPS to make the game look really good. It is pretty evident that they implemented ray traced reflections on Spider-Man Miles Morales, which generate real-time reflections, albeit at a slightly lower resolution.
The same goes with this technical demo, Astro's Playroom, which puts almost all of the features of the PS5 to the test, including raytracing. Meanwhile, Black Ops Cold War's ray-traced shadow technique brings out its beautiful game design even further.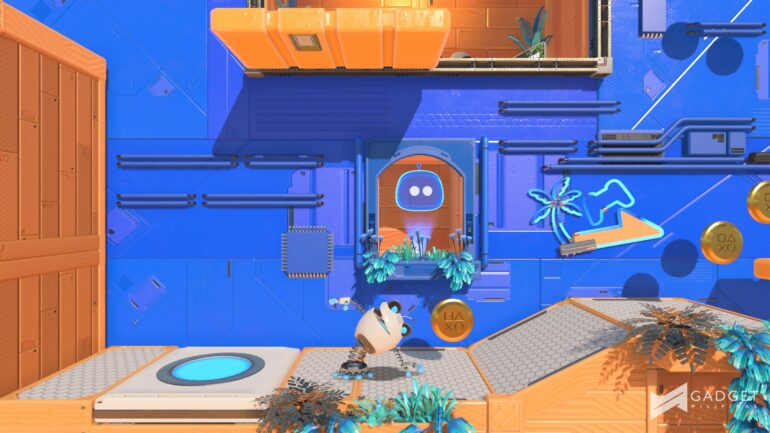 We will have a full gameplay benchmark and thermals review, which we will post in the next few days. So be sure to check back on this article for the link, or follow us on Facebook for further development.
Evidently, the new PS5 custom SSD is a monster and I believe that the difference in terms of the loading time is enough proof of what it can actually do. Loading time from the dashboard is, however, just a portion of the grand scheme of things specific to its internal storage. 
You will notice its effect when playing through chapters of a game or while simply jumping from one scene to another. This feature can also be attributed to fast switching from one game to another. In fact, based on my test, you can switch from one game you're playing to another game in just a mere average of 9 seconds; that is from the point of switching to when "Press Any Button" appears on the screen. This is definitely unheard of from the previous generation.  It's an operational feat from a technical standpoint, and this is definitely one of the best things that PS5 has to offer.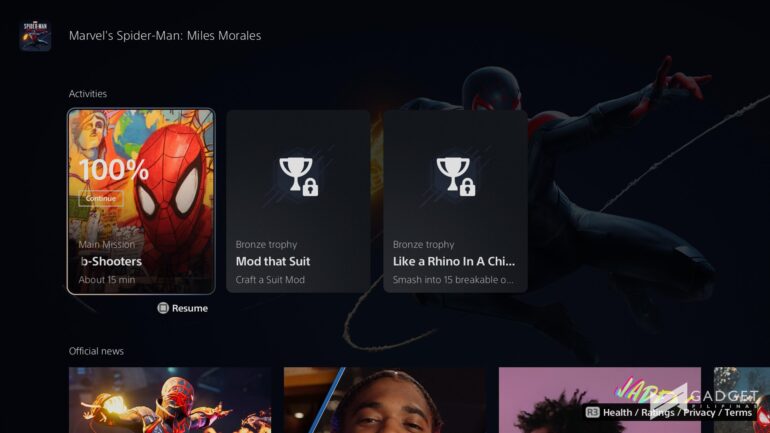 The only thing that PlayStation 5 needs right now is a Quick Resume feature, which allows games to switch from one gameplay state to another. Right now, the only wait to do it is to simply press the PlayStation home button, hover to the game you want to play, scroll down to Activities, and resume from a specific point. Some games would load directly to the specific highlighted activity like Spider-Man Miles Morales, but other games would take around 13 to 16 seconds longer. This, however,  is a great starting point for Sony to build on for their next updates. Game developers should also focus on optimizing specific games to be able to make the quick resume function experience quite similar to Spider-Man Miles Morales.
DualSense Controllers
Let's talk about the DualSense Controllers. I can go for one full day of just talking about these new controllers by Sony. In fact, we have dedicated content for the controllers alone, which I highly recommend that you check out.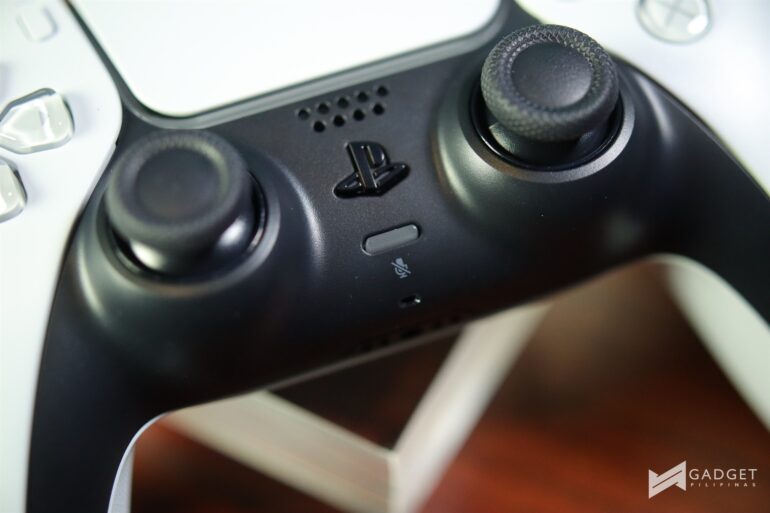 Sony has been positioning this to be an integral part of the console and its features. I, myself, could not think of the PlayStation 5 without the DualSense controller.
The DualSense controller does not feel and look cheap at all. Don't get me wrong – the DualShock 4 is good, but rightfully so, the new DualSense controller is definitely better. It's made of plastic but feels so solid and whole especially when it vibrates. The controller is needed to be structurally firm in order to hold its moving parts.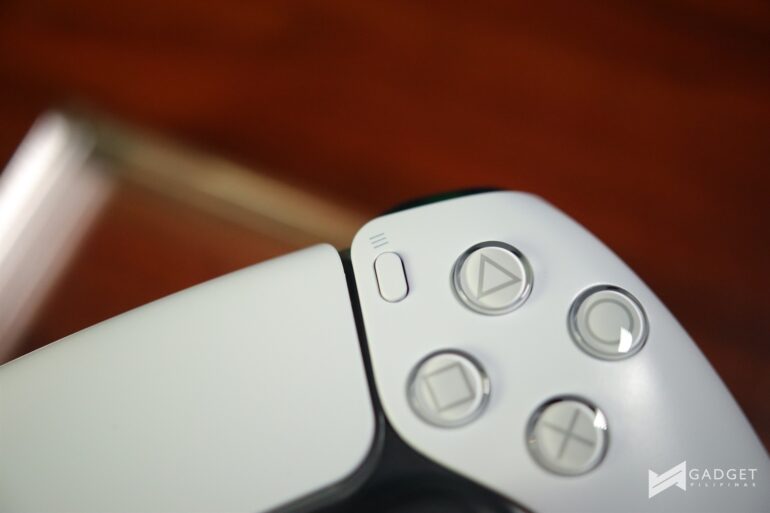 The controller has been totally redesigned but retains the layout of buttons along with its iconic symmetrical joysticks. I honestly prefer the button layout of the Xbox controller, but the ones on PlayStation somehow grew on me. With the new build and structure of the new DualSense controller, I have grown to love and enjoy playing my games with it.
What's not to love with the new controllers? The adaptive triggers alone can turn every non-PS5 believer into one! Playing with games that support adaptive triggers – not much at this time, honestly – gives everything a whole new gameplay experience. For instance, the tension of the triggers tightens and loosen up when you're web-slinging from one building to another on Spider-Man, or when you're spring-jumping on Astro's Playground. The experience is even wilder on Black Ops Cold War. The triggers react differently when firing specific guns, which adds additional dynamics to the gameplay experience.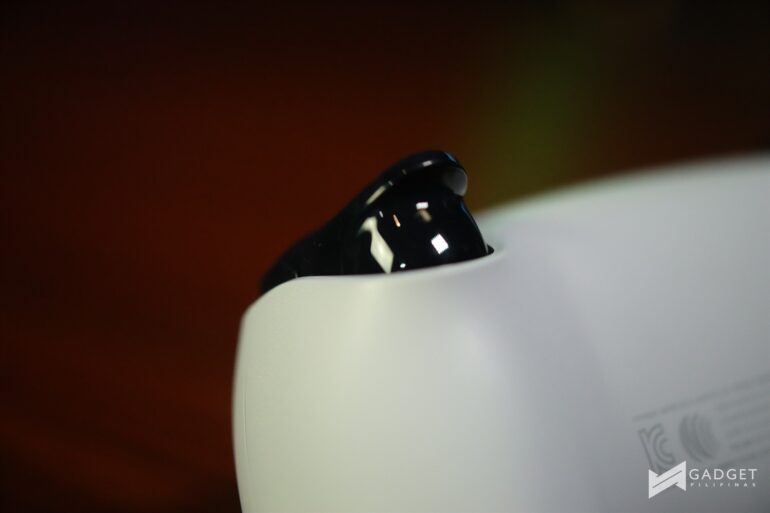 Another handy button you will find on the DualSense controller is the create button, which will be an amazing tool for content creators. I enjoyed using this a lot, and it allowed me to save and record my gameplays or capture photos and videos, which I can then post on my favorite social media accounts. Double pressing the button will capture gameplay according to the recording settings you have selected (ranges from 15 seconds to 1 hour). Long pressing it will take a screenshot of a specific scene. You can also live stream your game directly to Twitch or YouTube. Unfortunately, there is no way to stream directly to Facebook, but you can also do so using a capture card and a streaming application like OBS or YouTube. All you need to do is to link your accounts to your PS5 and you're good to go. Provided that you've got a good internet connection, you will not have trouble streaming to your friends and followers.
The new UI
Along with the new hardware features comes a brand new UI. The UI gives fresh ways to play and share your games.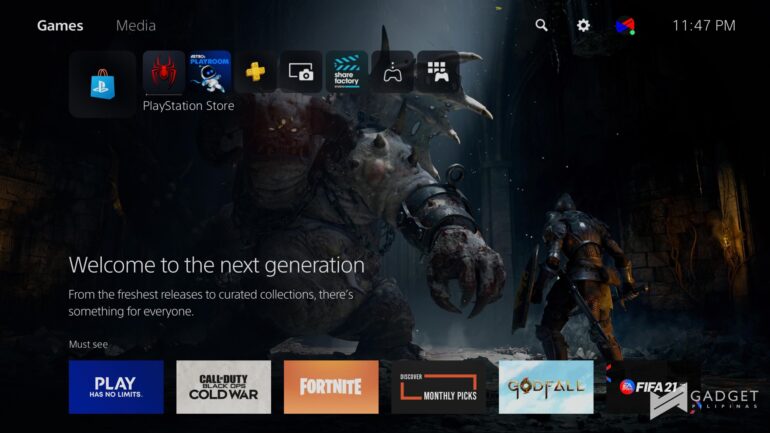 When you start using the PlayStation 5, you'll realize how dated the PS4 UI is. The completely remade UI also gives users a glimpse of what you should expect with this brand new console. Its minimalist yet informative design, and fluidity and ease of use are its greatest assets.
If you collect games and achievements, Game Hub will give you a complete walkthrough of everything that transpired in your gaming experience or simply discover new things so you can achieve certain achievements. Control Center gives you complete control of everything whether you're in-game or not. Activities, on the other hand, brings gamers to specific milestones and events in their gameplay worth replaying or checking out. The UI is no longer just a place to launch your games, but the ultimate hub to get yourself organized and pumped up to keep on playing.
Verdict
The PlayStation 5 is the ultimate gaming console that can let you play your favorite games. At PhP27,999, this dispels the barrier to gamers who cannot yet afford to buy a gaming PC. The power and speed of the PlayStation 5 is a beautiful entry to the world of immersive gaming. The exclusive features it offers – adaptive triggers, experiencing ray-traced contents in a budget price point – are enough reasons for gamers to consider buying one rather than spending a PC dedicated for gaming.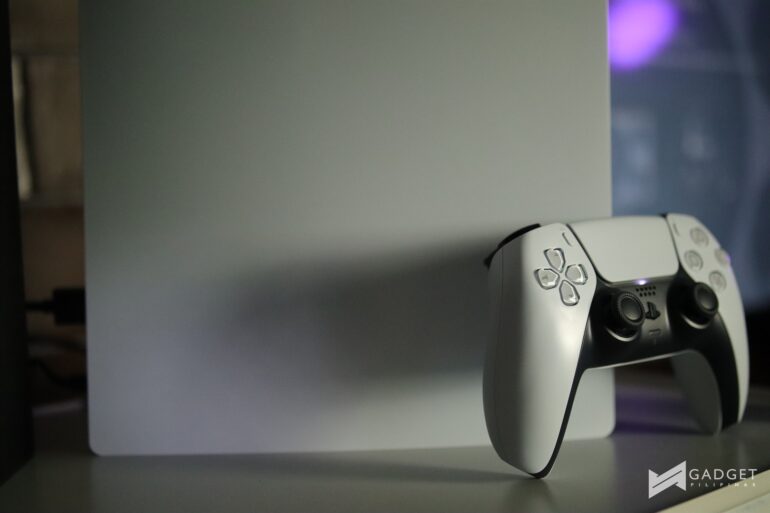 While the number of exclusive games is very limited, the future of the console is not bleak and dim. New games will come in and new features will be further added to existing games. UI and QOL improvements are yet to come, which definitely excite me the most.
For more hardware and benchmark coverage of the PlayStation 5, check out this link. For gaming news and reviews, head to One More Game.
Giancarlo Viterbo is a Filipino Technology Journalist, blogger and Editor of gadgetpilipinas.net, He is also a Geek, Dad and a Husband. He knows a lot about washing the dishes, doing some errands and following instructions from his boss on his day job. Follow him on twitter: @gianviterbo and @gadgetpilipinas.