New ASUS laptops!
The new ASUS Zenbook 13 UX325 and the ASUS Vivobook S433 were announced last October 23.
The new laptops are all powered by 11th Gen Intel processors. To be more specific, this ZenBook 13 is powered by an 11th Gen Intel Core i5 and this new VivobBook S14 is either powered by an 11th Gen i7 or i5 processor. Choosing between the two can be streamlined by really focusing on what you're going to do about it. Do you need something more powerful with a lot of ports? Get the new ZenBook! Do you want something bigger and stylish without sacrificing performance and productivity?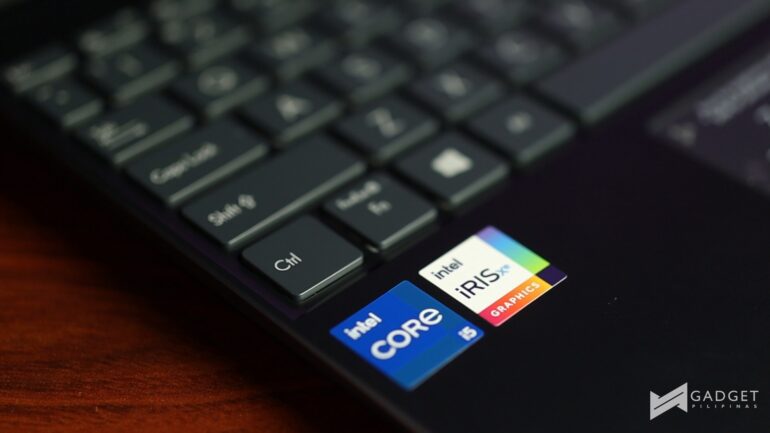 Kiddingly aside, if you want to be more technical about things. Let's get into the details of everything. So, apart from being Intel-powered, these two laptops actually have the latest features on a laptop.
ZenBook 13
Zeroing on the new Zenbook, this offers quite a number of good features like 13.3" full HD display and four-sided frameless NanoEdge design with 88% screen-to-body ratio, Under the hood, you've got an 8GB LPDDR4X RAM, 512GB internal storage, Intel WiFi 6 and a 3D IR HD camera with Windows Hello support. I guess though, the best selling point of the ZenBook, apart from everything else, is the number of I/O ports available.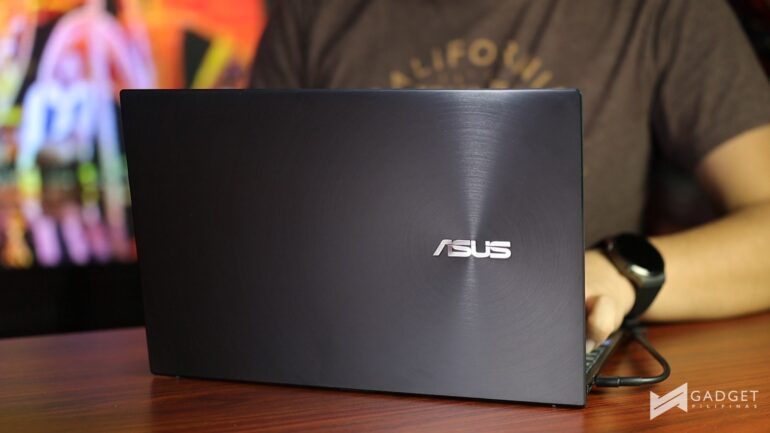 You've got 2X Thunderbolt 4 USB-C that supports up to 40Gbps, 1 USB 3.2, 1 HDMI, and a micro SD card reader. Again, props to ASUS for including this micro SD card because honestly, it's better to have one readily available for you rather than looking for and attaching a dongle so you can transfer photos from your camera to your laptop.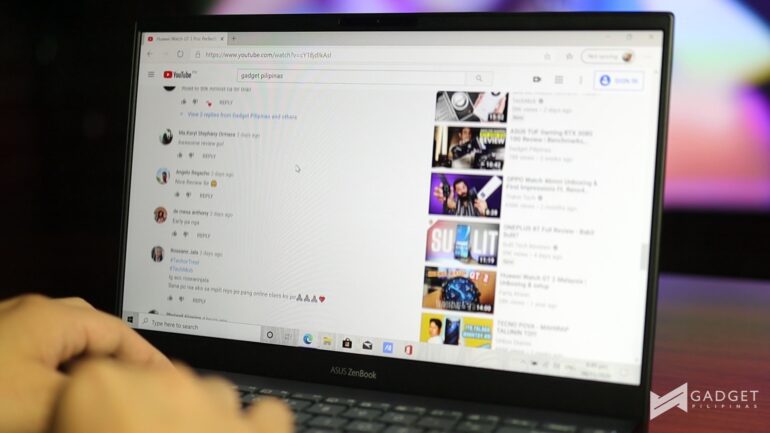 How about the VivoBook S433?
This is uniquely made for those who want a laptop with a slightly bigger screen. The display of this laptop measures 14-inches and also has a frameless four-sided NanoEdge display with 85% screen-to-body ratio. If you're getting this, you have the option of getting either the one with Iris Xe graphics or NVIDIA GeForce MX350.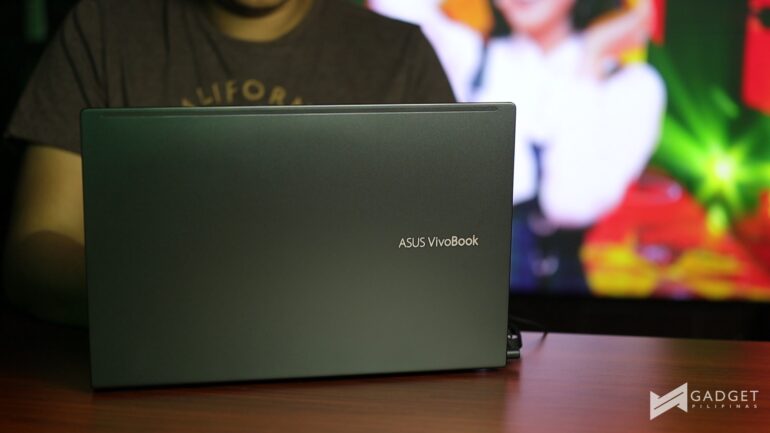 My personal recommendation is to go with the Intel Iris Xe GPU if you're a heavy user of work-from-home or homeschooling apps like Microsoft Office, Microsoft Teams, or Zoom. However, if you want something better than that, the variant with Core i7 with NVIDIA MX350 graphics would be the best option.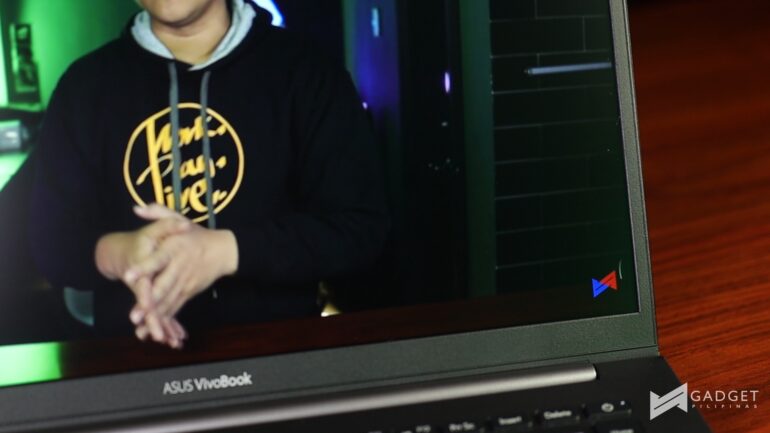 Specs
ASUS ZenBook 13 (UX325EA)
ASUS VivoBook S14 (S433EA/EQ)
CPU
Intel Core i5 1135G7 Processor
Intel Core i7-1165G7 processor (S433EQ)
Intel Core i5-1135G7 processor (S433EA)
Display
13.3" Full HD (1920 x 1080), 16:9 aspect, anti-glare screen, 300nits brightness display
14" LED-backlit Full HD (1920 x 1080) 16:9
Four-sided frameless NanoEdge design with 88% screen-to-body ratio
Frameless four-sided NanoEdge display with 85% screen-to-body ratio
IPS-level wide-view technology
178° wide-view technology
Operating system
Windows 10 Home
Windows 10 Home
Graphics
Intel Iris Xe Graphics
NVIDIA GeForce MX350 (S433EQ) / Intel Iris Xe Graphics (S433EA)
Main memory
8GB 4266MHz LPDDR4X
8GB 3200MHz DDR4
Storage
512GB PCIe NVMe 3.0 x2 M.2 SSD
512 GB SSD
Wireless
Intel WiFi 6 with Gig+ performance (802.11ax)
Intel WiFi 6 GIG+ (802.11ax)
Bluetooth 5.0
Bluetooth 5.0
Camera
3D IR HD camera with Windows Hello support
HD camera
I/O ports
2 x Thunderbolt 4 USB-C (up to 40Gbps)
1 x Thunderbolt™ 4 USB-C®
1 x USB 3.2 Gen 1 Type-A (up to 5Gbps)
1 x USB 3.2 Gen 1 Type-A
1 x Standard HDMI
2 x USB 2.0
1 x MicroSD card reader
1 x HDMI
1 x Audio combo jack
1 x MicroSD card reader
1 x DC-in
Audio
ASUS SonicMaster stereo audio system with surround-sound
Array microphone with Cortana voice-recognition support
Array microphone with Cortana and Alexa voice-recognition support
3.5 mm headphone jack
Certified by Harman Kardon
Certified by Harman Kardon
Battery
Up to 15 hours battery life4
Fast charging: 60% in 49 minutes
67Wh 4-cell lithium-polymer battery
50 Wh 3-cell lithium-polymer battery
65W power adaptor
65 W power adapter
Plug Type: USB-C
Plug Type: ø4 (mm)
Colors
Pine Grey, Lilac Mist
Dreamy White / Indie Black / Gaia Green / Resolute Red
Dimensions
Height: 1.39cm
Height: 1.59 cm (0.62")
Width: 30.4cm
Width: 32.49 cm (12.79")
Depth: 20.3cm
Depth: 21.35 cm (8.40")
Weight
1.11Kg
1.4 kg (3.08 lb)
Now, what are the key takeaways from all these, and why I think this is the best time to invest in a new ASUS laptop!
Whether you're someone working from home, content creator, or even a live streamer, you've got to be mindful of the specs of the laptop you're going to get.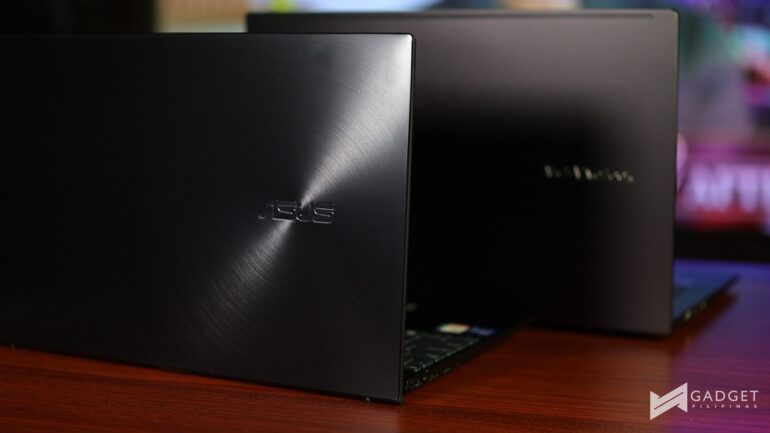 My personal favorite, the ZenBook 13 is definitely an investment to consider because of everything it offers. It is, by far, the best one for my needs because it has complete ports, it can be charged to 60% in less than 50 minutes, and has the latest Intel processor. If my lifestyle matches yours, then this might be the laptop for you.
However, if you're on the other side of the lifestyle spectrum, the more colorful yet powerful Vivo S433 is something worth checking out. The one with the MX350 might be something worth considering if you want to produce videos, creator content, or live stream using XSplit or OBS.
How about the prices of these products?
The ASUS ZenBook 13 UX325 is now available in Pine Grey and Lilac Mist at ASUS Concept Stores and the ASUS Official Lazada Store for PHP 54,995.
The ASUS VivoBook S14 S433 will be available in four colors – Indie Black, Resolute Red, Gaia Greene, and Dreamy White. The S433EA which comes with an Intel Core i7-1135G7 processor and an Intel Iris Xe GPU is priced at PHP 49,995. The top-specced S433EQ with an Intel Core i7-1165G7 processor and an NVIDIA GeForce MX350 will retail for PHP 59,995.