AMD's release with the Radeon RX 6800, RX 6800 XT, and RX 6900 XT sparked concerns from the enthusiast community over the debacle of its previous releases that failed to compete with Nvidia's high-end offering. This time around, AMD makes its comeback in the GPU space with a bang as its latest RX 6000 series graphics card directly competes with Nvidia's RTX 30 gaming beasts. The RNDA 2 Architecture is not just your standard 7-nanometer yield improvement as it brings in new features such as Ray Tracing support and Smart Access Memory allowing their new GPUs to fully compete with Nvidia head-on. Of course, it wouldn't be a big bang from team red without the cutthroat pricing that the brand is loved and known for.
RDNA 2 Architecture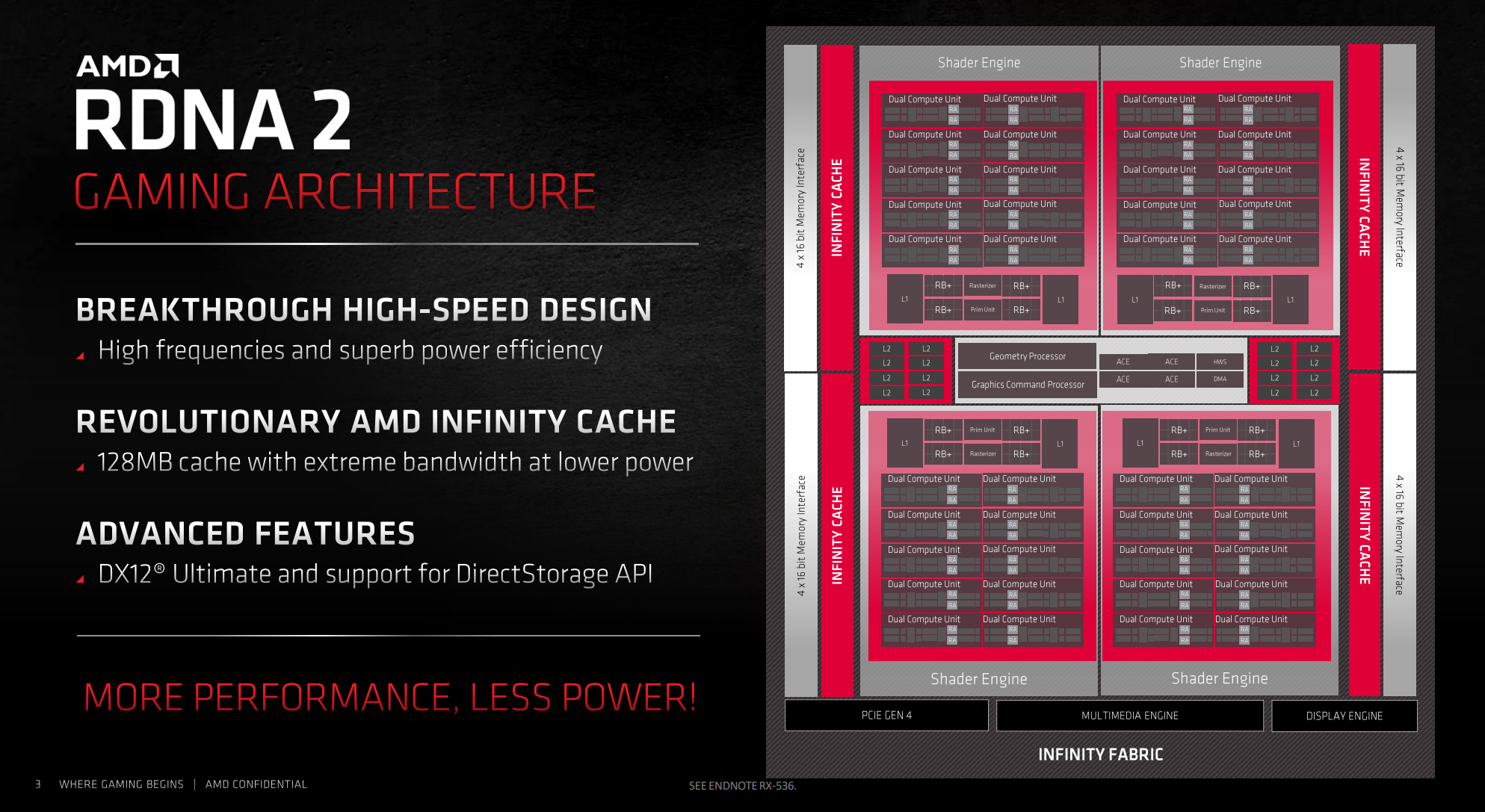 The new RDNA 2 Architecture under the 7-nanometer process brings new and advanced features to AMD's graphics card platform. AMD refined in the previous RX 5000 series' RDNA architecture similar to what the brand has done with its latest Ryzen 5000 series empowers the RX 6000 graphics cards' performance to rival Nvidia's RTX 30 series lineup.

While AMD offers fancy new features and killer pricing, the brand actually highlights RDNA 2's impressive 54% performance per watt gain over the previous generation. Meaning that we won't be able to joke off AMD requiring nuclear power plants to run its graphics cards, at least for this generation.
AMD Radeon RX 6000 Series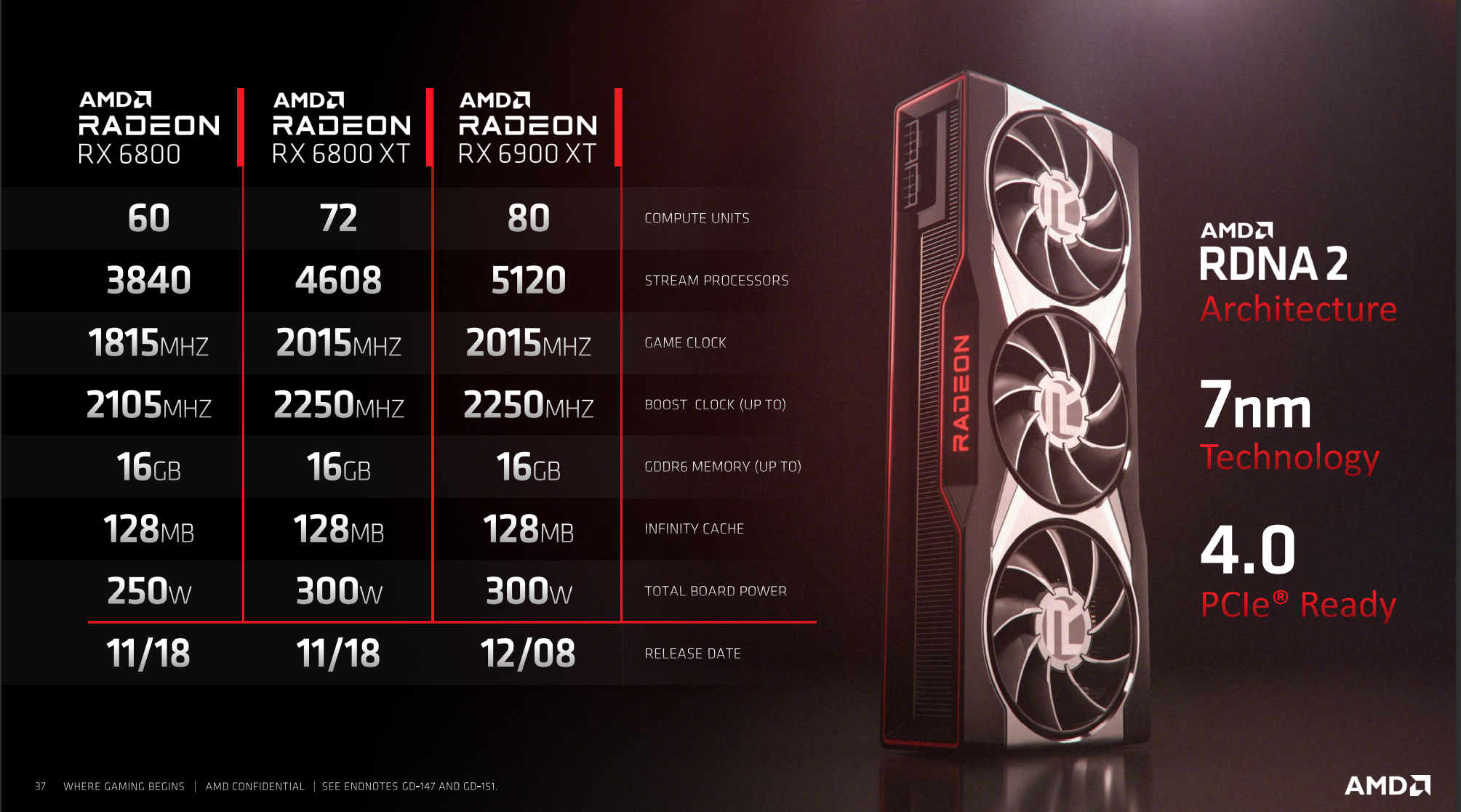 AMD launched the Radeon RX 6800, Radeon RX 6800 XT, and Radeon RX 6900 XT to directly compete against Nvidia's RTX 3070, RTX 3080, and RTX 3090 respectively. As of writing, both the Radeon RX 6800 and 6800 XT are already available at AMD's partner retailers while the Radeon RX 6900 XT is scheduled to hit store shelves on December 8, 2020.
| | | | |
| --- | --- | --- | --- |
| AMD Radeon | Price | Nvidia GeForce | Price |
| AMD Radeon RX 6800 | $579 | Nvidia Geforce RTX 3070 | $499 |
| AMD Radeon RX 6800 XT | $649 | Nvidia Geforce RTX 3080 | $699 |
| AMD Radeon RX 6900 XT | $999 | Nvidia Geforce RTX 3090 | $1499 |
While AMD now holds the premium pricing over Intel at the CPU department, AMD's pricing for the RX 6000 series still sits below their competitors. However, I personally find AMD's pricing tactics for the RX 6000 a little sketchy as far as specs are concerned. We're used to enjoying a bigger price gap on AMD's GPUs as we go down further to the lower-end territory but that isn't the case with the latest RX 6000 series, particularly the RX 6800.
The cheapest of AMD's latest GPU stack, the Radeon RX 6800, is supposed to rival the RTX 3070 in terms of performance but is priced $80 higher than its counterpart while the XT variant is priced $50 cheaper than the RTX 3080. This puts the RX 6800 at a weird spot as it's priced between the RTX 3070 and RX 6800 XT. It's $80 more expensive than the RTX 3070 but it's only $70 cheaper than the RX 6800 XT. The $70 less RX 6800 only has 12 lesser CUs and consumers 50-watts less than the 6800 XT. On the other hand, the flagship Radeon RX 6900 XT only difference versus the RX 6800 XT is that the former has 8 more CUs but it's priced at $350 more and effectively undercuts Nvidia's RTX 3090.
While I want to tackle more about the obscure pricing of the RX 6800 and RX 6900 XT, we only have the Radeon RX 6800 XT on our hands to compare against Nvidia's offering. Let's see how the $50 difference in price translates to the performance gap between team red and green.
AMD Radeon RX 6800 XT Graphics Card Review – A Worthy Opposition
Our Verdict
The way AMD shocked the industry with the RX 6800 series performance is definitely astonishing, so much that it downplays AMD's struggle with the Ryzen CPU line snatching the crown from Intel. To put it simply, AMD's Radeon RX 6800 XT is on par with the RTX 3080 but it comes with several asterisks. If you're willing to forego Nvidia's shiny RTX exclusive features, AI-performance enhancement, and overall stable drivers, then the RX 6800 XT is a more than good enough alternative. What the AMD RX 6800 XT or the RX 6000 series lack in thermals and feature sets, they make up with brute force performance and relatively competitive pricing.
What's Good
Raw Performance - Stable 4K 60fps gaming
0db fan technology
16GB VRAM
Power efficient
USB-C display out - PCVR support
What's Not
Massive FPS loss on Ray Tracing
Thermals - Poor fan curve management
Limited Availability - Much less than RTX 30
Grant is a Financial Management graduate from UST. His passion for gadgets and tech crossed him over in the industry where he could apply his knowledge as an enthusiast and in-depth analytic skills as a Finance Major. His passion allows him to earn at the same time help Gadget Pilipinas' readers in making smart, value-based decisions and purchases with his reviews and guides.