Introduction
AMD's release with the Radeon RX 6800, RX 6800 XT, and RX 6900 XT sparked concerns from the enthusiast community over the debacle of its previous releases that failed to compete with Nvidia's high-end offering. This time around, AMD makes its comeback in the GPU space with a bang as its latest RX 6000 series graphics card directly competes with Nvidia's RTX 30 gaming beasts. The RNDA 2 Architecture is not just your standard 7-nanometer yield improvement as it brings in new features such as Ray Tracing support and Smart Access Memory allowing their new GPUs to fully compete with Nvidia head-on. Of course, it wouldn't be a big bang from team red without the cutthroat pricing that the brand is loved and known for.
RDNA 2 Architecture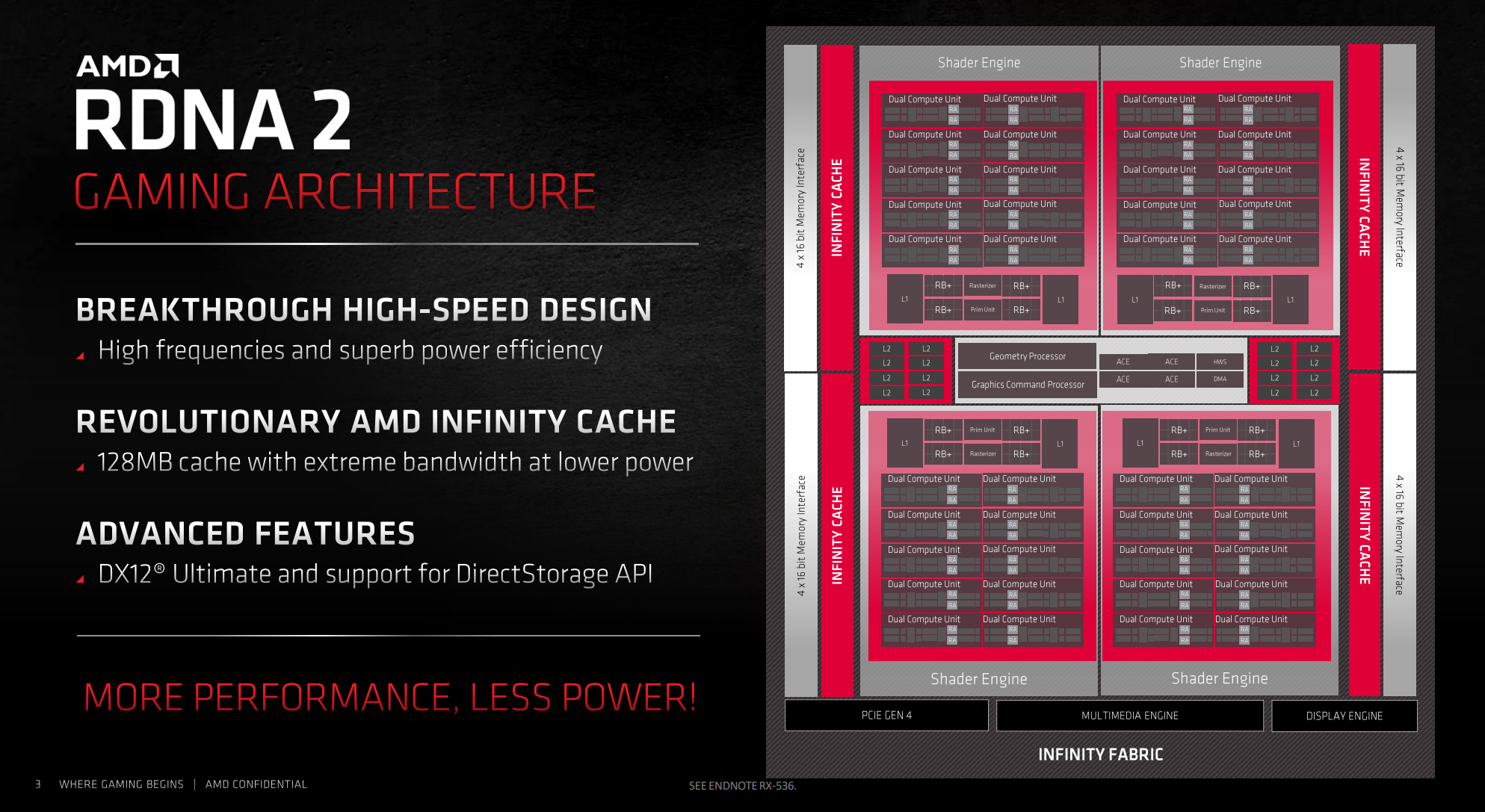 The new RDNA 2 Architecture under the 7-nanometer process brings new and advanced features to AMD's graphics card platform. AMD refined in the previous RX 5000 series' RDNA architecture similar to what the brand has done with its latest Ryzen 5000 series empowers the RX 6000 graphics cards' performance to rival Nvidia's RTX 30 series lineup.

While AMD offers fancy new features and killer pricing, the brand actually highlights RDNA 2's impressive 54% performance per watt gain over the previous generation. Meaning that we won't be able to joke off AMD requiring nuclear power plants to run its graphics cards, at least for this generation.
AMD Radeon RX 6000 Series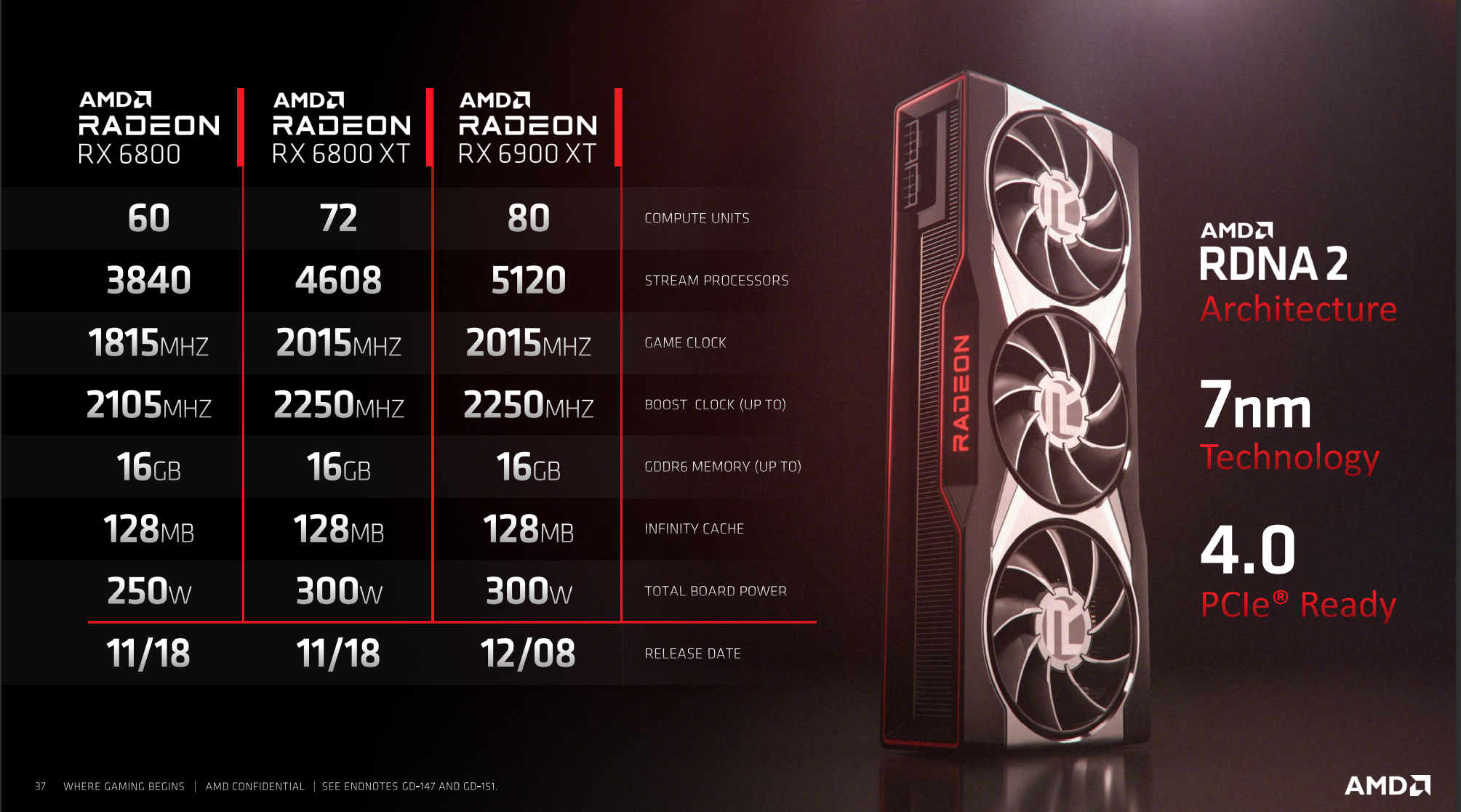 AMD launched the Radeon RX 6800, Radeon RX 6800 XT, and Radeon RX 6900 XT to directly compete against Nvidia's RTX 3070, RTX 3080, and RTX 3090 respectively. As of writing, both the Radeon RX 6800 and 6800 XT are already available at AMD's partner retailers while the Radeon RX 6900 XT is scheduled to hit store shelves on December 8, 2020.
| | | | |
| --- | --- | --- | --- |
| AMD Radeon | Price | Nvidia GeForce | Price |
| AMD Radeon RX 6800 | $579 | Nvidia Geforce RTX 3070 | $499 |
| AMD Radeon RX 6800 XT | $649 | Nvidia Geforce RTX 3080 | $699 |
| AMD Radeon RX 6900 XT | $999 | Nvidia Geforce RTX 3090 | $1499 |
While AMD now holds the premium pricing over Intel at the CPU department, AMD's pricing for the RX 6000 series still sits below their competitors. However, I personally find AMD's pricing tactics for the RX 6000 a little sketchy as far as specs are concerned. We're used to enjoying a bigger price gap on AMD's GPUs as we go down further to the lower-end territory but that isn't the case with the latest RX 6000 series, particularly the RX 6800.
The cheapest of AMD's latest GPU stack, the Radeon RX 6800, is supposed to rival the RTX 3070 in terms of performance but is priced $80 higher than its counterpart while the XT variant is priced $50 cheaper than the RTX 3080. This puts the RX 6800 at a weird spot as it's priced between the RTX 3070 and RX 6800 XT. It's $80 more expensive than the RTX 3070 but it's only $70 cheaper than the RX 6800 XT. The $70 less RX 6800 only has 12 lesser CUs and consumers 50-watts less than the 6800 XT. On the other hand, the flagship Radeon RX 6900 XT only difference versus the RX 6800 XT is that the former has 8 more CUs but it's priced at $350 more and effectively undercuts Nvidia's RTX 3090.
While I want to tackle more about the obscure pricing of the RX 6800 and RX 6900 XT, we only have the Radeon RX 6800 XT on our hands to compare against Nvidia's offering. Let's see how the $50 difference in price translates to the performance gap between team red and green.
RDNA 2 Architecture Deep Dive – Infinity Cache, Ray Accelerators, VRR
AMD is known to push for 4K gaming with its previous "high-end" graphics card releases with some units packing in liquid cooling solutions out of the box. Today, it seems like AMD has finally achieved glorious 4k gaming via the RDNA 2 Architecture without the caveats as even the cheapest RX 6000 GPU is marketed for 4K Gaming.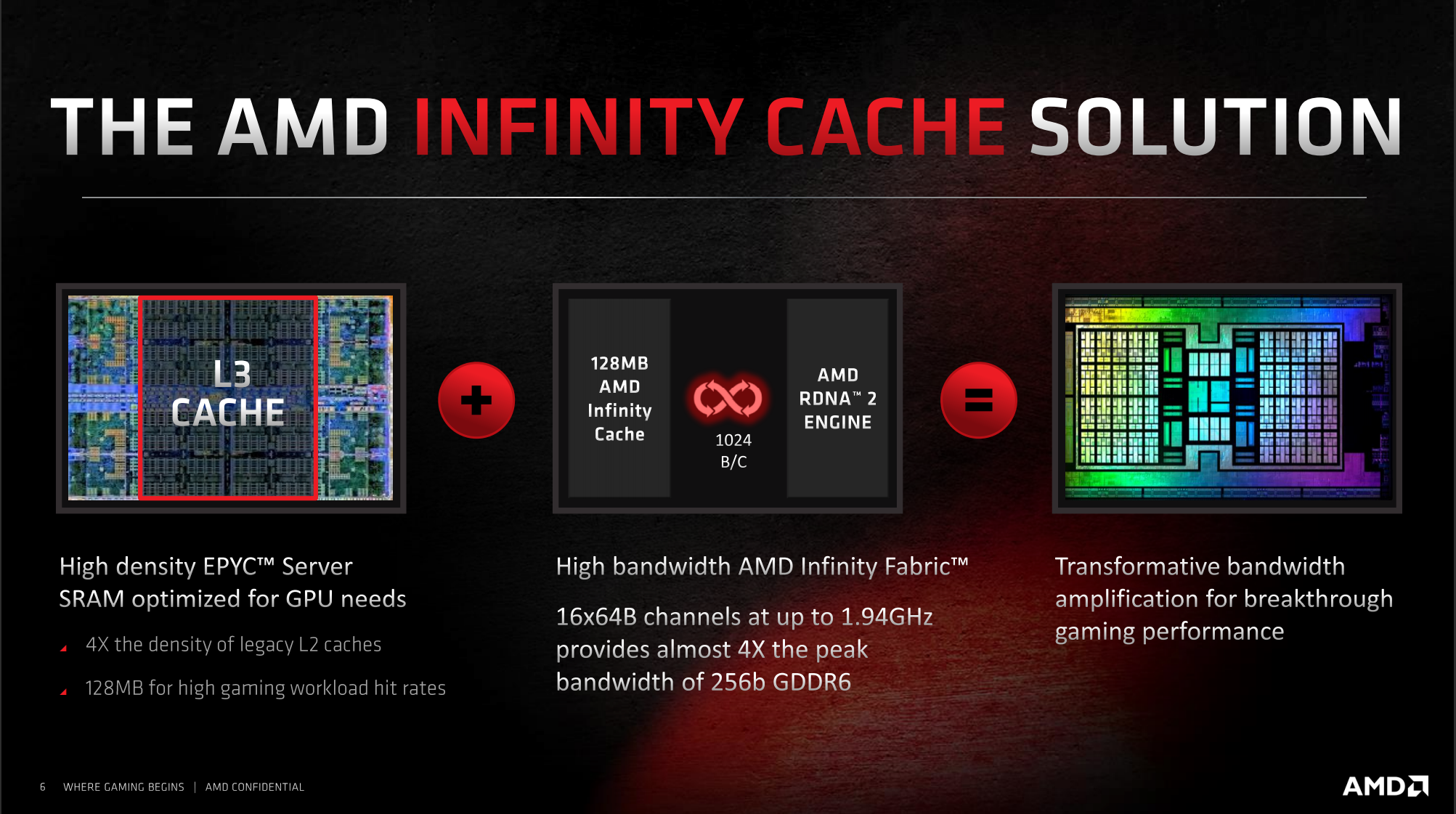 AMD's main goal with the RDNA 2 architecture is to make it very power efficient which led to the debut of AMD's Infinity Cache solution. Infinity Cache is a new method on how data is delivered in GPUs. Every card in the Radeon RX 6000 family is equipped with a 128MB of AMD Infinity Cache enabling high-performance bandwidth vs GDDR6 all while consuming far less power.
Nvidia was first to market with full DirectX 12 support, now known as DX 12 ultimate. AMD's RDNA 2 architectural improvements allow the brand to catch up and finally support the full level API as well as Ray Tracing, variable-rate shading, mesh shaders, and sampler feedback.
AMD's Ray Accelerators is AMD's answer to Nvidia's RTX Ray Tracing via RT cores. Each RDNA 2 Compute Unit(CU) includes a dedicated Ray Accelerator that can calculate up to 4 ray/box intersections or one ray/triangle intersection every clock. We'll see how AMD's first take on Ray Tracing via Ray Accelerators compares against Nvidia's RT cores.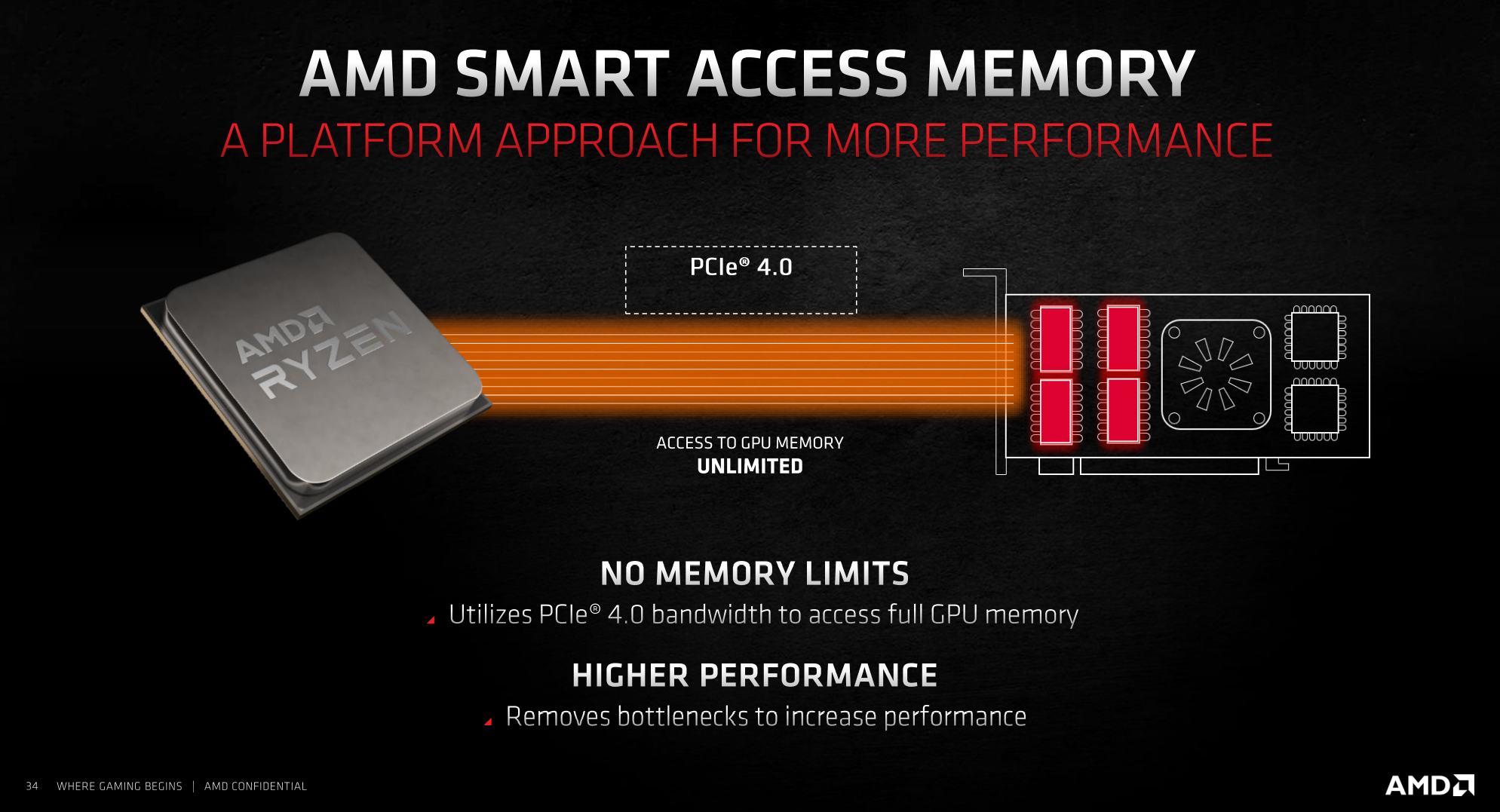 Processors only access a fraction of GPU memory, typically around 256MB resulting in a less efficient data transfer and restricted performance AMD Smart Acess Memory or SAM enables more memory space to be mapped to the base address register(BAR) resulting in performance gains in select games, particularly those who are memory heavy. With SAM enabled, the whole PCIe bandwidth is utilized allowing AMD processors to fully access the entire GPU memory. As of writing, Smart Acess Memory can only be enabled if you meet the necessary hardware requirements as well as the latest BIOS and drivers.
Smart Access Platform Requirements
AMD Ryzen 5000 Series Processors
AMD Radeon RX 6000 GPUs
AMD B550/X570 Series Motherboards
Above 4G decoding and Re-size BAR support must be enabled to enable Smart Access Memory. These settings can be enabled on the BIOS and are usually found under PCI-Subsystems.
RX 6800 XT FidelityFX feat. Godfall
AMD FidelityFX is an open-source image quality toolkit, under AMD's GPUOpen initiative, allowing game developers to use up to seven different solutions to deliver ultimate visual quality with minimal performance overhead. For consumers, think of it as granting your monitor HDR prowess if you enable FidelityFX on a supported game such as Godfall. That said, I wasn't able to test it with or versus HDR as well as to measure the performance impact of FidelityFX. AMD claims a very minimal performance overhead which our screenshots below also showing the framerate.
Godfall is running on epic setting preset for our Fidelity FX testing. Screenshots are taken at 1440p resolution with Radeon Image Sharpening on the Radeon Software turned off
Due to time constraints, I was only able to test FidelityFX on Godfall's Intro/Prologue mission. Turning FidelityFX on definitely gives you more vibrant graphics making the game feel more immersive. However, FidelityFX tends to over contrast or saturate the already strong spotlights or surface reflections washing out other minor graphical details such as shadows.
Godfall's resolution performance scaling is impressive considering this is launch performance numbers. Counterplay Games plans to release a ray tracing setting for Godfall but will only be limited to AMD at launch. We plan to revisit Godfall once Ray Tracing is available on Nvidia for a fair comparison against the RX 6800 XT.
AMD Radeon RX 6800 XT Reference Card – A Closer Look
Packaging for the Radeon RX 6800 XT will vary per AMD's partner brands. As far as our media packaging goes, AMD has definitely improved its design compared the previous RX 5700 XT and Radeon VII media samples.
The AMD Radeon RX 6800 XT uses a flip-style cover where you are greeted with a welcome message on the lid upon opening. Unlike the generic soft styrofoam cover found on most graphics cards, AMD stepped up with quality printed cardboard protecting the RX 6800 XT.
Repeating what I said on our RX 6800 XT Unboxing and Overview, the reference design is simply gorgeous, making it one of my design favorites as far as reference models go. Like Nvidia, AMD opted for a fan-style cooler for its reference design instead of the conventional blower-style cooler.
Moreover, unlike AMD's past high-end GPU offerings, the Radeon RX 6800 XT is the first reference card to not require fancy liquid cooling to compete with Nvidia's high-end product stack.
The Radeon RX 6800 XT reference model also comes with a full-length silver backplate with a very minimalist design. The backplate might be just for looks rather than cooling performance as the back the GPU-die is not covered therefore heat is not efficiently transferred to the backplate.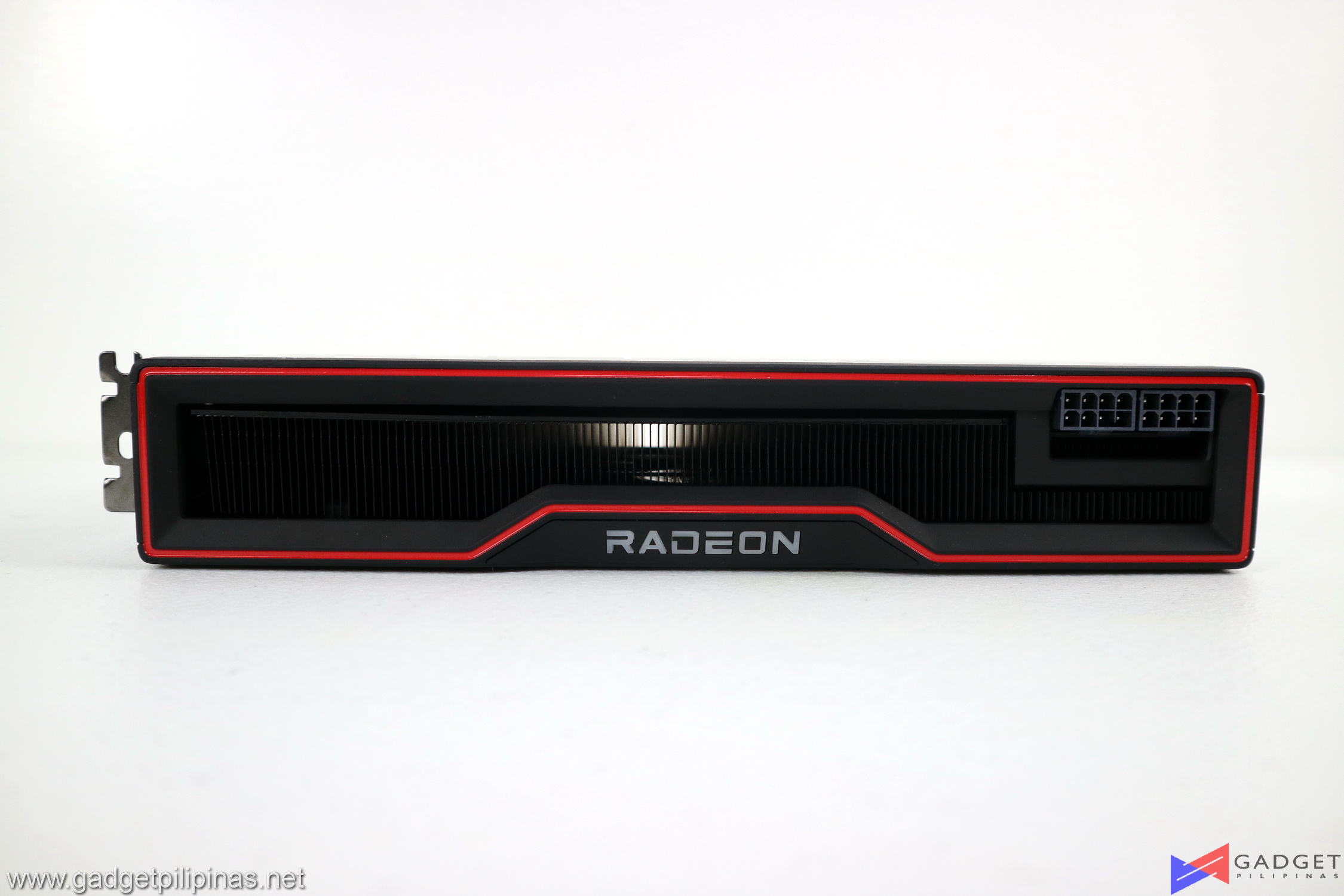 The side has a very simple design with a loud red outline. The exposed heatsink fin design will supposedly allow better airflow.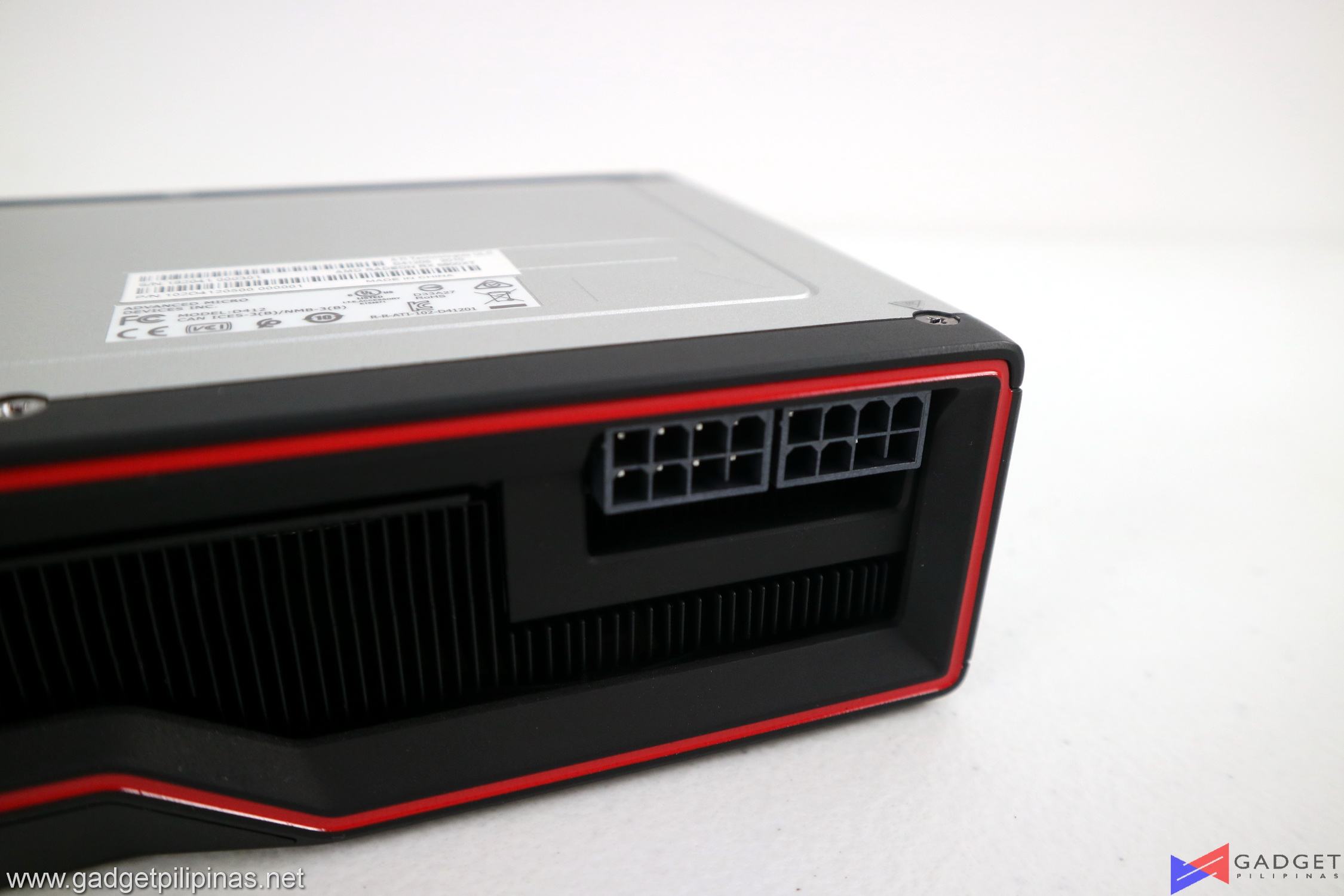 The Radeon RX 6800 XT is rated at a TDP of 300W and therefore requires two 8-pin PCIe connectors. AMD officially recommends a 750-watt power supply for the RX 6800 XT.
While most graphics cards come with a 3x DP and 1x HDMI configuration, AMD decided to replace a Display Port slot with a USB Type-C port. This gives users more options for display connectivity and allows VR headset users to directly plug in their headset to the Radeon RX 6800 XT Graphics Card. The HDMI 2.1 VRR with FRL ports on the RX 6800 XT supports up to 8K 60Hz or 4K 144hz.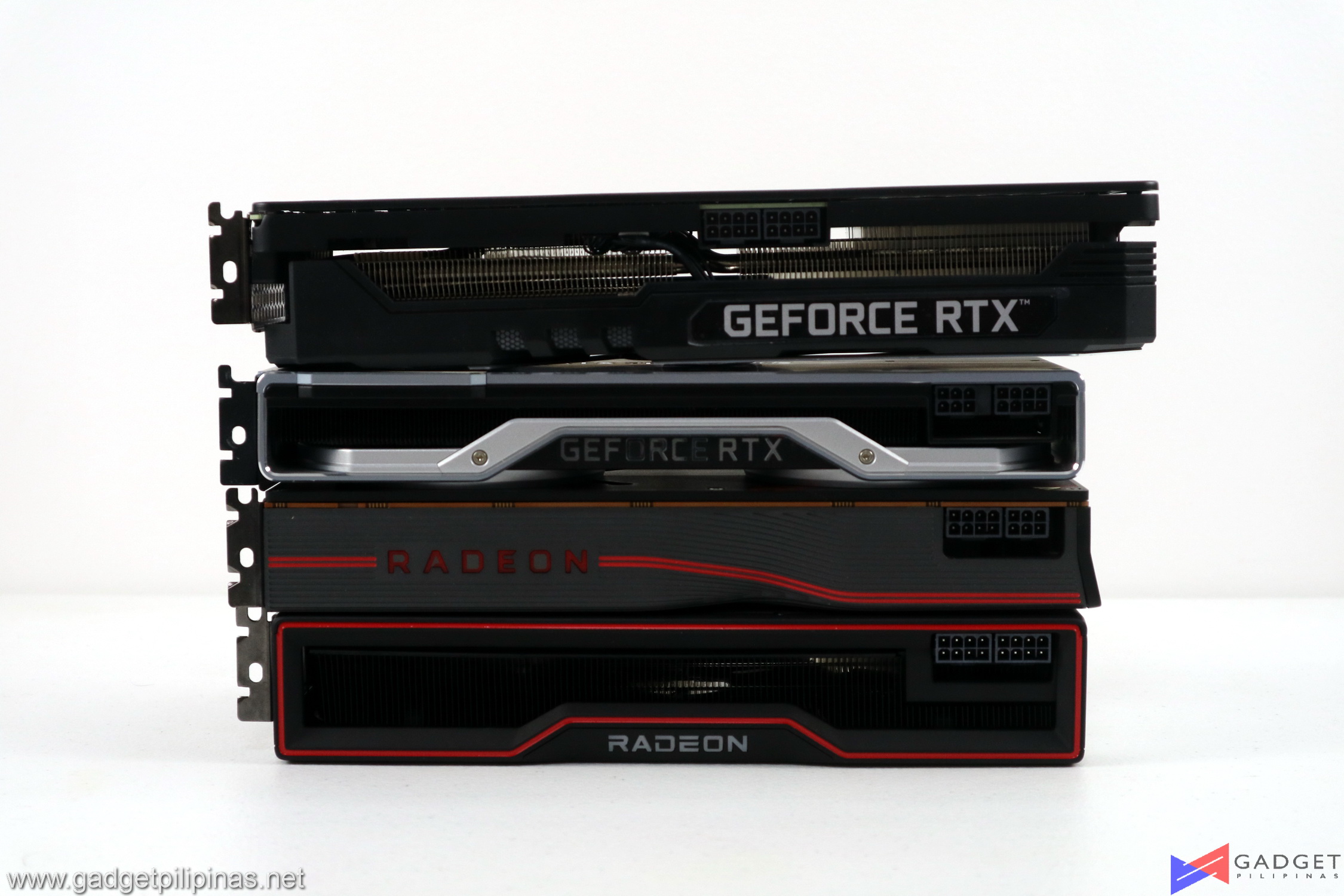 From top to bottom:
Palit RTX 3070 Gaming Pro OC
Nvidia RTX 2080 Super Founders Edition
AMD Radeon RX 5700 XT Reference Card
AMD Radeon RX 6800 XT Reference Card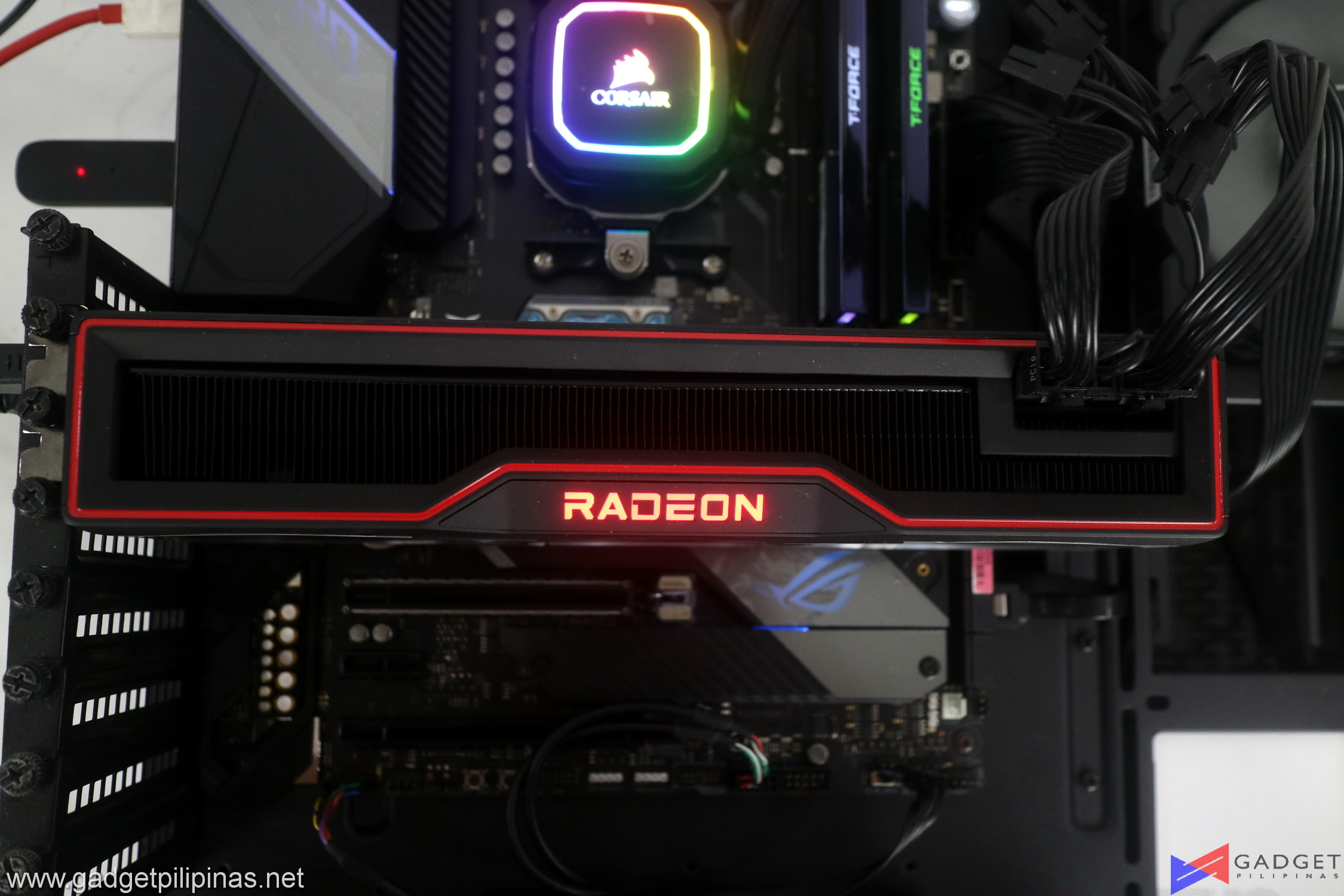 The AMD Radeon RX 6800 XT reference card is a 2.5 slot GPU and is slightly thicker than the previous 5700 XT. The Radeon logo on the 6800 XT has a RED led that lights up when powered on whereas the vanilla 6800 only has a painted red logo.
Benchmark Setup and Methodology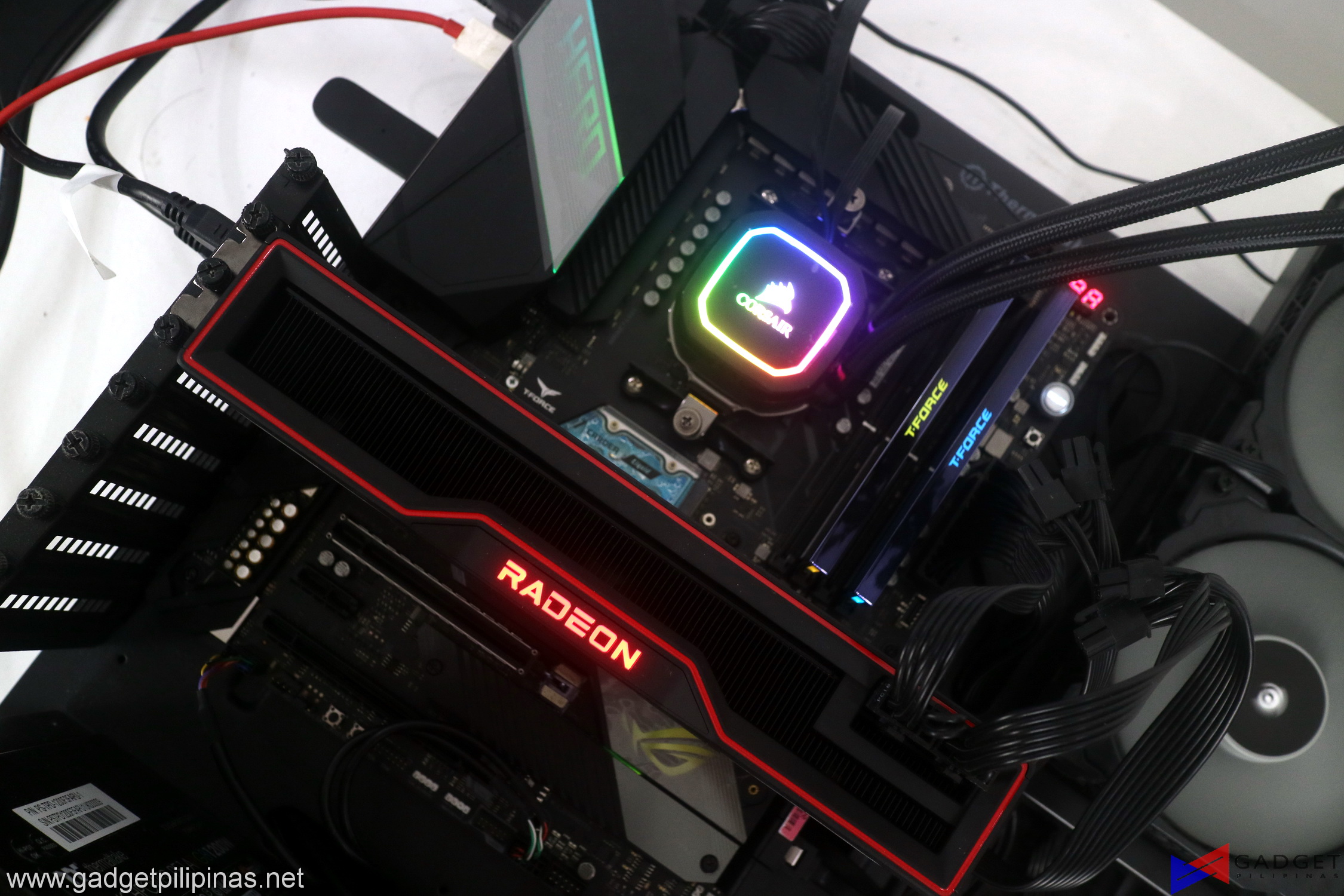 Gadget Pilipinas' testing philosophy is to provide detail-oriented results as accurately as possible that our readers can replicate our tests given that these conditions are met. Different benchmarking apps and sequences are used depending on the component or device being tested.
AMD Radeon RX 6800 XT Review Test Bench Specs
CPU
AMD Ryzen 9 5950X
COOLER
Corsair H100i RGB PRO XT 240mm AIO – Noctua NT-H2 Thermal Paste
MOTHERBOARD
ASUS ROG Crosshair VIII Hero (Wi-Fi) | BIOS 2502
MEMORY
Tforce XTREEM ARGB 16GB(2x8GB) 3600Mhz DDR4
GPU
AMD Radeon RX 6800 XT | Adrenalin 20.45.01.12-11.6
Colorful iGame RTX 3080 | GeForce 457.06
STORAGE
TForce CARDEA Liquid NVMe SSD
POWERSUPPLY
ThermalTake ToughPower 1200w Platinum
OPERATING SYSTEM
Windows 10 Pro Build 2404
DISPLAY
Lenovo Legion Y27Q Gaming Monitor
We use CapFrameX 1.5.7 Beta as our FPS capture and analysis tool for all our gaming benchmarks. The latest build version of Windows 10 and WHQL certified drivers are used for our benchmarks. Readings such as temperatures and power draw are recorded using HWMonitor and HWInfo64 as well as other relevant software are used for cross-checking.
Benchmark list
SuperPi 32M
wPrime
AIDA64 Memory Benchmark
Geekbench 5
Cinebench R20
Google Octane
V-Ray
HWBot x265
Handbrake
Blender
Corona Renderer
3DMark
DOTA 2
Rainbow Six Siege
Metro Exodus
Far Cry 5
Shadow of the Tomb Raider
GTA V
F1 2020
Battlefield V
Assassins Creed: Odyssey
Anno 1800
Godfall
Our benchmark list and methodology may change in the future depending on the industry trend.
AMD Radeon RX 6800 XT Synthetic Benchmarks
3DMARK
3DMark is the go-to benchmark for gamers because of the ability to share and compare results online. We used Time Spy DirectX 12 benchmark and Fire Strike DirectX 11 benchmark to gauge the CPU's performance using different APIs.
GeekBench 5
Geekbench is a multi-platform benchmark that's used to gauge CPU performance and compare them across Windows, Mac, and Mobile. Geekbench 5 is the latest version and doesn't rely on memory as much compared to the previous Geekbench 4, making it a great tool to measure both single-core and multi-core CPU performance. For our GPU reviews, we both measure OpenCL and Vulkan performance
V-RAY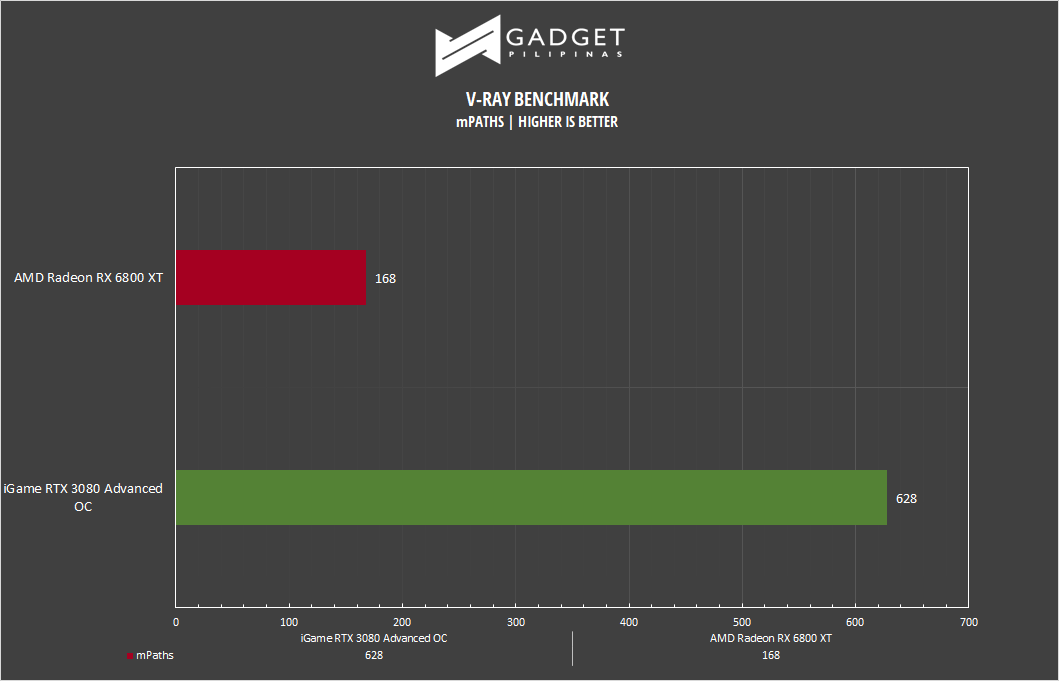 V-Ray Benchmark is a stand-alone version V-Ray developed by Chaos Group. It is designed to test the CPU and GPU by rendering sample scenes at a fixed amount of time. V-Ray is plug-in mostly utilized by 3D computer graphics software applications mainly for industrial design, product design, architecture, film, and video game production. V-Ray is not limited to 64-threads as it supports multi and mega threading.
BLENDER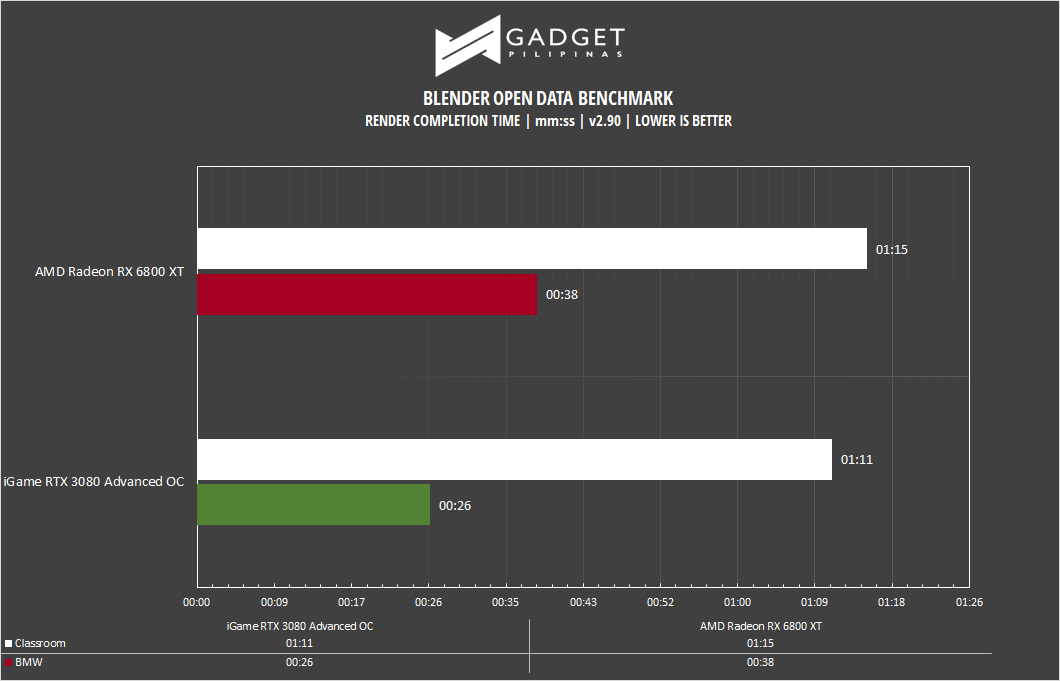 Blender is a widely used, free, open-source 3D creation suite. It supports the whole 3D pipeline process from modeling, rigging, animation, simulation, rendering, and even motion tracking. Blender has become a standard for CPU benchmarks with the BMW27 and Classroom scene most used. This prompted the company to release Blender Open Data Benchmark in 2018, a benchmark-specific version that allows users to run a preset benchmark and share the results online similar to 3D Mark.
Radeon RX 6800 XT Gaming Benchmarks
DOTA 2
Most gamers play at least one of the following free-to-play titles: League of Legends, CS: GO, Dota 2, and/or Fortnite.  Dota 2 is a good representation of the F2P titles as it is the most demanding game in the spectrum. The benchmark will give you an idea of the laptop's relative performance on other lesser demanding titles. Our benchmark sequence is based on a replay of OG vs. Liquid in the TI9 grand finals from the team fight that happened on 28:30 to 29:30.
Far Cry 5
FarCry 5 is an FPS game published by Ubisoft and uses the Dunia engine. It heavily relies on and takes advantage of DirectX 11 to render a realistic environment that makes it taxing to both the CPU and GPU.
Rainbow Six Siege
Rainbow Six Seige is one of the few popular AAA games that's still popular in 2020 due to its competitive gameplay mechanics. R6S uses the AnvilNext game engine, which is developed by the game's publisher, Ubisoft. As of writing, Rainbow Six Siege is currently the most popular Tom Clancy title beating out Wildlands, Breakpoint and even, Division 2. Rainbow Six Seige is one of the few popular AAA games that's still popular in 2019 due to its competitive gameplay mechanics. R6S uses the AnvilNext game engine, which is developed by the game's publisher, Ubisoft. As of writing, Rainbow Six Siege is currently the most popular Tom Clancy title beating out Wildlands, Breakpoint and even, Division 2.
GTA V
Grand Theft Auto is undoubtedly one of the most iconic installments in the gaming industry. Released on September 13, GTA V  still tops Steam's most-played games chart thanks to the immersive open-world mechanics, modding support, and role-playing multiplayer servers.
Battlefield V
The Battlefield series is an iconic FPS title in our generation matching Halo and Call of Duty. Battlefield V, set in WW1, is the latest installment in the franchise developed by DICE using the popular Frostbite engine. It's also the first game to incorporate DX 12, Ray Tracing, and DLSS making it a great choice in our game bench library.
Shadow of The Tomb Raider
Shadow of The Tomb Raider or SOTR is the latest installment of the Lara Croft Tomb Raider franchise. Developed by Square Enix, SOTR uses the Foundation engine and is further enhanced by Eidos Montreal. STOR is also one of the first games to come out with Ray Tracing and DLSS support.
Metro Exodus
Metro Exodus is the third Metro game trilogy based on Dmitry Glukhovsky's novels. The game is a first-person shooter with survival horror and stealth elements. The post-apocalyptic game is using 4A Engine by 4A games. Released last 2019, Metro Exodus remains to be one of the most graphically pleasing and demanding games that's popular to date.
Assassin's Creed: Odyssey
Assassin's Creed Odyssey is the latest franchise installment from Ubisoft. It's by far the most popular and stable Assassin's Creed title since AC IV: Black Flag. It uses the AnvilNext 2.0 game engine, an updated version of Rainbow Six Siege's game engine, and uses the DirectX 12 API.
F1 2020
F1 2020 is the official video game of the 2020 Formula 1 and Formula 2 championships developed by Codemasters. F1 2020 is the twelfth installment in the franchise and uses the Ego Engine 3.0. F1 2020 is a good representation of racing games thanks to its realistic graphics and fairly demanding spec requirements.
Anno 1800
Anno 1800 is one of the most popular RTS games next to seasoned classics such as StarCraft 2, Red Alert, and Civilization V. Anno 1800 uses an improved Anno Engine version previously used by previous titles. It's one of the latest RTS games (as of writing) with impressive graphics, making it a great representation for RTS and City-building games.
Performance Summary
The Radeon RX 6800 XT is definitely in the same league with the RTX 3080 as both GPUs trades blow across our benchmark suite. While the RX 6800 XT takes a massive lead on some titles that it gracefully won such as Shadow of The Tomb Raider and AMD co-supported titles, it takes a bare win on DirectX 11 titles such as DOTA 2, Far Cry 5, and Rainbow Six. Moreover, the RTX 3080 is still a much more stable card in terms of smooth, non-stuttering gameplay as represented by our 5% and 1% FPS lows.
AMD's smart access memory is a hit or miss depending on the game and resolution. A big chunk of our benchmark time revolved around numerous retests to ensure that the numbers we got were correct. In some games, Smart Access Memory dropped performance by about 1-3%. It does, however, give joy when it works as it boosts as high as 10% on our testing with the average being at 5% – holding true to AMD's marketing spiel. Do note that AMD smart access memory is only available if you meet all the hardware requirements and that Nvidia is developing its own Resizable BAR support as well.
AMD Radeon RX 6800 XT Ray Tracing Benchmarks
One of the Radeon RX 6800 Series highlights is the support for Ray Tracing, albeit in a different implementation versus Nvidia's dedicated RT cores. Each Compute Unit of the RX 6800 series contains a Ray Accelerator that improves Ray Tracing performance compared to the previous RDNA architecture, albeit at a cost. Let's see how the Ray Accelerators in the 72 CUs of the RX 6800 XT hold up against the RTX 3080's 2nd Gen RT cores.
3DMARK Port Royal

3DMark's Port Royal benchmark is the only synthetic ray tracing benchmark available. Unlike previous ray tracing supported games, 3DMark Port Royal will run on non-RTX graphics cards and also serves as a good indicator of Ray Tracing performance.
Battlefield V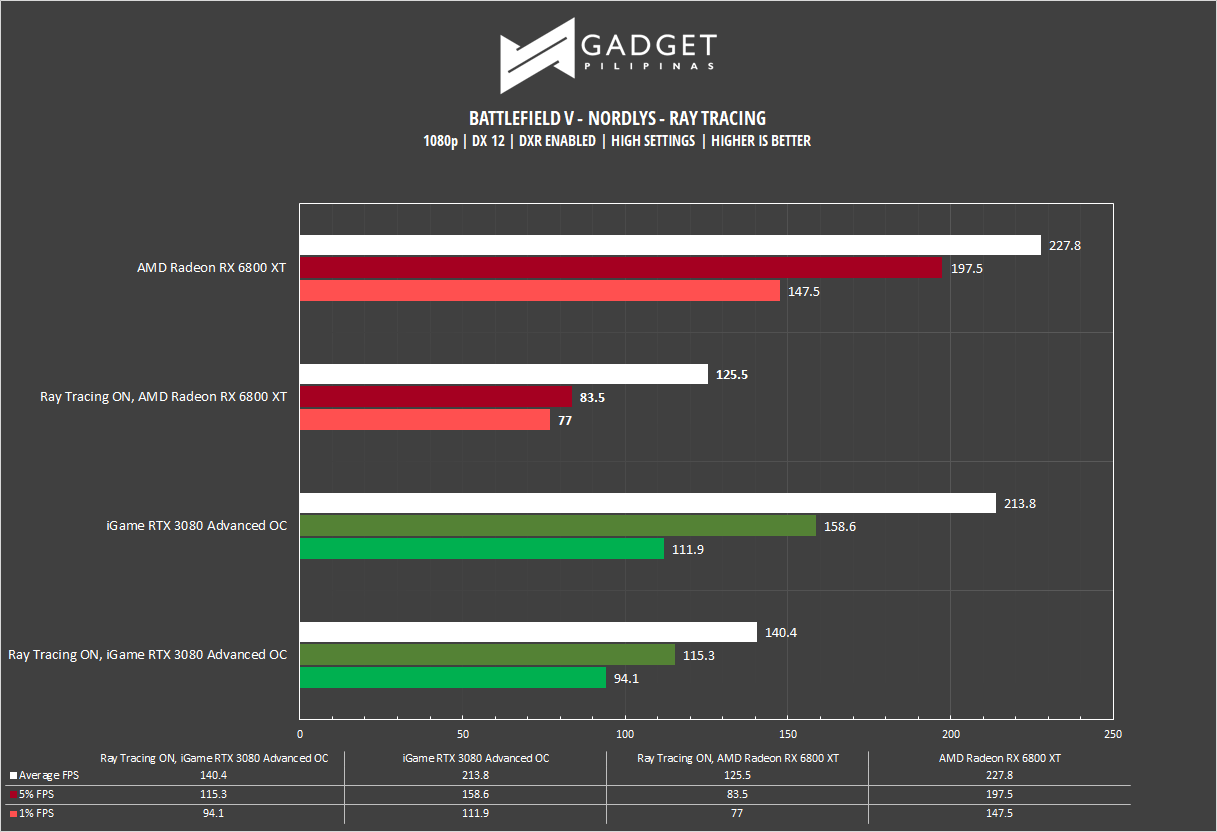 Battlefield V is one of the first games to ever come out with Ray Tracing and DLSS. The two-year-old game is still taxing especially when RTX is turned on as it decreases the performance of both GPUs by as much as 55 percent. The RX 6800 XT not only loses in average FPS but also in frame rate stability when RTX is turned on.
Shadow of The Tomb Raider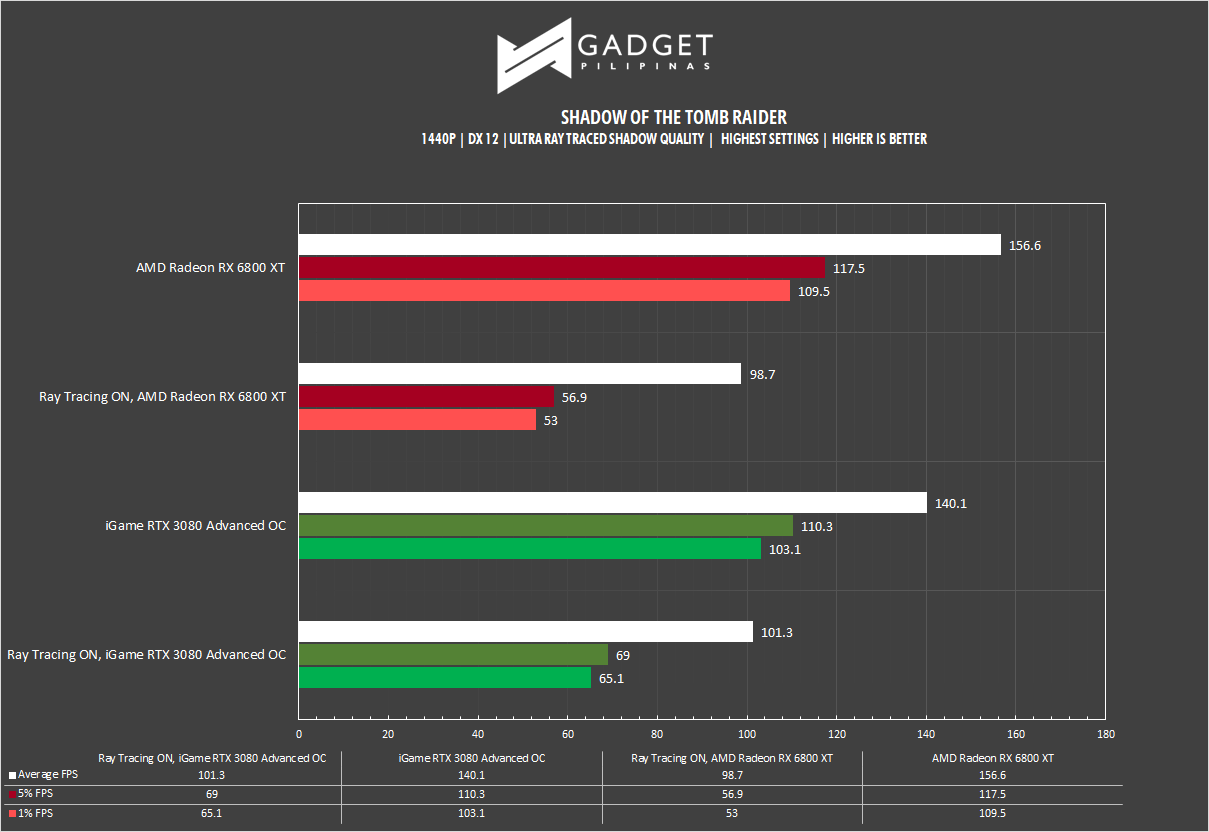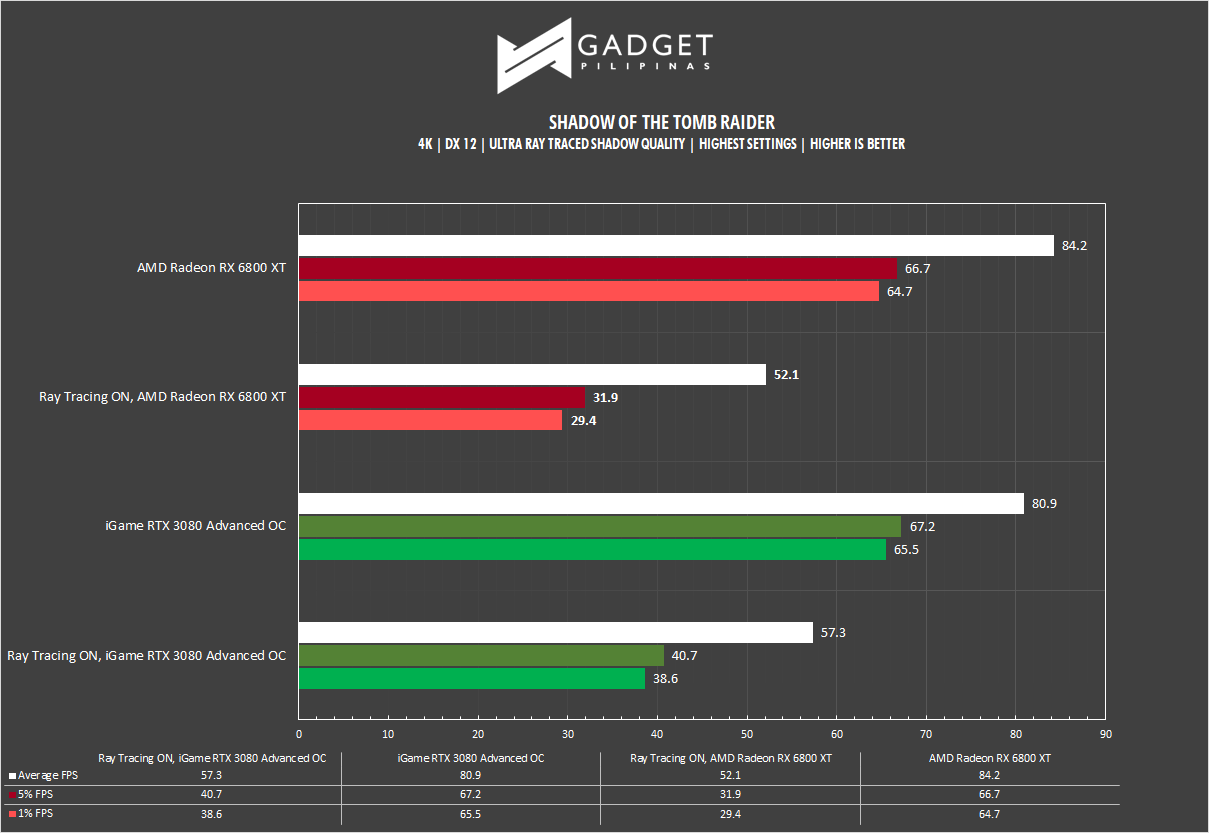 Despite having the same RTX numbers, the RX 6800 XT suffers a big hit when you take into account how much FPS the 6800 XT is getting with ray-traced shadows off.
Metro Exodus
Metro Exodus is the least forgiving ray tracing enabled game for the RX 6800 XT. On average, the RX 6800 XT suffers a 20% loss in frame rate when RTX is turned on and maintains a stable frame rate unlike in Battlefield V and Shadow of the Tomb Raider.
DIRT 5 – RAY TRACING
We managed to squeeze in a 1440p benchmark of the newly released Dirt 5 racing game. Unfortunately, the game greys out the Ray Tracing setting on Nvidia cards. Nonetheless, the performance hit on the AMD Radeon RX 6800 XT is not as bad compared to our three-game RTX stack. This might translate to better Ray tracing support and performance numbers for upcoming triple-A games particularly ones focused on PlayStation 5 and Xbox series X as both consoles are powered by the RDNA 2 architecture.
Temperatures and Power Draw
Without a doubt, the AMD Radeon RX 6800 XT dominates in most of the benchmarked games with more than a 10fps lead over the RTX 3080. The Radeon RX 6800 XT's victory does come at a cost in the form of thermals. Yes, the RX 6800 XT is undeniably a quite card but a maximum recorded temp of 90°C is unsettling, especially in our open-test bed style setup. Do note AMD's 6800 series temperatures are based on junction temperature – operating up to 110°C junction temperature.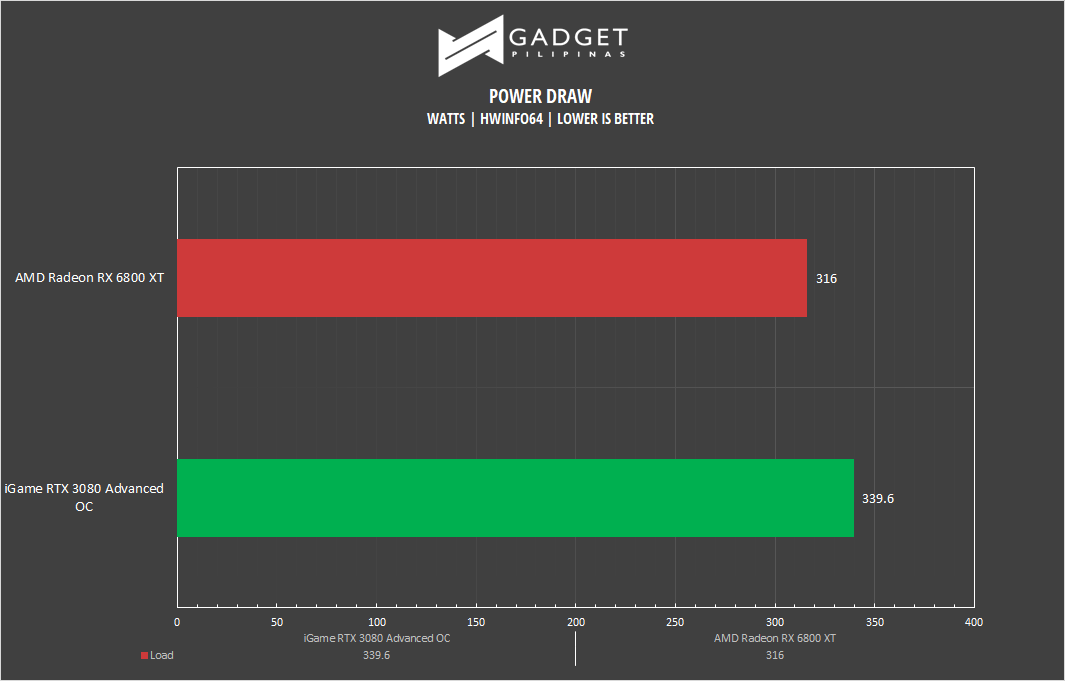 Power efficiency is something enthusiasts don't expect AMD to have an edge over Nvidia. The AMD Radeon RX 6800 XT's board power is rated at 300W while the Nvidia RTX 3080 at 320W. Our recorded maximum power draw on the Radeon RX 6800 XT landed at 316 watts while our aftermarket triple-8pin PCIe connector hungry iGame RTX 3080 Advanced peaked at 339.6W. We expect AIB cards to easily cross over the 300-watt mark especially in OC edition models.
Conclusion: Something You Should Consider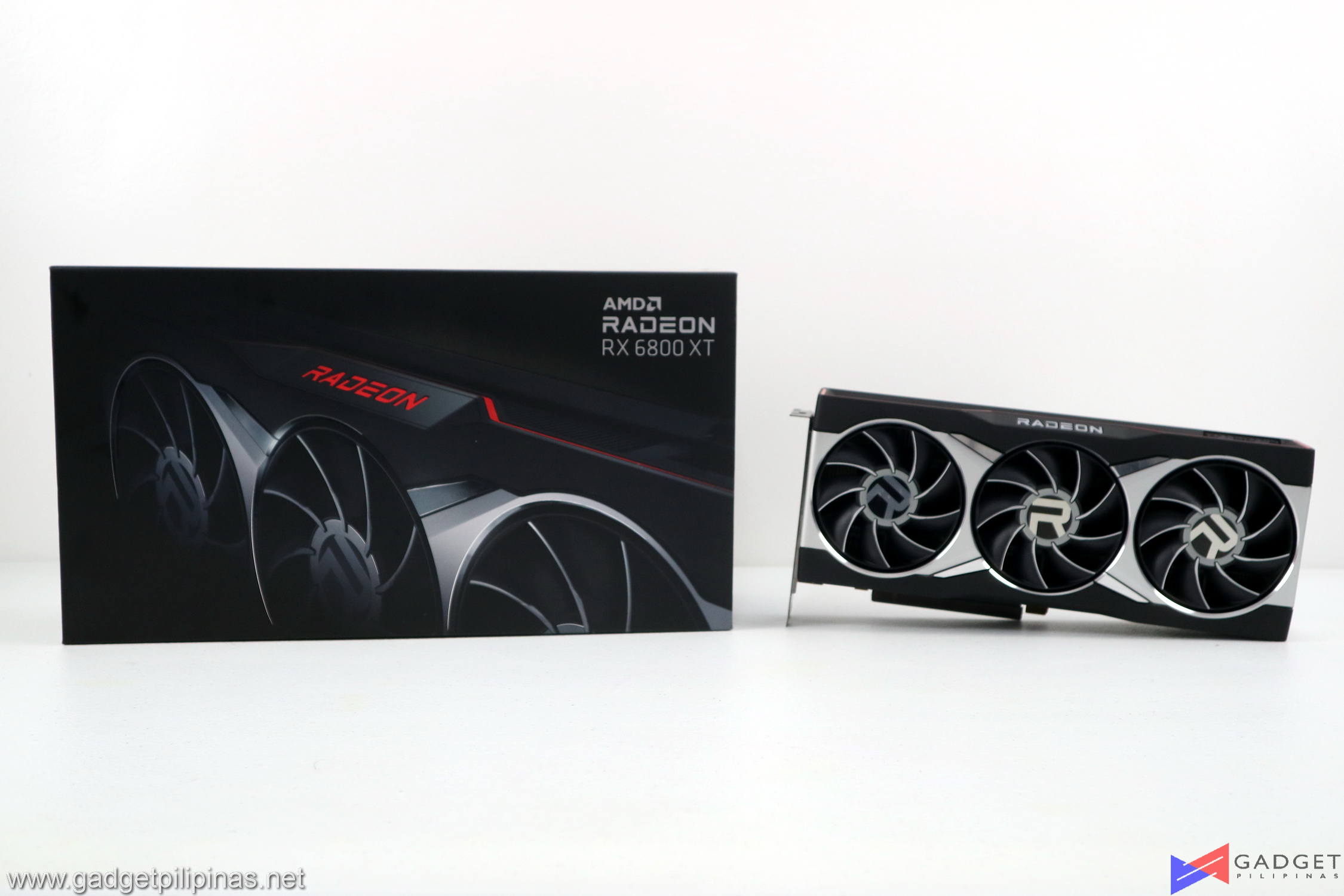 Raw performance-wise, the RX 6800 XT should be your go-to graphics card for 4K gaming – that's if gaming is the only thing you consider. While the RX 6800 XT crushes in raw numbers and is able to keep up with the RTX 3080, the technologies or feature set that RDNA2 holds is simply lacking when compared to the Ampere architecture. You have AMD's Ray Tracing via Ray Accelerators but it is far behind Nvidia's RT cores, especially when you take DLSS in the equation – the disparity favors team green. Though it's not to say that AMD will forever lag behind Nvidia. If it weren't for Nvidia's first to market approach and massive RTX + DLSS combo, AMD's Ray Accelerators would've gotten more praise for us but it simply isn't the better Ray Tracing GPU option as far as FPS and framerate stability is concerned. Smart Acess Memory does indeed improve performance as seen in our RX 6800 XT benchmarks but isn't enough to merit a standing ovation especially when thermals are taken into account – we have yet to see AMD board partner's cooling solution for the RX 6800 XT.
The way AMD shocked the industry with the RX 6800 series performance is definitely astonishing, so much that it downplays AMD's struggle with the Ryzen CPU line snatching the crown from Intel. To put it simply, AMD's Radeon RX 6800 XT is on par with the RTX 3080 but it comes with several asterisks. If you're willing to forego Nvidia's shiny RTX exclusive features, AI-performance enhancement, and overall stable drivers, then the RX 6800 XT is a more than good enough alternative. What the AMD RX 6800 XT or the RX 6000 series lack in thermals and features, they make up with brute force performance and relatively competitive pricing.
Philippines Only Conclusion: RX 6800 XT Price?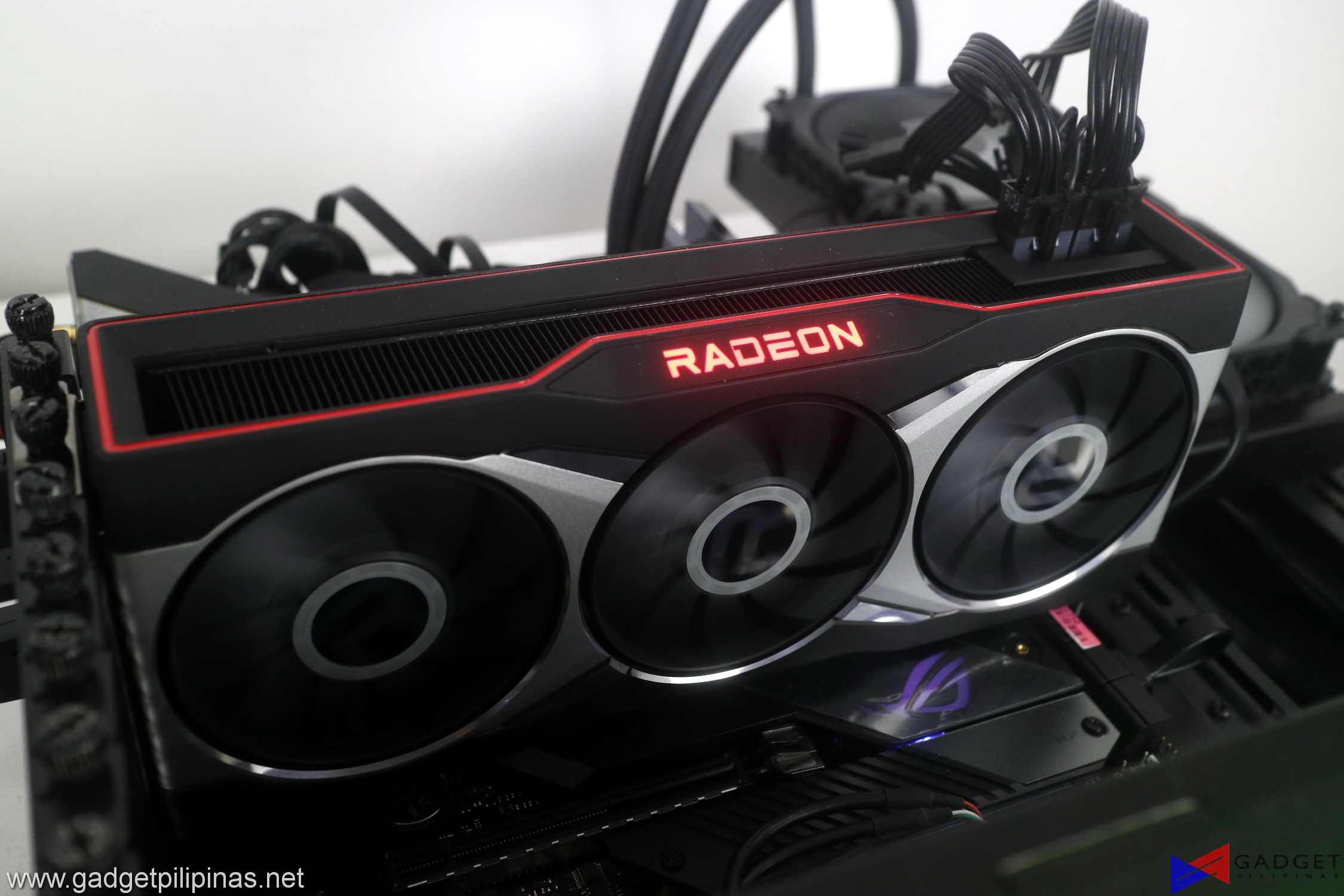 With our general conclusion in mind, the only hurdle AMD faces is the supposed pricing and availability in the Philippines. Our recent estimated philippine pricing of the RX 6800 XT, it now seems implausible given the launch day status of the RX 6800 XT. Without a doubt AMD holds lesser RX 6800 series stock compared to Nvidia's RTX 30 launch. That said, its possible that the RX 6000 XT's and the rest of the 6000 series will be priced higher than the RTX 30 given the current stock situation and that AMD PH team isn't able to give us the PH SRP until next week. Not to mention the frowned-upon practice of PH distributors bundling motherboards with Ryzen 5000 process which could also happen with the RX 6000 series. That said, the winner in the Philippine market is the brand that could actually provide onshelf stocks for users to purchase.
We'll update our PH Only Conclusion segment once AMD Philippines releases the official PH SRP of the Radeon RX 6800 XT.