Smart has recently kicked-off its Cyber Security Caravan in Metro Manila through an online event called #CyberSmart Cyber Security Beyond Digital, which aims to educate students and teachers on how to protect their digital life.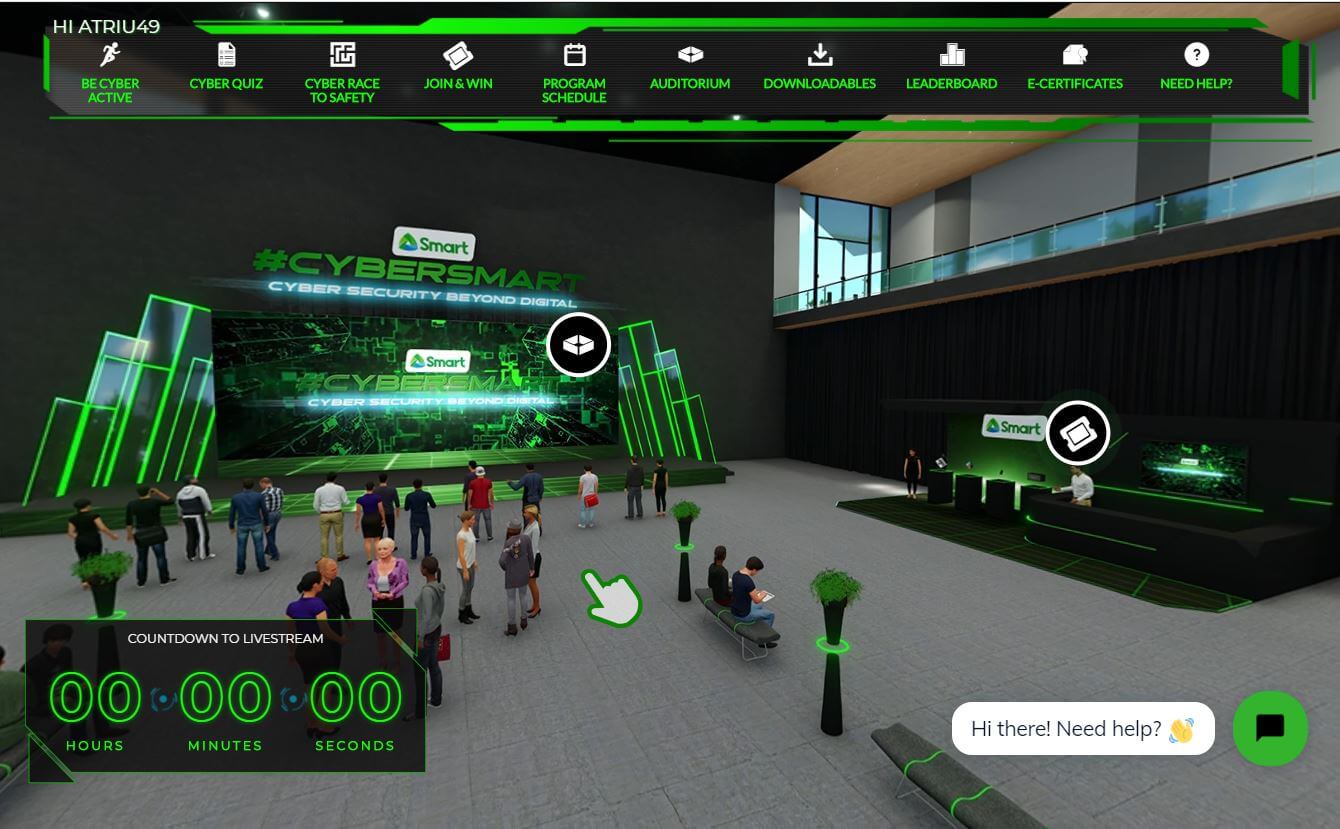 More than 2,000 participants from around 100 schools in the metro made their way to the virtual hall and were given the chance to attend interactive booths where they play games while learning how to identify threats online, garnering points to move up the leaderboard.
Participants then poured into the virtual auditorium where all six Ted-style talks happened.
Melvin Nubia, Smart Department Head and Vice President for Go-to-Market & Subscriber Management, urged students to become more aware of online threats.
"Recently, we have been seeing news of compromised financial accounts, data leaks from social media platforms, and other cyber-related attacks. It is then imperative that we become aware of the looming threats and equip ourselves with the right information so we can protect our digital lives."
Strict quarantine protocols have forced the public to turn to the Internet for work, studies, and to connect with loved ones. With more people online, cyber criminals have ramped up their efforts to lure users to malicious sites.
Angelo Redoble, Chief Information Security Officer and First Vice President at PLDT, ePLDT, and Smart said that in April alone, the telco blocked more than 9.8 billion attempts by its subscribers to access these compromised pages – more than 19 times the total attempts blocked in just the first three months of the year.
"Our cyber threat intelligence operators have observed attacks launched against employees who are working from home. Hackers are trying to steal personal information that can be traded in the dark web. On average, we have been preventing more than 320 million attempts to enter these unsafe sites daily since April."
Staying Cybersmart
Roren Chin, Chief, Public Information and Assistance Division, National Privacy Commission talked about the agency's own initiative to protect Internet users from cyber criminals. Now that social media has made it easier for people to share their lives online, these seemingly innocent posts could be used by hackers to steal information.
Refusing the Bait in Phishing
Yvette Tuazon of Smart's Cyber Security Operations Group shared how the infamous 'budol-budol' schemes of the 90's have shifted to the digital space. Personal data has become the new oil, so much that half of data breaches were fueled by malicious intent.
Preventing Lurkers from Hijacking Video Conferences
Video conferencing has become the new norm. As such Eli Mendoza, Manager for Corporate Communication and Digital Publicity, Smart, shared tips on how to ensure that your Zoom meetings are not hijacked by persons with bad intentions.
Bulking Up Social Media Account Defenses
Filipinos have made social media their own personal publication. Carlo Ople, Vice President and Deputy Head of Public Affairs and Corporate Communications, PLDT-Smart, gave tips on how to prevent hackers from invading your social media accounts.
Keeping Your Gadgets Safe
Paulo Cualteros, Product Manager, Commercial Team at Acer Philippines warned against the habits that make your gadgets and devices vulnerable to cyber attacks.
Spotting Fake News
Atty. Melvin Calimag, Executive Director of NewsBytes.PH urged everyone to embrace a critical mind and avoid taking everything at face value.
Now that more and more people are logging on to the web, Gia Palafox, Dept. Head and Vice Presiden Regional Customer Development for NCR at Smart, urged the audience to make Internet safety a habit.
"We have become more aware that cyber threats can attack anyone, from all walks and
background, seeking to exploit sensitive information that users make available online. As our online presence increases, so does the risk of us getting attacked. And so, we must all make a conscious effort to make a habit of exercising good online practices."
National Privacy Commission Commissioner and Chairman Raymund Liboro appealed to the public to adopt practices that will protect them against cyber attacks.
"Digital offers a lot of convenience but also has its risks and potential harms. With this in mind, we should adopt and practice privacy protection and inculcate this as our personal values. Times are changing. And we, as a nation, should be well equipped to tackle digital challenges that we currently face as we intensify the use of personal data."
Smart will continue to roll out the cyber security virtual caravan in other areas around the nation. Apart from learning valuable information about cyber threats, participants can also walk away with goodies from Smart.
Ten students with the best-uploaded photos on Facebook and Instagram received Smart GigaStudy99. The top 11 to 20 players in the interactive games received GigaStudy299. The 10 participants with the most points on the leaderboard received Smart Bro Pocket WiFi devices. Those who have attended the online talks and have completed the tasks also got e-certificates from Smart.
Emman has been writing technical and feature articles since 2010. Prior to this, he became one of the instructors at Asia Pacific College in 2008, and eventually landed a job as Business Analyst and Technical Writer at Integrated Open Source Solutions for almost 3 years.