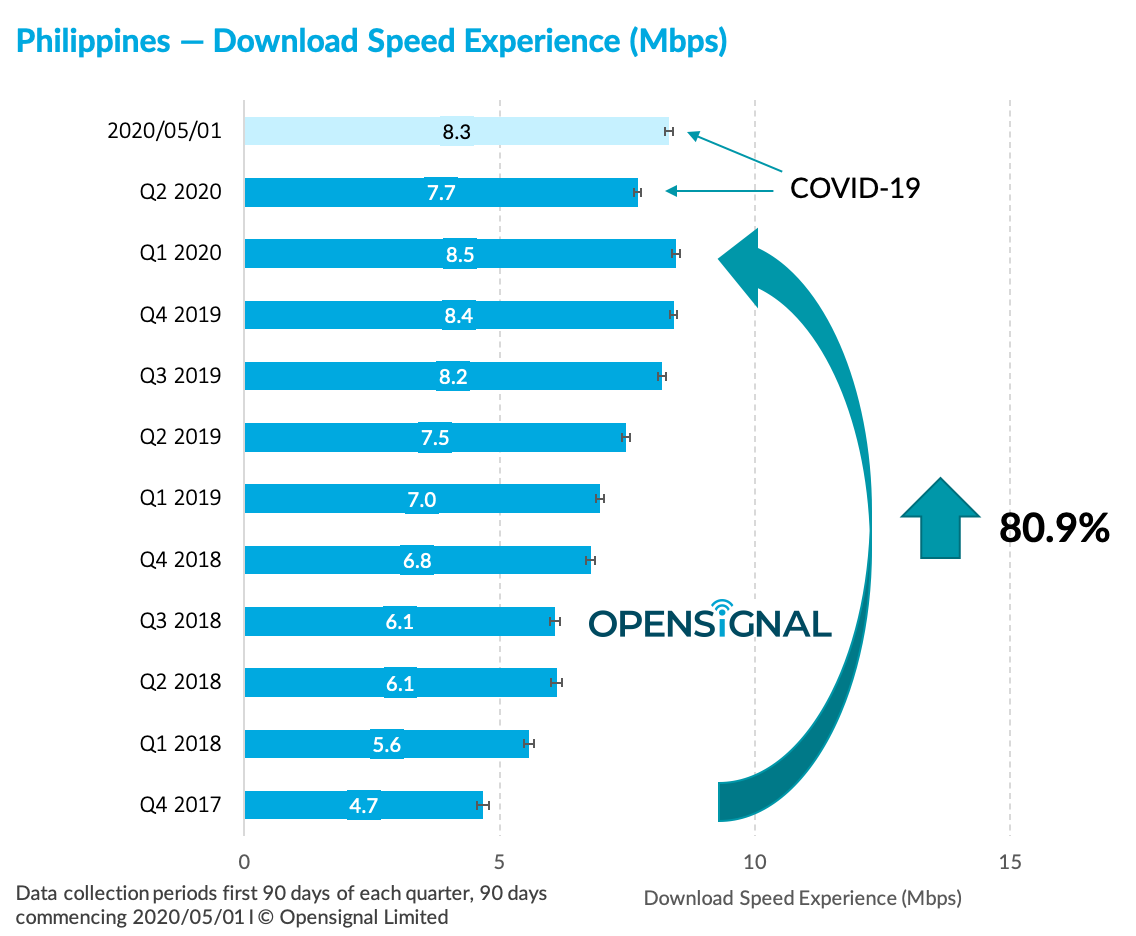 According to the latest analysis by independent analytics firm Opensignal, the Philippines has had "Massive Improvements" since 2017 as Filipinos spent more time on 4G/LTE.
Available on Opensignal's website, the analysis revealed that 4G availability in the country increased by nearly 20 percentage points between Q4 of 2017 and Q2 of 2020.
For Smart customers, 4G availability – defined as the proportion of time 4G users spent connected to 4G or LTE – increased by as much as 27.8 points, from 59.1% in Q4 of 2017 to 86.9% in Q2 of 2020.
Meanwhile, the download speed experience in the country also increased by around 80% between Q4 of 2017 and Q1 of 2020, with Smart consistently in the lead over the last two years.
Opensignal also cited in their recent report "The State of Mobile Network Experience 2020: One year into the 5G Era" Where the Philippines ranked 67th out of 100 countries for 4G Availability.
"This means that the Philippines had a higher score than a third of all the countries covered in the report for this measure of the mobile experience."
Opensignal stressed the importance of network investments in improving overall network experience.
"4G Availability rises as operators invest in their 4G networks and it is very sensitive
in this regard, as the most common dead zones users struggle with occur indoors and this is where most of our availability data is collected. Given that 4G speeds far exceed those typically seen on 3G, an increase in 4G Availability is typically associated with a rise in average download speeds."
To date, Smart's 4G/LTE service, when combined with its 3G service, now provides high-speed mobile Internet service to over 93% of the country's cities and municipalities and 95% of the population.
Smart has also been deploying LTE-Advanced and carrier aggregation (CA) technology to improve the mobile Internet experience of its customers. A key feature of LTE-A, CA allows the combination of two or more radio frequency bands in order to deliver much faster data speeds to mobile phone users.
In addition, Smart is also partnering with popular smartphone manufacturers in getting more affordable LTE and LTE-A-capable devices out in the market. As of June 2020, over 60% of handsets on Smart's network are already on LTE>
PLDT and Smart's sustained investments in their network have totaled some PhP260 billion from 2015 to 2019. In the first half of 2020, Smart further increased the number of its LTE base stations by 10% compared to the end of 2019. In April, it also increased the capacity of its LTE network by reallocating its assigned 1800MHz frequency from 2G to 4G/LTE. As a result, more than 3,785 Smart base stations are now providing additional capacity for its LTE network.
Moreover, in its on-going LTE and LTE-Advanced roll-out, Smart has been installing 5G-capable equipment which will enable Smart to deploy 5G easier and faster.
Smart's mobile network is supported by PLDT's fiber infrastructure, which provides high-capacity links to LTE base stations and is now nearly 360,000 kilometers nationwide.
Emman has been writing technical and feature articles since 2010. Prior to this, he became one of the instructors at Asia Pacific College in 2008, and eventually landed a job as Business Analyst and Technical Writer at Integrated Open Source Solutions for almost 3 years.