OPPO has just unveiled ColorOS 11, its latest Android UI overlay based on the recently launched Android 11. It makes OPPO one of the first companies to bring its UI up to date.
ColorOS 11 brings Android 11 features such as one-time permissions, grouped message notifications, and media controls.
The company boasts a new animation engine called UI First 2.0 on ColorOS 11. It is said to offer better RAM utilization and improved frame-rate suitability.
Introducing the new #OPPOColorOS11 Always-on Display feature, it offers a wide variety of styles and patterns to truly represent your style. The content of Always-on Display is not just automatically generated, but created by users with just one stroke to craft a unique pattern. pic.twitter.com/76rL5geUt3

— ColorOS (@colorosglobal) September 14, 2020
Dark Mode will now have three color schemes that will offer varying darkness intensity which can be adjusted to match home page icons and wallpaper. ColorOS 11 will also introduce a true Always-on Display which allows you to design your own patterns and colors.
Today, we live a busy life. To make multitasking easier, we released the Quick Return Bubble in ColorOS 7.2, and with #OPPOColorOS11, we're bringing FlexDrop. Swipe to resize the APP into a small floating window or an even smaller mini-window. pic.twitter.com/ViViH7ikYY

— ColorOS (@colorosglobal) September 14, 2020
A new addition to the UI is FlexDrop which allows the resizing of supported apps into a floating window or mini window to further enhance multitasking.
We are combining 2 iconic features from OPPO and Google and developed the 3-finger translate, powered by Google Lens. Take a screenshot with the 3-finger gesture and instantly translate the content to any language. How would you use this feature? Share below! #OPPOColorOS11 pic.twitter.com/tIwvuG2gVp

— ColorOS (@colorosglobal) September 14, 2020
OPPO has also developed a 3-finger translate gesture and has done so alongside Google. The feature brings instant translations to any content on the screen without having to leave the app.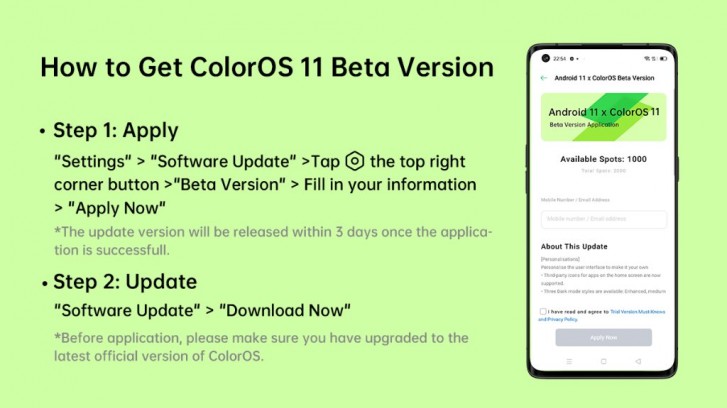 OPPO Relax 2.0 will also be available which offers white noise mix from cities around the world like Beijing, Tokyo, and Bangkok.
ColorOS 11 also introduces Battery Guard which monitors power voltages and your charging habits in order to prolong battery life. In addition, Super Power Saving Mode will come in handy when you hit 5% or lower by allowing you to use six apps that can run for prolonged.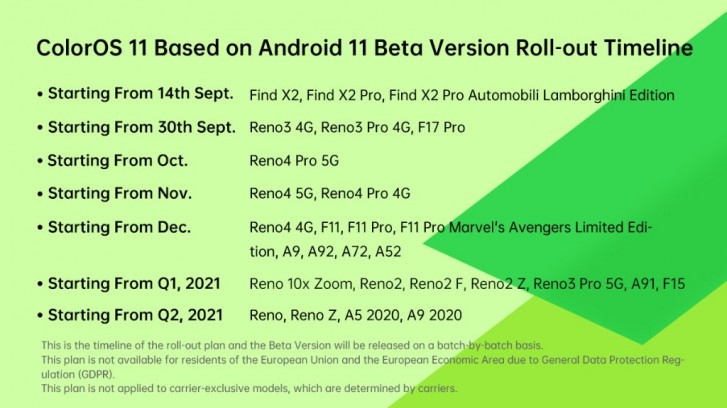 OPPO will release ColorOS 11 to a variety of devices that starts with the Find X2, Find X2, Pro, and Find X2 Pro Automobili Lamborghini Edition and ends by Q2 2021 with Reno, Reno Z, A5 2020, and A9 2020.
Europe will have its own roll-out plan which starts in November in Eastern Europe and December for Western European users.