MSI has just announced its new GeForce RTX 30 series GPUs for its GAMING and VENTUS series.
The new NVIDIA GeForce RTX 30 series is the second RTX generation which features new RT Cores, Tensor Cores, and streaming multiprocessors. This delivers stunning visuals, fast frame rates, and AI acceleration to games and creative applications.
RTX 30 series is powered by the NVIDIA Ampere architecture which delivers an increase of up to 1.9x performance-per-watt over its predecessor and effortlessly powers graphics experiences at all resolution, even up to 8K.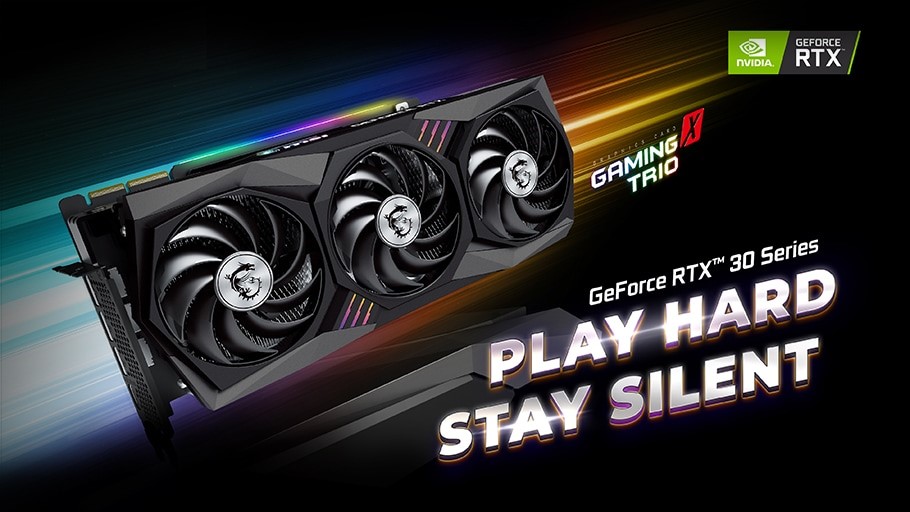 GAMING series has been refreshed with a new look while maintaining the balance between performance, cooling, and low-noise. The updated GAMING series features the new TORX Fan 4.0 design with pairs of fan blades bound together with an outer link. This forms a rim that focuses airflow into the updated TRI FROZR 2 cooling system.
The refreshed GAMING GPUs also have a matte back-plate that reinforces the graphics in addition to passive cooling through thermal pads. They also have Mystic Light on the exterior of the GPU which can be synchronized via Mystic Light Sync and Ambient Link.
The VENTUS series has also been enhanced with the TORX Fan 3.0 and available in triple and dual fan variants. It has a robust cooling system, reinforced brushed-finish back-plate, and rigid industrial aesthetic, making it suitable for any build.
MSI GAMING and VENTUS series will form the spearhead of its GeForce RTX 30 series line-up but more will arrive in the near future.
For more information on the MSI NVIDIA GeForce RTX 30 series GPUs, click here.