Huawei Watch Fit First Impressions
Huawei is not stranger to making smartwatches. Just recently, we posted our review of Watch GT 2e and it is, by far, one of the best affordable smartwatches of Huawei with features that can also be found on its GT-series. I'm a big fan of the series but I was looking for something other than a typical smartwatch and band design.
A few days ago, we posted that Huawei officially announced that they will be bringing Huawei Watch Fit in the country. It's exactly what I was looking for. Fortunately, Huawei sent one and I'm here to give you my initial impressions with it. My full review will be posted a few days from now so take this as my first thoughts about this latest gadget by Huawei.
It works on Android and Apple
Huawei's ecosystem is a growing platform. In the case of their smart devices such as smartwatches, it is not restricted to be used in other operating systems or platforms. Huawei Watch Fit runs in proprietary software that can be synched with the Huawei Health application. The latter is available on Android and Apple, which means that you can synchronize data and other features regardless of the device you have.
Provided that you have a Huawei account, you can easily pair up the Huawei Watch on other devices. I tried this on iPhone X and Samsung Galaxy Note 20 Ultra. It, however, best works with Huawei's ecosystem. While it works flawlessly in the latter devices, it performs without any issues as well on my Huawei P40 Pro. Since the latter also runs on Android with Huawei Mobile Services, the preloaded Huawei Health works just a good as the ones that you can download on Google PlayStore or Apple AppStore.
Longer Display Gives a Better Perspective on Data
Huawei Watch has an unconventional 1.64-inch display with 280×456 resolution. It has stunning crispy 326ppi and can display up to 16.7M colors. If you take the design of the display of bands or the rounded frame of GT-series, Huawei Watch Fit's display is one of its distinct features. It's a refreshing take on a wearable that grabs and collects data from your movements.
This radical new design also changes the data and user experience. Watch faces look unique and the presentation of available features makes it easier for users to select the mode they want. I will not go through the details yet as it will form part of my full review, but most of the modes are the ones you will normally find in Huawei's other GT-series. However, I'll talk about some features that set it unique from other smartwatches.
This is not "style over anything else"
Yes, the device looks really good and employs a different design. I talked about this earlier and it's nothing short of stylish. It's light, comfortable to wear, and packs a long-lasting battery.
However, this device is not just a "style over anything else" smartwatch. It has unique modes that are worthy to mention.
When you use this as your "workout assistant", it shows various courses with 12 kinds of animated quick-workouts and 44 standard movement demonstrations. It's a smart way to educate users how the workout is done. The smartwatch will not tell you to flip your smartphone open to watch a demonstration video. Everything is on your smartwatch. Call this untethered workout.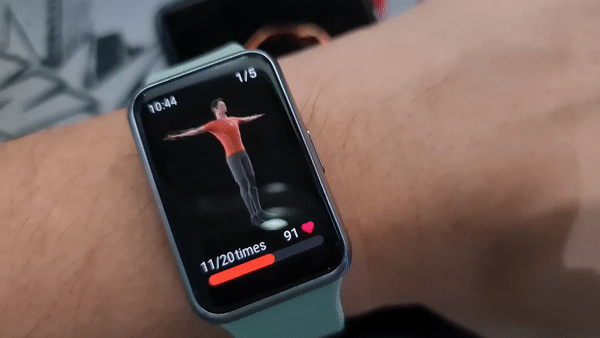 Another major feature that got me particularly hooked is its stress monitoring and over-the-top Huawei TruSeen 4.0 heart rate monitoring features. The data and insight you get is backed by studies too.
It's coming
Huawei Watch Fit, as you know, will be coming to the Philippines. As of this writing, we are informed that the price is just PhP4,999! If you pre-order the Huawei Watch Fit from September 18-22, you will get Huawei Band 4e and CM510 speaker(worth PhP2,390) as freebies.
Gallery