Huawei MatePad is your next goto Online Learning tablet
If you have been following our posts, you have probably stumbled across our contents about Huawei MatePad. For consumers looking for a tablet specifically for online learning or teaching, Huawei's new MatePad tablets are among the best ones available in the market.
#MatePadSuperDeals
A few days ago, Huawei announced their latest promo, making their new tablets more affordable to more consumers. Huawei's #MatePadSuperDeals promotion features unique gadget bundles with a MatePad or MatePad Pro purchase to ease that transition to a mostly study-from-home setup.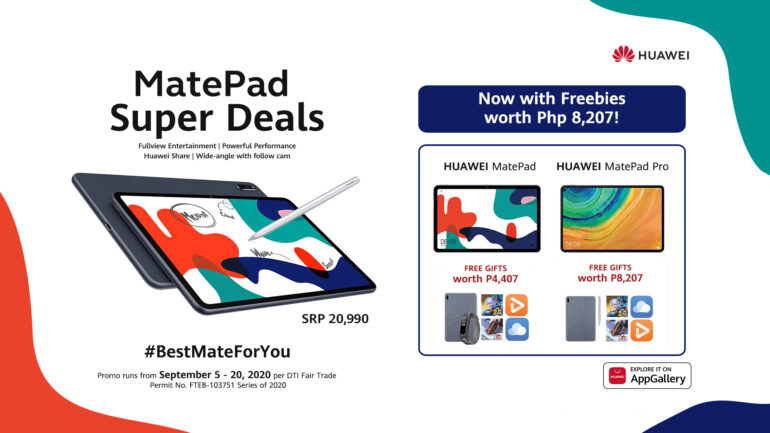 The promo, which runs from September 3 to 30, entitles customers to the following freebie packages worth PhP8,207:
Huawei Band 4e

Huawei MatePad Flip Cover

15GB Huawei Cloud Storage FREE for 1 year

Huawei Video TVB 3 months free membership

Huawei Video Mango TV 1 month free membership

Coupon + Gift package for Mobile Legends and Garena: Free Fire
Huawei M-Pencil + Flip Cover

50GB Huawei Cloud storage free for 1 year

Huawei Video TVB 3 months free membership

Huawei Video Mango TV 1 month free membership

Coupon + Gift Package for Mobile Legends and Garena: Free Fire
The MatePad for your online learning kids!
Whatever MatePad you pick in the lineup, you can be confident that the tablets have the features you need to be productive.
As a learning companion, both tablets have features that can be helpful for both teachers and students. It has Ebook Mode, which shifts the contrast, brightness and definition of the display to mimic eInk.
One of the highlights of these tablets are modes that help users feel comfortable while using it. It also has additional eye protection features like Eye Comfort Zone, blue light filter, posture alerts, brightness alerts, distance alerts, and bumpy road alerts. These are features that you usually wouldn't find on other tablets.
Children who have been engaged in online learning activities for about 7-8 hours per day will find these features very helpful.
Kids love it!
MatePad is designed for parents to give proper screentime for their kids. Parents do not usually have the time to monitor the usage of tablets of their kids. This is where the features of Huawei MatePad's Kids Corner come into play.
When Kids Corner is enabled, the tablet will smartly inform the kid not to get too close to the display. What happens is a notification will pop up to notify the kid to move the tablet further away. To encourage the kid to do what he's supposed to do, the tablet will lock itself until there's a suitable distance between the user and the tablet.
Since Kids Corner is a separate UI, parents can customize the user experience that fits the child. It has its content management window, which assists parents to assign the applications that are accessible by the kid.
Cameras and microphones that are built for education and collaboration
Whether you're the one producing content for students or you're the one consuming the content as a student, Huawei MatePad has a quad-microphone array by Harman Kardon, which can pick up audio from as far as five meters away! The microphone setup also helps it dissipate noise, so you don't have to worry about whatever background noise you've got at your place.
Huawei MatePad is also packed with an 8MP rear camera and 8MP wide-angle front camera. Based on my experience, these cameras perform well, even in low light scenarios. It also has cool camera features that match well with its camera app and MeeTime.
M-Pencil is for your creative side.
If you're into sketching or drawing, MatePad is compatible with M-Pencil! The tablet's support for this accessory makes it a viable tool for artists. Input latency is 20ms and has 4,096 levels of pressure sensitivity and tilt support. This will make you feel like you're writing IRL, minus the actual pen and paper.
No Google, No Problem
The absence of Google PlayStore has been remedied by the growing number of applications available at Huawei AppGallery.
Petal Search Widget has been very helpful, too, when searching for the applications you cannot find at AppGallery. It takes a user to know, and some consumers who bought the latest Huawei devices can attest that they can download and use their goto apps.
Giancarlo Viterbo is a Filipino Technology Journalist, blogger and Editor of gadgetpilipinas.net, He is also a Geek, Dad and a Husband. He knows a lot about washing the dishes, doing some errands and following instructions from his boss on his day job. Follow him on twitter: @gianviterbo and @gadgetpilipinas.