Introduction – Rise of Legion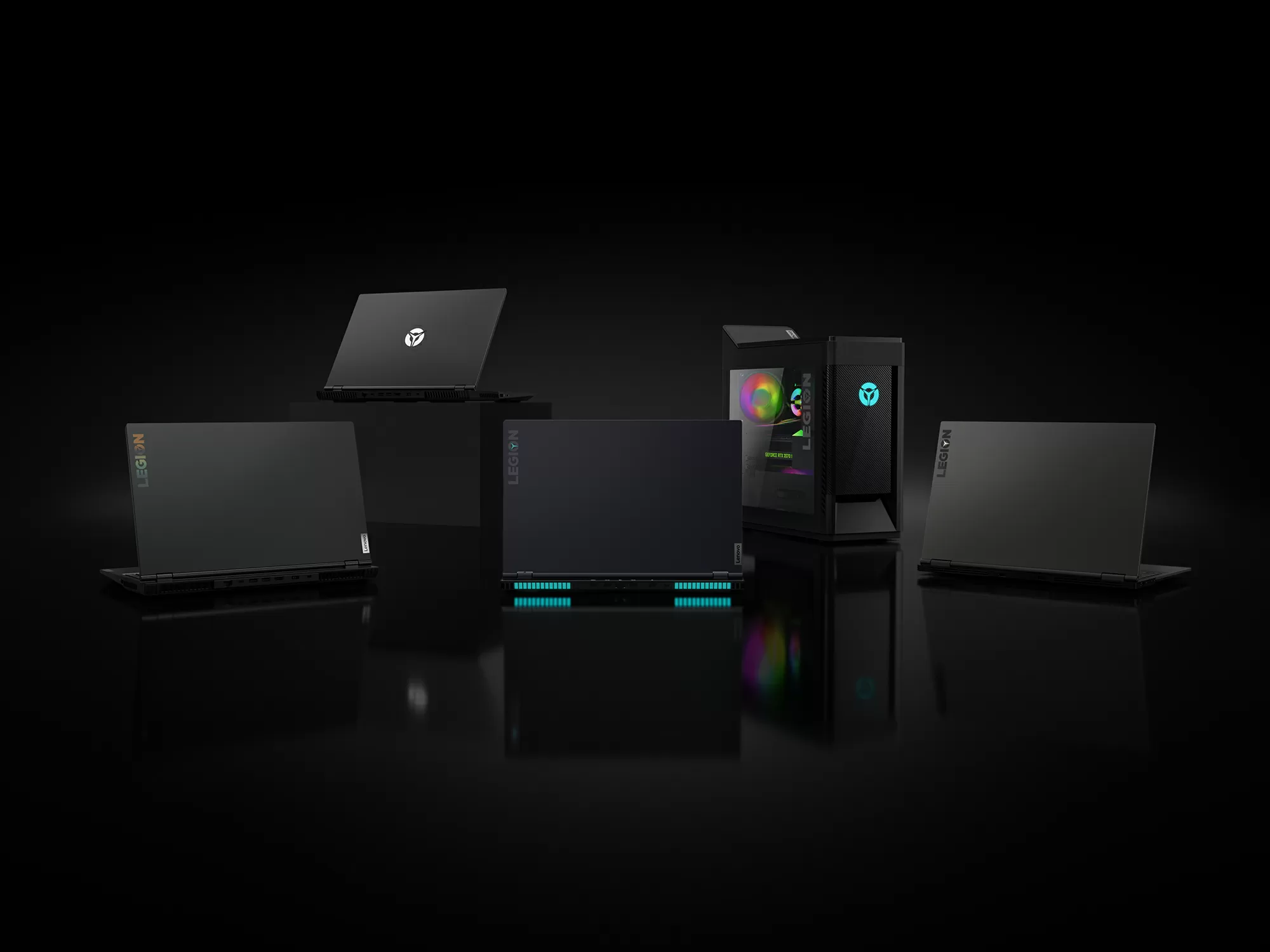 Lenovo Legion didn't make much of a noise in the gaming laptop space until the Legion Y530, Y545, and Y740 arrived which grabbed the attention of reviewers and enthusiasts. Earlier this year, Legion revamped their gaming line aiming to improve product differentiation and a consumer-friendly naming scheme in the form of the Ideapad Gaming, Legion 5/5i, and Legion 7i. The Legion 7i is the successor to the successful Legion Y740 thin and light gaming laptop and is the company's flagship gaming notebook.
The Legion 7i is one of the most anticipated gaming notebook releases for 2020. Aside from the name change over the premier Y740, the Legion 7i features a redesign with a thinner form factor while packing the latest Intel 10th gen H series processor paired with Nvidia RTX Max-Q graphics. Lenovo Legion also expands the 7i to a wider audience by offering two panels, a 240Hz 100% sRGB rated 15.6″ panel and a 144Hz option with a 100% AdobeRGB rating.
Configuration for the Legion 7i starts with an Intel Core i5-10300H paired with a GTX 1660Ti and goes all the way up to an Intel Core i9-10980HK and an RTX 2080 Super. Unfortunately, there are only two configurations available for the Legion 7i in the Philippine market that uses the Intel Core i7-10750H processor. The base model that's available in the PH market starts at Php 119,995 for a 16GB dual-channel memory, 1TB SSD, and RTX 2060. Add a Php 15,000 premium to upgrade the RTX 2060 GPU to an Nvidia RTX 2070 Super Max-Q. Both configurations use the 240Hz 100% sRGB panel.
A Closer Look / Unboxing and First Impressions
Legion's flagship gaming notebook uses an all-aluminum chassis with a sandblasted and anodized finish. The Legion 7i manages to dance in the grey line between professional and gamer-y in terms of aesthetics as far as the lid is concerned.
The Legion logo on the 7i is located on the top right of the lid, unlike most gaming laptops that place the gaming brand logo on the center. The "Y" on the Legion logo lights up when the laptop is powered on and can its lighting can be customized on the Corsair iCue software. Despite the sandblasted and anodized grey finish, the Legion 7i still attracts fingerprint but only if your hands are sweaty enough.
The hinge of the previous Legion Y series was a bit of a mixed bag thanks to the confusing one bar hinge implementation of the Legion Y545 which was considered to be a higher tier upgrade of the Y530/540. It's glad to see Lenovo sticking to the old but reliable hinge mechanism similar to what the Legion Y740 uses. It's also worth noting the small aesthetic logo placement on the hinge that makes it feel like a premium gaming laptop.
Exhaust vents occupy the upper half of the laptop which shifts the IO ports to the lower half, making it closer to the user. The right side only contains an always-on USB 3.1 Gen 1 port with RGB lighting. The left side has two USB type-c ports and one 3.5mm jack. The type-C closer to the vent supports USB 3.1 Gen 2 and Thunderbolt while the other port is only USB 3.1 Gen 1. Both type-c ports support display over DP 1.4.
The majority of the ports are found on the center-back of Legion 7i which has been Lenovo Legion's signature feature ever since the Legion Y7000P. Alongside the HDMI and ethernet jack are two USB 3.1 Gen 2 ports, a Kensington lock and the infamous rectangle AC power port. The rear vents have RGB lighting which can be controlled by the Corsair iCUE software.
Taking up barely half of the Legion 7i's bottom part is a mesh to accommodate Legion's Coldfront 2.0 cooling system. Two bottom rubber stand and one long rubber stand on the top keeps the laptop elevated ensuring ample airflow regardless of the surface. The mesh exposes the two dual liquid crystal polymer fans for a no-compromise approach.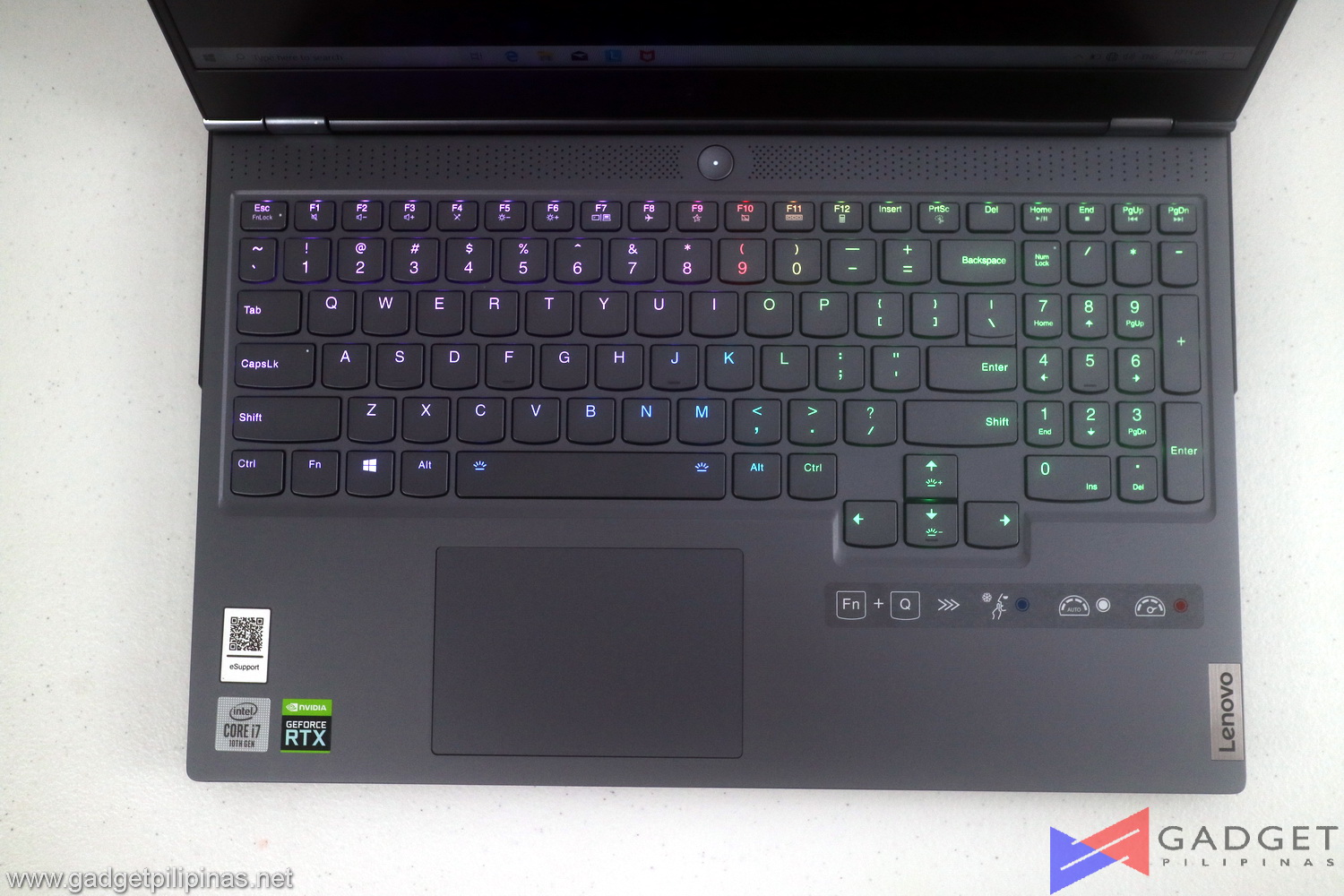 Lenovo is one of the few manufacturers who like to keep the Numpad on a laptop. Numpad is commonly seen on 17″ notebooks because of the larger estate but Lenovo managed to cram one in the Legion 7i. The Legion 7i is the first laptop to use the Legion TrueStrike Gaming keyboard which uses a "soft-landing" switch. It offers better tactile feedback than traditional laptop keyboards apart from the implementation of Corsair's iCue RGB lighting.
Manufacturers usually use smaller keys to accommodate a Numpad on a 15.6″ laptop. That isn't the case with the Legion 7i. Even with the additional Numpad, the Legion 7i's key sizes remain the same as that of a typical 15.6″ laptop. Though it's not to say that Lenovo didn't compromise on anything. The function keys are smaller than usual to compensate for almost full-size keyboard layout. What's interesting with the keyboard implementation are the arrow keys having full size. What makes it even better is the blank spaces between the up arrow key to avoid misclicks. The blank-space implementation helps in adjusting to the unique keyboard layout.
The typing experience on the Legion 7i is one of the best available, especially for a gaming notebook. The TrueStrike keyboard is quite similar to a Lenovo Thinkpad keyboard but with a more consistent tactile feedback and bottom-out feel. What balances out the Corsair RGB keyboard lighting is the excellent font choice by the brand. Despite the default fast spiral RGB color cycle, the keys are easy to recognize thanks to the clear font.
The trackpad on the Legion 7i is also an improvement over the previous Legion Y740. The trackpad is now 39% bigger thanks to the removal of the dedicated left and right-click buttons. It's larger than average trackpads of 15.6″ laptops. However, improving its size is a double-edged sword for gaming as the upper left part is often touched by the palm. Luckily, there's a function key shortcut to disable the trackpad and it's not a problem if you have a dedicated keyboard.
Sadly, the Legion 7i inherits the mushy power button of the previous Legion Y740. It's located at the center above the F9 and F10 keys. Its LED color reflects the current power mode of the Legion 7i: Blue for silent, white for auto, and red for performance.
Display and Camera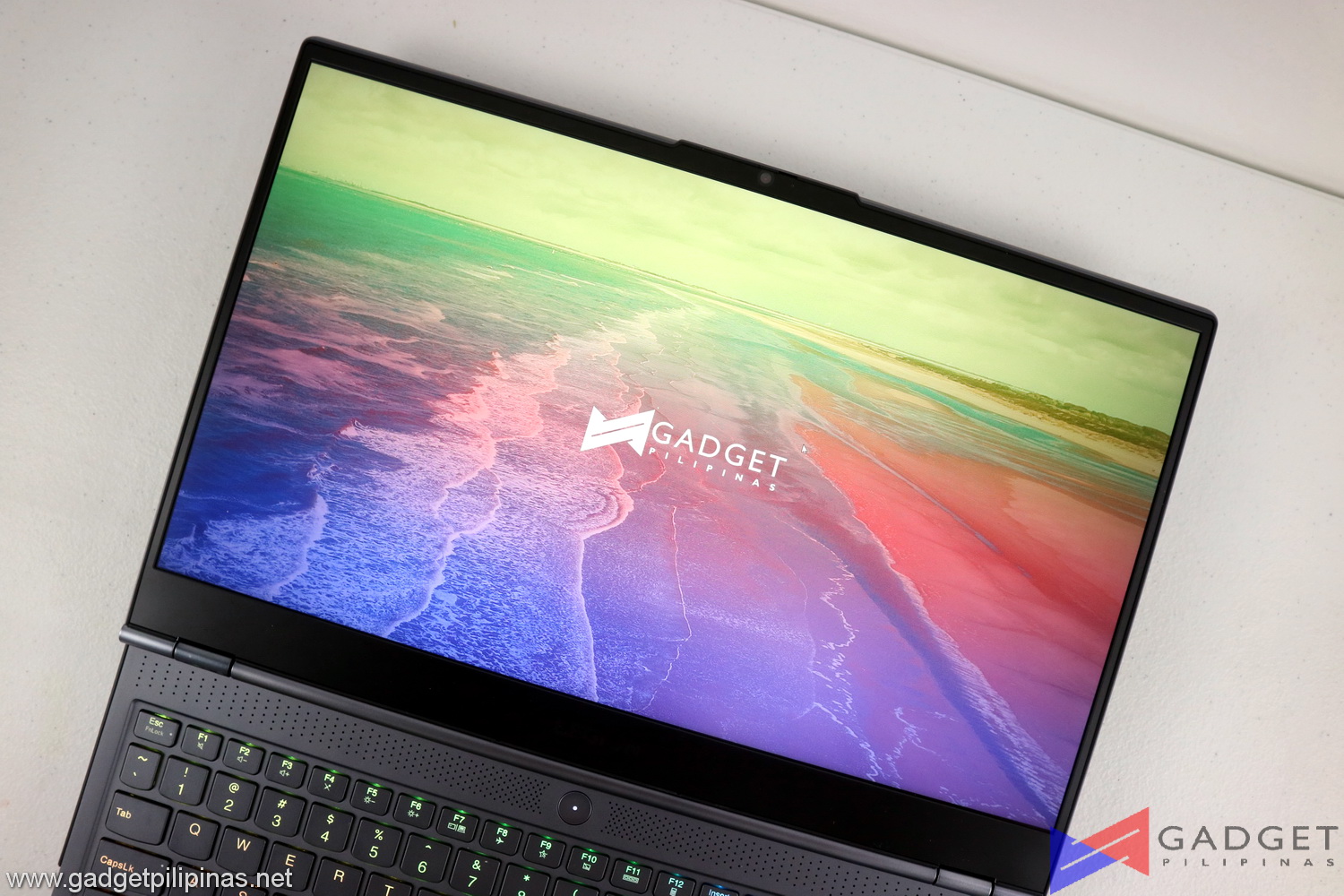 The Legion 7i can be configured with a 144Hz 100% AdobeRGB panel with G-Sync or a faster 240Hz 15.6″ 1080p panel but with only 100% sRGB rating instead of AdobeRGB. Our specific unit uses the latter. Additionally, the Legion 7i's display, regardless of refresh rate, supports 500-nit HDR with Dolby Vision technology.
Our SpyderX Pro display analysis tool confirms the color-accurate panel of the Legion 7i. The Legion 7i is good enough for professional work given that the screen is pre-calibrated via Xrite. More serious professionals should opt for the 100% adobe RGB panel for the perfect balance between color quality and refresh rate.
Brightness scaling on the Legion 7i is unpleasant as it scales steadily on 0-50% but jumps to 300nits on 75% and 500nits at max brightness. It would've been better if the 50% brightness setting measured around 300 nits. The unfortunate brightness scaling translates to worse battery life, especially on higher brightness settings. The Legion 7i slightly compensates by having a good contrast ratio, especially on the higher screen brightness.
Backlight Bleeding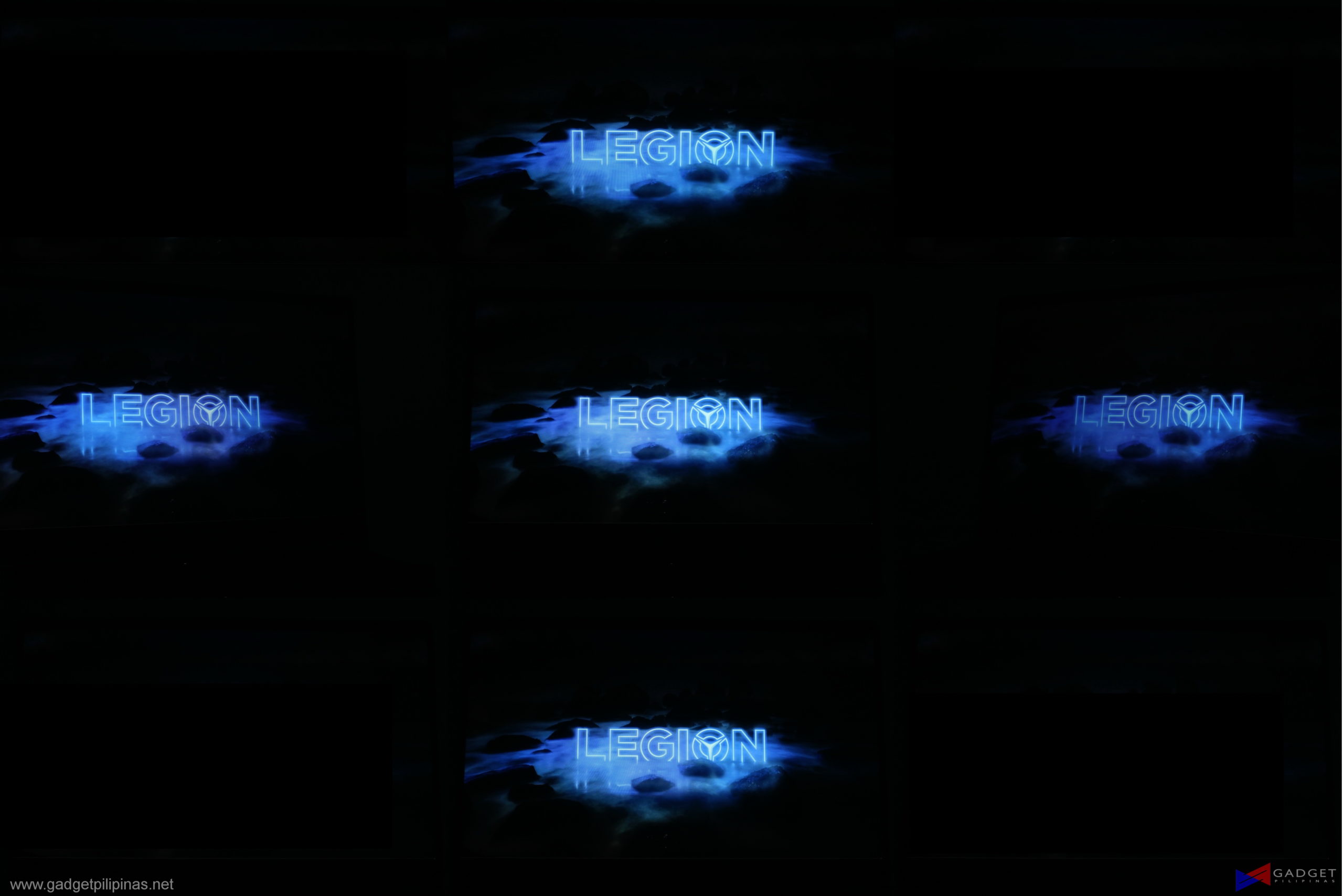 The bright, 500 nits IPS panel of the Legion 7i exhibits no backlight bleeding from our testing.
Viewing Angle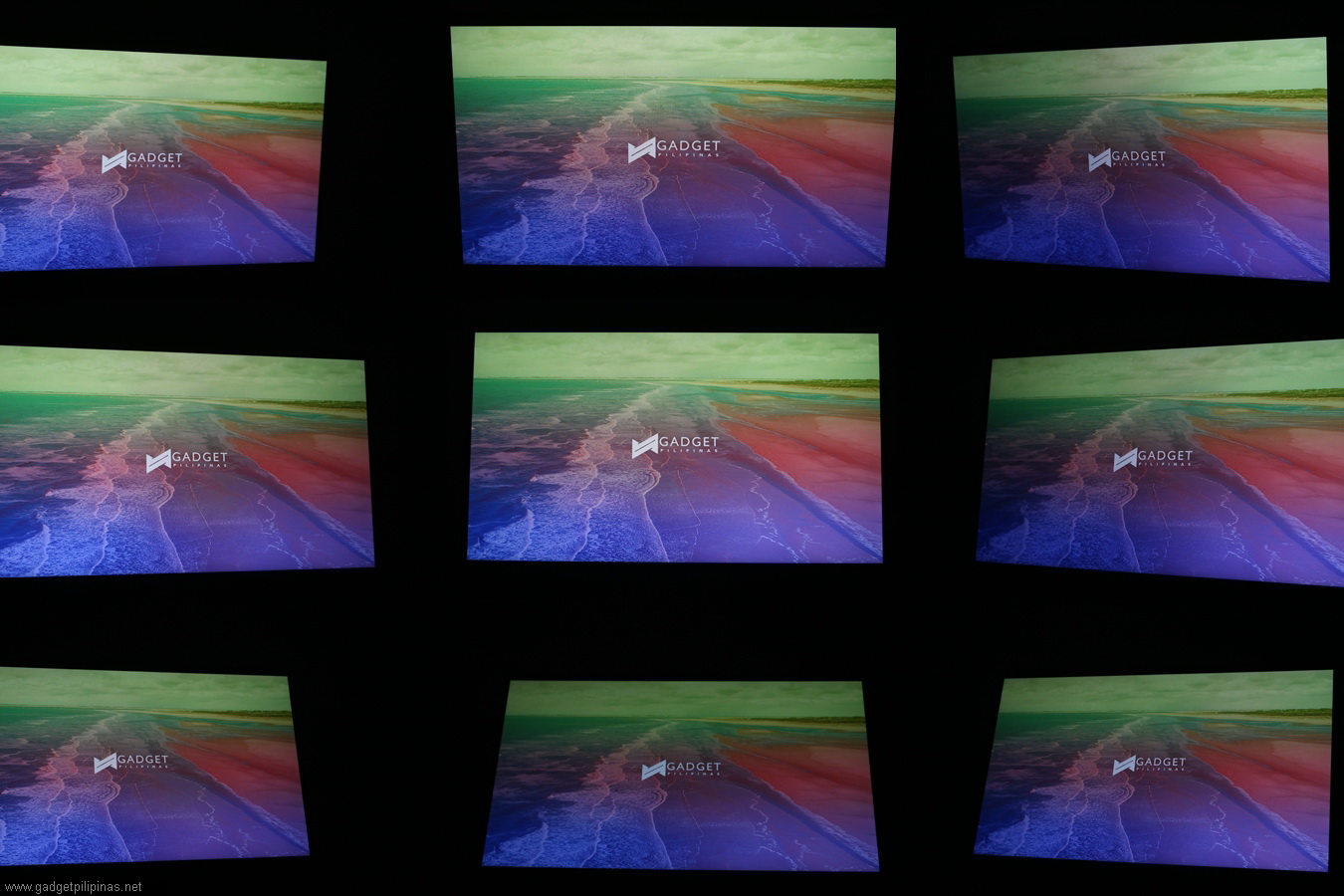 It's impressive to see that Lenovo managed to secure a color-accurate 240Hz IPS panel, let alone 500-nit HDR support. Viewing angles are great as expected from an IPS panel even with various levels of brightness.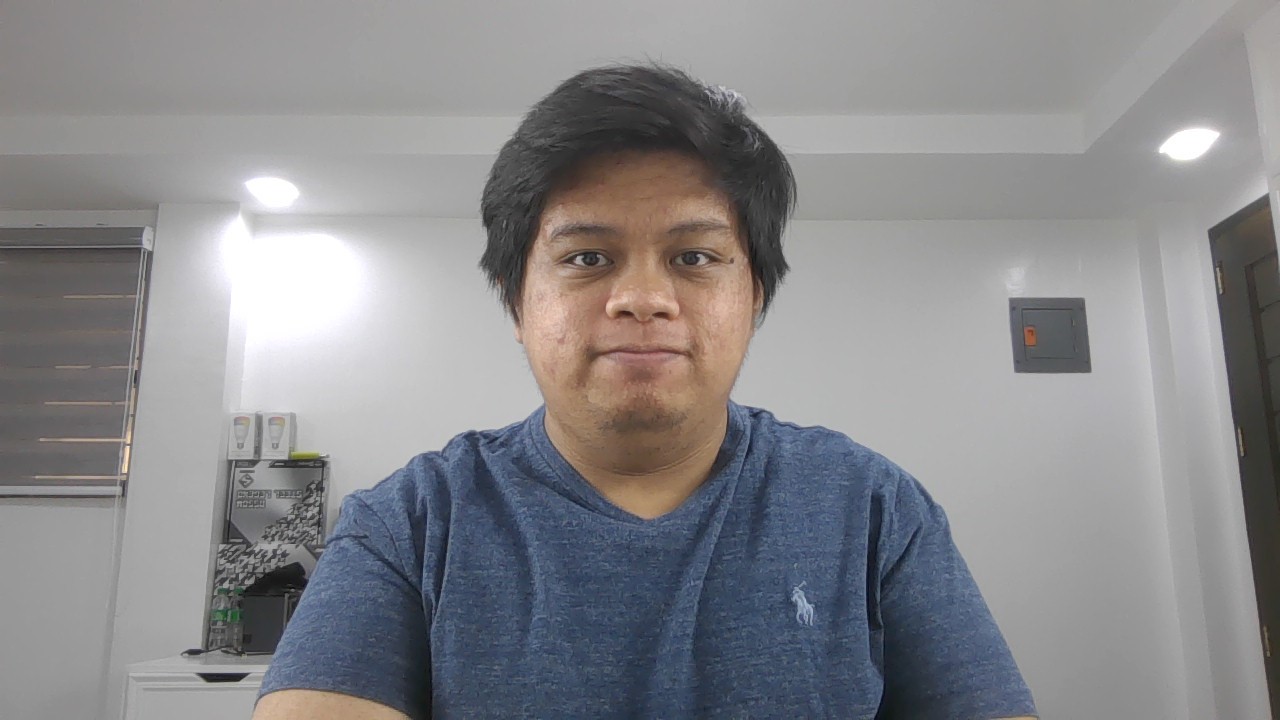 Like any other laptop webcam, the 1MP 720P camera found on the Legion 7i is nothing out of the ordinary. Good lighting is required to produce "good enough" photos. Thankfully, Lenovo still included their signature privacy shutter slider to physically cover up the Legion 7i's webcam.
Lenovo Vantage, Corsair iCUE, and Bloatware
Lenovo Vantage is Lenovo's all-in-one software suite for thermal, power, audio, and display management. It has a lot of presets available with quick toggles on the home page as well as shortcuts via the FN key. Unfortunately, you cant use a custom profile aside from the presets available on the app. There's no manual fan control or fan curve setting.
Lenovo partnered up with Corsair for the RGB implementation of its laptops since the Y500 and Y700 series. Extensive lighting customization can be accessed via Corsair iCUE software. The software can control each lighting zone as well as per-key RGB. Unfortunately, Corsair iCUE is only limited to RGB lighting functions leaving key mapping a missed feature for the Legion 7i. Do note that toggling between lighting presets using FN + spacebar doesn't work if Corsair iCUE is running.
Bloatwares are unnecessary pre-installed applications in a laptop or pre-built PCs. These pre-installed apps help keep the price of a laptop/PC lower as software companies pay the manufacturer to have them installed on their products. While some bloatware can be actually useful to a user, a clean OS is always better and the Legion 7i sits at a thin grey line favoring a clean OS. Aside from the McAfee antivirus, all of the software installed is necessary for the Legion 7i. Corsair iCue and Lenovo Vantage are preinstalled for lighting and thermals while Microsoft Office 365 comes as a free lifetime license for the laptop. X-Rite Color Assistant manages the pre-calibrated display.
CapFrameX, Google Chrome, Steam, SpyderX Pro, and WinRAR were manually installed for our review.
Synthetic Benchmarks
We benchmarked the Legion 7i together with its different power settings found in the Lenovo Vantage Software. The main purpose of benchmarking power profiles will show how aggressive or conservative the manufacturer is in thermal management. These profiles will affect the CPU and GPUs' boosting behavior in terms of duration and max clock speed which will translate to higher scores and stable framerates.
SuperPI 32M

SuperPI is a single-threaded benchmark application that lets the CPU calculate Pi(π) to the nth digit. In this benchmark, we selected the Pi calculation to 32M, the highest available for the app.
Different power profiles show a huge difference in single-threaded performance as seen in the benchmark. Switching from Power Saver to Auto reduced the calculation time by 24 seconds as the i7-10750H gets to boost at higher clock speed. Performance shows a better increase as the processor is able to boost a longer period of time.
wPrime 1024M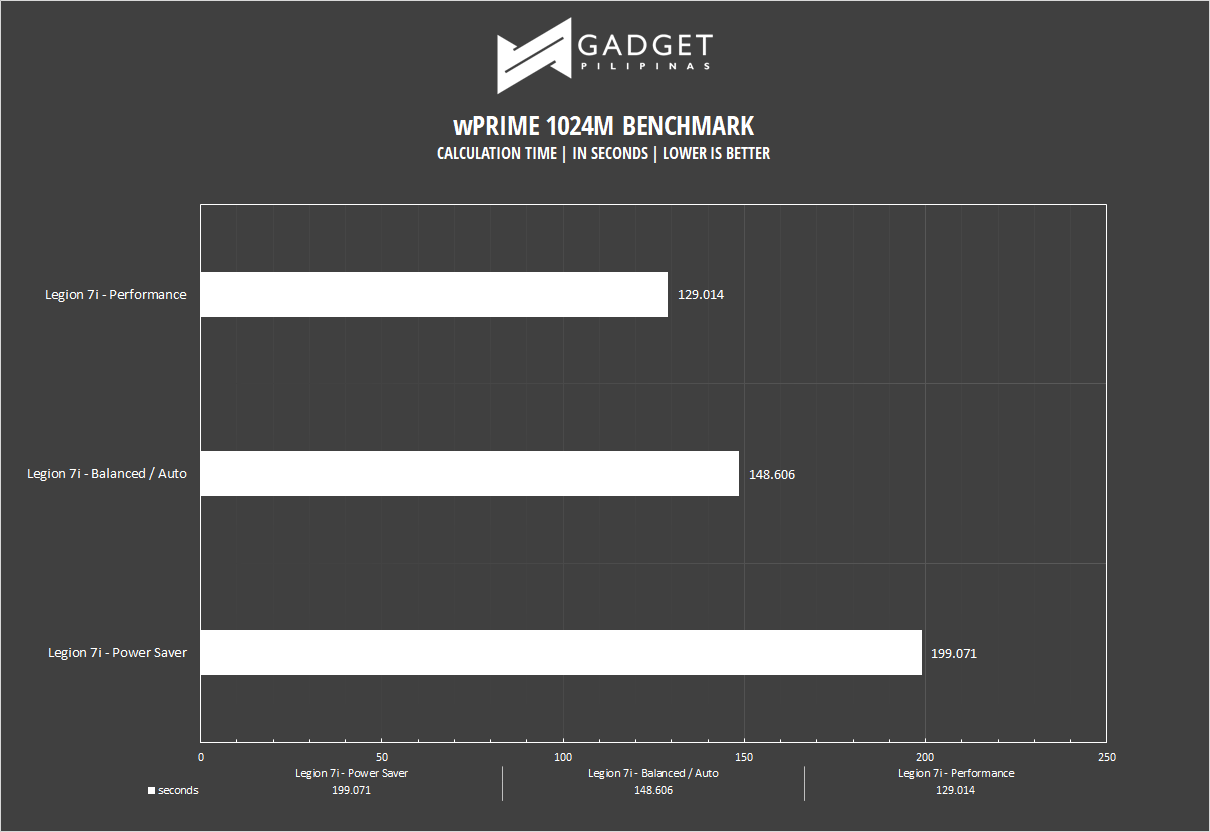 wPrime is a benchmark tool similar to SuperPI, but the former takes on finding prime numbers using Newton's Method. The benchmark is set to calculate 1024M, and measured according to calculation time.
wPrime multithreaded benchmark shows a similar story with the different power profiles. The Legion 7i performs best on Performance mode with more than a minute saved in calculation time over power saver.
GeekBench 5

Geekbench is a multi-platform benchmark that's used to gauge CPU performance and compare them across Windows, Mac, and Mobile. Geekbench 5 is the latest version and doesn't rely on memory as much compared to the previous Geekbench 4, making it a great tool to measure both single-core and multi-core CPU performance.
Geekbench 5 benchmark shows a tight gap between performance and auto profiles on both single-core and multi-core scores.
CINEBENCH R20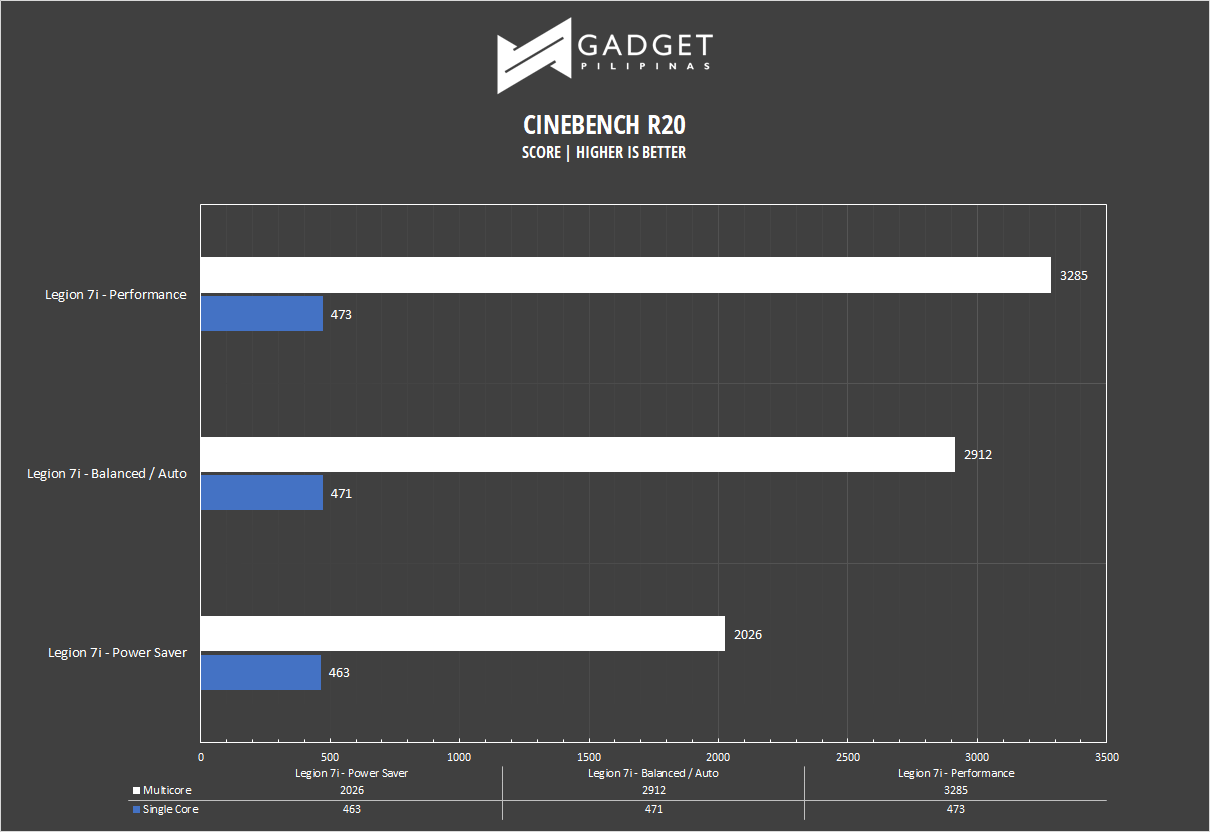 Maxon's Cinebench benchmark is one of the most iconic benchmark applications used by reviewers and enthusiasts. The latest Cinebench R20 uses the latest rendering architectures, including Intel's Embree ray tracing technology and other advanced features from AMD and Intel that allows users to render the same scene on the same hard. Cinebench R20 uses a larger and more complex testing scene than Cinebench R20 by about 8x computational power and requires 4x the memory.
A bigger jump in rendering performance can be observed on Cinebench R20 as the Legion 7i breaches the 3k threshold with just a simple switch from power saver to performance mode.
V-RAY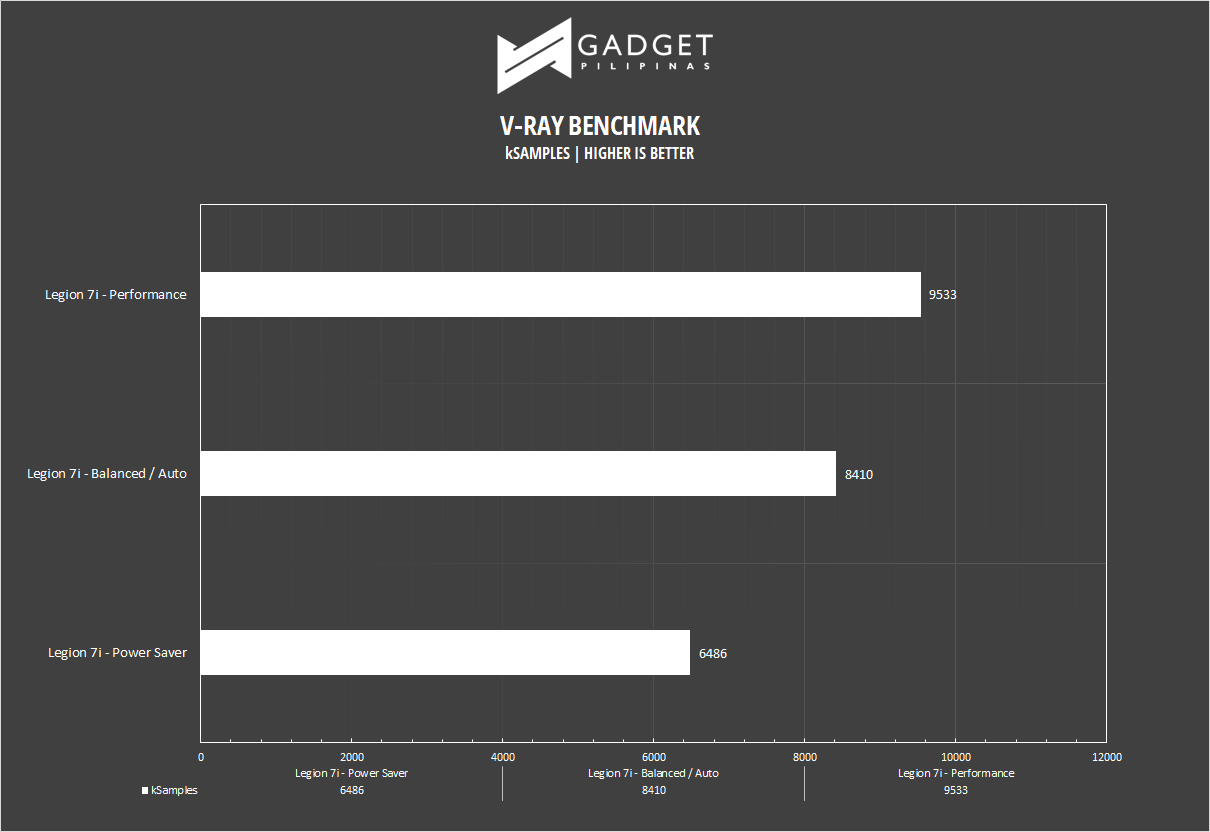 V-Ray Benchmark is a stand-alone version V-Ray developed by Chaos Group. It is designed to test the CPU and GPU by rendering sample scenes at a fixed amount of time. V-Ray is plug-in mostly utilized by 3D computer graphics software applications mainly for industrial design, product design, architecture, film, and video game production. V-Ray is not limited to 64-threads as it supports multi and mega threading.
V-Ray benchmark shows a larger score gap between performance and power saver profiles of the Legion 7i.
BLENDER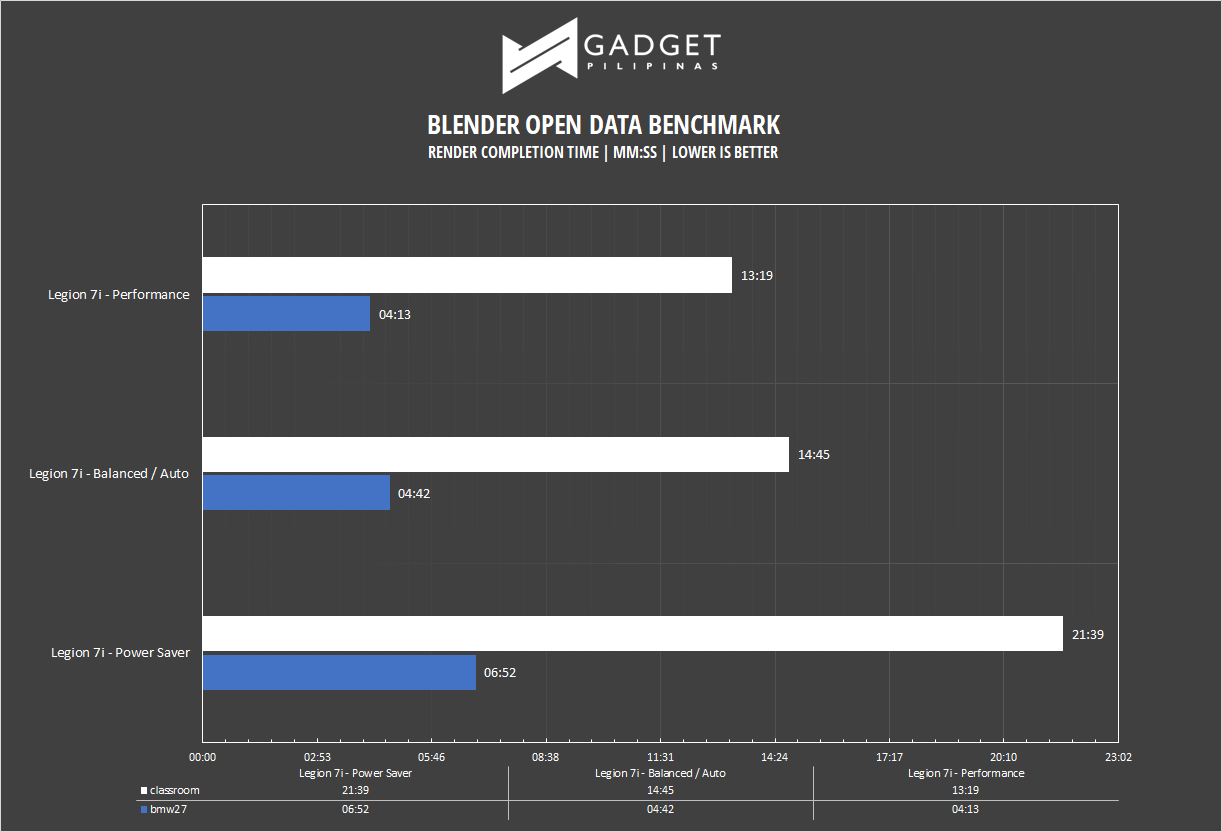 Blender is a widely used, free, opensource 3D creation suite. It supports the whole 3D pipeline process from modeling, rigging, animation, simulation, rendering, and even motion tracking. Blender has become a standard for CPU benchmarks with the BMW27 and Classroom scene most used. This prompted the company to release Blender Open Data Benchmark in 2018, a benchmark-specific version which allows users to run a preset benchmark and share the results online similar to 3D Mark.
In all synthetic benchmarks, Blender shows the biggest improvement from Power saver to Auto with a 7-minute rendering efficiency on our classroom render scene. Switching from Balanced to Performance profiles of the Legion 7i shows a marginal increase in rendering efficiency.
CORONA RENDERER

Corona Renderer is an unbiased photorealistic render available for Autodesk 3Ds Max, Maxon Cinema 4D, and as a stand-alone application. Its popularity, similar to Blender, led Chaos Group to develop a benchmark version of the app which runs using Corona Renderer 1.3. Workstation systems, especially CPUs, can utilize Corona Benchmark as up to 72 threads can be used in the benchmark, making it very suitable for CPUs with various price segments.
Switching the Legion 7i's power plans from power saver to balanced, and from balanced to performance exhibit nearly equal performance improvement in Corona 1.3 benchmark.
SSD Benchmark
Developed by Noriyuki Miyazaki, CrytalDiskMark is a free benchmark tool that is being used by thousands of experts. This tool measures SSD's sequential read and writes speeds. That means how fast files can be read from and written to the drive, usually measured in MB/s.
Lenovo went for the Western Digital SN730 1TB NVMe SSD for the Legion 7i's storage. The WD SN730 is rated at 3,400MB/s read and 3,100MB/s write with a write endurance of 400TB. Our CrystalDiskMark benchmark shows a consistency drive performance. The Legion 7i uses a fast, above-average SSD but is definitely not top of the line considering other gaming laptops sport a RAID configuration.
Gaming Benchmarks
We use CapFrameX Capture and Analysis Tool v1.5.3 to capture framerates for our benchmark run. We are using the latest Nvidia Game Ready 451.67 DH driver for our benchmarks of the Legion 7i. HWMonitor and HWInfo64 are both used to measure CPU and GPU temperatures.
3DMARK
3DMark is the go-to benchmark for gamers because of the ability to share and compare results online. We used Time Spy DX 12 benchmark and Fire Strike DX 11 benchmark and opted out of Port Royal since all the GPUs used in this review do not support Ray Tracing.
3DMark Firestrike DX 11 and TimeSpy DX 12 show conflicting results in terms of performance improvements on the Legion 7i's power plans. However, it's still consistent in telling us that the performance mode outputs the higher score in both benchmarks.
DOTA 2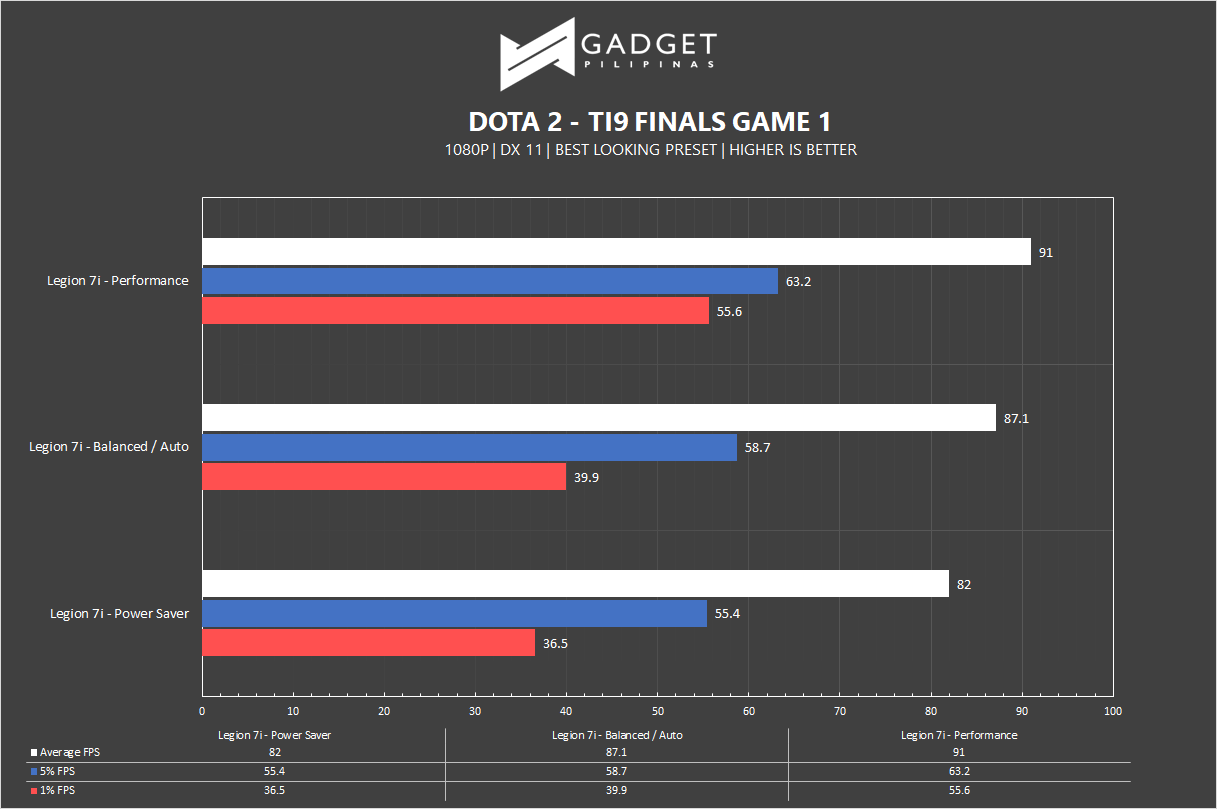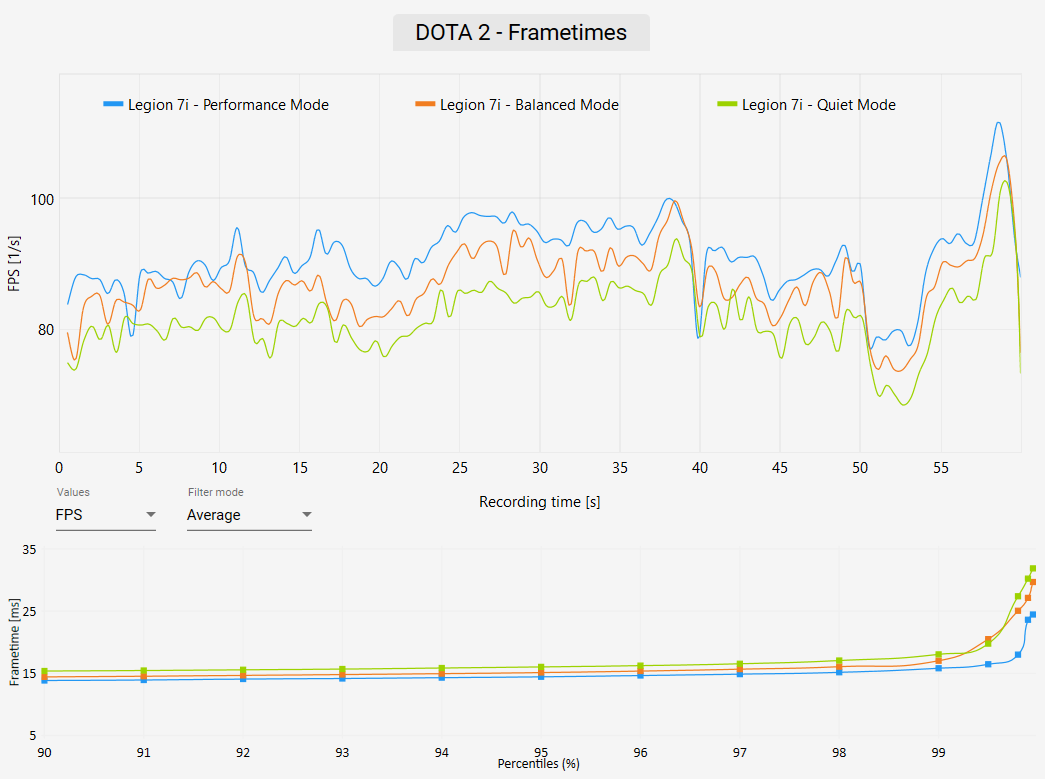 Most gamers play at least one of the following free-to-play titles: League of Legends, CS: GO, Dota 2, and/or Fortnite. Dota 2 is a good representation of the F2P titles as it is the most demanding game in the spectrum. The benchmark will give you an idea of the laptop's relative performance on other lesser demanding titles. Our benchmark sequence is based on a replay of OG vs. Liquid in the TI9 grand finals from the team fight that happened on 28:30 to 29:30.
DOTA 2 is a reasonably demanding game, especially on a minute-long clash in one match. Our benchmarks show a marginal improvement in terms of average FPS over all of the Legion 7i's power plans. Despite the marginal increase in average FPS, the higher power plans exhibit a more stable and fluid framerate represented by our 1% FPS. Performance mode exhibits the smoothest gameplay experience with tighter frame variance.
Far Cry 5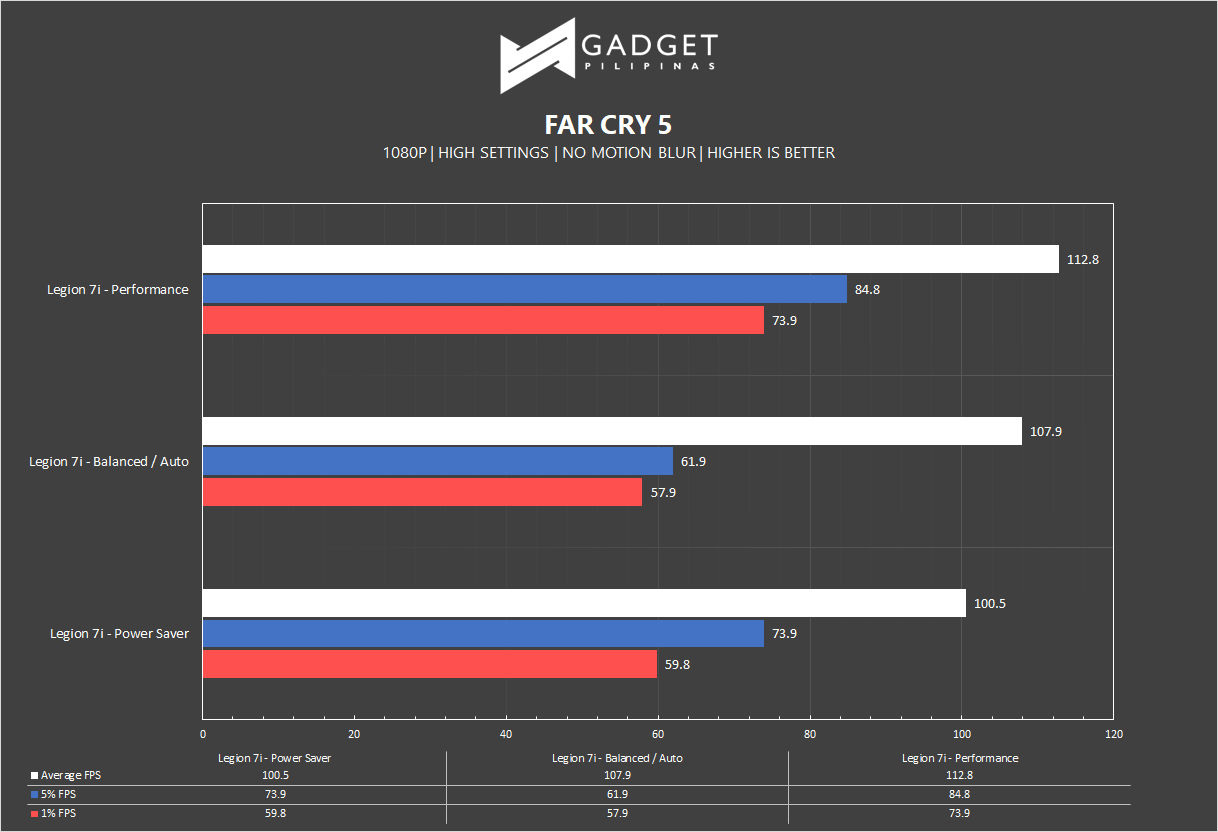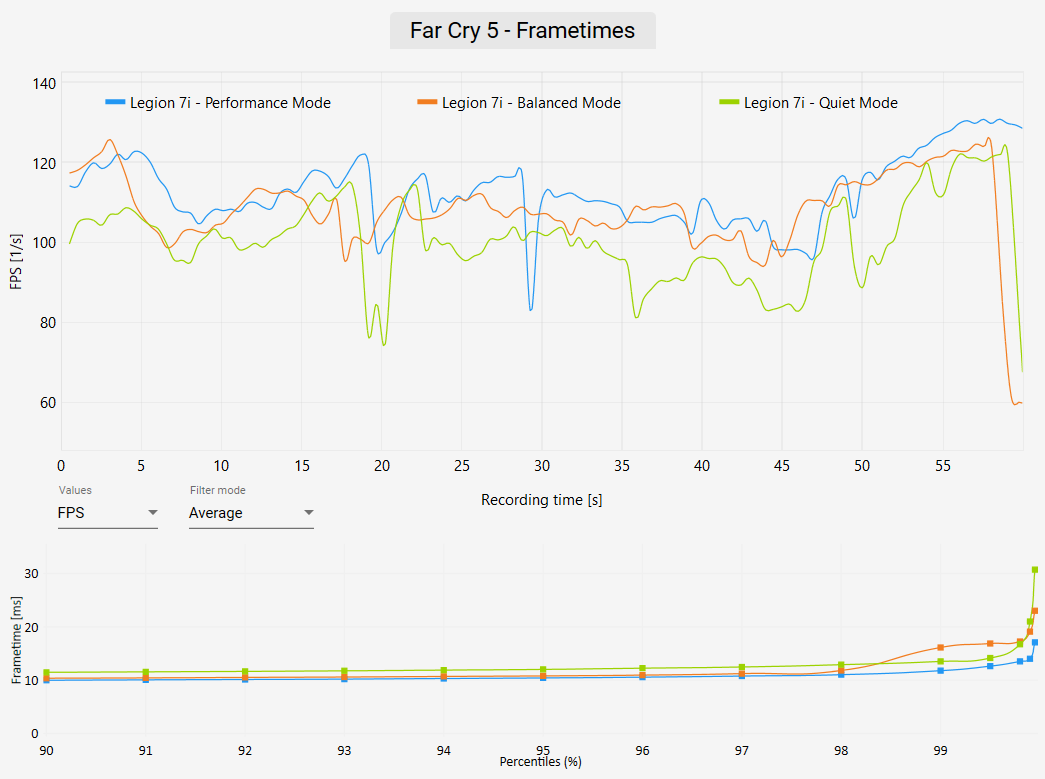 Far Cry 5 is an FPS game published by Ubisoft and uses the Dunia engine. It heavily relies on and takes advantage of DirectX 11 to render a realistic environment that makes it taxing to both the CPU and GPU.
Far Cry 5 tells the same story with a less than 10 average FPS improvement between power plans. Major improvements in smoothness and frame stability just from switching to Legion's power plans are shown in both the 5% and 1% FPS. Legion 7i's Performance mode greatly reduces frame drops as shown in CapFrameX's frame time chart.
Rainbow Six Siege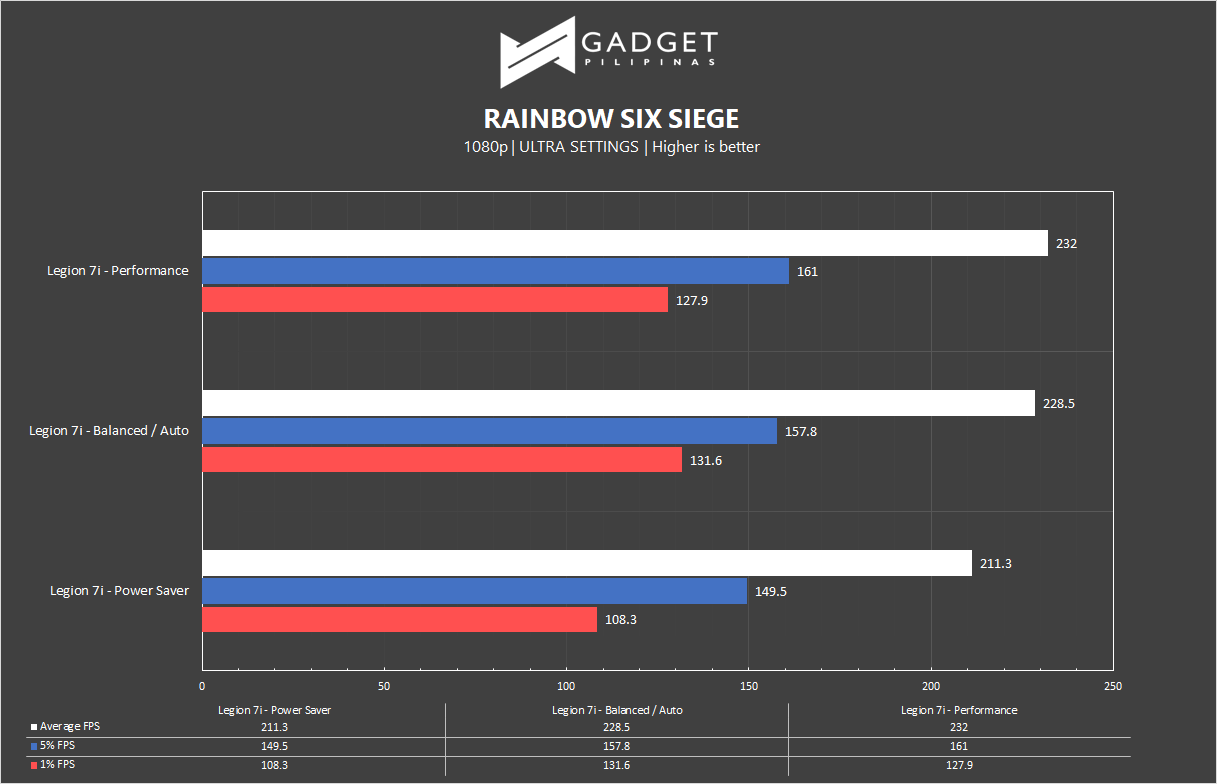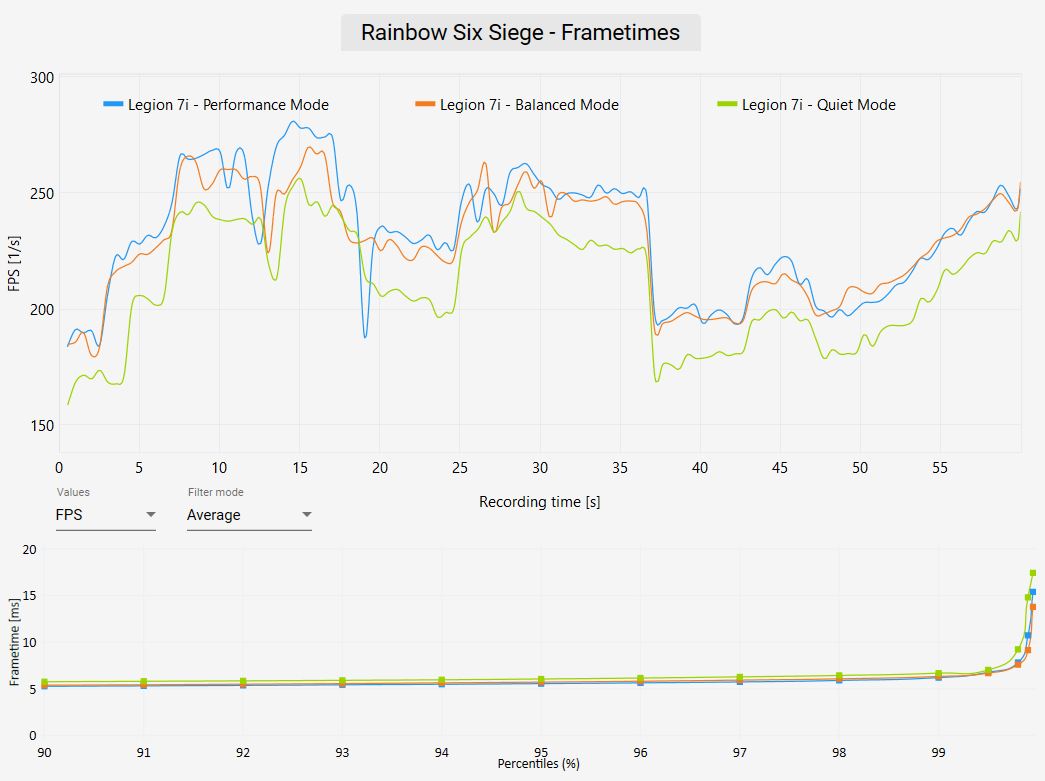 Rainbow Six Seige is one of the few popular AAA games that's still popular in 2020 due to its competitive gameplay mechanics. R6S uses the AnvilNext game engine, which is developed by the game's publisher, Ubisoft. As of writing, Rainbow Six Siege is currently the most popular Tom Clancy title beating out Wildlands, Breakpoint and even, Division 2.
R6S is a game that benefits the most with Legion 7i's power plans as it shows a >10FPS improvement in jumping to higher modes.
Valorant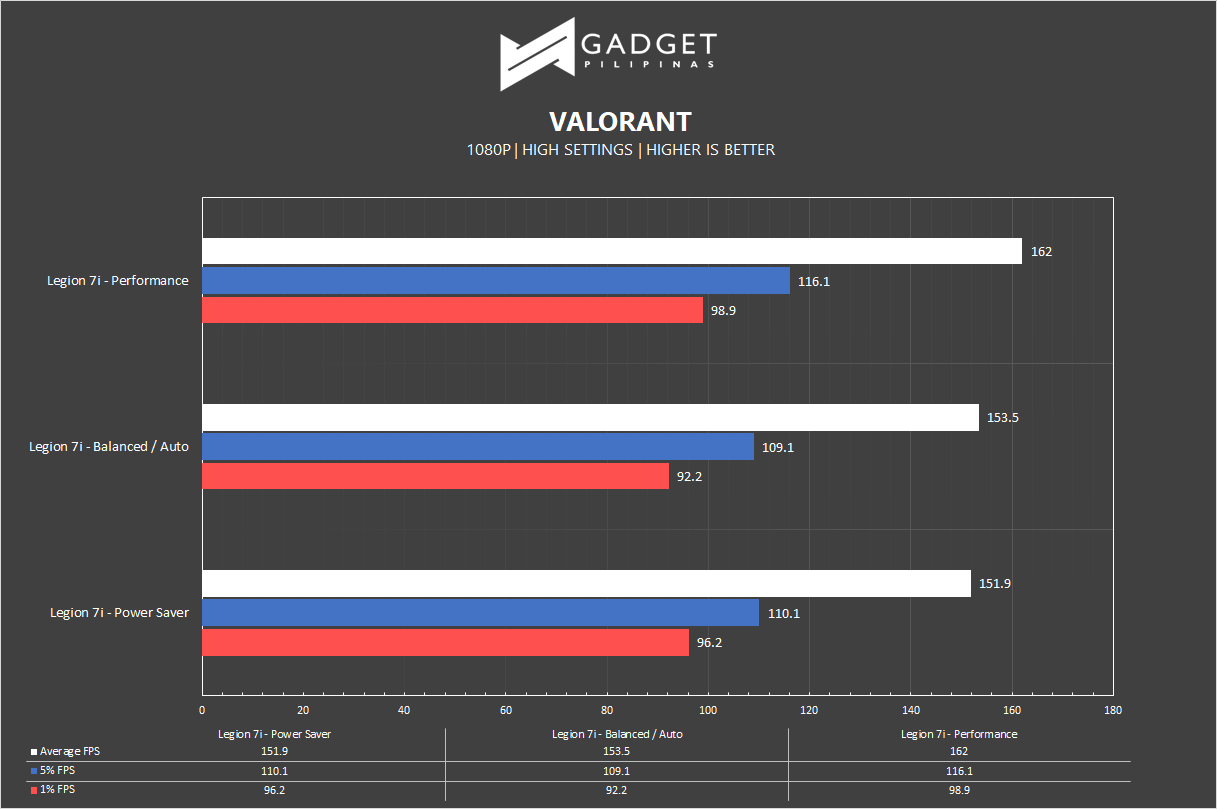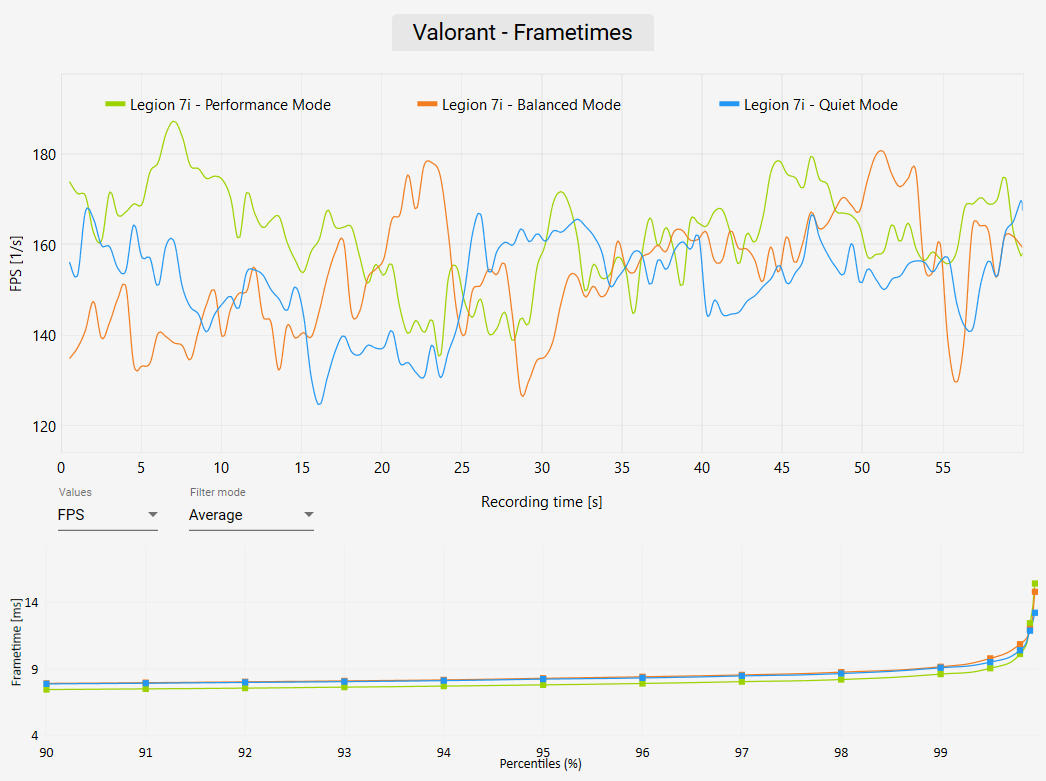 Riot Games, the makers of League of Legends, launched their first competitive FPS game dubbed Valorant. Valorant is a character-based tactical shooter with mechanics similar to both Overwatch and CounterStrike Global Offensive. Valorant uses Unreal Engine and is frankly a poorly multithreaded game with the minimap, HUD, and parts of the UI offloaded to other threads while a single core handles the rest.
There's not much of a performance jump when switching to the Legion 7i's power saver mode to balanced but there's a big leap in FPS stability from balanced to performance mode. This is due to the Core i7 10750H being able to sustain boost clocks for a longer period.
Apex Legends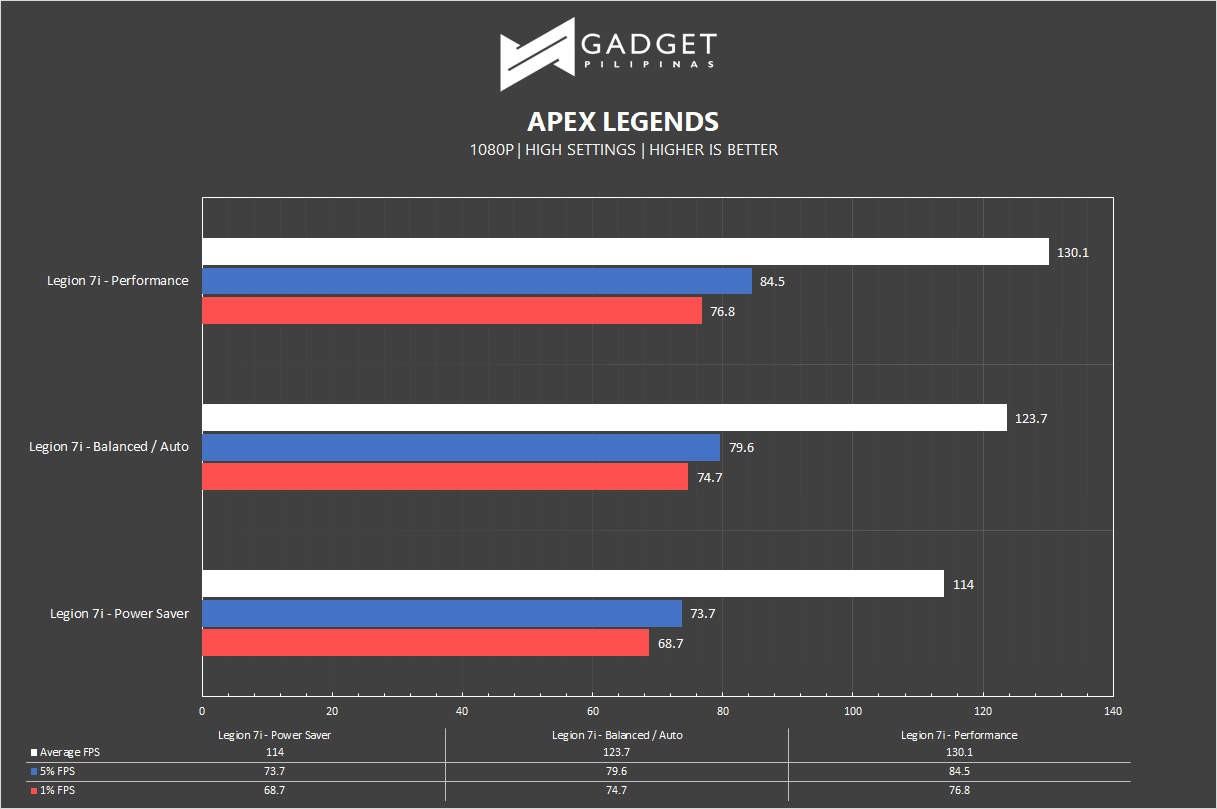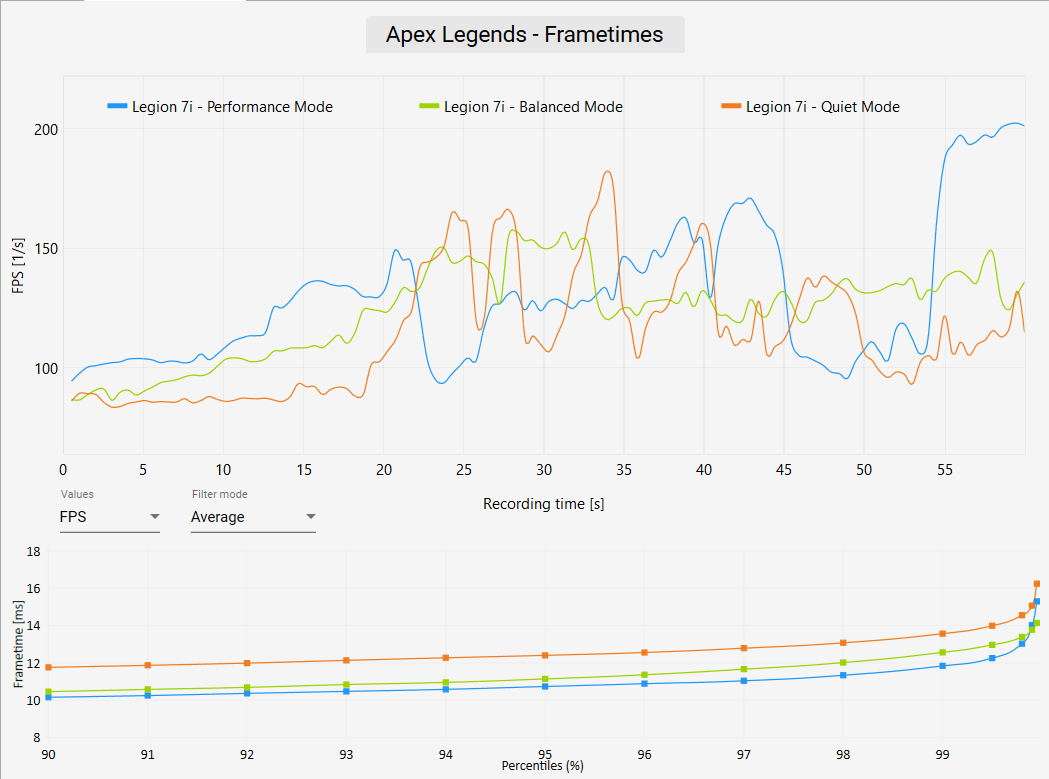 Apex Legends is a character-based Free-to-play battle royale game developed by Respawn Entertainment, the makers of Titanfall and Titanfall 2. It utilizes a modified version of Valve's Source Engine.
Higher power plans boost the Legion 7i's average frame rate but show an almost negligible increase in terms of FPS stability.
Battlefield V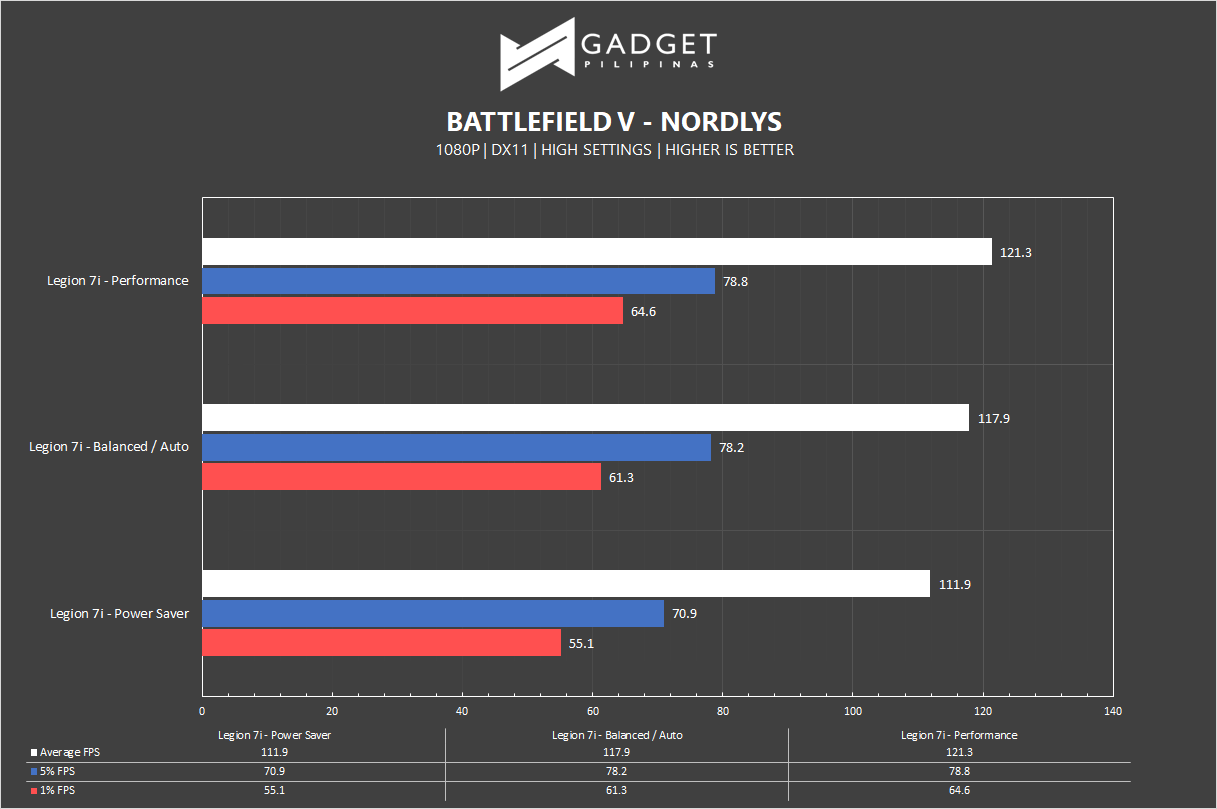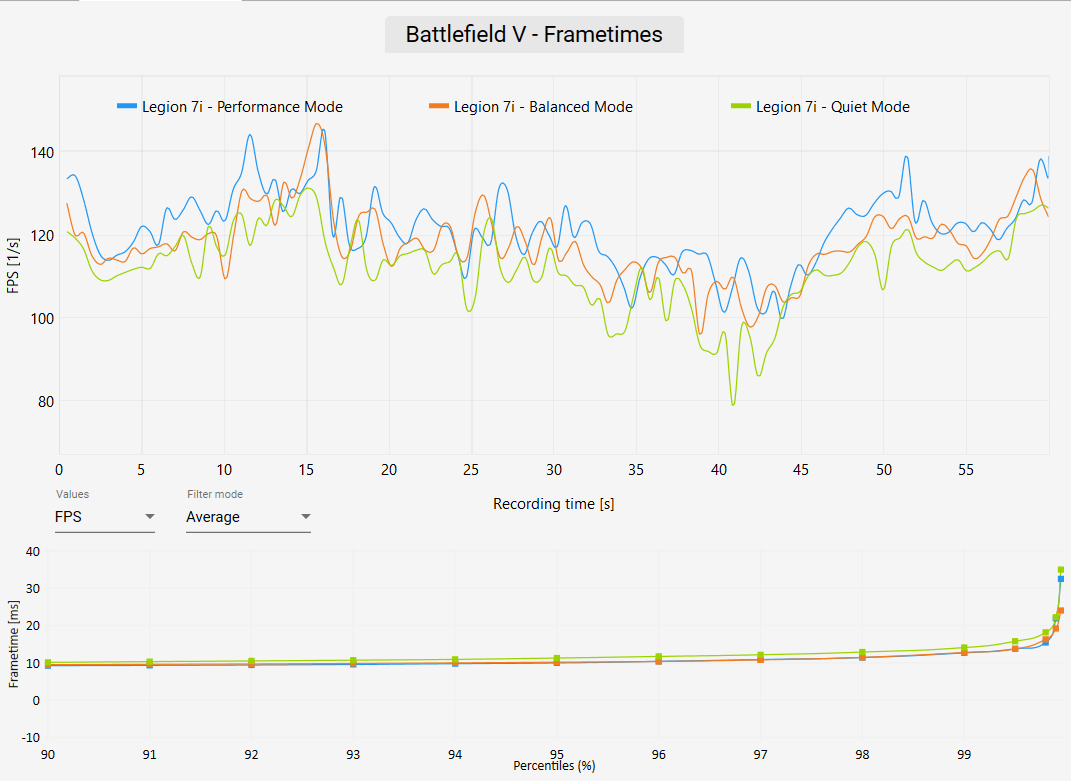 The Battlefield series is an iconic FPS title in our generation matching Halo and Call of Duty. Battlefield V, set in WW1, is the latest installment in the franchise developed by DICE using the popular Frostbite engine. It's also the first game to incorporate DX 12, Ray Tracing, and DLSS making it a great choice in our game bench library.
BFV shows is the game that least benefits from the Legion 7i's thermal and power modes with only a marginal improvement in average FPS and framerate stability.
Assassin's Creed: Odyssey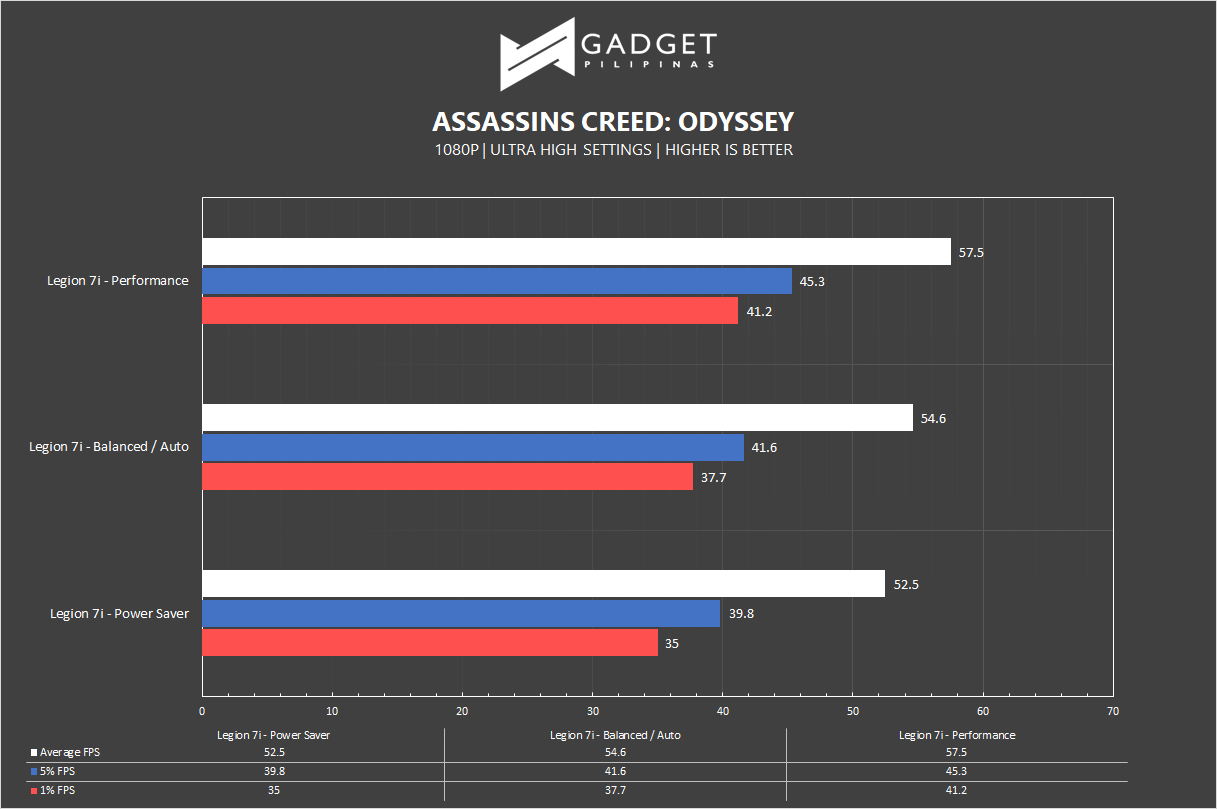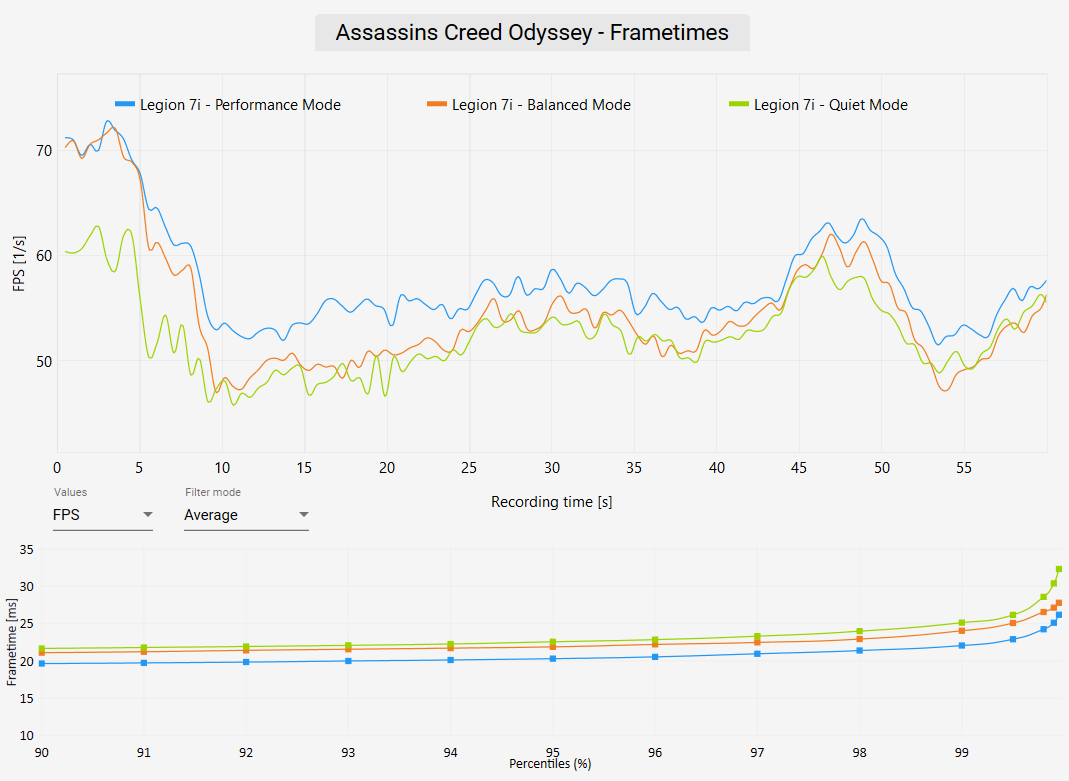 Assassin's Creed Odyssey is the latest franchise installment from Ubisoft. It's by far the most popular and stable Assassin's Creed title since AC IV: Black Flag. It uses the AnvilNext 2.0 game engine, an updated version of Rainbow Six Siege's game engine, and uses the DirectX 12 API.
Legion 7i's power plans, even performance mode, didn't break 60fps in our AC: ODY benchmark runs at ultra-high settings. Performance and Balanced mode, however, showed tighter and more stable frames represented by 5% and 1% lows.
Noise and Acoustics
It's very impressive that the Legion 7i is a very silent device despite its 10750H + RTX 2070 Super configuration and thin form factor. Fan noise is barely audible in Power Saver / Quiet mode while Balanced and Performance get a little noisier but it can easily be solved by cranking up the speaker volume or getting a headset. It's a quiet gaming laptop overall with lots of performance to spare even in performance mode. Unfortunately, there's no manual fan curve setting or control available for the Legion 7i.
The bottom-firing speakers on the Legion 7i are decent and loud enough with minimal distortion on higher levels. While it does not even compare to the Yoga C940's hinge speaker and flagship Macbook Pro speakers, it's above-average, especially for gaming laptops. The speakers peaked at 92.7dba at 100% volume.
Battery Life and Thermals
Nvidia's Advanced Optimus technology works magic in our battery life test. With a 50% screen brightness at 110 nits with no RGB lighting lasted us 6 hours and 32 minutes on our PCMark 10 modern office benchmark. Switching power plans to balanced with the same screen brightness and 50% RGB lighting brightness reduced battery life to only an hour. Lastly, maxing out both brightness and RGB lighting levels on a balanced power plan reduced the Legion 7i's battery life even further to 3 hours and 34 minutes.
The Legion 7i's power plans are very impressive as its ability to maximize the 7i's 80Whr battery and transforming it into a work laptop when you conserve power.
Switching from balanced to performance mode showed higher benchmark scores, faster render times, higher framerate, and better stability at the cost of only a few degrees. GPU temps didn't even reach the 80's. The thermal management of the Legion 7i is both impressive and disappointing. Impressive because both the CPU and GPU never hit their thermal limits. It's disappointing because there's an obvious headroom for performance which is supported by our noise readings. It's a bummer that Legion didn't allow for manual user control for the fan speeds.
Disassembly and Upgradability
Prying up the bottom cover of the Legion 7i shows the secret behind the Coldfront 2.0 cooling system, a massive vapor chamber design. It takes up almost half of the laptop internals with the other majority being the 80wHr battery.
Laptop Media's Legion 7i unit maxed out all available slots on the notebook. Our configuration supposedly has a free M.2 NVMe slot and supports Raid 0. Both NVMe drives as well as the Intel AX201 wifi module are immediately exposed after opening up the unit with no extra step required. An extra step to access the memory modules is required by removing its heatshield. Overall the Legion 7i is easily upgradable provided you have the right tools to open up the laptop.
Conclusion – Built Like a Thinkpad, but for Gaming and has RGB
The Legion 7i has the most practical cooling solution for a thin and light notebook. No fancy hinge or sliding keyboard, just a gaming powerhouse enclosed in one of the coolest laptop design aesthetics thanks to the vapor chamber implementation. No fancy ergo hinge mechanism or sliding keyboard that exposes the fans, you are just greeted with a stylish thin gaming laptop packed with the savage core i7 10750H and RTX 2070 made possible by Legion's Cold Front 2.0 cooling system. Frankly, it's very disappointing for Legion to not include more cooling customization options in the Lenovo Vantage software, especially for its flagship gaming device. Another thing that Lenovo missed with its flagship gaming notebook is individual key mapping and hotkey customization of the keyboard handled by Corsair iCUE.
Lenovo's choice of panel, font, and design aesthetic with the help of Nvidia's Advanced Optimus make the Legion 7i work ultrabook by day and a gaming laptop by night. The screen's brightness and panel quality are both exceptional. The pre-calibrated display and our SpyderX Pro tool show that the screen is not just for gaming with the high refresh rate but also for some professional work as well. Build quality for the Legion 7i is one of the best ones for a gaming laptop, especially in the <20mm category. Lenovo managed to check all the necessary boxes for a thin and light gaming laptop with the compromises falling to quality of life that ironically its non-gaming laptops excel at. The lack of Windows hello integration slightly undermines the fast SSD with an extra step of typing in your password instead of facial recognition or a simple fingerprint. The sub-par, mushy power button cuts the overall impressive build quality of the Legion 7i. But overall, the problems mentioned draws nearer to nitpicks than disadvantages. Personally, I wouldn't mind paying an extra premium on top of the Php 135k price tag just to solve these "nitpicks."
The Legion 7i is one of the best gaming laptops available in the market. It is indeed an upgrade to the previous flagship, not just a fancy rebrand to fool consumers into getting the same notebook with the latest components. The Legion 7i is far from the perfect thin and light gaming laptop, but it offers the perfect balance between portability, performance, features, and price – at least for 2020.
Grant is a Financial Management graduate from UST. His passion for gadgets and tech crossed him over in the industry where he could apply his knowledge as an enthusiast and in-depth analytic skills as a Finance Major. His passion allows him to earn at the same time help Gadget Pilipinas' readers in making smart, value-based decisions and purchases with his reviews and guides.