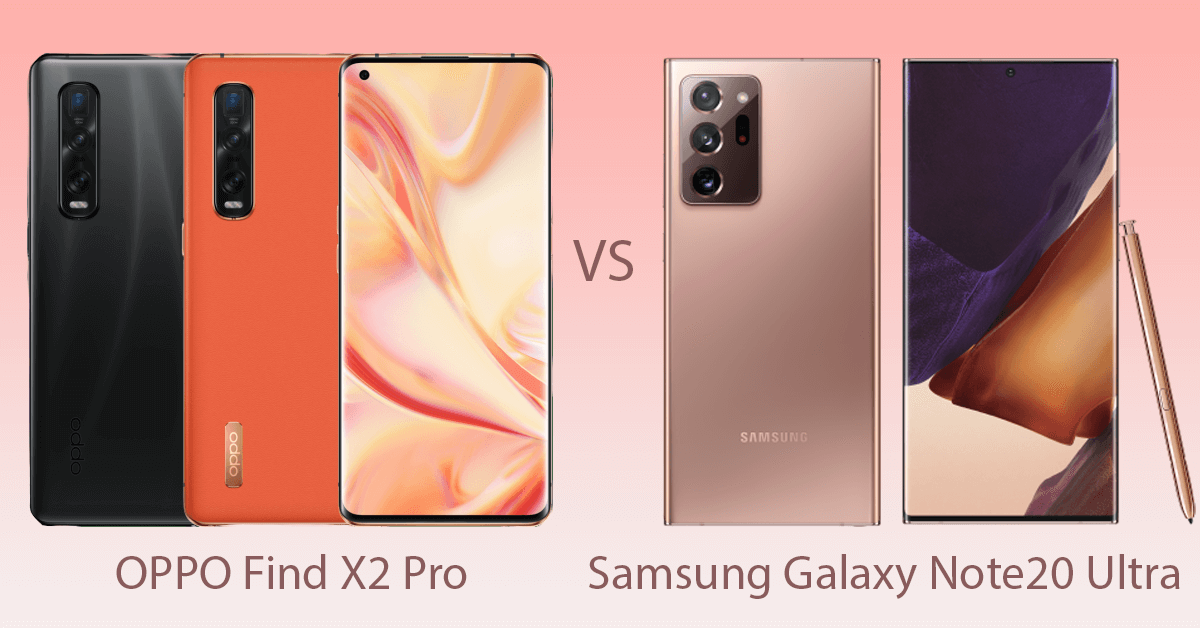 OPPO Find X2 Pro is by far the fastest smartphone we've reviewed. While we're waiting for the ROG Phone 3 to officially arrive in the Philippines, a new challenger just arrived in the presence of Samsung Galaxy Note20 Ultra. Will this topple our current benchmark and performance king, at least on paper?
Let's find out!
Display
Both devices have the same display size, however, there can only be one winner in this category. The devices have 120Hz refresh rate, and support variable refresh rate settings. The smartphones also have the support for HDR10+ contents. Galaxy Note20 Ultra offers more display features to the table though. S-Pen and its insane 9ms input latency are two reasons why we're picking the Note20 Ultra as the winner.
| | | |
| --- | --- | --- |
| | Galaxy Note20 Ultra LTE/5G | OPPO Find X2 Pro |
| Display | 6.7″ WQHD+ Dynamic AMOLED 2.0 Infinity-O, Edge | 6.7 inches |
| HDR Certification | HDR10+ Certified | HDR10+ Certified |
| Note Input Latency | 9ms input latency | |
| Display Refresh Rate | 120Hz display support | 120Hz display support |
Winner: Samsung Galaxy Note20 Ultra
Camera
This is a tough one as both devices have really good sets of camera. If I am to judge it based on its raw specs, I would give it to Galaxy Note20 Ultra. However, I would not want to hastily discount the camera benefits you can get from OPPO Find X2 Pro.
| | | |
| --- | --- | --- |
| | Galaxy Note20 Ultra LTE/5G | OPPO Find X2 Pro |
| Rear Camera | Quad Camera | Quad Camera |
| | Ultra Wide: 12MP f/2.2 | Ultra Wide: 48MP f/2.2 |
| | Wide: 108MP f/1.8 | Wide: 48 MP f/1.7 |
| | Telephoto: 12MP f/3.0 | Telephoto: 13MP f/3.0 |
| | Laser AF Sensor | Laser AF Sensor |
| Front Camera | Selfie: 10MP, (2PD) AF | Selfie: 32MP, f/2.4 (wide) |
Winner: Tie
Processor
Time and again, Samsung has been receiving flak about why they are only bringing in Exynos-powered flagship devices to the Philippines. Based on consensus benchmark, Exynos devices yield lower numbers compared to its Snapdragon counterparts. Galaxy Note20 series still bears the same processor in the Galaxy S20 series – Exynos 990. This can either be a good or bad thing, depending on how you will perceive it. However, our previous benchmark shows that the Snapdragon 865 on OPPO Find X2 Pro still outperforms the Exynos 990 on S20 Ultra. The case may be more or less the same with the Galaxy Note20 series.
Winner: OPPO Find X2 Pro
Memory and Storage
This is another tough category to compare because there are tons of variables to consider. The devices offer 12GB RAM variants. In the case of Note20 Ultra though, only the 5G variant is confirmed to have 12GB RAM, while the LTE variant is limited to 8GB. OPPO Find X2 Pro only has one configuration of RAM whether you're getting the 5G or LTE variant – 12GB.
At the time of writing this article, Samsung has not actually confirmed if the internal storage of Note20 Ultra is already the latest UFS 3.1, which offers faster and more efficient write and read speeds. If this is confirmed, Note20 Ultra is our clear winner. For now, in this category, we have a tie.
| | | |
| --- | --- | --- |
| | Galaxy Note20 Ultra LTE/5G | OPPO Find X2 Pro |
| Memory | 5G 12GB RAM (LPDDR5) | 12GB (LPDDR5) |
| | LTE: 8GB RAM (LPDDR5) | |
| Internal Storage | 256GB internal storage, UFS 3.1 | 256GB/512GB, UFS 3.0 |
Winner: Tie
Battery
On paper, Galaxy Note20 Ultra has higher battery configuration compared to Find X2 Pro's by a very small margin. This is where charging speed matters, which I believe the OPPO Find X2 Pro emerges as the clear winner. Samsung claims that the Note20 Ultra supports 50+% battery juice in 30 minutes, while OPPO outperforms it Find X2 Pro's zero-to-full charge in under 40 minutes.
| | | |
| --- | --- | --- |
| | Galaxy Note20 Ultra LTE/5G | OPPO Find X2 Pro |
| Battery | 4,500mAh | 4,260mAh |
| Charging | Improved wireless charging speeds with Fast Wireless Charging 2.0, Wireless PowerShare, Super Fast-Charging | Fast charging 65W, 100% in 38 min (advertised), SuperVOOC 2.0, USB PD |
Winner: OPPO Find X2 Pro
Software and Ecosystem Integration
Samsung's One UI 2.1 is one of the best softwares available in the Android category. It's simple, packed with essential features and has the most diverse ecosystem integration in the industry. Samsung is not just a smartphone and mobile company, and this is one of their best traits. Their partnership with Microsoft and developers is more established and solid than OPPO, and that alone is something that makes it a winner in this category.
Winner: Samsung Galaxy Note20 Ultra
Giancarlo Viterbo is a Filipino Technology Journalist, blogger and Editor of gadgetpilipinas.net, He is also a Geek, Dad and a Husband. He knows a lot about washing the dishes, doing some errands and following instructions from his boss on his day job. Follow him on twitter: @gianviterbo and @gadgetpilipinas.