Introduction
Before I review a gaming laptop, or at least, before it arrives on the doorstep, I do expect RGB, striking design and punchy highlights – basically, a laptop that screams "powerful."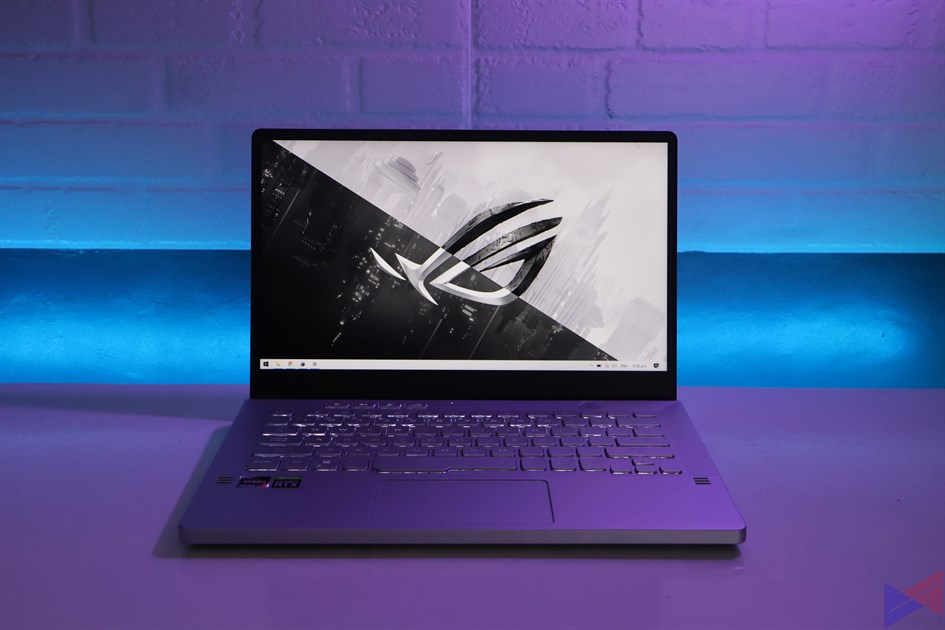 But when the ROG Zephyrus G14 arrived, I couldn't have felt less surprised. It had… none of that. Instead, what I got was a notebook that's formal, elegant, subtle. It's something I felt I could easily bring to a meeting with "the board," and yet, behind their judgemental glances, I can just fire up a game and wreak havoc during a quick break.
I thought… "This is going to be interesting."
Specifications
| | |
| --- | --- |
| Processor | AMD Ryzen9 4900HS |
| GPU | NVIDIA GeForce RTX 2060 (Max-Q) |
| OS | Windows 10 Home |
| Display | 14-inch Full HD, IPS-level panel, 120Hz, 100% sRGB, Pantone Validated, AMD FreeSync |
| Audio | 2x 2.5W speakers with Smart AMP technology |
| | 2x 0.7W tweeter, Array Microphone |
| | Dolby Atmos Technology |
| Keyboard | Backlit Chiclet Keyboard, N-key support, 1.7mm travel distance |
| Cameras | External Camera ([email protected]), optional |
| RAM | 16GB (Up to 32GB) of DDR4 3200MHz SDRAM |
| Storage | M.2 NVMe PCIE 3.0 up to 1TB SSD |
| Wireless | Intel Wi-Fi 6 (802.11ax) |
| | Bluetooth 5.0 |
| Connectivity | 1 x USB3.2 Gen2 Type-C with DisplayPort 1.4 and Power Delivery |
| | 1 x USB3.2 Gen2 Type-C |
| | 2x USB3.2 Gen1 Type-A |
| | 1x HDMI 2.0b |
| | 1x 3.5mm headphone and microphone combo jack |
| | 1x Kensington Lock |
| Battery | 76whr battery |
| | 180W Power Adaptor |
| SRP | PhP109,995 (Where to Buy) |
Design and Build Quality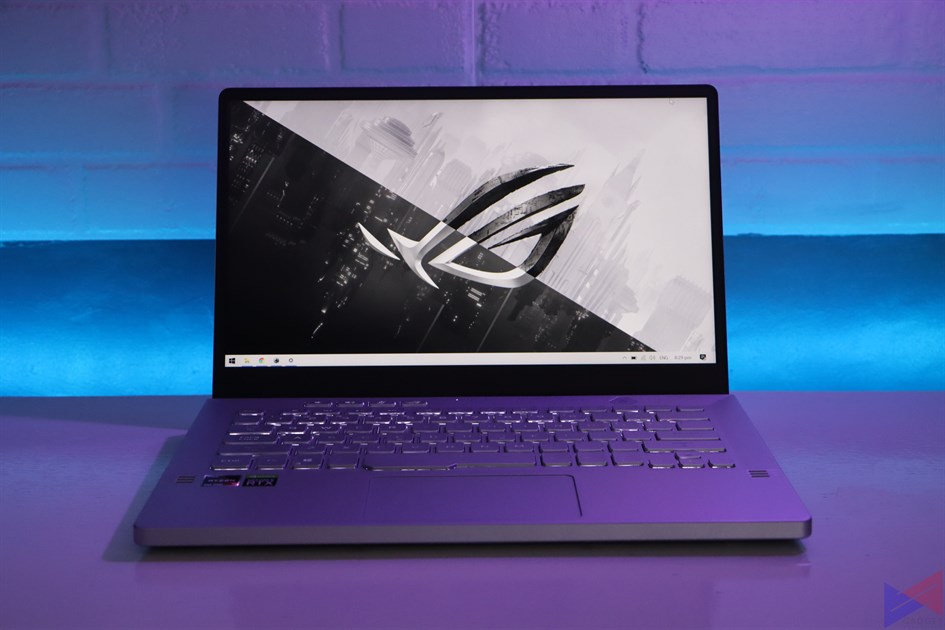 While I'm already used to the "bling" that many brands put on their gaming laptops, ROG went a different way for the G14.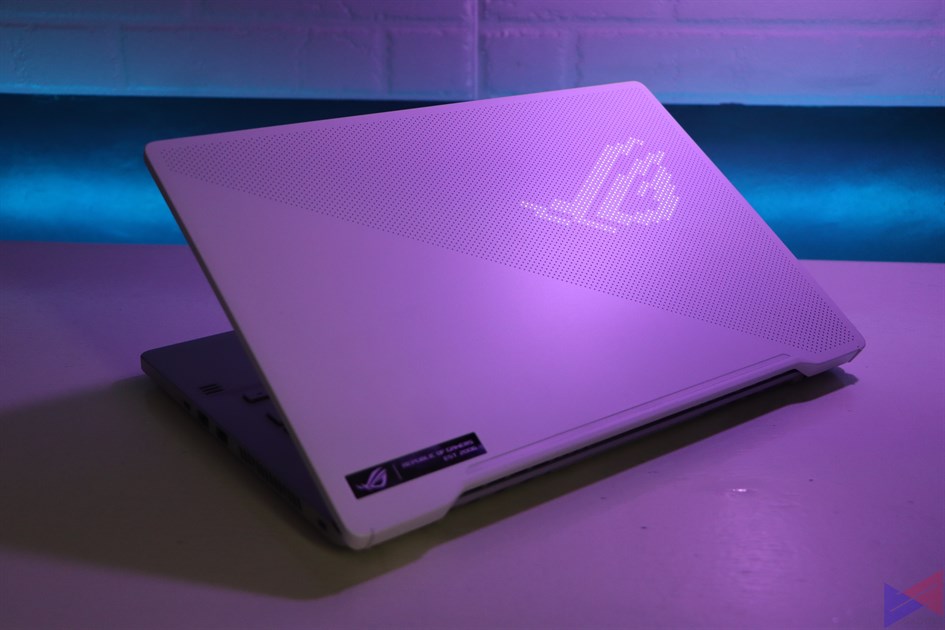 There's not the tiniest hint of RGB here. Instead, it uses a magnesium alloy frame to stop the surface from catching fingerprints. Past ROG notebooks looked like they were about to transform, but this one looks like it goes well beside a cup of coffee.
You still get a sense of craftsmanship and finesse, like the small ROG branding on the lid and the symmetry of the curves.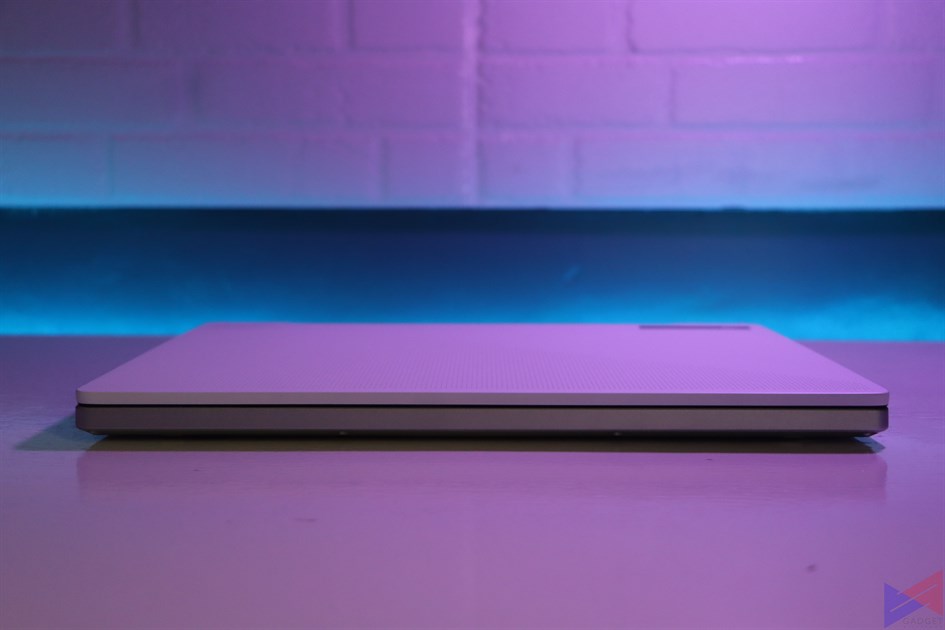 The sheer size of the G14 makes you wonder how were they able to fit in the things listed on that spec sheet inside such a compact chassis. It doesn't even look and feel bulky, and it's easy to carry around. Even its power brick has gotten smaller from what I remember.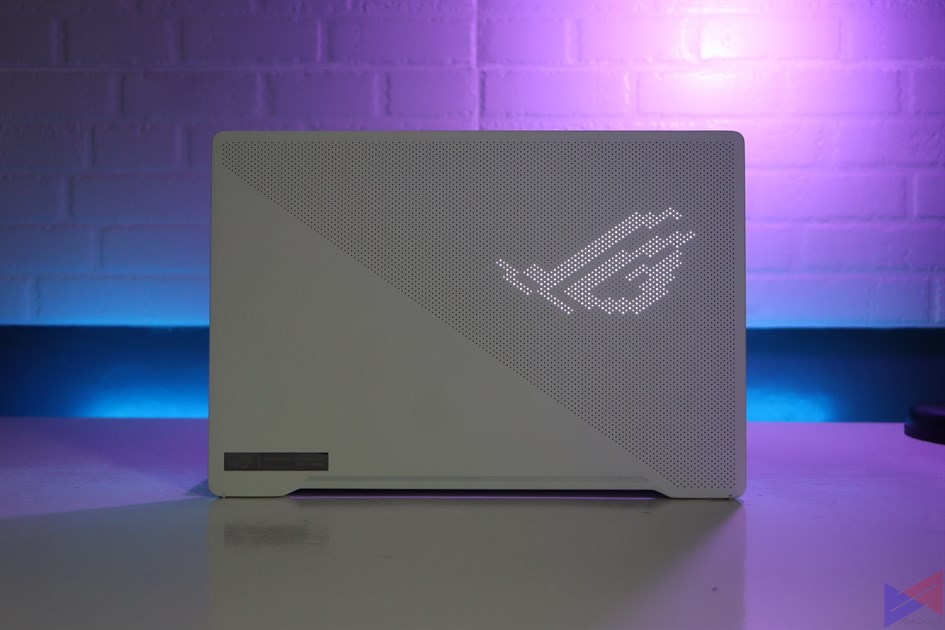 Instead of slapping a ROG logo on the lid like they used to, this notebook boasts an AniMe Matrix, which is a set of 1,215 mini LEDs that can be customized to your liking. I love that its sort of flashy, but at the same time, it jives well with the design.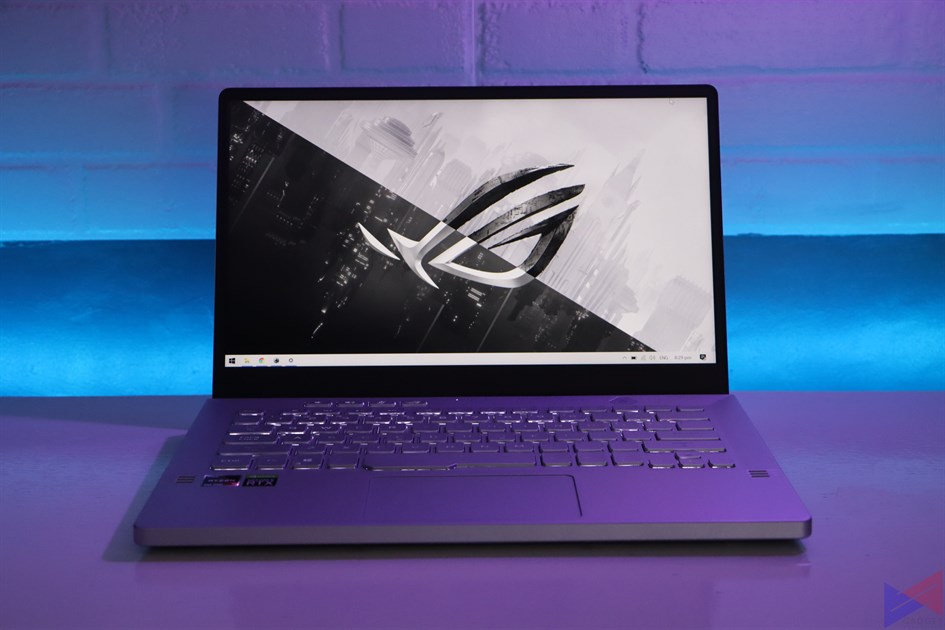 The G14 sports a 14-inch 1080p Pantone-Validated IPS-level screen with support for AMD FreeSync, 120Hz refresh rate, and covers 100% of the sRGB colorspace. It's got slim bezels on the side and top, but ROG has chosen to retain the branding (which can barely be seen) at the chin. Unless it's a design limitation, I think that a few millimeters less there would've been better.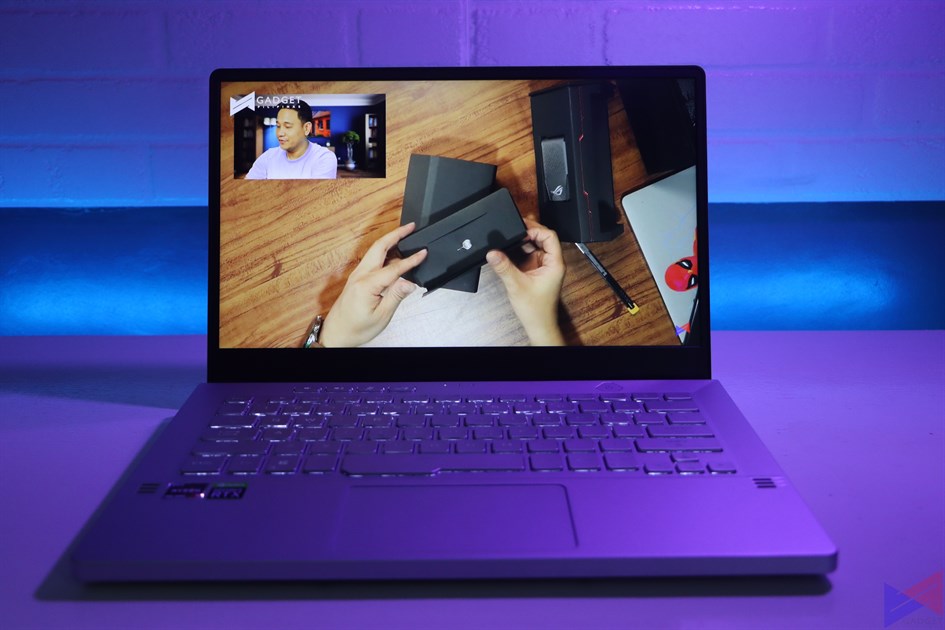 Unfortunately, I didn't have the color calibration tool to come out with a detailed analysis of the G14's screen, but I'd say it's bright enough, and colors are also punchy enough for just about any type of content – a game, a video, or just plainly browsing a website.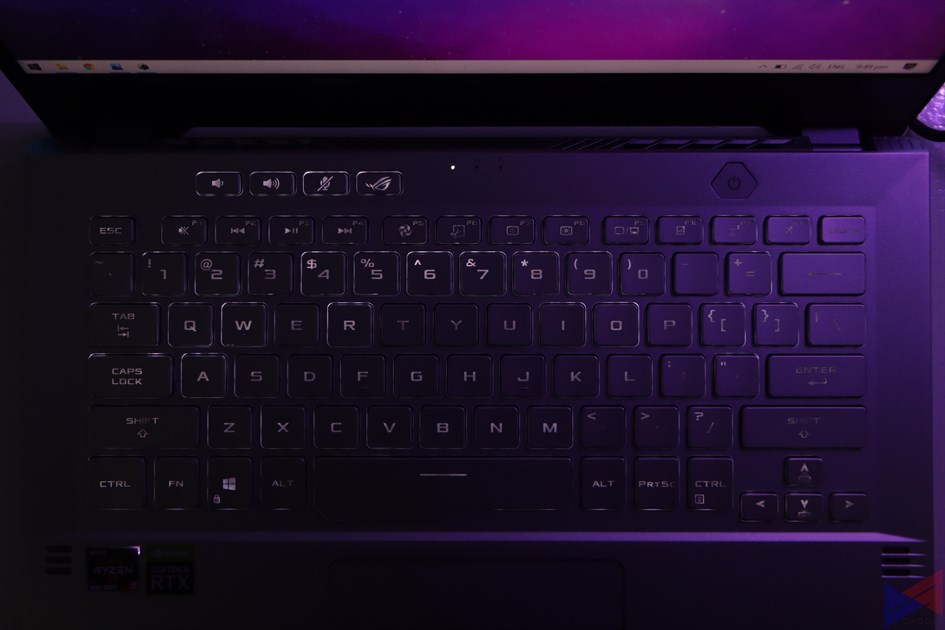 The keyboard is backlit, with five levels of brightness adjustment. The illumination isn't as even as I expected, which means some keys appear dimmer than others. The Power button also acts as a fingerprint scanner.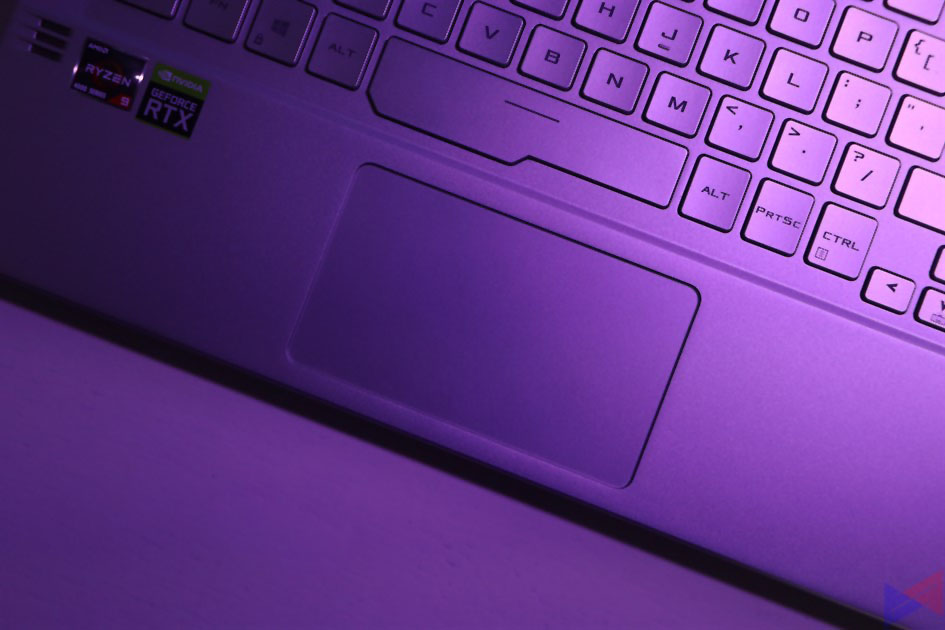 There's ample spacing between the keys and the typing experience is pretty decent, given that this isn't a mechanical keyboard. The only issue I have is that some of the keys would at times, require a bit more force than usual to respond, which I found to be quite an issue when gaming.
Instead of using its signature AAS (Active Aerodynamic System), ASUS opted to utilize the ErgoLift hinge mechanism not only to aid cooling but for a comfortable typing experience, as the keyboard becomes slightly raised and angled.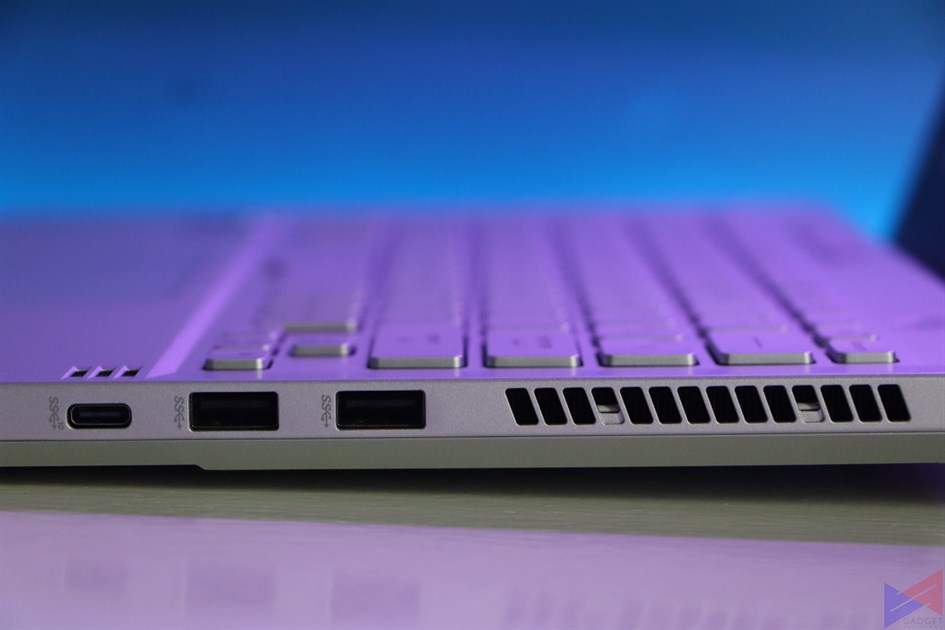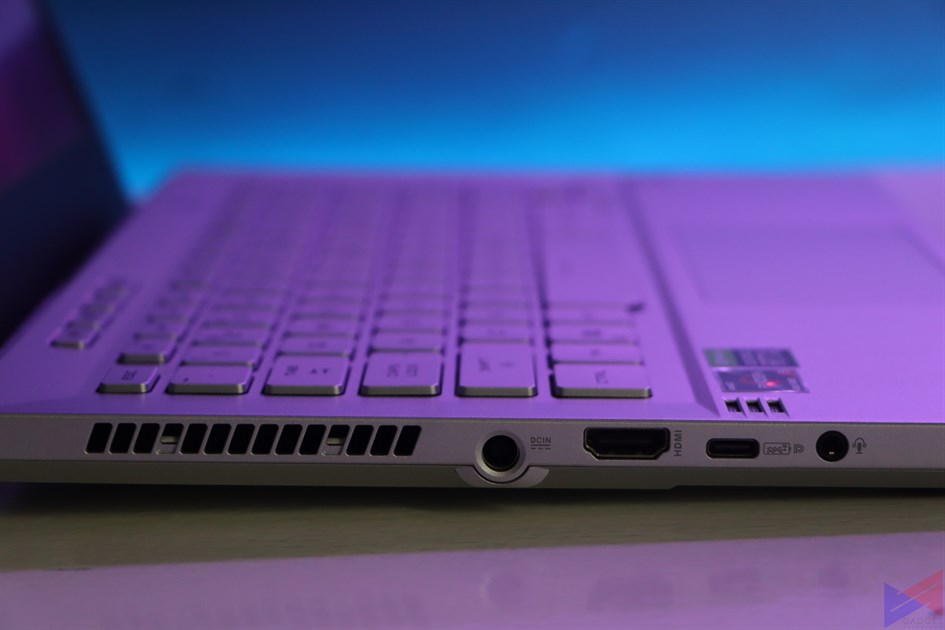 The G14 has two USB 3.2 Gen2 Type-C ports, one with DP 1.4 and Power Delivery, two USB 3.2 Gen1 Type-A ports, an HDMI 2.0b port, and a 3.5mm combo jack. Transferring files to or from an SD or MicroSD card? there's still no card reader, sadly.
For streaming, ASUS has also included a GC21 webcam in the box. The webcam can be set on top of the lid and can be adjusted at various angles. It connects to the notebook using a microUSB cable (also included).
The speakers on this notebook are some of the best I've listened to. There's no distortion even at the highest volume, the bass is present and is well-controlled, the vocals are well-emphasized, and the treble has enough sparkle without being piercing and harsh.
Performance – Synthetic Benchmarks and Rendering
The Zephyrus G14 runs on the AMD Ryzen 9 4900HS, a 7nm 8-Core 16-Thread processor built on the Renoir architecture. I personally run a 3rd Gen Ryzen CPU on my desktop, so It'll be very interesting as to how the latest mobile processors will fare.
You get 16GB of 3200MHz DDR4 RAM, which should be more than enough even for heavy multitasking. You can even have it upgraded to 32GB if needed. There's also 1TB of SSD storage, which should be enough for a number of games plus your music library, and your documents.
For graphics, there's an NVIDIA GeForce RTX 2060 Max-Q, which makes sense given that this only has a 1080p screen. I do wish they had a higher variant though.
3DMark
| | | | | | | |
| --- | --- | --- | --- | --- | --- | --- |
| | Run 1 | Run 2 | Run 3 | Run 4 | Run 5 | Average |
| Time Spy | 6004 | 5978 | 5996 | 6030 | 5997 | 6001 |
| Fire Strike | 14184 | 14088 | 14077 | 14055 | 14100 | 14100.8 |
| Port Royal | 3226 | 3249 | 3241 | 3235 | 3180 | 3226.2 |
In 3DMark's Time Spy and Fire Strike benchmarks, the Zephyrus G14 did fare quite well, besting around 40% of results for the former, and around 70% for the latter.
VEGAS Pro 17
Using VEGAS PRO 17, rendering an almost 5-minute video in 4K took around 8 minutes.
Performance – Gaming and Thermals
For the gaming benchmarks, I used FRAPS to determine frametimes and then FRAPS Bench Viewer to convert it into .1%, 1%, and average FPS. The closer the gap between the three, the better the gaming experience.
As for Shadow of the Tomb Raider, I couldn't get FRAPS to run properly in-game, so I just used the in-game benchmark to determine FPS values.



Gaming Performance Summary
The Zephyrus G14 was able to perform well in all the games I threw at it. It can even run some of the games at the highest graphics profile without any issues.
It does seem to struggle a bit with Project Cars, which is a very demanding game at max settings. Dialing down to a combination of High and Medium settings will deliver a better experience.
Ray-Tracing and DLSS take a heavy toll on performance, as shown in the Shadow of the Tomb Raider benchmarks. While I do like the better visuals, dialing Ray Traced Shadow Quality to Medium would be the better move.
Thermal Performance
With the Turbo profile selected via Armoury Crate, the Ryzen 9 4900HS peaked at around 99 Degrees Celsius when gaming. As for the RTX 2060 Max-Q, its temperature peaked at around 78 Degrees Celsius. Some parts of the keyboard felt very warm, but not to a point where I had to take my hands off.
Software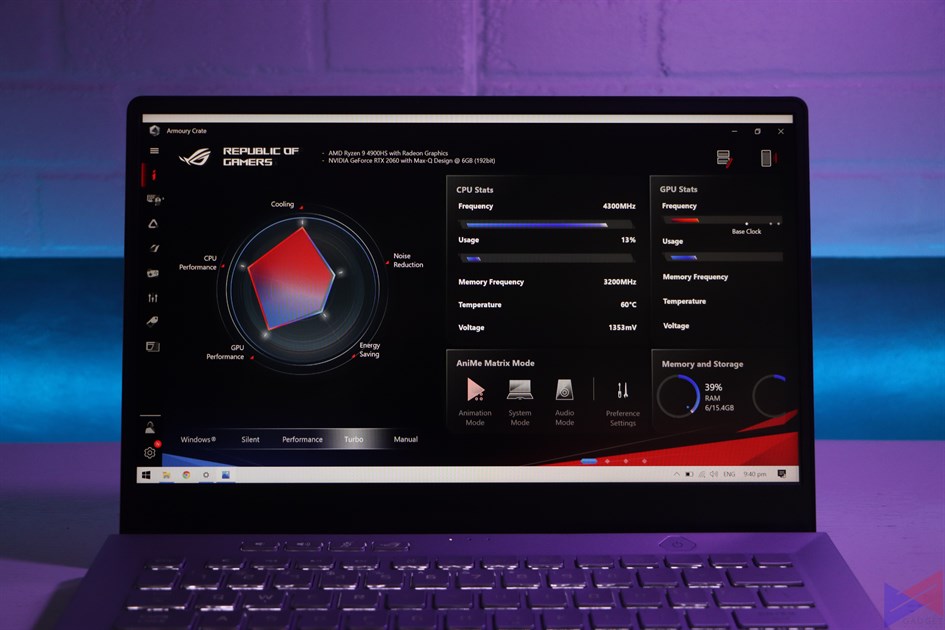 Armoury Crate is a central hub that allows you to do a ton of things – Set your performance profile, Setup Aura Sync for compatible devices, set your display profile using GameVisual, enable/disable the touchpad and Win Key, and of course, configure the AniMe Matrix.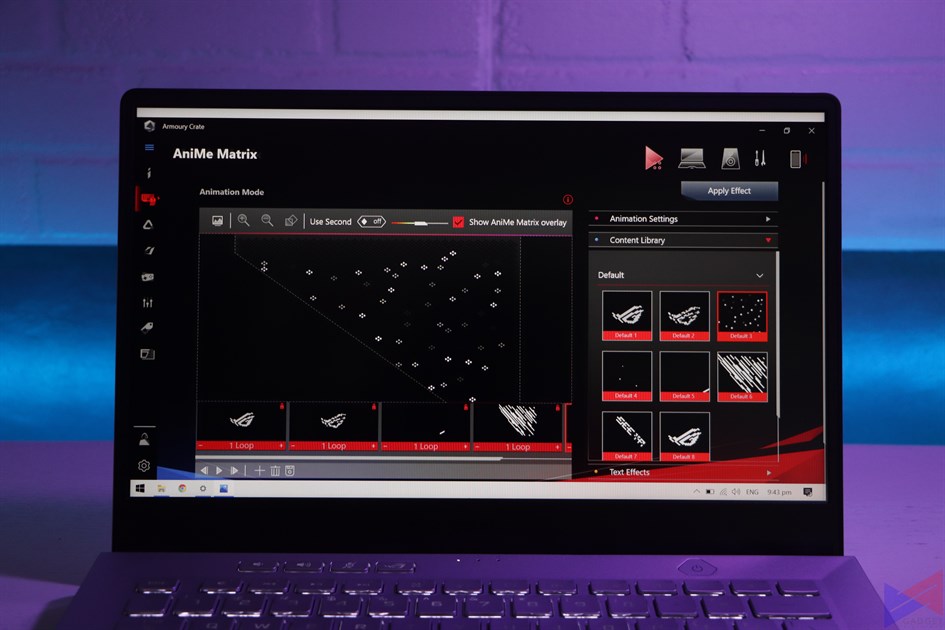 For the AniMe Matrix, you can basically choose from any of the pre-installed graphics with animations, you can choose a photo in your library, or you can also just set text. It's a fun way to personalize the device.
Oh, and if you want to, you can even set the lid to show you the time or even the battery percentage. You'll also be able to set it as a graphic visualizer for your music. The AniMe Matrix can remain active even when the lid is closed.
There are a few quirks and limitations – first, you can't apply an effect from the pre-loaded images to your custom image. Another is that what you see on the preview screen may be different from what it looks like on the lid. I also wished there were more text effects. The only effect available is text moving sideways.
Battery Life
PCMark's Creative 3.0 benchmark simulates various tasks done throughout the day – Web Browsing, Photo Editing, Video Editing, Gaming, Video Group chat, and more.

In this instance, the Zephyrus G14 yielded a score of almost 4 hours. I'd actually call this a decent score since the benchmark simulates resource-intensive tasks.
This value may greatly vary depending on what you're doing with the device. For example, if you're doing lighter tasks such as browsing the web, listening to music, or just watching videos, you're sure to get way more hours.
Just for comparison's sake, I'll be doing another battery test, but this time, I'll be using the laptop for a whole day, unplugged, and see how much uptime I'll get.
Verdict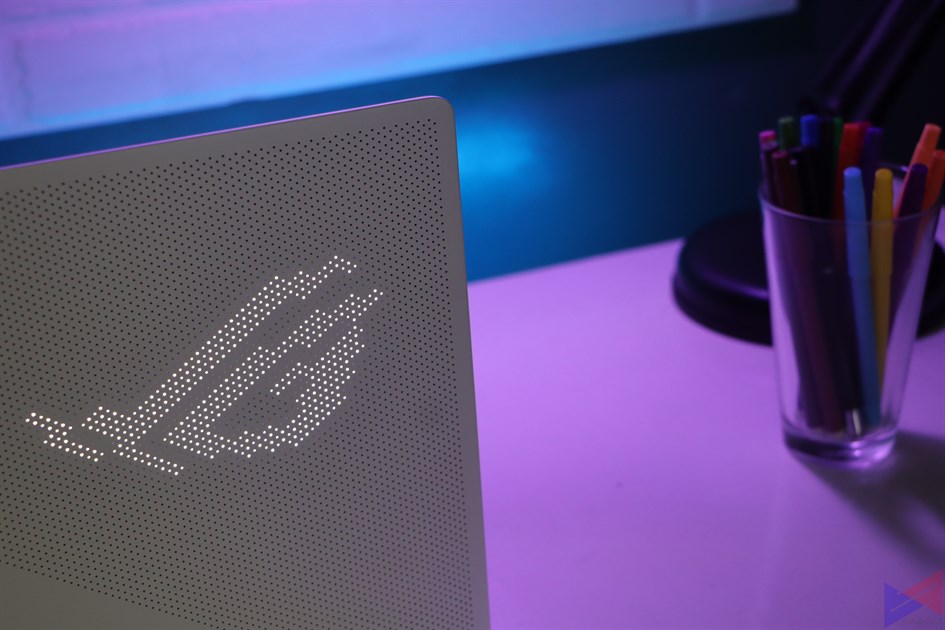 While primarily a gaming notebook, the Zephyrus G14 is also quite a powerhouse in terms of productivity. The Ryzen 9 4900HS it runs on is a very capable chip that can handle both creative and gaming workload brilliantly. I did wish there was a more powerful variant GPU-wise, as the RTX 2060 falls just a tiny bit short on some demanding games.
While the fact that they were able to achieve this level of performance and stability in a 14-inch compact form factor is already a great step forward, I do think that there's still a good amount of room for improvement – especially in terms of thermal performance.
Design-wise, I find the more minimal approach that they did is the way to go. It makes the notebook flexible in a way that you won't have problems bringing it from a meeting talking about graphs, charts, to a friend's house to kick some ass in-game.
The AniMe Matrix, its most eye-catching feature is a fun way to make the device a bit more personal. I just wished there were more options for customization.
In many ways, the Zephyrus G14 is a beastly machine dressed in a formal suit, ready to take on any mission – be it for a game, or for the daily grind.
Emman has been writing technical and feature articles since 2010. Prior to this, he became one of the instructors at Asia Pacific College in 2008, and eventually landed a job as Business Analyst and Technical Writer at Integrated Open Source Solutions for almost 3 years.