Introduction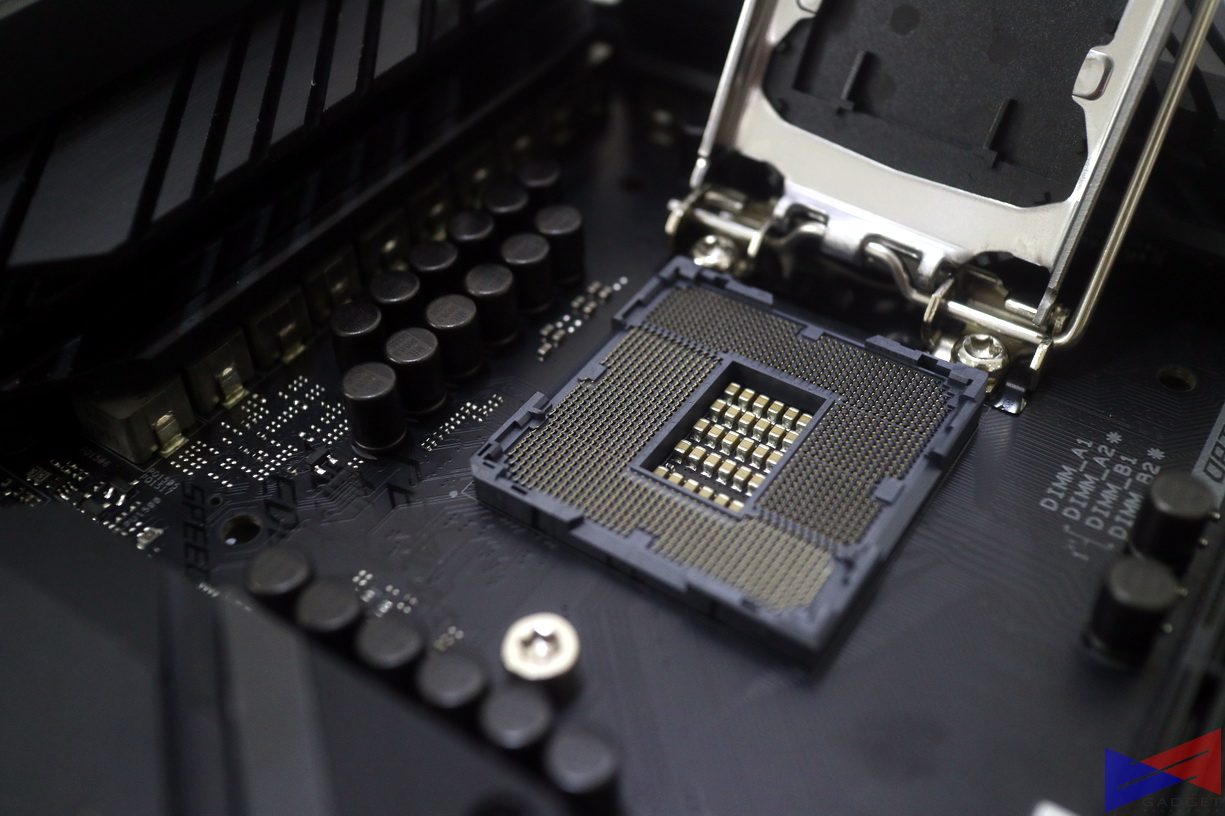 Intel's 10th generation processors are the most awaited release for the year as it is the company's response towards AMD's extremely popular Ryzen 4000 series based on the 7-nanometer process.  The launch of the new 10th generation processors marks that Intel doesn't want to easily give up its gaming crown as the brand also targets AMD's position in productivity by adding more cores to its mainstream desktop lineup. While many consumers are upset about the Intel's 10th-gen processors still being produced under the 14nm lithography, Intel surely did invest in R&D to refine the 14nm process for their CPUs to keep up with the competition. PC Enthusiasts are riled up as the market gets competitive again which means better pricing and more options for consumers.
The new Intel 10th-gen Comet Lake processors use the LGA 1200 socket, thus requiring a new generation of motherboards. The first wave of motherboards supporting the LGA 1200 socket uses Intel's Z490 chipset which is the successor of the Z390 chipset. Let's discuss what's new with the Z490 chipset in the form of the ASUS ROG Strix Z490-E Gaming motherboard as well as ASUS' own improvements to make this motherboard a decent pair for your Intel 10th Gen CPU.
Intel 10th Gen Comet Lake-S Overview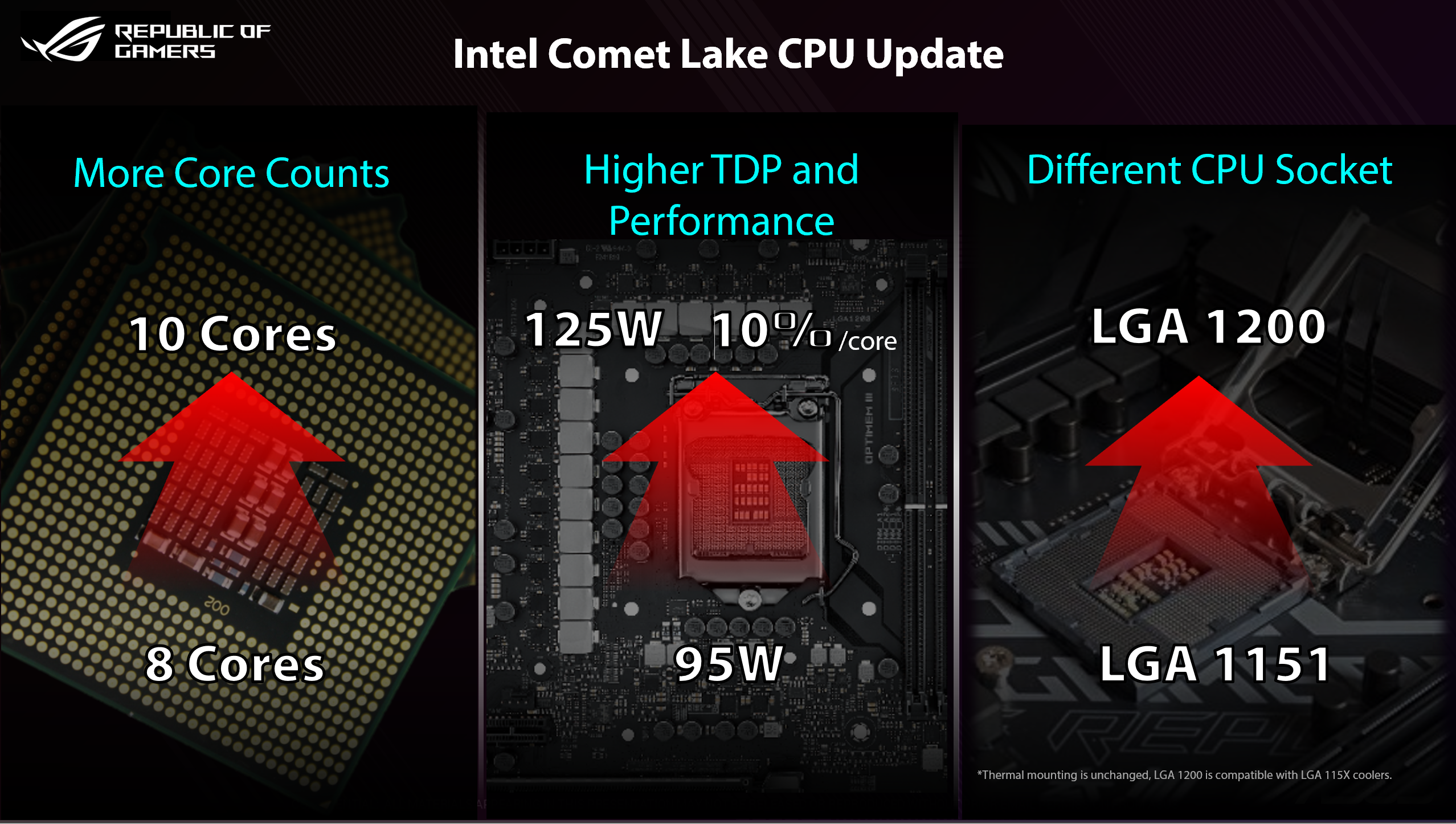 There's not much to see underneath Intel's 10th generation processors as it still sports a 14nm++++ process which has been around since Intel 6th gen Skylake. This time around, Intel launched a variety of SKUs for its Core series starting from $122 with the i3-10100 to the flagship i9-10900k at $488. Additionally, all CPUs under the core series now have hyperthreading regardless of pricing and tiering. Previously, only i7 processors had hyperthreading but the competition brought upon by AMD's Ryzen processor forced Intel to give more value for its processors.
There are seventeen SKUs available at launch with most models having an "F" version. The letter F next to the processor number means that that particular CPU doesn't have the built-in integrated graphics. These processors are $15 cheaper on average compared to their non-F counterparts, K-series or overclockable chipsets included.
Intel has aggressively beefed up its line up by adding more cores and effectively enabling hyperthreading across its product stacks. Core i3 CPUs run now have 4-cores/8-threads but are not overclockable. The i5 processors' sport a 6-core/12-thread setup with two K-SKUs ready for overclocking, one of which has no integrated graphics. All Core i7 SKUs are multithreaded octa-core CPUs while the flagship Intel Core i9 Series has a 10-core/20-thread setup. The additional core count offered by AMD reflects AMD's aggressive multicore approach which has been team red's highlight even before Ryzen. Intel's 10th-gen 10-core i9 CPUs still lags behind in the mainstream line as AMD offers a twelve and sixteen core processor. However, the other SKUs match the competitors offering in terms of core count, particularly those below the $350 mark.
Intel 10th Gen Core i3, i5, i7 & i9
SKU
Cores / Threads
Base Clock
Turbo Boost 2.0
Turbo Boost Max 3.0
All Core Turbo
Thermal Velocity Boost/All Core
TDP
SRP
(USD)
i9-10900K
10C/20T
3.7 GHz
5.1 GHz
5.2 GHz
4.8 GHz
5.3/4.9 GHz
125W
$488
i9-10900KF
10C/20T
3.7 GHz
5.1 GHz
5.2 GHz
4.8 GHz
5.3/4.9 GHz
125W
$472
i9-10900
10C/20T
2.8 GHz
5.0 GHz
5.1 GHz
4.5 GHz
5.2/4.6 GHz
65W
$439
i9-10900F
10C/20T
2.8 GHz
5.0 GHz
5.1 GHz
4.5 GHz
5.2/4.6 GHz
65W
$422
i7-10700K
8C/16T
3.8 GHz
5.0 GHz
5.1 GHz
4.7 GHz
125W
$374
i7-10700KF
8C/16T
3.8 GHz
5.0 GHz
5.1 GHz
4.7 GHz
125W
$349
i7-10700
8C/16T
2.9 GHz
4.7 GHz
4.8 GHz
4.6 GHz
65W
$323
i7-10700F
8C/16T
2.9 GHz
4.7 GHz
4.8 GHz
4.6 GHz
65W
$298
i5-10600K
6C/12T
4.1 GHz
4.8 GHz
4.5 GHz
125W
$262
i5-10600KF
6C/12T
4.1 GHz
4.8 GHz
4.5 GHz
125W
$237
i5-10600
6C/12T
3.3 GHz
4.8 GHz
4.4 GHz
65W
$213
i5-10500
6C/12T
3.1 GHz
4.5 GHz
4.2 GHz
65W
$192
i5-10400
6C/12T
2.9 GHz
4.3 GHz
4.0 GHz
65W
$182
i5-10400F
6C/12T
2.9 GHz
4.3 GHz
4.0 GHz
65W
$157
i3-10320
4C/8T
3.8 GHz
4.6 GHz
4.4 GHz
65W
$154
i3-10300
4C/8T
3.7 GHz
4.4 GHz
4.2 GHz
65W
$143
i3-10100
4C/8T
3.6 GHz
4.3 GHz
4.1 GHz
65W
$122
The spec sheet shows Intel's Turbo Boost Max 3.0 technology as well as Thermal Velocity Boost, which are the highlights of Intel's 10th generation Comet Lake processors. Turbo Boost Max 3.0 is present for a long time but was mostly found on HEDT processors that required driver and software downloads to enable it. Turbo Boost Max 3.0 selects the two fastest cores of a processor and assigns single or multi-threaded workloads to them. Depending on the processor, Turbo Boost Max 3.0 is faster than Thermal Velocity Boost.
Thermal Velocity Boost was first introduced in Intel Coffee Lake H mobile processors and is now carried over to Intel's 10th gen desktop line, albeit as an exclusive feature of the 10th-gen Core i9 series. Thermal Velocity Boost is a similar and simpler feature of Nvidia's GPU boost and AMD's Precision Boost 2. Simpler meaning that it doesn't have a smart scaling that depends on silicon lottery. TVB enables a processor to achieve a higher boost clock than Max Turbo Boost for a short period of time or so long as you the processor's temperature doesn't go over 70° celsius. That is if the processor is within Power Limit 2 and under TAU. TAU is Intel's timing variable which tells a processor how long it should be on PL2 mode before dropping to PL1.
Intel Z490 Chipset Overview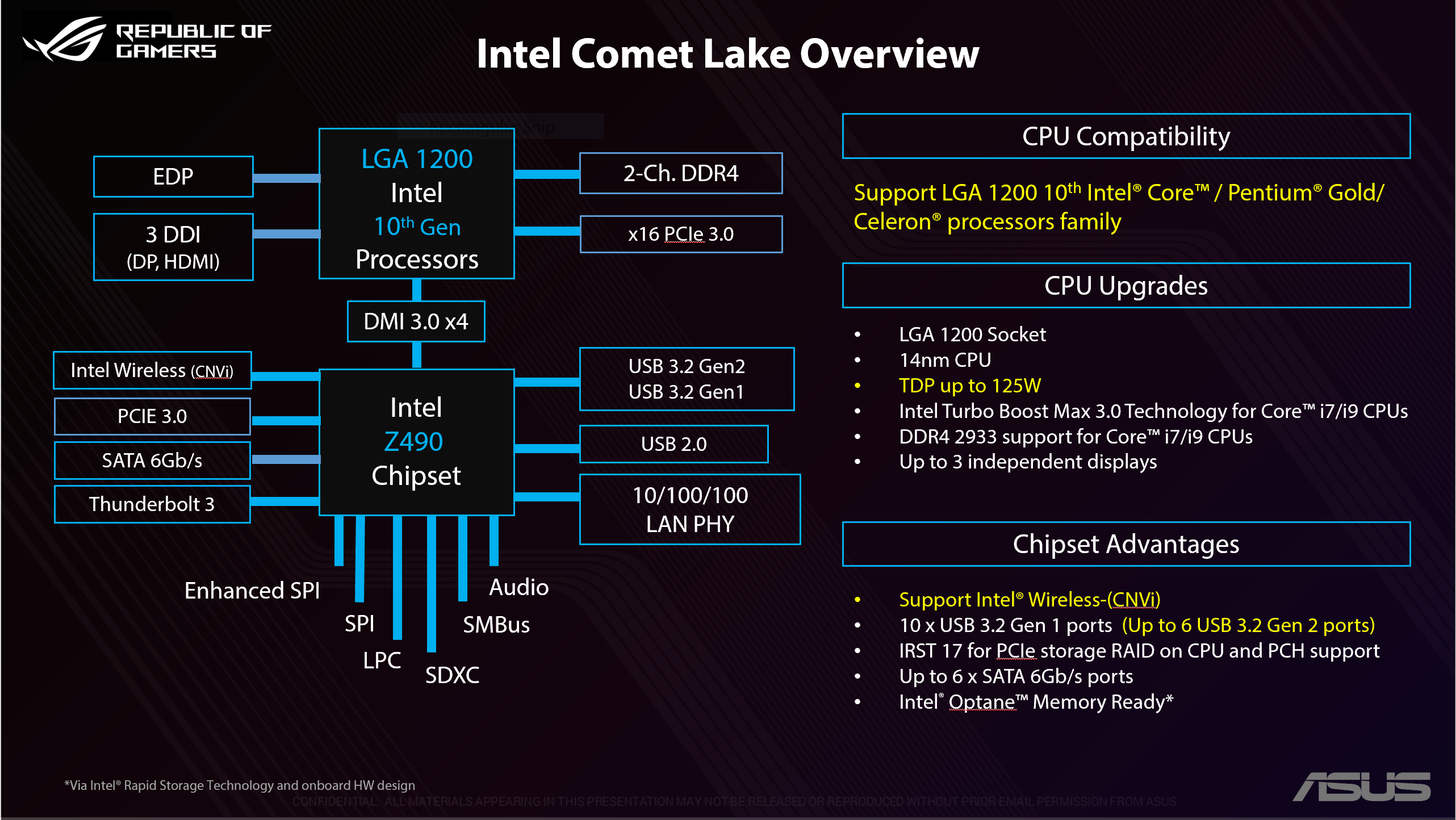 Intel's continuous tuning on the 14nanometer lithography requires a newer chipset to properly take advantage of the refinement. Their socket-chipset refresh has been controversial especially with LGA1151 in regards to the pin arrangement. The new Intel 10th gen comet lake processors require an LGA 1200 socket thus the need for new motherboards using the Z490 chipset with cheaper B460 and H110 options available at a later date. Like its predecessors, LGA 1200 gets its name by the total number of pins used to connect the processor and the motherboard. Meaning there's no backwards compatibility with previous generation processors and motherboards.
Specs-wise there Z490 chipset shares the same technologies with the previous Z390 with some exceptions. USB ports have increased bandwidth with up to six USB 3.2 Gen 2 providing 10GB/s speed and up to 10 USB 3.2 Gen1x1 5GB/s ports. Networking is a major improvement for the Z490 as the chipset has an integrated Wi-Fi 6 AX201 wireless module for faster network connectivity. Moreover, memory speed for the Z490 chipset is increased to 2,933 Mhz compared to the previous 2,666Mhz support on Z390 and Z370 boards. Unfortunately, there's still no PCI-E Gen 4 support for Intel 10th gen.
One feature that the Z490 chipset has but is not listed n the spec sheet is the ability to turn hyperthreading on or off on a specific or a set of cores which was not possible in previous generations. While it seems like a novelty feature, having the ability to enable or disable hyperthreading on a single core is beneficial in terms of performance and efficiency especially for enthusiasts. There are apps that don't scale or perform well after a certain thread or core count which gives diminishing results. It is the same reason why Intel invested in higher clock speeds rather than core count until recently.
ASUS ROG Strix Z490-E Unboxing and First Impressions
The ROG Strix Z490-E Gaming is wrapped in typical ROG Strix fashion with the RGB Strix logo on the left side. This time around, the box is in landscape orientation that reveals the motherboard in a portrait format.  The backside highlights the specs and features of the motherboard. Asus has done a good job maximizing the visuals and description on the box side of the motherboard.
User's manual
1 x ASUS Fan Holder
4 x SATA 6Gb/s cables
1 x Supporting DVD
1 x MOS Cooling kit (fan bracket and 40mm x 40mm fan)
 x ROG Strix stickers
1 x Cable ties pack
1 x Extension Cable for RGB strips (80 cm)
1 x Extension cable for Addressable LED
1 x Thermistor cable
1 x ROG Thank you card
1 x 2-in-1 Rubber pad
1 x Wi-Fi moving antenna
1 M.2 SSD screw package
1 ROG key chain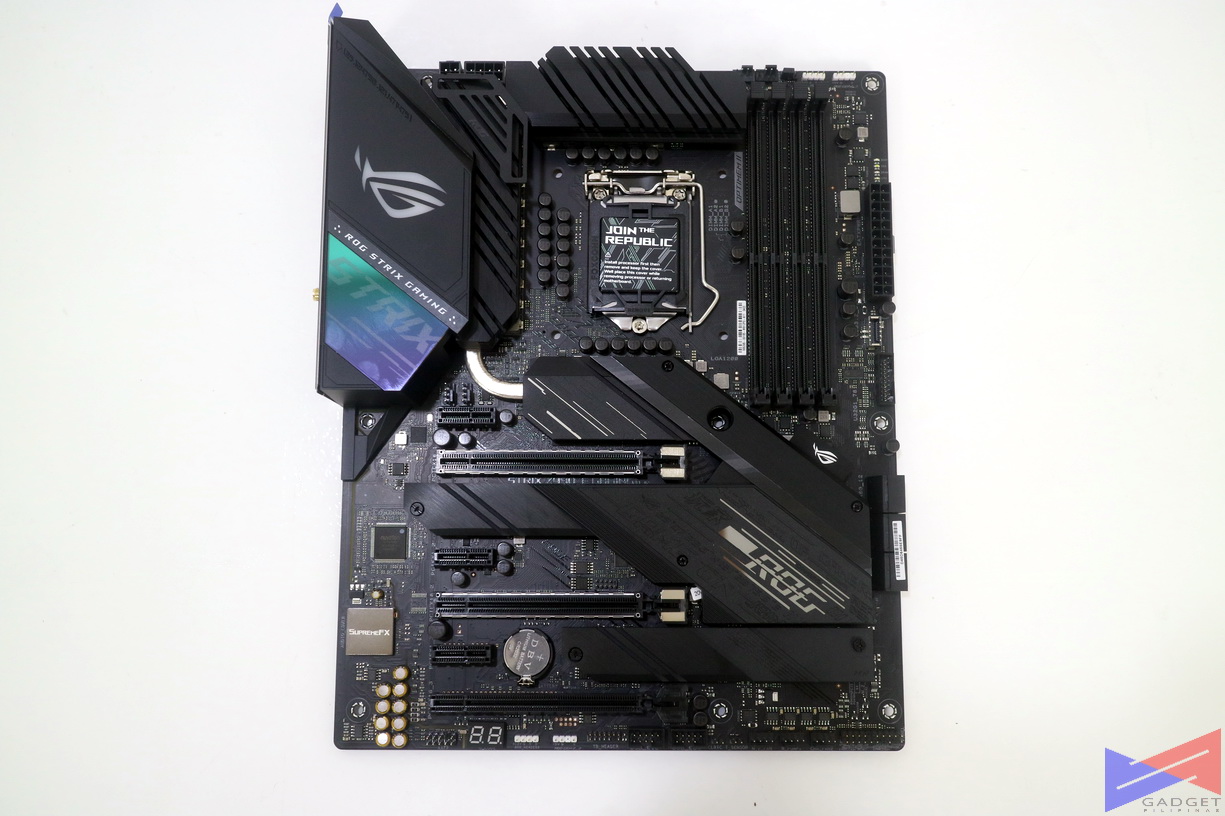 Design-wise, the ROG Strix Z490-E Gaming maintains the signature cyberpunk dystopian theme. The main visual improvement over the previous generation is the markings near the VRM IO shield and the Z490 chipset. It's a cleaner design that gives a more premium appeal to the motherboard.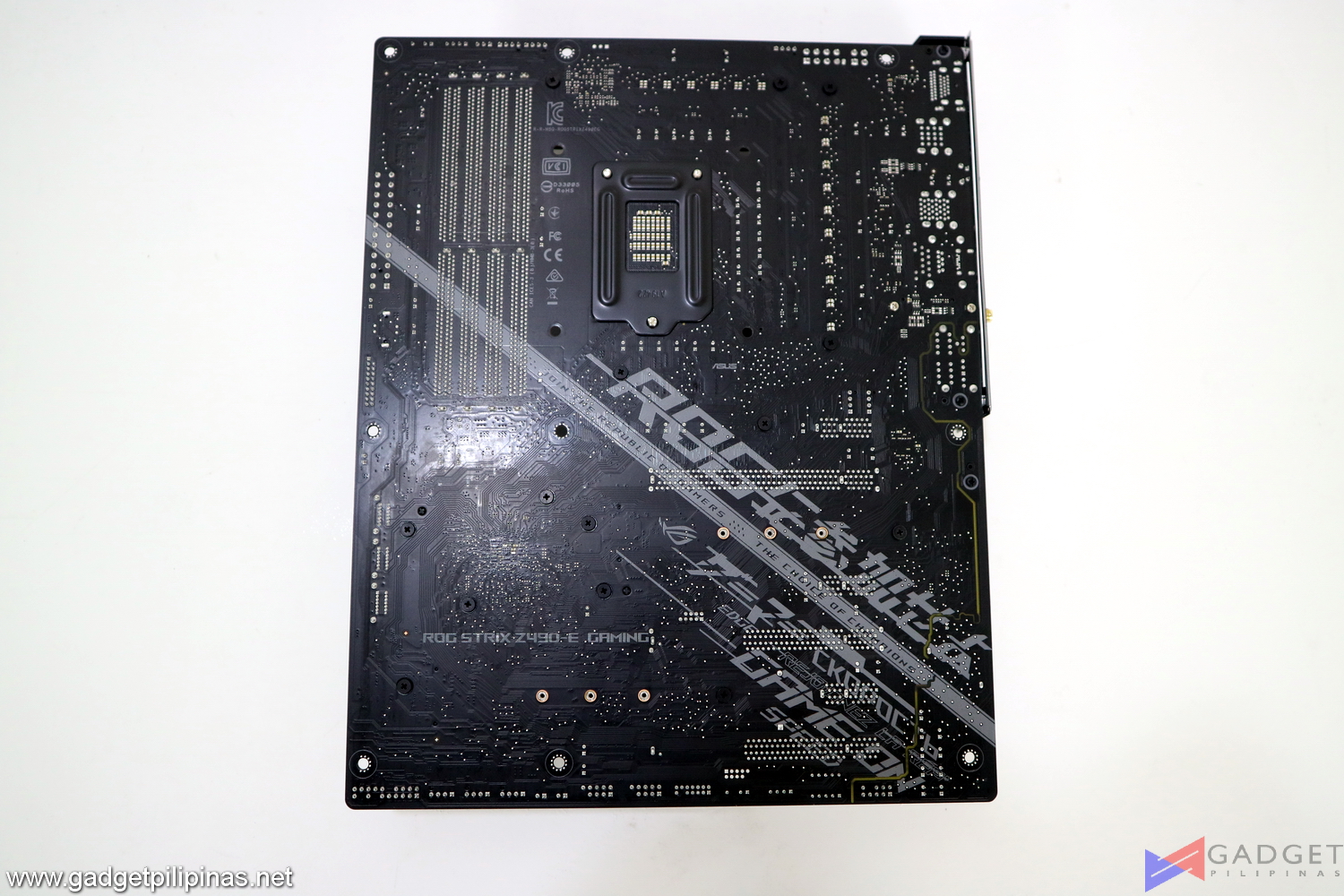 ASUS went the extra mile in designing the back of the PCB with its signature ROG cybertext. All Asus Z490 motherboards have six PCB layers with 2oz copper. Having this much thickness makes the motherboards sturdy aside from the beefy VRM heatsinks that greatly contribute to its weight.
ASUS enforced all of its power connectors with solid-core pins to ensure secure contact with PSU cables. It also prevents hotspots by providing efficient heat dissipation increasing its overall reliability.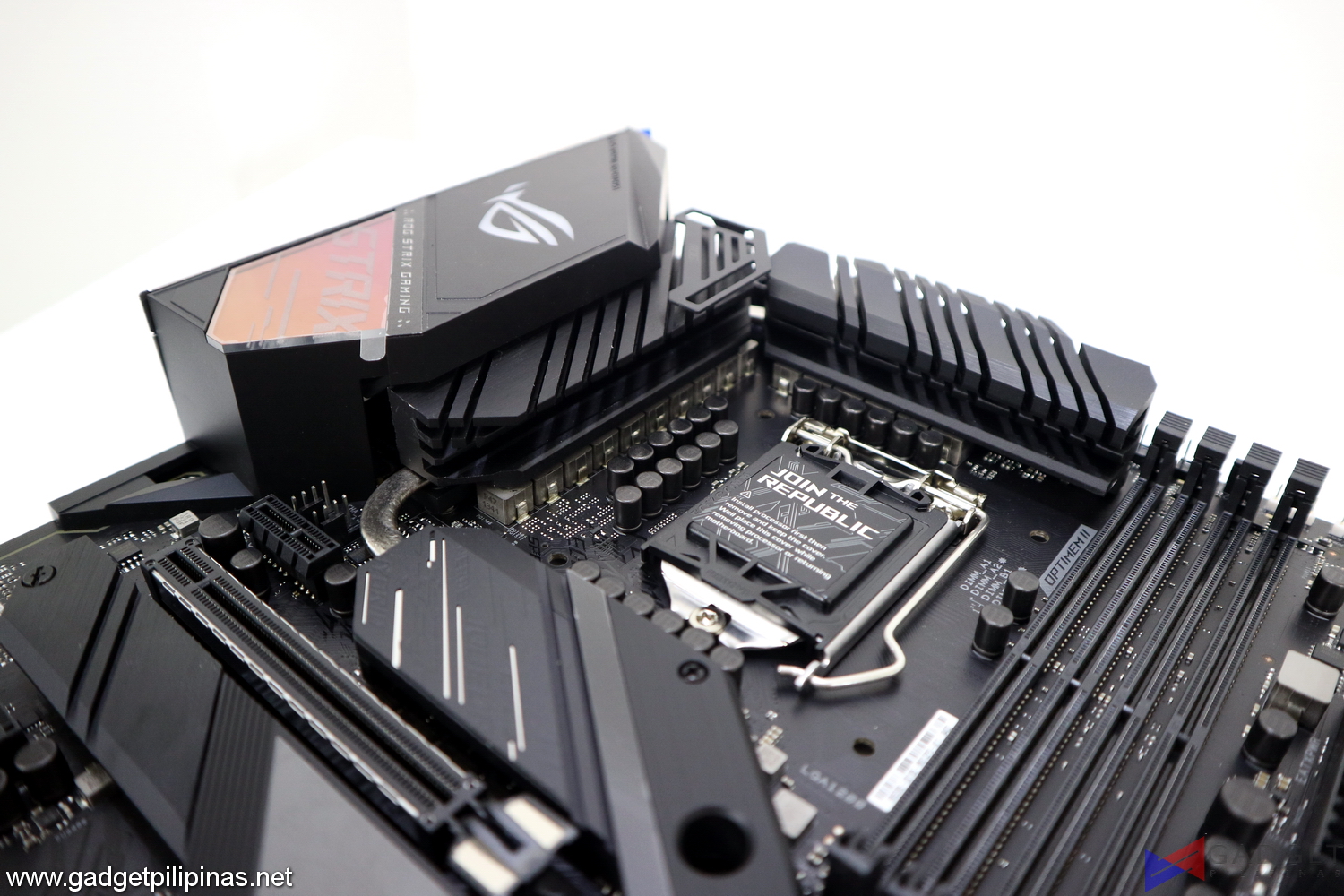 ASUS uses teamed power architecture for all of its ROG motherboards instead of using the conventional doubler VRM setup. A doubler halves the power that enters the VRM for a lighter load but sacrifices in voltage quality caused by the higher transient response. A themed power architecture, on the other hand, doesn't half the power for better CPU stability during heavy workloads or overclocking.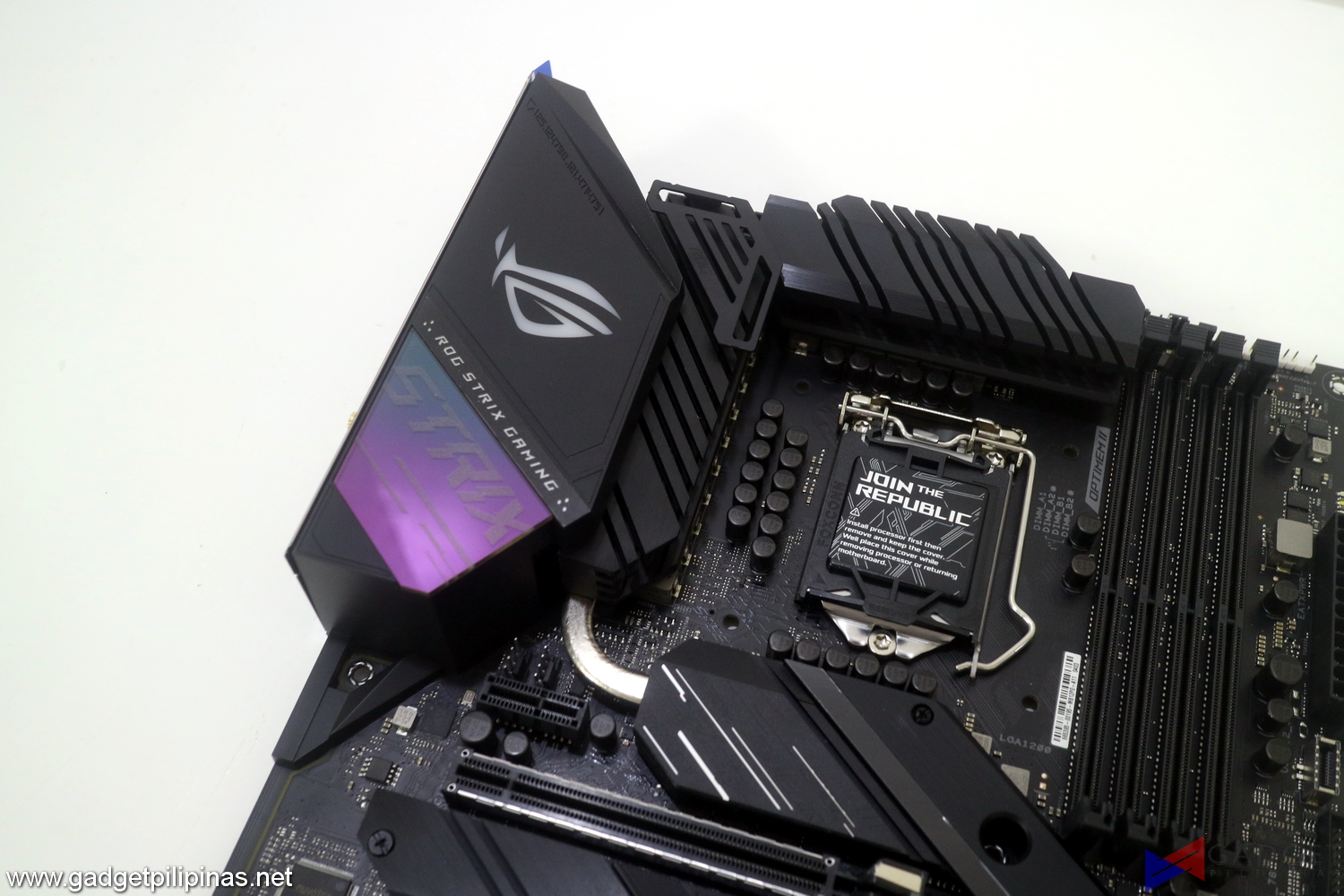 Being a Strix-E board, the ROG Z490-E Strix uses a 14+2 power stage design delivering power, 2 more power stages compared to the rest of the Strix product stack. Vishay SIC654 power stages run in parallel aka in teamed configuration for efficient power-handling without the need of doublers. The "U" shaped or "C" shaped heatsink and copper setup reminisce us of the northbridge and southbridge days of Intel's 4th gen CPUs.  The Extended MOS and VRM heatsink provide faster heat transfer for better performance and wattage resistance.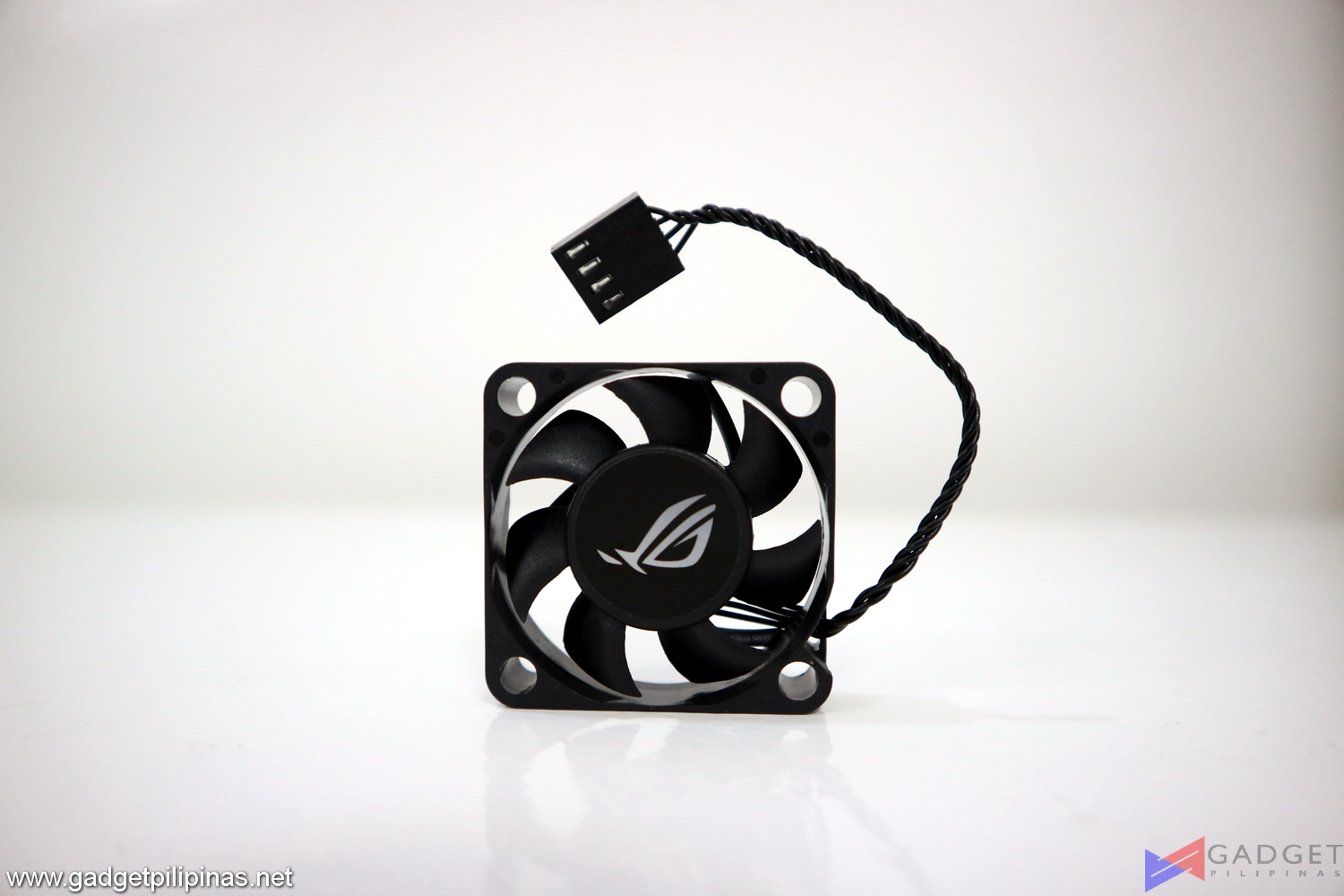 ASUS ROG included a MOS fan and bracket giving the user an option to mount it on the VRM and cool it actively. The MOS fan has a standard 40mm size and can be swapped out for aftermarket solutions.
Z490 motherboards support DDR4-2933 memory out of the box but the Strix Z490-E supports up to 4,800Mhz OC. Support for high-frequency memory is possible thanks to Optimem II and ASUS using Daisy Chain trace design instead of T-Topology. A Daisy Chain trace design is able to achieve a higher peak frequency by reducing signal and reflection as it enhances compatibility, performance, and the overclocking margin of one DIMM per margin.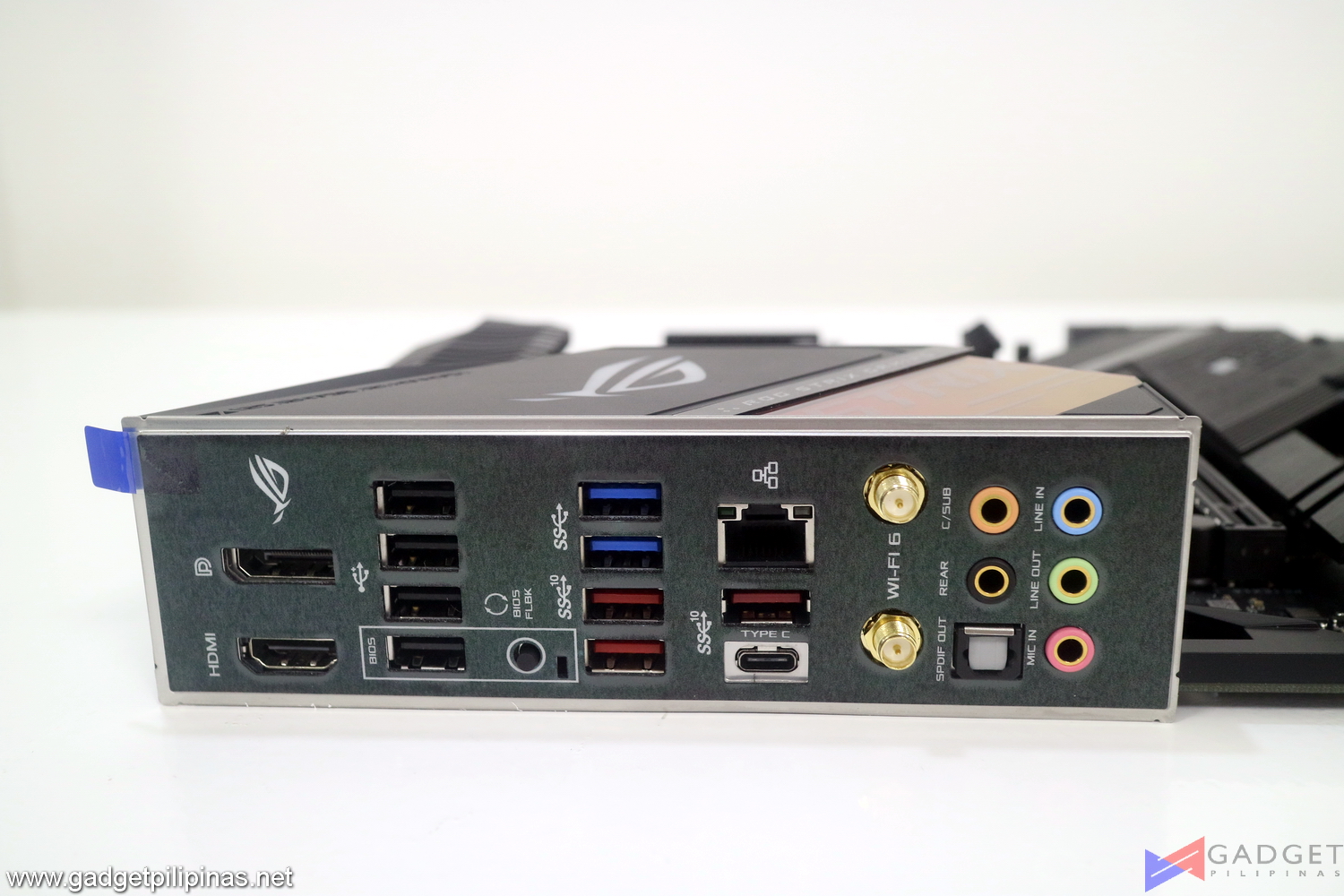 Intel's Z490 chipset supports a robust amount of USB ports with more bandwidth compared to both Z390 and Z370. There are four USB 3.2 Gen 2 ports with 10Gbps bandwidth, one of which is a Type-C port. Two USB 3.2 Gen 1 ports are also included with four more USB 2.0 ports. One USB 2.0 port is dedicated for BIOS update which is located beside the very convenient BIOS FlashBack button. Apart from the standard video outputs and gold plated audio jacks, there's also a Wi-Fi module for the built-in Intel Wi-Fi 6 AX201 receiver. You can click this text to watch our WiFi-6 discussion video.
It's nice to see ASUS ROG permanently sticking to pre-mounted I/O shields.
The ROG Strix Z490-E Gaming Motherboard offers three PCIE Gen3 x16 slots with the first two slots reinforced by steel and supports Nvidia SLI and AMD Crossfire multi-GPU technology. There are also three PCIE Gen3 x1 slots.
As for internal storage, the ROG Strix motherboard supports six SATA 6Gb/s ports that are angled at 90degress for easier connectivity. Additionally, it has two M.2 slots that both support PCIE 3.0 x4 SSDs. The first M.2 slot supports SATA based M.2 SSDs as well. The first M.2 slot is no longer positioned before the first PCIE Gen3 x16 slot and is now after the x16 slot. Its placement can cause a thermal issue as the SSD will be blocked physically regardless of what GPU you will install.
Accessing the first M.2 slot is very troublesome as the user is required to remove the Z490 chipset shroud first to access the necessary M.2 screw. Not to mention the hassle of removing the GPU to physically access the SSD plugged into the first slot for troubleshooting. Both M.2 slots' covers act as a heatsink for your M.2 SSDs. This problem is not new on the ASUS Strix Z490-E Gaming, we hope to this problem addressed on future motherboard releases.
AI Features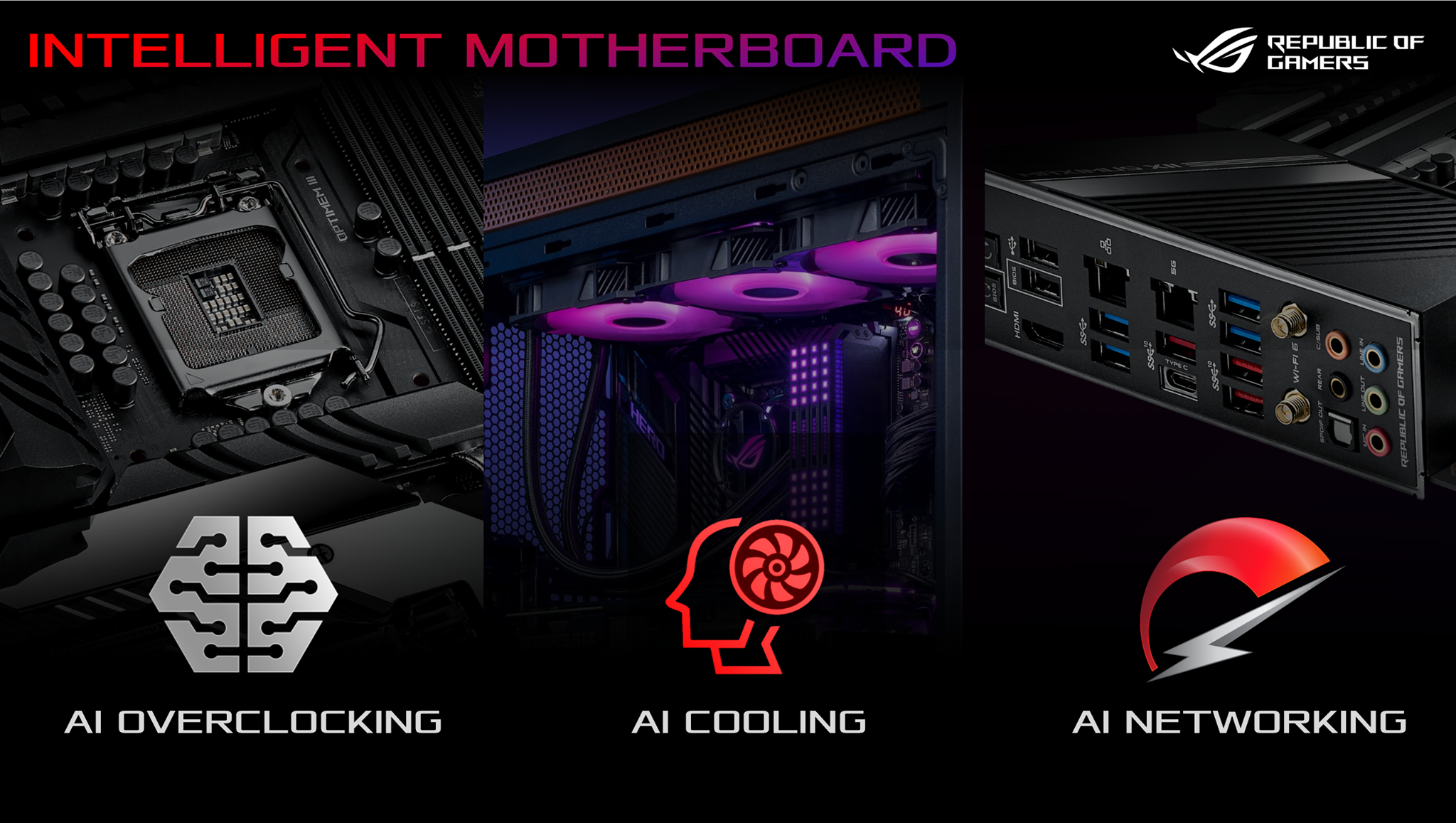 Software improvements also come alongside the hardware tweaks we've seen so far. These improvements make the ASUS ROG Strix Z490-E Gaming Motherboard an "intelligent motherboard" thanks to AI-driven features. These features are available across the ROG Strix Z490 motherboard line.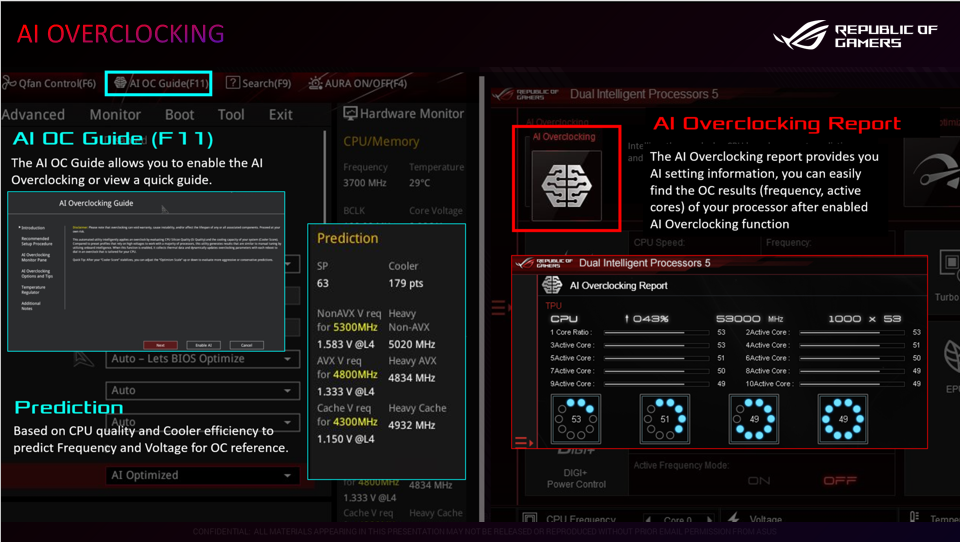 Asus has improved the motherboard's AI overclocking capability by being able to recognize CPU potential and cooling capacity to predict the best overclocking setting. Gone are the days of AI software applying too much voltage with only a small incremental bump in clock speed.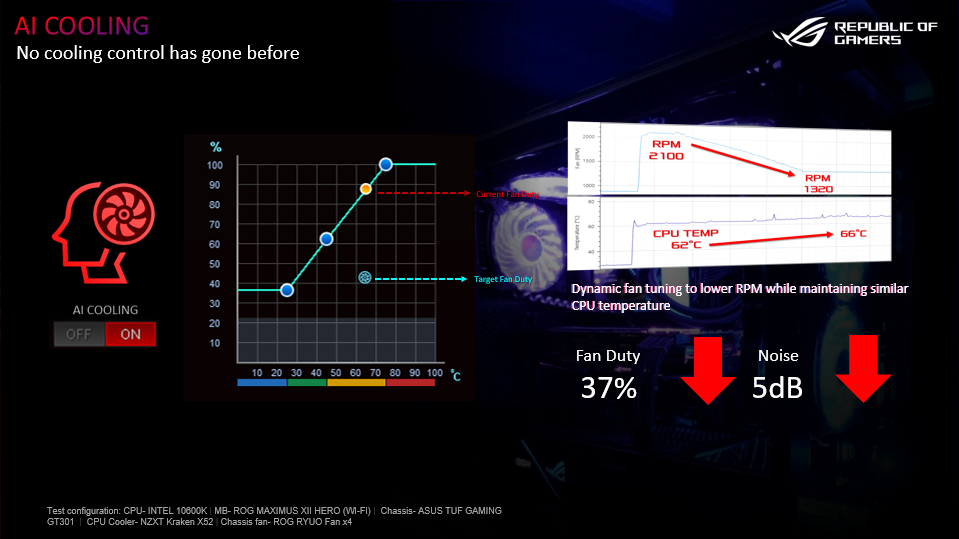 ASUS also tweaked its Asus fan control feature by reducing its aggressiveness in applying a certain fan speed levels to maintain a good balance of fan noise and temperatures. The AI software is now able to decrease fan speed sacrificing only around 2-5degrees celsius but gaining a more acceptable noise level and fan workload.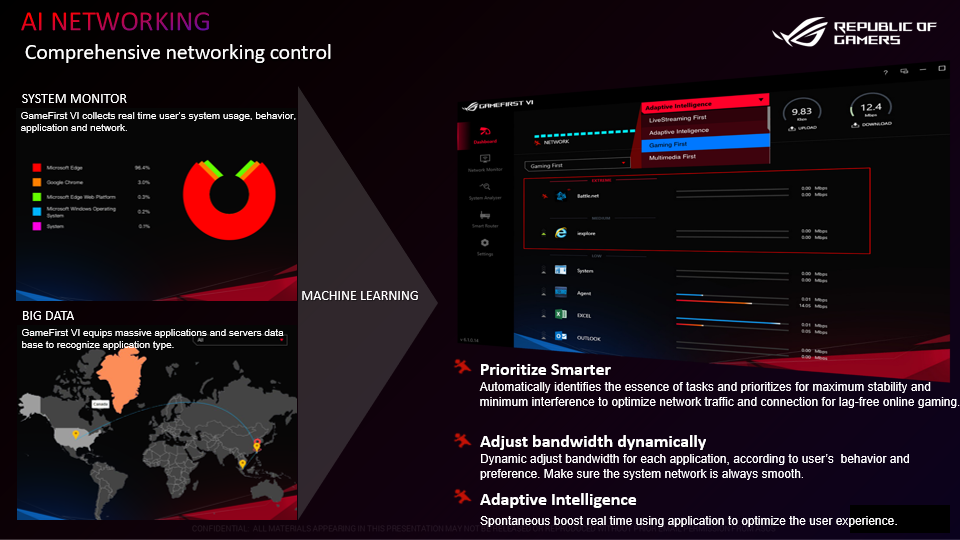 GameFirst VI now includes AI-driven features as well. The previous GameFirst V software allocates bandwidth equally regardless of the type of video you're watching whereas GF VI will automatically allocate more bandwidth to movies and lesser bandwidth to news and short videos.
Conclusion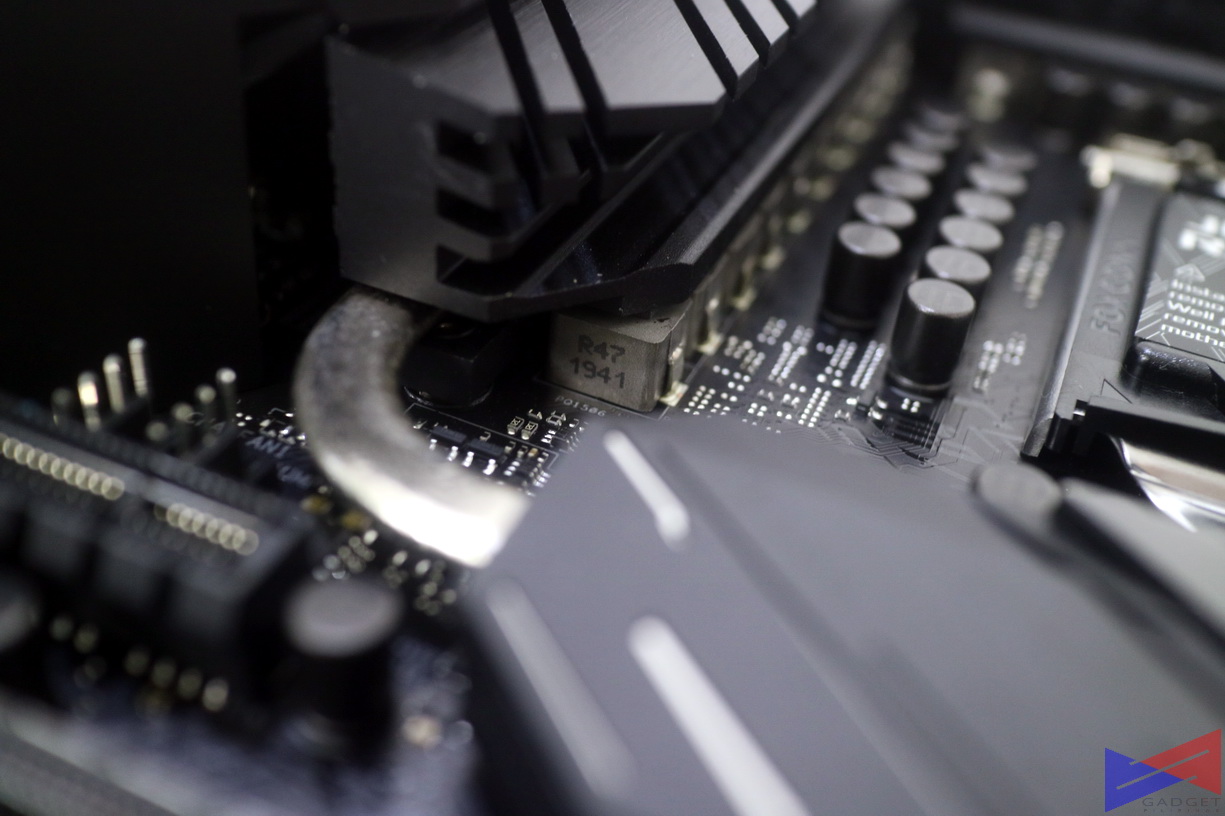 The ASUS ROG Strix Z490-E Gaming motherboard is a feature-packed motherboard that prioritizes on providing the best possible performance and build quality for its price of Php 16,640. Extra, over the top features such as the AI implementation, Q code, supremeFX audio, robust port selection, and stylish design guarantees that you're not missing out on top-tier features. It doesn't have any feature that stands out from its price bracket, but its well-rounded feature guarantees to maximize the potential of any 10th-gen processor you plug it with.
We can't wait to get our hands on a 10th gen CPU to test the Z490-E and extract numbers to further solidify our initial impressions of the ROG Strix Z490-E Gaming.