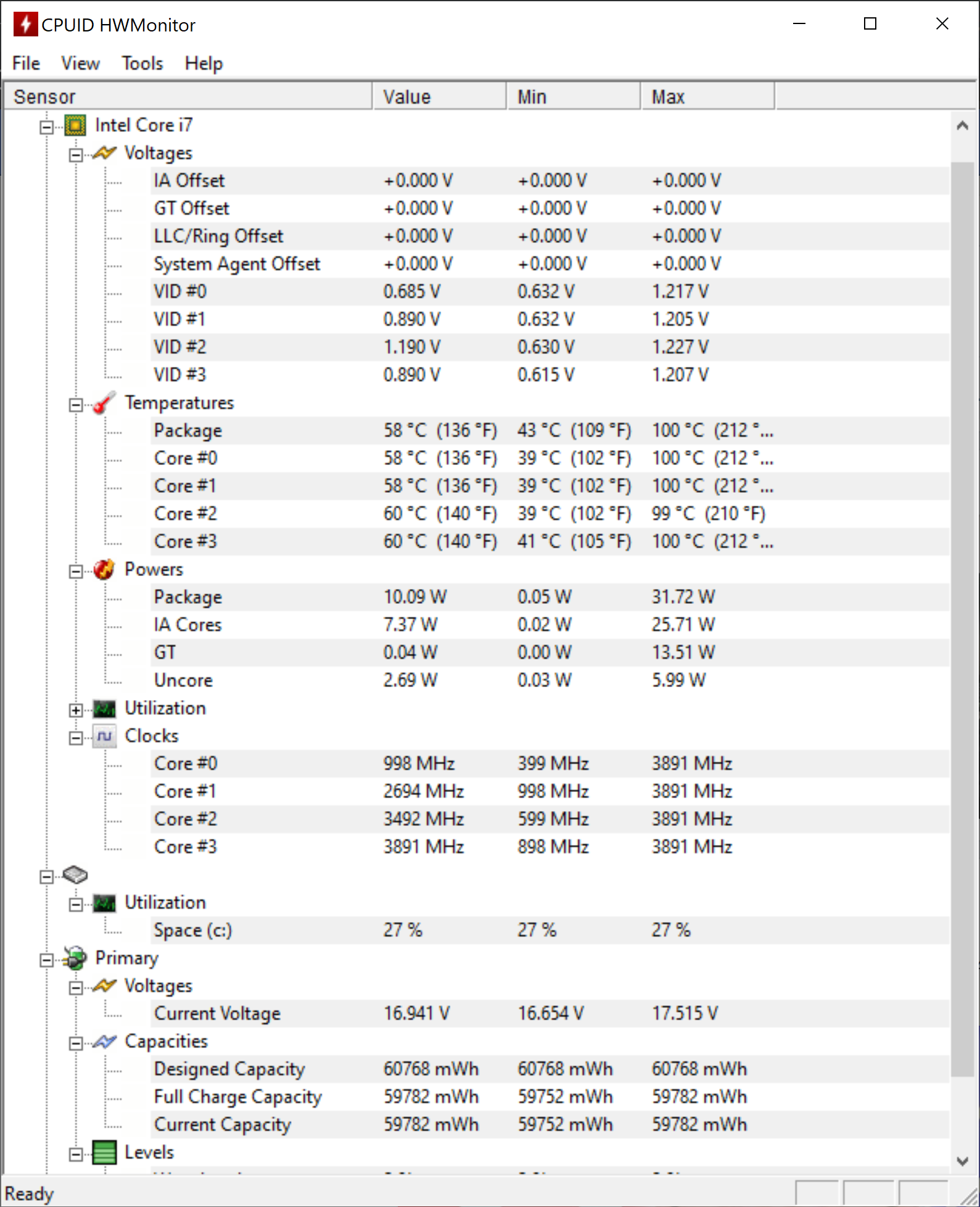 It's impressive that the Core i7-1065G7 boosts up to 3.9Ghz but the HP Spectre X360's cooling can't keep up. CPU temps easily reach the 100-degree TJMax and sit at 39-degrees on idle. However, the HP Spectre X360 is a silent laptop and doesn't sound like a jet-engine on extreme workloads. If HP allows a more aggressive fan profile, then the 1065G7 could do tasks with ease.
Powering HP's premium ultrabook is a 60Wh battery. HP manages to get away with this thanks to the power-efficient Intel 10th-gen Icelake CPU. The 4K OLED panel sounds power-hungry, but it also saves some battery whenever it displays black or dark colors as the pixels are able to completely turn off for better contrast. Charging the ultrabook is also impressive as I am able to get a 50% charge in 30-minutes. Moreover, spending my time with the HP Spectre X360 on regular workloads lands the device at around 8-10hours of battery life. This is without any keyboard backlighting and the display's brightness is only at 50% with the battery slider at better battery.
HP Spectre X360 2020 Review – Setting The Gold Standard
The Gold Standard
Priced at Php 109,990 for our specific review unit, the HP Spectre X360 is definitely an expensive ultrabook. But considering that other manufacturers charge a way higher price for a portion of the feature set that the HP Spectre X360 offers, it is definitely a bargain. Its flaws are easy to overlook as it is heavily outweighed by the benefits and how fun it is to use. The HP Spectre X360 is an easy recommendation for business professionals, digital artists, and enthusiasts wanting a near-perfect ultrabook experience. It is also a great MacBook alternative as it goes head to head in terms of keyboard and screen, which is the MacBook's greatest features. It is a laptop worthy to be called a premium ultrabook as it sets the standard and highlights the must-have qualities of an ultrabook.
What's Good
4K Touchscreen AMOLED Display
One of the best keyboards on a laptop
Decent speakers
Ports and Connectivity
Battery Life
Premium Build Quality & Design
What's Not
Slightly heavy
HP Tilt Pen Stylus latency
short touchpad length
QLC SSD
Grant is a Financial Management graduate from UST. His passion for gadgets and tech crossed him over in the industry where he could apply his knowledge as an enthusiast and in-depth analytic skills as a Finance Major. His passion allows him to earn at the same time help Gadget Pilipinas' readers in making smart, value-based decisions and purchases with his reviews and guides.