According to IHS Markit, users have become significantly aware of the benefits of having a portable monitor, as global shipments grew by 46% in 2019. In 2020, the forecast is that it will grow by an additional 27%.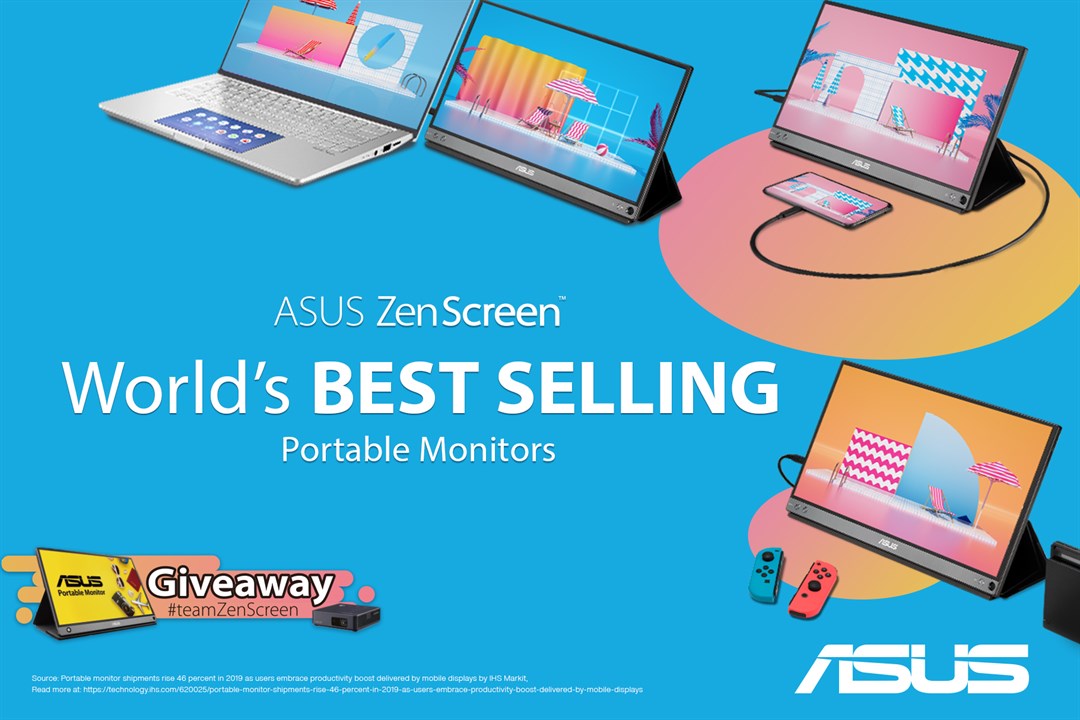 ASUS has shown the ability to remain at the forefront and has been number one in terms of portable monitor sales for three consecutive years.
ASUS' leadership in portable monitors began in 2013 with the launch of its first portable USB monitor, MB168B. In 2016, ASUS launched the MB169C+, which is the world's first portable monitor with a USB-C interface.
2017. ASUS launched the ZenScreen series with ZenScreen MB16AC. It's the world's slimmest and lightest 15.6-inch FHD portable monitor. It's also the first to have a hybrid signal solution with both USB-A and USB-C connectors, making it compatible with almost any laptop.
2018. ASUS released ZenScreen Go MB16AP, the world's thinnest portable monitor with a built-in battery.
2019. ZenScreen Touch MB16AMT is the first portable monitor with both multitouch and a built-in battery.
Options for versatility and productivity
ASUS ZenScreen portable monitors offer 15.6-inch IPS displays with FHD resolution and deliver vivid and sharp visuals from almost any viewing angle.
The company currently offers several ZenScreen portable monitor models with various features to fit a variety of user needs. Customers can choose among those with HDMI connectivity, 10-point multitouch support, built-in speakers, built-in battery, and USB-C, among other features.
For Gaming
ASUS has also expanded its range of portable monitors to include those designed for pure entertainment. ROG Strix XG17 boasts a 17.3-inch IPS FHD screen with a blistering 240Hz refresh rate and 3ms response time. It's in fact, the fastest portable monitor in the world.
It weighs 1kg, and its built-in battery delivers up to 3.5 hours of uptime in a single charge. It's also equipped with quick-charge technology which means 120 minutes of use in just an hour of charge. It has adaptive-sync and a pair of front-facing stereo speakers.
XG17 can be used with the ROG Tripod, an optional stand that allows usage of the monitor in various angles and heights. It also serves as a portable monitor for console gamers, or as an extended monitor for mobile gaming.
ZenScreen Experience campaign
ASUS is currently holding a promo on social media from March 16, 2020 to April 5, 2020. ZenScreen users who share their experience on Facebook, Instagram or Twitter using the hashtag #TeamZenScreen will get the chance to win one of three ZenBeam S2 portable projectors.
Those who don't own a ZenScreen will also get a chance to win one of three ZenScreen MB16ACE portable monitors by making a post on Facebook, Instagram or Twitter, with a story as to how they would use a ZenScreen and then tagging the post with the hashtag #TeamZenScreen.
Emman has been writing technical and feature articles since 2010. Prior to this, he became one of the instructors at Asia Pacific College in 2008, and eventually landed a job as Business Analyst and Technical Writer at Integrated Open Source Solutions for almost 3 years.