Over the years, companies specializing in pre-builts have popped up. Brands such as Origin PC, iBuyPower, Digital Storm have gotten a fair share in the pre-built market thanks to custom cables, modding and water cooling. Long-time brands have shifted to bizarre RGB pre-builts as well as console-sized machines. MSI has a long-standing name in the gaming industry, particularly, in the gaming laptop segment. MSI is also one of the few gaming brands that have a presence in the PC market, DIY, and pre-builts.  The MSI Trident series is one of MSI's most popular pre-builts as it mimics a console's form factor but more than doubles in terms of performance. The latest iteration to the Trident series is the MSI Trident X and the MSI Trident X Plus. Both have a modern look and updated with RGB. Of course, it's not just aesthetics, but the Trident X series is outfitted with Intel's 9th gen series of processors paired with Nvidia's groundbreaking RTX 20 series GPUs. Let's dig in how much power does this console-sized PC pack.
SPECIFICATIONS
 

Model

 

MSI Trident X Plus

Processor
Intel Core i7 – 9700K Processor
Operating System
Windows 10 Home
Chipset
Intel Z390
Graphics
MSI GeForce RTX 2080 graphics card
Memory
16GB (2x DDR4 2666MHz Long-DIMMs 8GB)
Storage
2x M.2 SSD (1x auto switch and 1x PCIe)- 512GB

Up to 2x 2.5" SSD / HDD- 1TB HDD

Communication
WLAN: Intel Dual Band Wireless-AC 9462
Power supply
Modular 650W 80 Plus Gold Certified PSU
Dimensions
129.74 x 382.73 x 396.39 mm/ 5.1" x 15.06" x 15.6" (10.36 Liter/ 21.89pt)
I/O Overview
Front:  1.1x USB 3.1 Gen 1 Type C

2.1x USB 2.0 Type A / 1x USB 3.1 Gen 1 Type A

3.1x Mic-in /1x Headphone-out

Rear:    4.3x Display Port / 1x HDMI / 1x USB Type C

5.5x Audio jacks / 1x Optical S/PDIF

6.1x RJ45 / 2x USB 3.1 Gen 2 Type A

7.2x USB 3.1 Gen 1 Type A

8.1x Display Port / 1x HDMI

9.2x USB 2.0
UNBOXING and FIRST IMPRESSIONS
The packaging of the Trident X Plus follows a PC chassis one rather than a laptop-style packaging. Primarily because the Trident X Plus is more fragile due to its tempered glass and the fact that it also has some accessories which we'll get into later.
Since the MSI Trident X Plus basically uses ordinary PC parts, you'll have extra accessories included in the box such as SATA cables, stickers, motherboard manuals, and the like. There's also an additional right-side panel added.
While the box is just as large as an mATX case box, the Trident X Plus is almost as slim as your average console. To compare, the PS4's dimension is at 305 x 275 x 53mm, while the Trident X Plus measures at 382.73 x 396.39 x 127.74mm. The size of the Trident X Plus fits within the ITX range.
The MSI Trident X  Plus also has some killer features up its sleeve. At first, you would think that the tempered glass of the Trident X is found on the left – I thought so too. The right side panel is tempered glass with a fan cutout for the CPU cooler. It uses a unique flap-style mechanism to open for easy, tool-less access.
The right side panel holds a chamber for the motherboard, power supply, and storage. Two(2) 2.5″ drives can be installed, giving the user the freedom to fill it up with HDDs, SSDs, or both.
The bottom part reveals the power supply and cooler. MSI uses an SFX power supply in order to keep the Trident X's profile as slim as possible. Their choice of an FSP 650w Gold modular SFX power supply is commendable. Most system providers tend to go for below average, uncertified power supplies to save on costs. MSI went the extra mile to provide a reliable power supply.
The left side panel of the Trident X Plus is all-metal with fan cutouts for the graphics card and power supply. The cutout on the graphics card sides users a mesh-like design, whereas the one on the power supply looks more like a honeycomb type. The cutout allows both PC components to get the best airflow possible. The mesh cutout reveals the RTX 2080 Super Ventus X variant in all of its glory.
Yes, the motherboard is inverted and placed in at the bottom. MSI used extension cables for the PSU since it's placed in front. A PCIe riser is also in play to compensate for the inverted motherboard layout. MSI is using their own MPG Z390I Gaming Edge AC  motherboard for the Trident X Plus.
The power button is located on top with a shallow cut to avoid accidental clicks. MSI is generous in terms of port selection because of the added USB 3.1 Gen 1 Type-C port. The first USB-A port is also 3.1 Gen 1 while the second one only supports USB 2.0.
BENCHMARKS
Let's get into numbers and see how good the Trident X Plus is.
SYNTHETIC BENCHMARKS
Powering our MSI Trident X Plus review unit is an Intel Coire i7-9700K with 16GB RAM and an RTX 2080 Super. Cinebench R15, R20, Geekbench 4, and 5 were used to test CPU and GPU(OpenGL) scores. Scores are within expectations of a typical i7 9700K+RTX 2080 build.
3DMark is a popular benchmark for gamers and enthusiasts. We've tested the MSI Trident X Plus in Firestrike, Firestrike Extreme, TimeSpy, and Time Spy Ultra. Port Royal is also included since the GPU powering the desktop is an RTX 2080 Super. Head on over to https://benchmarks.ul.com to get your copy.
The Trident X Plus is equipped with a WD SN720 M.2 NVMe 512GB SSD. It's better than the standard WD SN620 SSDs that are pre-installed on most laptops. It's able to reach its rated 3,400MB/s read, and  2400MB/s writes in our CrystalDiskMark Benchmark.
Complementing the SN720 512GB SSD is a 1TB HGST HDD as the secondary storage of the Trident X Plus. HGST is a subsidiary of Western Digital. Speeds are not that impressive, considering it's a 2.5-inch drive, but it gets the job done.
Gaming Benchmarks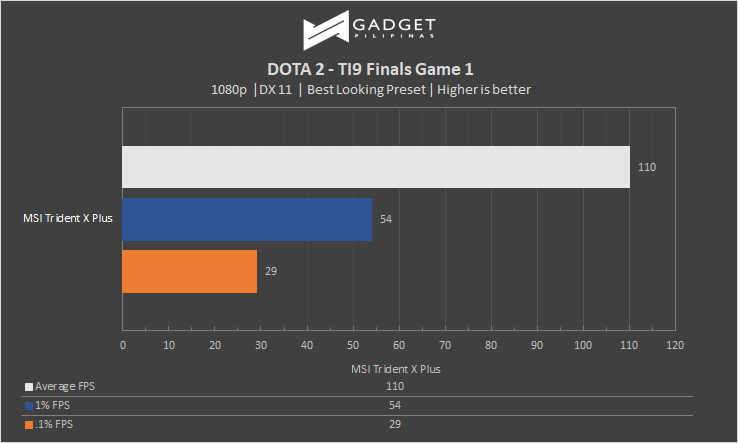 Dota 2 is one of the most popular games globally; that said, chances are you'll be playing one of the popular F2P titles. Our benchmark sequence is based on a replay of OG vs. Liquid in the TI9 grand finals from the team fight that happened on 28:30 to 29:30.

FarCry 5 is an FPS game published by Ubisoft and uses the Dunia engine. It heavily relies on and takes advantage of DirectX 11 to render a realistic environment that makes it taxing to both the CPU and GPU.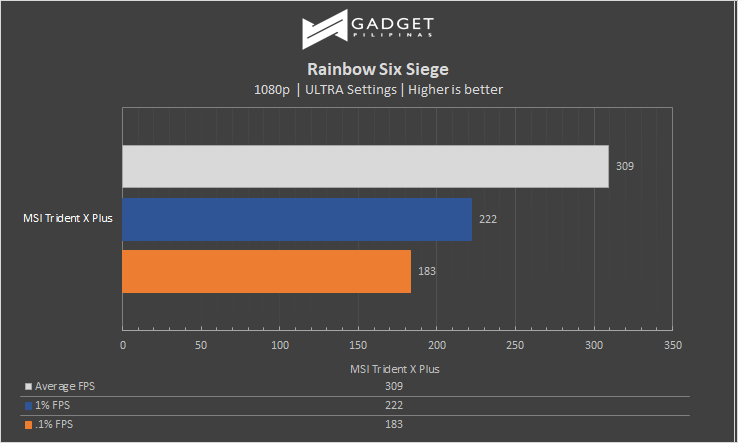 Rainbow Six Seige is one of the few popular AAA games that's still popular in 2019 due to its competitive gameplay mechanics. R6S uses the AnvilNext game engine, which is developed by the game's publisher, Ubisoft. As of writing, Rainbow Six Siege is currently the most popular Tom Clancy title beating out Wildlands, Breakpoint and even, Division 2.

Call of Duty: Modern Warfare is arguably the most anticipated game of the year. It's the first cross-play compatible game title of the franchise. COD: MW is developed by Infinity ward using a new IW engine and is published by Activision. The game uses DX 12 by default, which makes it an excellent choice to include in our benchmark suite.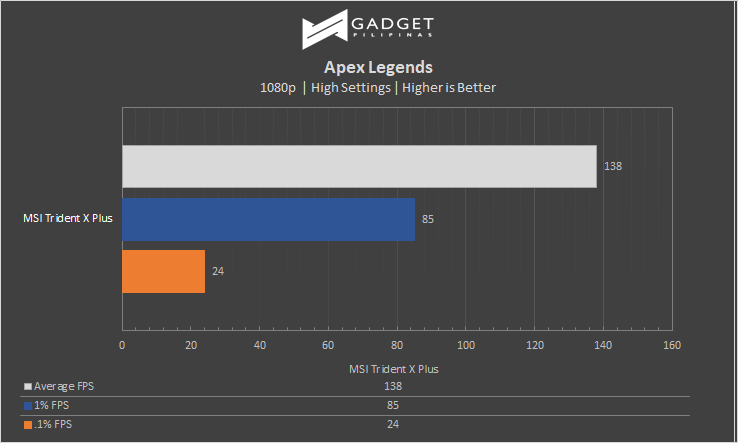 Apex Legends is a character-based Free-to-play battle royale game developed by Respawn Entertainment, the makers of Titanfall and Titanfall 2. It utilizes a modified version of Valve's Source Engine.
Battlefield V is the first DirectX 12 title to support Ray tracing and DLSS. It runs on the popular Frostbite 3 engine, which is heavily used in flagship EA titles.
TEMPERATURES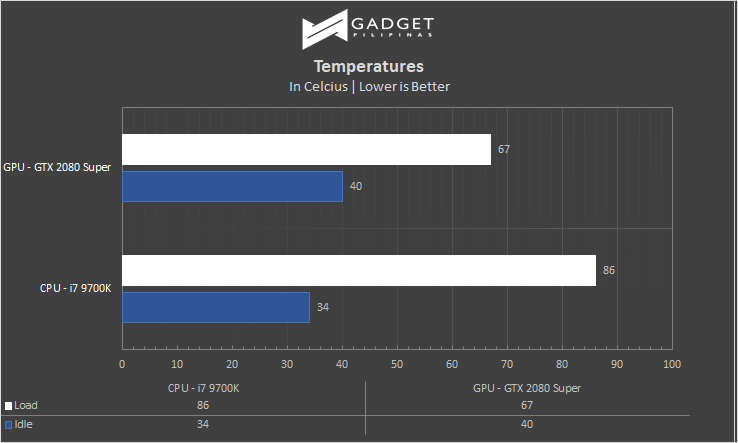 During our time benchmarking the Trident X Plus, we were able to record idle and peak load temps of both the CPU and GPU. The Intel Core i7 9700k sits at a cold 34c idle in a 21c airconditioned room. However, it does breach the 80degree mark on heavy usage. This suggests that the cooler included on the 9700k might not be able to squeeze more performance by overclocking as the CPU is already near the 90-degree mark. Meanwhile, the RTX 2080 Super Ventus X's idle temperature is higher at 40 degrees but maintains a very acceptable load temps at 67 degrees.
CONCLUSION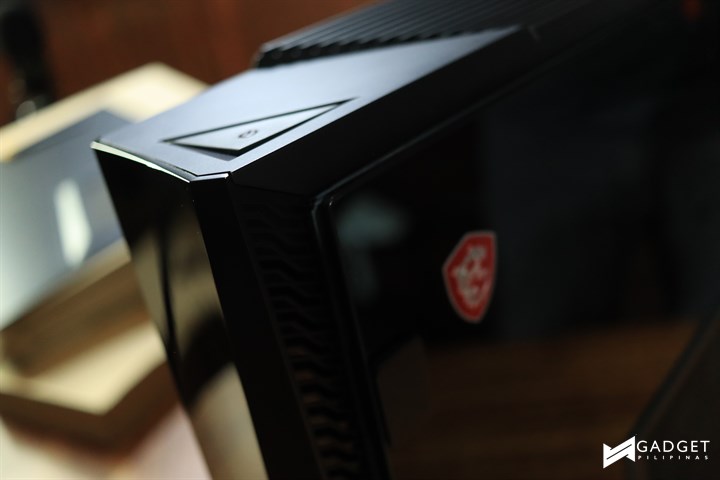 Performance. Looks aside, the Trident X Plus is a powerful machine that's able to run the latest and greatest titles at high settings while maintaining a high framerate of above 100 fps as seen in our 1080p benchmarks. The numbers crunched means that the Trident X Plus is also capable of 1440p gameplay. Though its a bit concerning that our benchmarks capture .1% lows of around 20+ fps. Nonetheless, your gameplay experience shouldn't be impacted. Acoustics are very impressive due to the fact that every fan has a cutout in the Trident X Plus. MSI dialed low RPMs even during heavy workloads. That said, you could still squeeze up a bit of performance from the CPU and GPU by sacrificing noise levels – Which won't matter that much anyway if you're using a headset.
Design and Build Quality. Unlike the previous Trident iterations, the Trident X Plus is only limited to a vertical orientation. You can still lay the unit down horizontally, but it would mean suffocating the airflow of your CPU cooler or GPU and PSU regardless of which side is down. RGB Lighting is very subtle, but I found it to be lacking and dull compared to other pre-built systems in the market. Props to MSI for including an extra side panel in case users don't like the tempered glass panel.
Upgradability. MSI built the Trident X with upgradability in mind, especially for newbies. On the right side, two(2) 2.5″ bays can be easily accessed while the other side handles the GPU and M.2 chamber. There's a generous amount of clearance for GPU upgrades as it can even an RTX 2080 Ti thanks to the reliable 650w gold PSU. The only weak part of the Trident X in terms of upgradability is the CPU cooler. It's nearly impossible to fit in a low profile Noctua cooler without having to change and reroute some cables. Upgrading to an AIO is not an option unless you're willing to mount the radiator outside the side panel.
Price. So far, every aspect we've discussed in the Trident X Plus is impressive. As for pricing, our specific review unit costs Php 159,995 for the i7 9700k, 16GB RAM, RTX 2080 Super, 512GB SSD+1TB HDD Combo. The price, believe it or not, is actually cheap in today's prebuilt standard. The good thing about MSI's pricing is there's not a part that's sacrificed in the build. And most of the what you're paying for in this build is the small form factor. ITX builds, especially console-sized ones, are known to cost more than ATX counterparts – So you won't really save that much if you build your own PC with the size of the Trident X Plus.
The argument of building your own PC instead of buying pre-builts will always be there. However, the margins that you save are lower when you match the specs and size of the Trident X Plus' console-like ITX form factor. The Trident X Plus is one of the few prebuilt available in the market to have a balanced build. The only nitpick we have is that MSI could've included their flagship model of the RTX 2080 Super and beefed up the RAM to 3000 or 3200 Mhz considering that this is already the "plus" variant of the Trident series. This would make the value of the Trident X Plus better, and makes it a sweeter deal than it already is. What you're getting with the Trident X Plus is a console-sized machine that's more than capable of running the latest games at max settings at a smooth frame rate. That said, the Trident X Plus should be one of the top choices if you're looking for a no-nonsense, plug and play pre-built gaming PC.
MSI currently has a promo with the Trident X Plus. Every purchase of the RTX 2080 Super variant comes with a free CHG 20 Gaming Chair. Learn more here – https://www.facebook.com/MSIPhilippines/posts/2628737273828516