Music is an integral part of just about any event we go to. Whether it's a simple get together with friends, or a a product launch, having the right sound at the best quality is essential to setting and maintaining the mood.
That's why it's very important to have something ready to liven things up in a snap. A device that can deliver exceptional sound quality, and at the same time, is portable enough that it can be easily carried to anywhere. A lot of brands have promised such, but most of them have failed.
Then here comes Sony with the GTK-PG10, a wireless speaker built by a brand with an outstanding portfolio for audio devices. This isn't just your typical boombox, it's also a karaoke machine, a Walkman, a radio, and a lot more.
Design and Build Quality
GTK-PG10 isn't exactly the most compact speaker, but it should perfectly fit in your car's boot, ready for a long travel. It's not feathery-light, but the weight is more than manageable, especially with a handle on both sides.
What's unique about this design is that the top section is actually made of two sections that fold, making it look like the speaker has wings and is ready to fly. When deployed, the tweeters are placed on the side, and the sound quality is more suitable if you need coverage for a wider area.
When folded, the position of the tweeters makes for a sound-quality that's more focused on clarity as well as detail.
Top panel is also splash proof, and has provisions for a couple of cans or glasses of drinks, the center will act as a table for your food.
At the back of the device is a power port if you want to re-charge it, yes, this has a rechargeable battery in it, or you want to use it plugged-in. The port itself has a rubber seal to protect it from dust and splashes.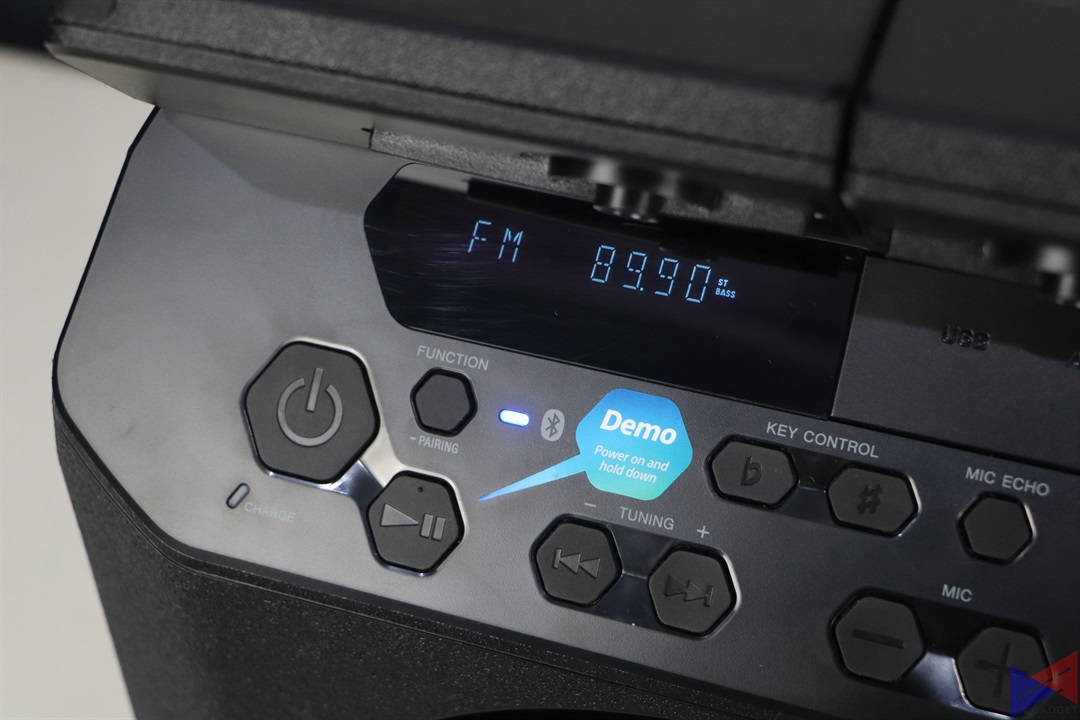 Up front is a small screen for showing a limited amount of information, such as when Mega Bass is ON, or what mode the device is on.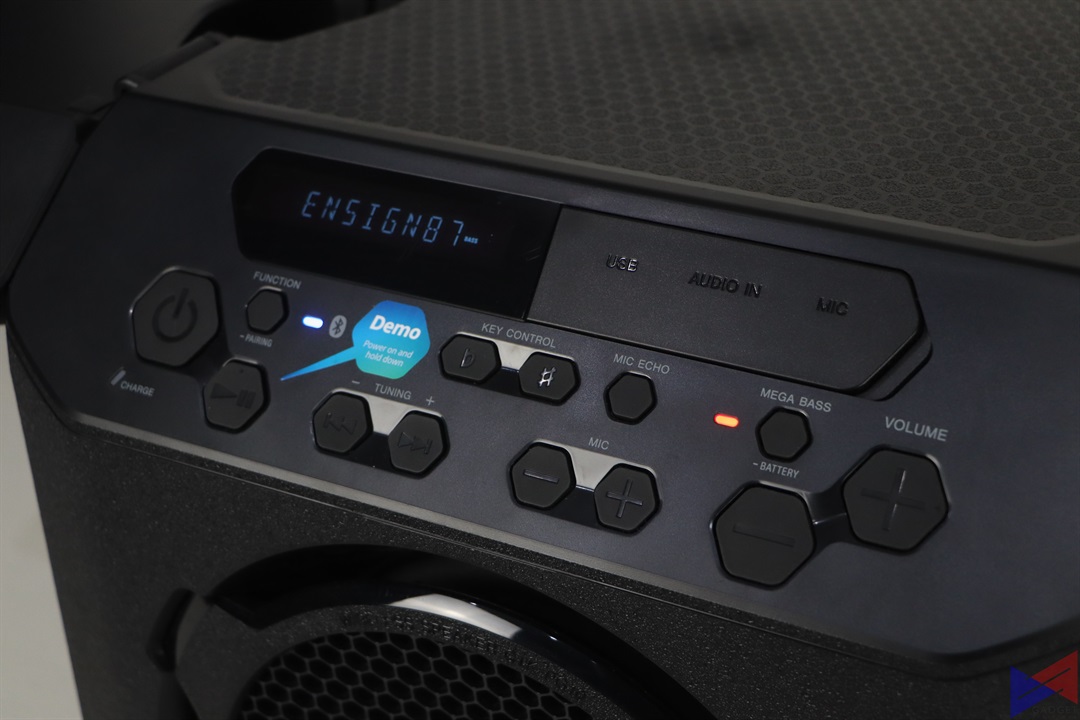 You get dedicated controls for volume, skip and previous track, which also acts as the search buttons when the device is being used as an FM radio.
There are also buttons for adjusting the key of the track that's currently playing, the microphone volume, echo, and for activating Mega Bass (you can press and hold this button to check remaining battery).
Opening the covered panel reveals a USB port, audio in port, and microphone jack, for your karaoke party.
The speaker itself bears the Sony branding, with a touch of craftsmanship.
Connectivity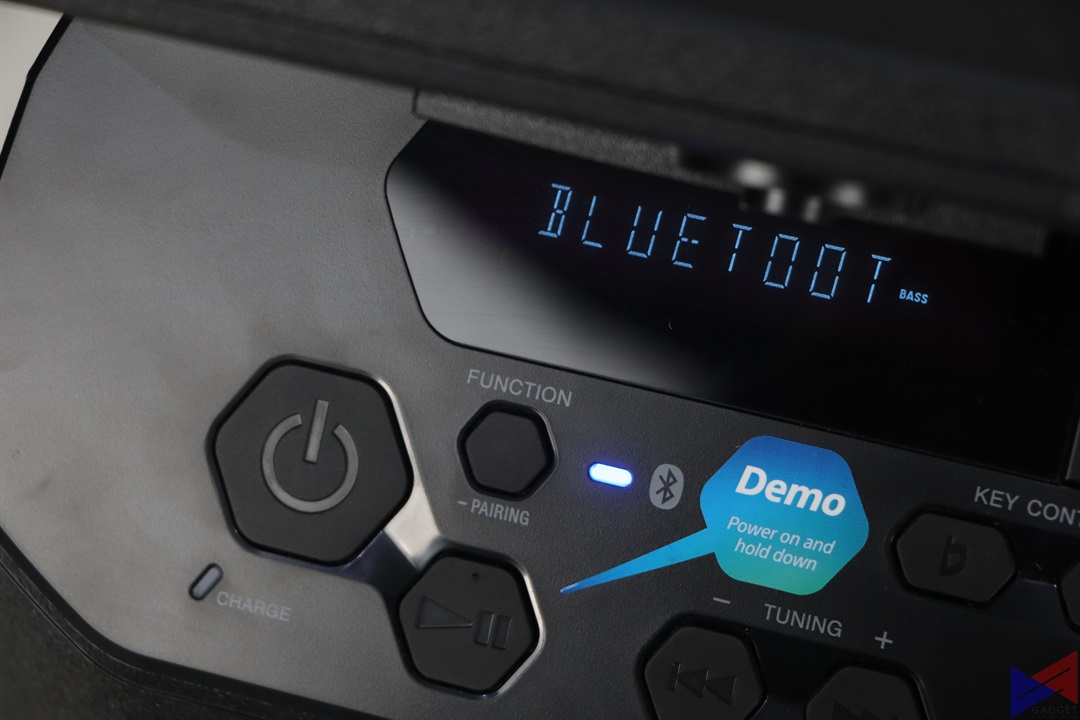 GTK-PG10 caters to just about any input method you want. Whether via Bluetooth using a smartphone or a dedicated audio player, from a USB drive (USB port can also charge devices), or directly from the source via a cable.
As far as consistency and stability is concerned, I have not encountered a single drop in connection ever since I started using it a few weeks back (via Bluetooth).
I was able to go as far as around 10 meters with a wall included before experiencing cuts in the sound. It can handle up to three connections from different devices via Bluetooth.
Sound Quality
A word of caution, this thing goes loud, and I mean very loud. The good thing is it does that without any sign of distortion.
When the equalizer is set to flat, the GTK-PG10 sounds very balanced. Bass is evident, but is slightly recessed. Mids showcase good clarity and detail, and highs demonstrate just the right sparkle and brightness.
You can sort of tweak the sound to your liking by selecting from a number of presets, or the custom Equalizer built into its companion app, which we'll talk about later.
The speaker supports LDAC, a Bluetooth Codec for higher than usual audio quality It's pretty common in some smartphones, such as the Huawei Nova 5T that I used for testing.
Software 
Music Center, the companion app for this speaker, is a must-download, as it gives you access to a features and settings for customizing the device to your liking.
You can tweak the sound signature by choosing from a set of pre-defined profiles, or by adjusting an equalizer. This can be done separately for music and video content. I personally just add +2 to treble, and that's it.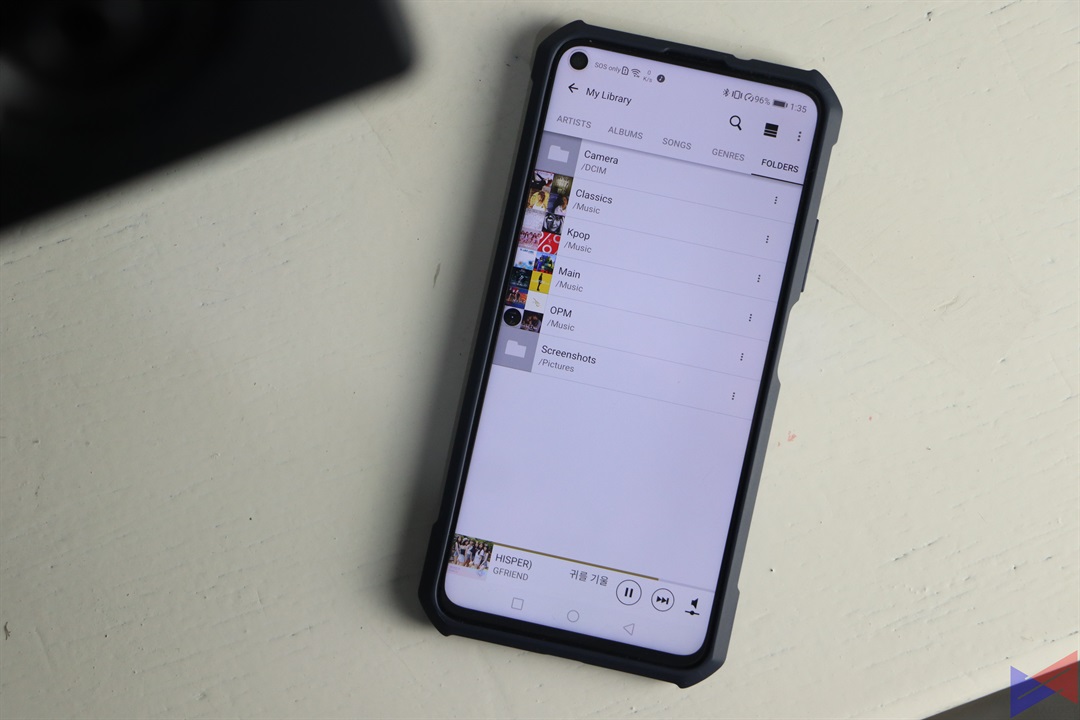 You can also access your entire library and play songs from the app, set the sleep timer, or even issue voice commands.
Fiestable, an add-on on top of the app, also lets you control playback and adjust volume using gestures. It's a cool feature and all, but so far, I only managed to get it working when I'm in the app.
You can also access services such as Google Play Music and Spotify directly from the app. When using it as an FM radio, you can also use the app as your tuner.
Battery
GTK-PG10 can churn out up to 13 hours of playback via Bluetooth. In my test, it lasted for almost 9 hours of continuous playback, and that's with volume set to 45/50. Charging it up takes a very long time. In my case, around 6 hours from zero to full.
Sony GTK-PG10 Outdoor Wireless Speaker Review
Our Verdict
The Sony GTK-PG10 is a fantastic piece of hardware that showcases a good ratio of sound quality and mobility. it's versatility allows it to function more than just a speaker, and can take input from just about any method. The companion app expands its capabilities even further, and lets you customize the device to your liking in numerous ways. It's not perfect of course, the app itself does need a bit of work on some of its features, such as gesture control only working in-app. Despite being mobile, it's still quite a bulky speaker as well. It also takes so long to recharge. Then there's the price. This costs PhP12,999, which I'd say is just right for what it offers, but is also something that might turn off some consumers.
What's Good
Great overall sound quality
Versatile in terms of connectivity
Companion app extends its features
Decent battery life
Packs a lot of punch for something mobile
What's Not
Gestures can't be used outside of companion app
A bit on the bulky side
Can be a bit pricey for some
Takes a long time to recharge
Emman has been writing technical and feature articles since 2010. Prior to this, he became one of the instructors at Asia Pacific College in 2008, and eventually landed a job as Business Analyst and Technical Writer at Integrated Open Source Solutions for almost 3 years.