To be honest, Garmin GPS sport watches weren't on my radar to keep track of my daily bike commute or bi-weekly workouts. Not because I didn't need one, but its due to the fact that I still have my series zero Apple Watch as my daily driver. My current situation justifies an upgrade since my Apple Watch is already as slow as any 5-year old device can be. But I've gotten used to the geriatric situation (in tech terms, 5 years is already an unsupported device) of needing to charge it two to three times a day (yes, like life support) just so I can be sure it logs my activities during the day.
Imagine my surprise when Gian, our editor-in-chief, suddenly messaged me that I can review a Garmin Fenix 6 Pro GPS watch with a sapphire crystal and titanium body for two weeks. It was a dream scenario for someone pining for a smartwatch upgrade – to actually try one of these multisport smartwatches for two weeks before I take the plunge.
What's in the box
Garmin Fenix 6 Review 17
Garmin Fenix 6 Review 14
It's my first time to unbox premium watch, and Garmin didn't disappoint. The box itself is thick and has a smooth, matte finish. It is unmistakably a box for a premium watch. What I did like about the whole thing is the conscious effort not to put any paper inside the box. No manuals, no sticker, no warranty booklet. It must be because it's a review unit but I do hope it's this way in retail. I mean if you have a smartwatch it means you can get all the relevant information from the internet. Maybe because it's just a review unit? If not, kudos Garmin!
The fit
The watch itself greeted me with its big face, literally. An ectomorph like myself don't usually go for big watches as my Apple Watch Series 0 with the smaller 38mm screen height and my Swatch (yes, we Titos dig the 80's and 90s brands) would attest. I was almost taken aback by its size. The display size says 33mm in diameter but it seemed larger than what it says on paper. "This will make my puny wrist smaller", I thought to myself. But upon trying it on, any doubt as to whether or not I would look like a small kid with a daddy watch was erased. It actually looks and "feels" right.  I've never tried on a titanium watch before and so when I lay it flat on my wrist and strapped on the orange silicone band, I was amazed at how light it was despite its size and thickness.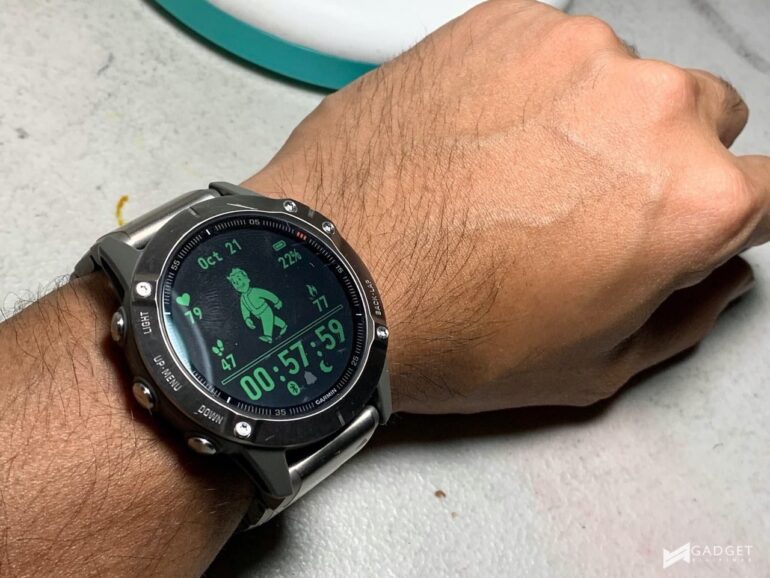 Though the orange silicone sport band was a bit too loud for my minimalist taste, I'll most likely rock it when I cycle or do the active stuff. But outside of those activities,  the titanium bracelet is the way to go. It fits right at home with my business casual attire without being an ostentatious fitness freak. The titanium bracelet fits 132 – 215mm wrists which mean it should fit the thinnest to the bulkiest of wrists. It was a bit lose so I had 4 links taken out from a watch store (P200 for the service). It has the brand on the main clasp oriented the right way to show the wearer how to attach the metal bracelet to the watch properly. Charging the watch means you'll have to attach it with the straps open, which, if you have the metal band would mean that you'd have to detach one side. Fortunately, unclasping bracelets are so easy that you don't mind switching to one or the other. Just pull on the small switch to open the lock, pull-out the bracelet then snap on the other one. It also gives off that satisfying click, communicating to the wearer that it's locked-in.
Setting-it up for the first time
To fully maximize what the Fenix 6 (or for any smartwatch for that matter) has to offer, it's essential that its native "Garmin Connect" is downloaded. For the review, I synced it using my personal iPhone 7, replacing my Apple Watch as the default fitness tracker. There were no problems encountered in the syncing process. Its other app, "Connect IQ" houses watch faces that one can download. There's no short supply of watch faces that can suit the minimalist to the complicated. I prefer getting the essentials, where I can see not just the time and date, but battery life, heart rate, steps, current temperature and high and low temperature for the day. 
Display
Garmin Fenix 6 Review 29
Garmin Fenix 6 Review 28
Garmin Fenix 6 Review 30
Depending on the watch face you prefer, the display real estate is big enough to be able to show a dizzying array of data points- all of it readable. The Fenix 6's always-on display is also a huge plus as someone coming from an Apple Watch. No awkward half-second delay or tap on the screen just to be able to read the time here. The display is also readable under direct sunlight. Multisport athletes won't have to worry about squinting or covering the display just so they can read it under the sun.  When it gets dark, it's impossible to see the screen so there's a backlight switch at the 10 o'clock position which makes it readable. I was hoping it would be able to detect that it's in a low-light environment or at the very least activate a raise-to-turn-on-the backlight feature based on the time the sunsets. The raise-to-backlight on is present when there's an activity so I wonder why this can't be turned on automatically when the sun goes down.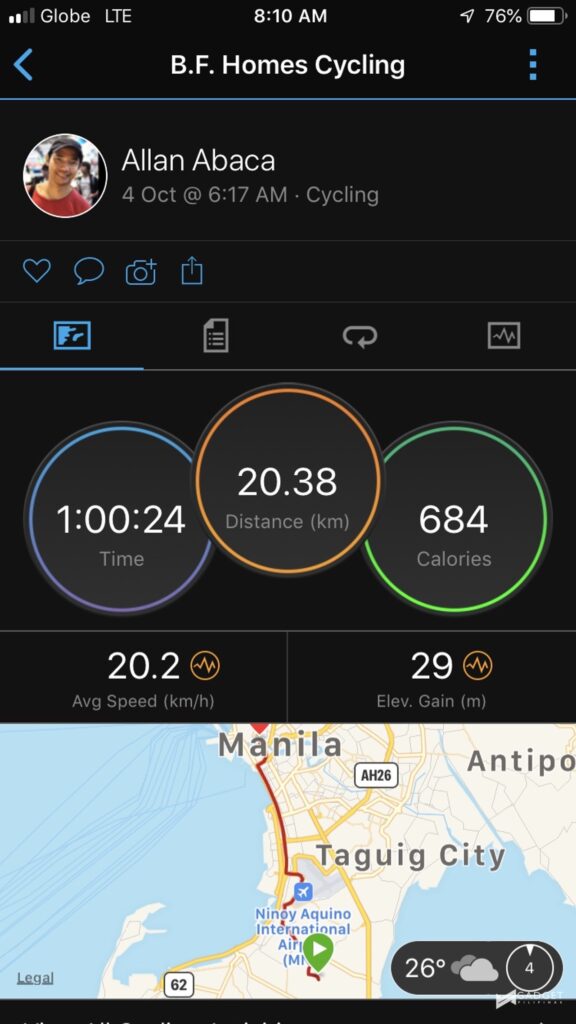 No touchscreen
What? A flagship smartwatch without touchscreen capability? That's bonkers, right? Unfortunately, the Fenix 6 doesn't have it even if some of its younger brothers, like the Forerunner 630 is touchscreen capable. Unsure what made Garmin decide not to include touchscreen capability here when other flagship smartwatches have this capability. Is it a deal-breaker? Not really, but from someone coming from a touchscreen smartwatch, not having this capability is a step-down for me. Being unable to press the screen and scroll down the menus via simple finger-flick just made me feel that it's old tech. Garmin has their reasons not to include this (and I'm sure they're justified). People I conversed with are surprised that a smartwatch with this high a premium price – PhP54,990 – does not even have touchscreen functionality.
Battery Performance
As smartwatches go, the Fenix 6 is the gold standard. The first full-charge netted an 8-day estimated charge time. And, this is with Galileo and Glonass GPS, messaging (receiving SMS email and all other app notifications), heart rate monitor turned on. A 15-minute charge can already give the Fenix 6 enough juice for a full-day charge. I like the fact that the estimates can show days or hours (if there's less than a day left).
Music player on your wrist
You'll be glad to hear that the Garmin Fenix 6 supports Spotify and Apple Airpods.  Load a playlist to the Fenix 6 (wi-fi connection required), connect your Bluetooth earphones then you are liberated from your phone as your music source. Their is no noticeable difference in sound quality when you have the Fenix as your music player. What I did notice though, was the faster drain of the battery when you use the Fenix 6 as your dedicated music player. I lost a day's worth of battery life after just an hour or two of playing music via Spotify. The Bluetooth connection to the Airpods may be the culprit. There shouldn't be any issues with the Fenix 6 while training and using it as a music player. Just be aware that the battery will drain faster than usual.
Cycling with Fenix
Garmin Fenix 6 Review 29 1
Garmin Fenix 6 Review 9 1
Garmin Fenix 6 Review 10
As a daily bike commuter, I was excited about what data the Fenix can show about my commute and about my body that I haven't had access to before. In my first bike commute from Parañaque to Binondo wearing the Fenix 6, I was able to record a plethora of data. Aside from the usual distance, heart-rate and average speed, it was also able to track "Heart Rate Zones" which showed me how hard I trained and for how long on certain zones. Fenix 6 was able to tell me that I cycled on Zone 5, categorized as "Maximum" for more than 29 minutes. It also highlighted the fact that I was "Overreaching" and that it may be able to significantly improve VO2Max it can also become harmful without enough recovery. Such activities, I was told by the watch, should be done sparingly.  This is when I realized that I'm pushing too much in my commute (without really knowing it) and that in succeeding rides, I should manage my load. Now that I know better, I fine-tuned my pace, picking my spots on when to go hard and when to go at a moderate pace. Two weeks later, even with the same distance and seemingly the same intensity, Fenix 6 now reports different data with more time spent on Zone 3 and 4 and just a little on Zone 5.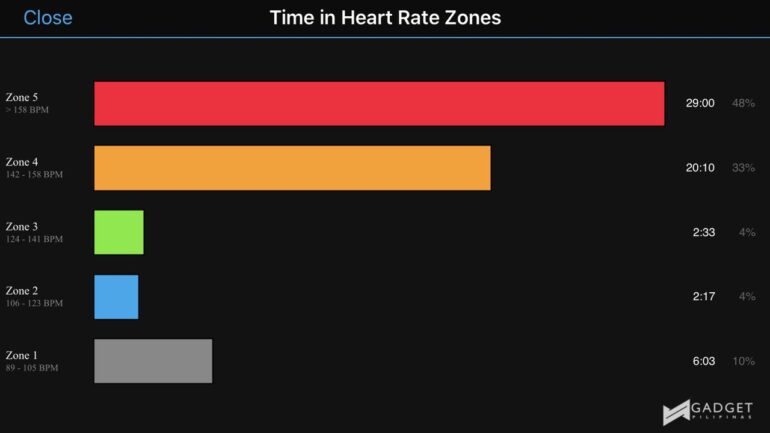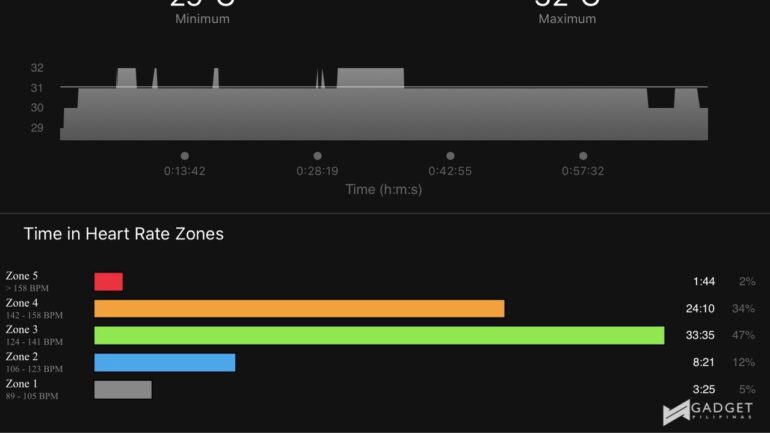 "Recovery is part of training", a seasoned triathlete once advised me. Fenix 6 also knows this, which is why after every workout, it recommends the number of hours or days for which one has to recover. In one of my full-out commutes, I was shown "6 days" to recover. This just drives home the point that I should take it easy since I do it daily. 
Swim performance
Since bike commuting depletes my tank 5-days a week, my only opportunity to rest is the weekend. However, an opportunity presented itself for access to a pool nearby. So I thought, "why not a "1K recovery swim?". I was not concerned at all on how the water resistance would hold up. The tracking of the laps was spot-on. I do, however, would have wished that there was a way where stroke cadence can be communicated from the watch. Maybe a discernible "tingle" from the watch might do in lieu of a swimming beeper?
Sleep and Stress
We've seen what the Garmin Fenix 6 can do when we're up and about. But how about when we're catching some zzzs? The Fenix 6, with it's always-on heart rate monitor can also track quality of sleep.  Like other smartwatches, it can track quality of sleep based on heart rate and movement. Stress levels, on the other hand are determined by fluctuations in your heart rate. I was surprised to see various stress levels on a typical office day since I consider myself to be chill on most days. Perhaps it's the coffee? I'm not sure really, but knowing that minute fluctuations in my heart rate are stressful events does make me rethink what I know about what stress is: it's a culmination of small events, rather than one, big "stressful event". 
Verdict
The Garmin Fenix 6 is the endurance athlete's smartwatch. It wears as good as it looks, and it belongs in the tarmac just as much in boardroom. This is the multisport watch that other multisport watches should aspire to be. With its sapphire crystal and its titanium body and strap, the Fenix 6 won't feel out of place when you put it side-by-side with other premium watches. The low-res display and lack of touchscreen might be a letdown for some, but it more than makes up for it with its with its always-on screen, superb GPS tracking, unbeatable battery life and performance and recovery tracking.
Allan Abaca is an avid gamer through and through. Virtually, he is locked-in with his PS4 almost daily and has just introduced the awesomeness of gaming to his two sons.
Next in his sights is PC gaming. The platform which he nows considering going back to after a two decade hiatus.
Oh, and let's not forget the Nintendo Switch...
His psn id is hip2b2