I can never think of another smartphone this year that can topple what the ROG Phone 2 can do. For starters, it is a smartphone that's made specifically for gaming; but more than that, it is a smartphone that is built for gamers. There's a difference, and allow me to explain everything with this review of the ASUS ROG Phone 2.
A Smartphone Built For Gamers
The ROG Phone 2 got through various iterations before full production. I posted a video about it a few months back, and boy was I surprised with the many iteration journeys it had before it finally went on sale this October 2019.
It will take several words for me to describe the ROG Phone 2, but let me save you some time by giving you a summary. Every bit of this gaming phone's physical aspects has a function associated to it. From the placement of stereo speakers to ASUS's full divergence from the norm of having notches on smartphones, the ROG Phone 2 is intelligently built with gamers in mind.
The gaming phone is obviously big and heavy. The components to blame are the Super AMOLED display that can go as high as 120hz, 6000mAh battery and beveled aluminum frame. These are pleasant trade-offs, and I would rather have a bulky smartphone for gaming for as long as it functions perfectly as advertised and positioned, and can last for more than 12 hours per day.
With the ROG Phone 2, ASUS made sure that they're pouring everything out for consumers to give fuller gaming experience. We believe thay they're quite successful with this latest iteration.
ASUS Republic of Gamers learned a lot from last year's 1st ROG Phone. From having an auxiliary port to air triggers, the 1st iteration of ASUS' gaming phone is a reminder that Republic of Gamers has successfully transcended from being a PC-brand. It was an awesome phone, and all the good things that consumers loved about it are available on ROG Phone 2.
ASUS' decision to veer away from putting a notch on its Super AMOLED display has given the phone a tremendous reason to be a major pick by gamers. It's color accurate, bright (up to 600 nits) and very responsive. ASUS talked about a lot of tech jargons about how responsive this phone's display is. From response time to frequency, the TL;DR of it all is simple – this is hella responsive. Whether  you're going to use the phone for casual to competitive gaming, its display delivers outstandingly.
Switching from 60hz to 120hz can also be done on the fly. There's a shortcut from dropdown settings menu or you can go the traditional way by going through the settings page. The difference between the two frequencies is huge, and it's evident when browsing through the UI or during gameplay.
There are over 100 games available that can harness the power of its 120hz display. There's Shadow Fight 3, Injustice 2, Mortal Kombat, Vainglory and Real Racing 3, to name a few. Playing games at its max frame rate can be tasking, and for the most part, ROG Phone 2 can handle all of it without any issues.
The forehead and chin function as resting sections of palms when playing games in horizontal mode. The speakers on both sides are not covered during gameplay, which I think is a great factor in its design. The auxiliary port is, by far, its most ingenious feature as it opens the consumer to more ways to play mobile games. The availability of acccessories for the ROG Phone 2 makes it the ultimate device for playing your Android games or even PC games via streaming.
ROG Phone 2's newest aerodynamic system cools the phone as I play triple A mobile games. During my gameplay of Call of Duty Mobile, PUBG Mobile, Shadow Legends and Injustice 2 at maximum settings without the Aeroactive cooler attached, the phone managed to keep it at 44°C at maximum. This is laudable by my standards as flagship phones usually get hotter as you play longer at maximum settings.
Surprisingly, when the Twinview Dock II is attached to the phone, temperature rises to 47°C. While the dock has built-in fans, it also generates heat that even ROG Phone II's aerodynamic system cannot fully accommodate. This is a forgivable issue, and I am sure that hard core mobile gamers would understand. Again, if we go back to the premise that this device is built for gamers, everything – so far – checks out.
Hella Great Accessories to Enhance Gaming and Media Lifestyle
Imagine this setup: You are following this Netflix TV series called Vagabond. Then suddenly, you wanted to continue playing Borderlands 3 on your PC but you're tied up to your phone and you just couldn't leave the comforts of your couch. Gladly, you have a phone, which you can attach a controller and extended display to. You fired up Netflix on your phone via the extended display, and started a game streaming application on your phone's main display. The latter allows you to stream Borderlands 3 on your PC via WiFi LAN connection. Is this even possible? With the ROG Phone 2, a resounding yes.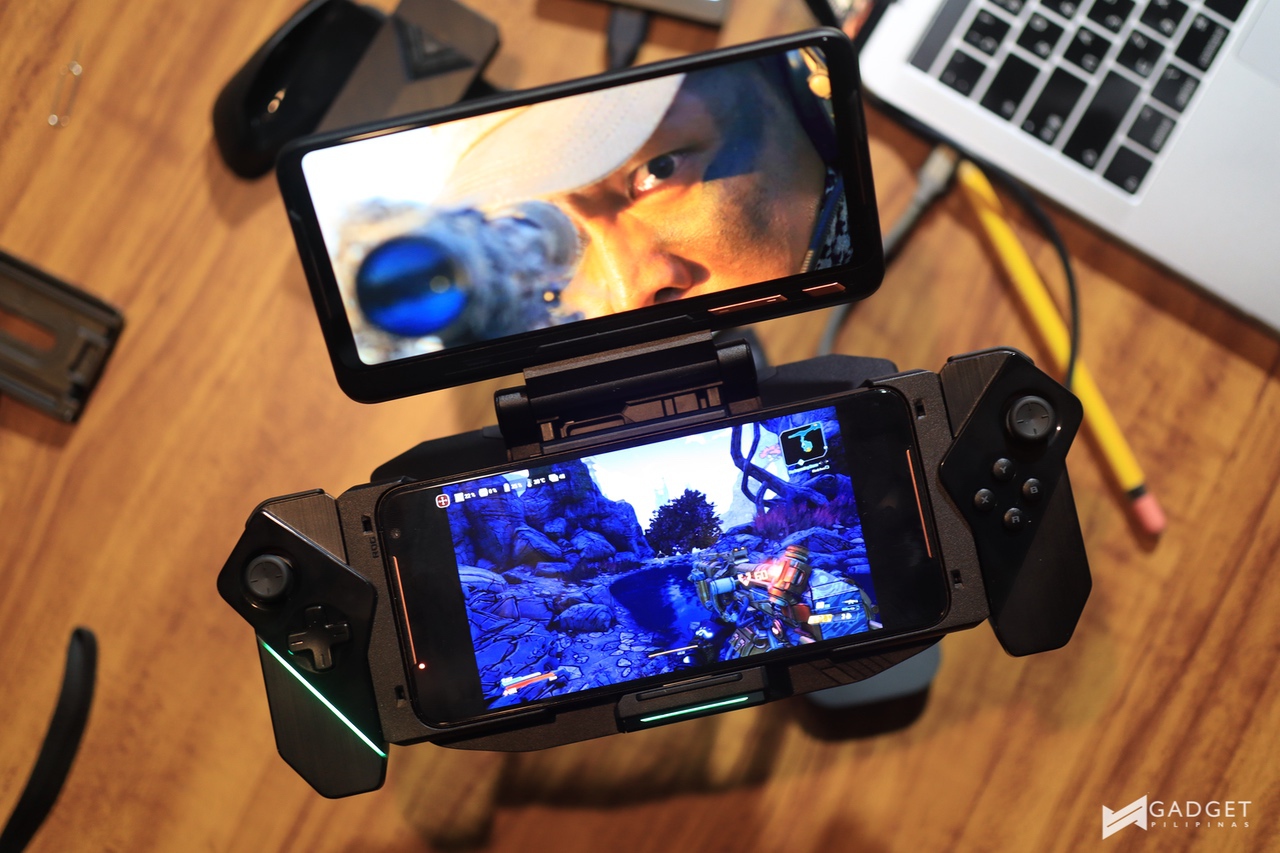 With the advent of local PC game streaming using GeForce GameStream, ROG Phone 2 can easily go against NVIDIA Shield. I played my games like Borderlands 3, Soul Calibur VI and Devil May Cry 5 using via Moonlight and GeForce Gamestream with the average latency of 7ms. Yes, most smartphones can stream PC games via Moonlight or other streaming solutions, but ROG Phone 2 offers more compatible accessories to the table like Kunai Gamepad and Twinview Dock II.
Here's ROG Phone 2's full arsenal of accessories:
ASUS ROG Phone 2 Cases: Yes, they announced more than 1 case for ROG Phone 2. This time, ASUS made sure that its other accessories may still be used on the ROG Phone 2 with the case attached to it.
ASUS ROG Kunai Gamepad: Are you familiar with Nintendo Switch Joycons? This is exactly what ASUS ROG Kunai Gamepad can do. This allows users to use the smartphone however they can: Gamepad Mode (when attached to ROG Kunai Holder) and Handheld Mode (when it is attached to ROG Kunai Bumper).
ASUS ROG Twinview Dock 2: Yes, last year's Twinview Dock gets a new version with the Twinview Dock 2. It is lighter and more responsive than last year's version. Extended battery has been downgraded from 6000mAh to 5000mAh though, but they managed to sneak in a Turbo Fan in it.
ASUS ROG Mobile Desktop Dock: ASUS did not say much about this, but we recon that this is an improved version of it.
ASUS ROG WiGig Dock Plus: ASUS did not explain much about what this new WiGig can do, but judging from its name, it seems that this will support 4K and with improved latency.
Benchmarks
Specifications
| | |
| --- | --- |
| Processor | Qualcomm SDM855 Plus 2.96Ghz |
| GPU | Up to 675Mhz Adreno 640 |
| UI | ROG UI |
| Display | 6.59″, 19,5:9, 2340×1080, 120Hz/1ms AMOLED |
| | 240Hz Sampling Rate |
| | 108% DCH*3 |
| | 10,000:1 contrast ratio, Corning Gorilla Glass 6, Delta < 1, 10-bit HDR |
| Dimensions | 170.99×77.6x 9.48mm |
| Weight | 240g |
| Battery | 6,000mAh |
| Memory | LPDDR4X 12GB RAM |
| Storage | Up to UFS 3.0 512GB |
| Sensors | Accelerometer, E-Compass, Proximity, Hall sensor, Ambient Sensor, In-display fingerprint sensor, Gyroscope, Ultrasonic Sensor |
| WLAN | Integrated 802.11 a/b/g/n/ac/ad (5G, 2×2 MIMO; Wi-Fi Direct; 80211ad for wireless display (low latency) |
| Bluetooth | Bluetooth V 5.0 (EDR + A2DP) |
| | Bluetooth Profile: HFP + A2DP + AVRCP + HID + PAN + OPP |
| GPS | GPS (L1 + L5), GLO, BDS, GAL (E1 + E5a), QZSS (L1 + L5) |
| Inteface | Side: customized connector |
| | USB 3.1 gen2/DP 1.4 (4K) / Fast charging (QC 3.0 + QC 4.0/PD 3.0)/Direct Charge |
| | Bottom: Type-C Connector |
| | USB 2.0/Fast Charging (QC 3.0/PD 3.0)/Direct Charge |
| | 3.5mm headphone jack |
| Front Camera | 24MP |
| Rear Camera | 48MP + 13MP (125 degree) |
| ARCore | Yes |
| Voice Wake-up | Yes |
| Speaker | Dual front-facing stereo speakers with DTS:X Ultra |
| Microphone | Quad microphones with noise-cancellation |
| NFC | Supported |
We ran several synthetic benchmark to see how the device fares compared to competition. As expected it stood out as the fastest among all Android smartphones, besting Huawei Mate30 Pro and Galaxy Note 10. This is not surprising as the ROG Phone 2 packs the most battle-ready specifications in the market.
The phone features 512GB UFS 3.0, and its advantage is glaring compared to its competitors in our benchmarks. It stands above Galaxy Note 10+, and just a couple of digits lower than OnePlus 7 Pro. Having the latest iteration of UFS has a major advantage in processing tasks, which usually found in rendering and mobile games.
| | | |
| --- | --- | --- |
| | X Mode On | X Mode Off |
| Antutu | 485332 | 358856 |
| 3D Mark (Sling Shot Extreme) | 6093 (Open GL ES) | 4875 (Open GL ES) |
| | 5374 (Vulkan) | 4538 (Vulkan) |
| PC Mark (Work 2.0) | 13338 | 9466 |
| Geekbench | 719 (Single Core) | 720 (Single Core) |
| | 2320 (Multi-Core Score) | 1804 (Multi-Core) |
| Androbench | 1441.54 MB/s Sequential Read | 1426.4 MB/s |
| | 408.55 MB/s  Sequential Write | 397.27 MB/s |
| CPDT Benchmark | 1.10 GB/s Sequential Read | 837.79 MB/s Sequential Read |
| | 301.30 MB/s Sequential Write | 295.72 MB/s Sequential Write |
We also used Gamebench Pro to check the performance of specific triple AAA titles. We played 3 rounds of Call of Duty Mobile Domination and a full round (to Victory) of Battle Royale. We skipped playing PUBG Mobile, but we replaced that with 3 other titles – Darkness Rises, Sim City BuildIt and NBA 2K20. We measure FPS, FPS Stability, CPU Load and Battery Consumption per game.

Built for Gamers… and creators
While this smartphone is heavily advertised for gaming, ASUS made sure that it's something that may also be used by creators.  It features identical set of cameras found in Zenfone 6, which scored 98 on its selfie camera and 104 on its rear main cameras in DxO Ranking.
| | |
| --- | --- |
| Front Camera | 24MP, f/2.2, 0.9µm |
| Rear Camera | 48 MP, f/1.8, 26mm (wide), 1/2″, 0.8µm, PDAF, Laser AF |
| | 13 MP, f/2.4, 11mm (ultrawide) |
Photos we took are decent, and for the most part would pass by my standards. It excels in contrast levels, but falls short in producing the right amount of saturation.
If you're also a fan of recording or streaming gaming content, ASUS ROG Phone 2 has built in solutions for you. From providing hardware real-time info to setting up macro, Game Genie has got gamers content creators covered. The Live Streaming function via Game Genie is pretty robust. I managed to stream directly to my Facebook account using FB.GG app, and all I did was to follow on-screen instructions. Below is the video I was talking about.
Unfortunately, there is no way to include game sound (internal recording) when streaming via FB.GG. ASUS' Game Genie only has the capability to record game sound, with the caveat that you're limited to streaming to YouTube and Twitch.
Meanwhile, here are some sample gameplay recordings via ASUS ROG Phone 2's Game Genie:
Our Gaming Smartphone of the Year
ASUS ROG Phone 2 has set a golden standard in the flagship gaming category. In the midst of Galaxy Note 10+ and Huawei Mate30 Pro, which are highly sought after by consumers, ROG Phone 2 lies at the other end of the spectrum that intends to snatch away the hearts and minds of gamers. It has stolen ours, and even this 1800-words review cannot fully describe how perfect it is made for me and for other gamers in the world.