There was an idea of bringing together the best things about the Republic of Gamers and mobile gaming. The former is known for its superiority in producing gaming laptops, peripherals, pre-built PCs and parts. The latter is a technology with a full-fledged ecosystem.
However, Republic of Gamers is foremost a community than a product; it's the reason why it's called 'republic' in the first place. As a standalone gaming brand of ASUS, it built itself a nation of gamers, agnostic to any type of gaming device. When ROG eventually announced a gaming smartphone, it cemented its authority in the market as a benchmark of a gaming brand.
When I got my ROG Phone a few weeks ago, it threw me back to the time I was in Taiwan for Computex 2018. We all had an idea then that the phone will be announced in a separate ROG press embargo event, but we were requested to keep mum about it until its official launch. Back then, speculations about its looks and features were wild: from transforming mechanisms to RGB panel lines like the ones on GL503; or, from liquid to air cooling built into the phone. One thing was certain: the ROG Phone had to be a well-thought of and well-designed gaming smartphone, but it might eventually look like something that's not for everyone to appreciate.
Its design is not for everyone
The ROG Phone's design is functional and fit for gamers. As a product that's positioned for a niche market, the overall design philosophy of this phone may only be appreciated by its target market. Nevertheless, by my standards, this phone looks better than your average smartphone. It looks different, edgy and sophisticated for the average consumer yet gives enough reason to turn heads.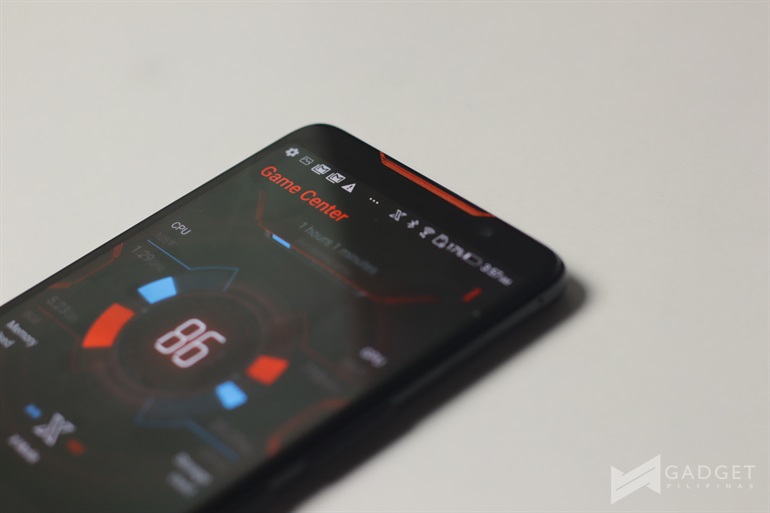 While we are in the year of the infamous notch, the ROG Phone dared to be different by using an AMOLED 6.0-inch display with 18:9 ratio devoid of any cutout. Gaming is unobstructed and comfortable even while being charged. It is meant to be used and played on regardless of orientation. It is intelligently designed.
Super Screen Performance
The choice of having an AMOLED screen is perfect for this phone as games are expected to be displayed with precise color rendering as the developers intended. Colors look insanely accurate and the level of sharpness is impressive.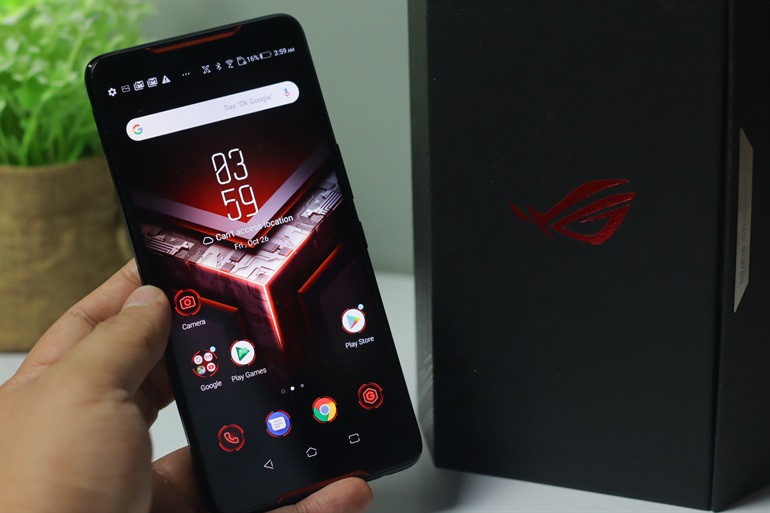 As a display with 90hz refresh rate, gamers should be able to clearly distinguish the difference among games that run on 30fps, 60fps and beyond. Some games are compatible with 90fps that go with every scan-out done by the screen's refresh rate. So far, we managed to run Asphalt 9 at 90fps and it got us really pumped up. We'll get to the gaming benchmark in a little bit.
Ports Galore
It sports a Type -C port at the bottom of the device, and another Type-C + proprietary accessory port on the left side. We're familiar with how the former port works, so I'd like to emphasize more on the other two ports. Other than being able to charge the device, it is basically the port designated to work for the all available accessories for this device.
For starters, it gives an unobstructed gaming experience because you can charge the phone while playing a game without any cables dangling on your right or left hand. It also opens the phone to a plethora of accessories like the Active Aero Cooler that cools down the phone, Game Vice controller, TwinDock View, etc.
Magic Triggers
While game controllers or make-shift shoulder triggers are available everywhere, this smartphone has plenty of similar features in it but better in a number of ways. When used vertically, it has ultra-sonic air triggers on the right side and another trigger on the left that works in conjunction with the adjacent trigger. When used horizontally, the air triggers above the screen may be customized for specific purposes.
My only qualm here is that I usually found myself awkwardly holding the phone like I had to constantly raise my 2 index fingers so as to not accidentally press the triggers inadvertently.
Light and Sound
It also has an RGB logo that lights up. It's a cool addition to a gaming smartphone, but for ROG, it's just as important as any other feature the phone has as it strikingly showcases its brand for gamers and non-gamers. The color or the Aura lighting may be controlled via Game Center, which may be found at the center of the home widget.
The phone also has dual front-firing speakers, which is the best and loudest I've heard on a smartphone. It lacks a bit of thump and bass, but its sound is good enough for me. Like other flagship devices of ASUS, this phone also has AudioWizard installed, which gives users a number of audio presets or option to modify the equalizer.
Performance and Gaming Monster
Allow me to refresh your memory about how powerful this smartphone is in terms of specs.
[table id=98 /]
This phone is a powerful monster! Although the Snapdragon 855 is expected to be announced pretty soon, whatever this smartphone has is enough to be able to play today's and upcoming titles. As the device's hardware specs are highly customized, it is expected that there will software compatibility issues along the way.
However, ROG is committed to making all games compatible with it and in fact, they even devised a way for you to play around with its settings to override a particular game's setting. This is different compared to Huawei Mate 20 Pro, where some games like PUBG Mobile isn't exactly compatible with Kirin 980 yet so you're limited to playing the game at Medium settings. Similar to NVIDIA GeForce Experience, it lets you customize the game's performance as you see fit via Game Center. It is the heart and core of the gaming experience on the ROG Phone.
Not all games are compatible with the screen's refresh rate. As such, some games – at boosted settings via Game Center – try to reach a specific framerate threshold. Free Fire and Asphalt 9 go as high as 90 fps on the ROG Phone. We've got videos to show, but unfortunately, there's no way to really see the 90fps in action unless the system recorded it at such frame rate and you've got a compatible display to view it. Nevertheless, check out the videos below of some of the games we played and captured via the phone's in-game recorder (with internal sound).
If you're serious about mobile gaming and creating content about video games, this is the phone to beat. As seen on our benchmark database below (which we intend to build further for as long as we have this smartphone), it is obvious that this is primarily intended to be used as a gaming device. With the long list of current and upcoming mobile game titles in the market, gamers and mobile game streamers will definitely have a great time with this phone.
Free Fire is highly optimized for this phone, and that's a good reason for ROG to always use it in the marketing materials. With 90hz enabled via Game Center, Free Fire may be played at 90fps. PUBG Mobile can perform better but that's somehow expected as it is – similar to its PC counterpart – still a buggy game, to begin with. Asphalt 9, on the other hand, plays perfectly at 90fps with default settings and drops to around 55-60fps at the highest setting. Survival Heroes, a relatively new MOBA Battle Royale Game, performs the poorest among the games we played probably due to software optimization and performance demand. Temperature, without Aero Active Cooler, goes as high as 41°C; it drops to 36°C with AAC on.
Synthetic benchmark gives interesting results as well. I was specially shookt when I saw Antutu score since the result is fairly better when X Mode is disabled.
There are still various features that need to be tweaked, particularly Game Genie. My biggest qualm is that some games show alerts like Facebook Messenger chat bubbles despite having "No Alerts" enabled. It is annoying especially if you're into creating mobile game videos and streaming your game via Twitch and Facebook. And then there's also this missing feature via its streaming application where you are not natively allowed to use custom RTMP stream details to be able to stream your games in other platforms like Tamago and Bigo Live. This is an opportunity, which ROG needs to harness especially if they want their phone to be marketed to serious mobile gaming content creators.
Camera Performance is an inch above Zenfone 5z in terms of performance
Let me straighten things up. The camera on this smartphone is the same on Zenfone 5z. However, I was surprised to see how well the output of this phone than the 5z.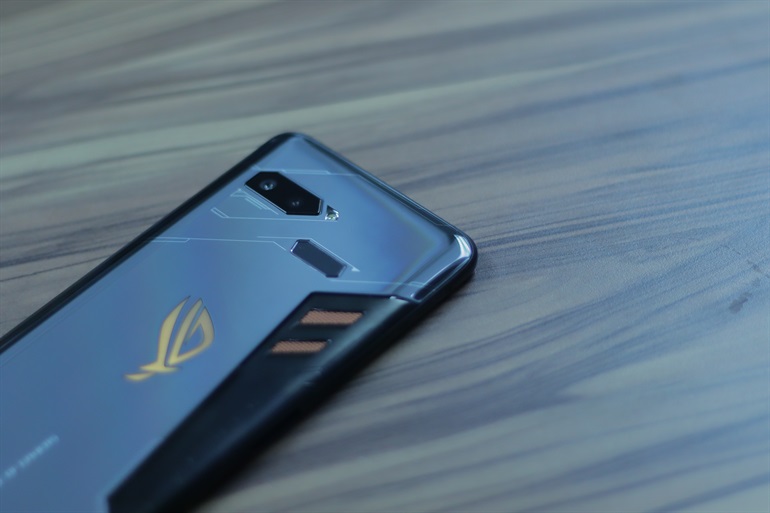 Colors are better, focus speed is faster and level of saturation and contrast are more on point; and that got me really surprised. How could one smartphone with similar camera sensor and specs produce better ones than its relatively older variant? We will have a dedicated post about it in the future, but for now, here are some photos for your reference.
Battery Life
This phone has two charging ports – one on the side, and one at the bottom. That means you can use it comfortably in any orientation without having to mind the charging cable. I didn't dare to hook up two chargers on both sides for the sake of science because I value my life just like any human being. Plus I didn't want to see an exploding PhP49K worth of gaming smartphone.
Its 4,000mAh battery can deliver up to 7 hours of game time over Wi-Fi, and with ASUS HyperCharge Technology, the device can be charged from 0% to 60% in just 30 minutes. Just be sure to use the included HyperCharge charger to see it in action. Battery life can last for 9 hours and 14 minutes with Game Mode enabled. It lasts longer by 1.5 hours with Game Mode disabled. This is rated satisfactory by my standards for a gaming phone with 4000mAh.
We recommend that you don't trickle charge this more than twice a month to prolong battery efficiency. Playing games while you're tethered to its HyperCharge is okay but doing it often would result to poor battery efficiency in the long run. We recommend that you start charging the device when battery drops to 25%. This phone has AI charging that helps in maintaining good battery efficiency, but there's no reason for you to do our recommendation.
Price
Let me address the elephant in the room: price. Some people say that PhP49,995 is expensive, but it is in fact way more affordable than its initial expected price. You have to take into account its original SRP + Shipping and Customs Tax ($899 x 20%), which is around PhP57,000. At PhP49,995, we are in fact getting a subsidized price in the Philippines
Second, this isn't a reskinned Zenfone 5z which is almost half of its price. At PhP49,995, you are paying for the cost of R&D, internal cooling and Gorilla Glass front and back panels.
Third, this device has an AMOLED screen, which costs way more expensive than IPS LCD; plus 3 ultrasonic triggers that give a ton of customizable benefits to gamers.
And lastly (because I have to stop myself because there's just too many to mention), this has a cranked up version of Qualcomm Snapdragon 845, which is made specifically for this device Imagine everything that both companies had to go through just to come up with something like this.
At this point, those who have PhP49,995 have various options to choose from that are officially available in the Philippines. Here's our recommendation:
ROG Phone: for hard-core gamers and/or gaming content creators
Huawei Mate 20 Pro: for mobile photographers and those who value productivity
OPPO Find X: for the sophisticated ones who need a stylish yet and powerful smartphone
Galaxy Note 9: for the designers and marketing professionals
Verdict
ASUS ROG is tapping a small yet growing market here but they are off to a great start. It's a niche but a very loyal market. This phone is excellent in many ways, as we detailed above, but it isn't perfect like any other phones we reviewed. ASUS has a growing list of assignments, but they have been constantly asking for customer feedback on their support and forum pages. In fact, the reason why we have the ROG Phone in the first place is that we asked for it.
Giancarlo Viterbo is a Filipino Technology Journalist, blogger and Editor of gadgetpilipinas.net, He is also a Geek, Dad and a Husband. He knows a lot about washing the dishes, doing some errands and following instructions from his boss on his day job. Follow him on twitter: @gianviterbo and @gadgetpilipinas.