Nioh 2 is shaping up pretty nicely as a follow up to the well received first game from 2 years back. We got to play a small chunk of the game thanks to PlayStation Asia and here are some of the new things we found about the game which is set to release in early 2020!
Character Creation. Back in the first game, you were assigned a character that totally looked like a bad ass samurai but there's just something about customizing an avatar to look exactly the way you want them to. The demo we tried did not allow us to customize at all but it is confirmed that you'll be able to customize your looks with a ton of different options, including race and gender.
Yokai Shift / Yokai Move. The demonic forces you'll face are tougher this time around but as they say, if you can't beat 'em, join 'em! That's right, you'll be able to turn into Yokai as well and even get to use their moves against them. How this works is that you get to pick up what's called Soul Cores, which are dropped by all Yokai. Once you get these items, you'll be able to equip them and use a special move from that Yokai. Of course some of these are more useful than the others, but anything to help you win is a good thing.
Good Yokai. They ain't all bad. Some Yokai, as it turns out, are actually good and can help you in your quest. During the demo, we encountered a Cat looking creature that you'll be able to interact with, in this instance you pet them. They'll follow you around for a while and will give you bonuses depending on the Yokai involved. The cat will gradually regenerate your Yokai Move meter, allowing you to use Yokai Moves more than usual.
Dark Realm. Another new feature in the game is the ability of the Yokai to drag you into their world, thus placing you at a disadvantage. Yokai powers are heightened in this realm, but you can swing the tide of battle by turning into Yokai yourself.
Expanded multiplayer up to 3 players. You read that right. 2 more players will be able to join you to battle it out against the demonic Yokai but watch out, the difficulty will scale to even things out. There also these things that look like blue sword mounds called "Benevolent Graves" which when interacted with, will summon a random helper to aide you in your battles.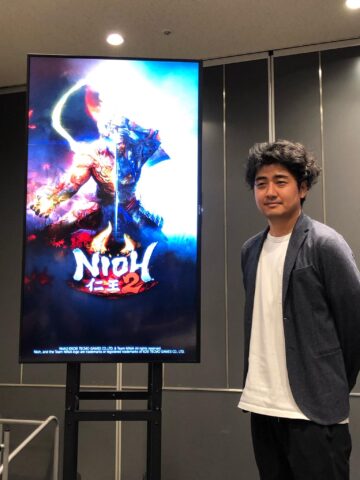 The producer for Nioh 2, Fumihiko Yasuda, has assured us that the game will be as tough (and enjoyable) as ever, stating that there will be no easy mode as it is designed really as a "Masocore" game. A star studded Japanese cast was also used to voice Toukichiro and Mumyo, utilizing the talents of Naoto Takenaka and Haru respectively. Lastly, Nioh 2 takes place a few years before the first, technically making it a prequel of sorts. We have yet to find out whether the main character from Nioh 1 will make an appearance.
Despite the difficulty, we absolutely loved Nioh 1 and this second game is bringing back all the good features from the first like stances and taking them to the next level. Nioh 2 releases in early 2020 from Koei Tecmo and Team Ninja.
Our Tokyo Game Show coverage is brought to you by our preferred network PLDT Home for fixed line connection at home and Smart Communications.
Videogame Content Editor. A father and gamer. Would gladly trade what's left of his soul to witness a Final Fantasy 6 and Xenogears remake done during his lifetime.