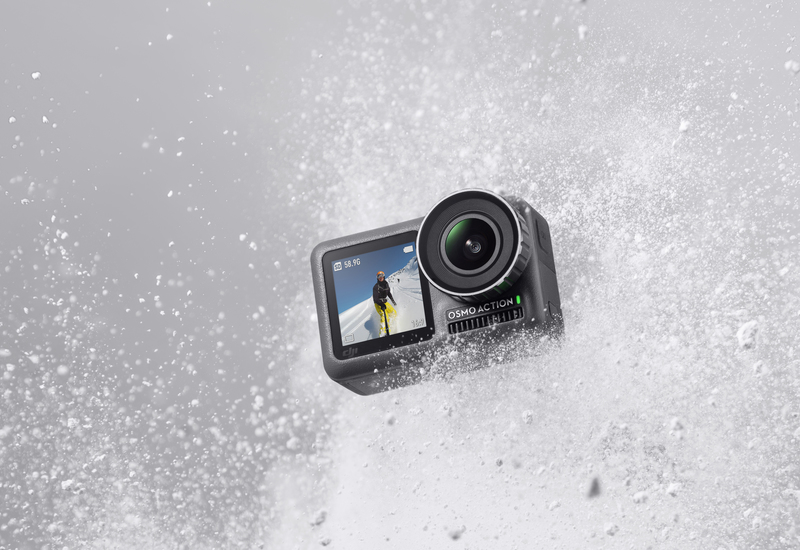 You've already seen it in rumors, and now, DJI has finally lifted the curtain off its newest action camera, the DJI Osmo Action, designed to capture exciting moments in stunning 4K, with unparalleled stability and opening up a myriad of possibilities both for adventurers and content creators.
"DJI has always pushed the limits of technology, and the content creators who love our products made clear they wanted us to push the limits of their creative potential too. Osmo Action is our cutting-edge answer to what the creative community  demands: Exceptional image quality and stabilization in a unique and durable new form factor, with dual color screens and seamless software integration. For all types of creators who push their gear to the limits, Osmo Action sets the new standard. Whether you are capturing aerial content with Mavic 2, incredibly smooth content with Osmo Pocket, or heart-racing footage with Osmo Action, DJI offers a full suite of products for your creative needs."
– Roger Luo, DJI President
Rugged construction and intuitive design
The Osmo Action features an extremely compact yet durable design. It's dustproof, shockproof, waterproof and can even work in sub-freezing temperatures.
Equipped with screen on both the front and back, the camera allows for convenient scene composition, even when on the move. The 2.25-inch rear display has a water and fingerprint repelling coating, while the 1.4-inch front display make vlogging and even taking selfies easier than before. Thanks to 750 nits of brightness, you can use the Osmo Action in harsh lighting conditions.
Action OS combines a streamlined and functional physical design with flexible operation. Three dedicated buttons allow you to power the device on, initiate recording, and cycle through the various video and capture modes with ease. You'll never miss any moment, thanks to SnapShot, which allows the device to immediately turn ON and automatically start recording in under two seconds in a single press of the shutter.
Advanced technology with exceptional image quality
At the heart of the Osmo Action is a 1/2.3-inch sensor that records 12MP photos and up to 4K 60fps videos at 100mbps and in stunning detail. Its three-glass aspherical lens design records low-distortion content and helps in reducing warping effects. It's lens cap is also specifically designed to reduce the unwanted effects of lens glare, allowing users to shoot in bright conditions.
The Osmo Action is the first DJI handheld camera to incorporate RockSteady, the company's EIS technology that works with high performance algorithms to record every moment in smooth, stable and high-quality video, even in 4K 60fps.
The device also supports HDR video in 4K 30fps and houses a removable battery that can record up to 93 minutes of 4K 30fps videos with RockSteady enabled, and up to 135 mins at 1080p 30fps with RockSteady disabled. Dual microphones allow users to take advantage of the Osmo Action's voice control, and a speaker allows for outstanding playback quality.
Creative, intelligent features
The DJI Osmo Action is capable of capturing 8x slow motion in 1080p 240fps or 4x slow motion in 1080p 120fps, allowing for a more visually creative effect when documenting action-packed scenes. It can also do a Timelapse for capturing moments with the effect of the world moving faster. It lets users to capture the night sky in detail with manual and semi automatic settings which allow for 120 seconds of exposure.
Unlocking Osmo Action's full potential
Using DJI's Mimo app, users can connect the Osmo Action to their mobile devices via WiFi or Bluetooth for added functionality, such as a live feed of the camera, multiple story templates, in-app quick editing, and more.
Various accessories are also available for the Osmo Action – A Camera Frame Kit which offers a universal mount for additional accessories, Adhesive Mounts that allow users to attach the camera to flat or curved surfaces found in skateboards, bikes, and more, a Waterproof Case that protects the device at depths of up to 60 meters while still providing clear images, a 3.5mm adapter for connecting an external microphone, an Extension Rod for capturing moments in unique angles, a Floating Handle for a comfy grip when shooting in water, Filters to reduce light exposure in certain environments, and a Charging Hub which can charge up to three batteries simultaneously.
Pricing
The DJI Osmo Action retails for USD349. It will start shipping today, May 15 at DJI's online store, and from Authorized Dealers on May 22. The device has also appeared in the DJI Philippines online store, and is priced at PhP22,800 (local availability is still to be announced). For more information, click here.
Emman has been writing technical and feature articles since 2010. Prior to this, he became one of the instructors at Asia Pacific College in 2008, and eventually landed a job as Business Analyst and Technical Writer at Integrated Open Source Solutions for almost 3 years.