As of November 26, 2019, this process has recently been redacted. We were informed that permits for drone flying for personal use is no longer approved.
[Update: Friends! As of November 26, 2019, I have been receiving reports and feedback that flying a drone in Boracay has been suspended by the city government. Can somebody please confirm? Thanks, everyone!]
So you got yourself a new drone to document your travels this summer. Your new stop is Boracay for a full week, and you thought that bringing your drone will upgrade your documenting game by showing how you enjoyed the scenic views and all the stuff you enjoyed with your friends or family. Then you realized you cannot use it unless you have the permit to fly it in Boracay.
According to a friend's connection, Joel Andrada, "Malay LGU has a municipal ordinance. You need to secure a permit to fly. And you are only allowed to fly outside the 10km radius from the nearest airport which means drones can't fly over the famous White Beach. CAAP Licensed Pilots are sometimes allowed as long as cleared with LGU."
Based on what he said, CAAP License does not automatically give you the clearance to fly your drone, so it's safe to say that the ordinance supersedes it. Nevertheless, it's still best to get CAAP License plus permit to fly in Boracay. If you want to know more about how you can get UAV Certificate from CAAP, contact them at [email protected] / + 63 2 879 9229. Without CAAP license, you can still fly your drone in Boracay, provided that you have the permit. However, if you're flying it for commercial purposes or flying a drone that weighs 7 kilograms (15 pounds) or more, a CAAP license is required.
Consider this your guide on how you can fly your drone in Boracay.
Step 1: Know the specifications of your drone
You need to be fully aware and familiar of the drone you're going to pilot. Information like serial number and model/type can be seen from the drone, but you also have to be familiar with how far and high it can reach and flight duration in a single battery charge.
If you wish to quickly see basic information about your drone, you may refer to this chart.
Step 2: Download, fill out and print this template
You will need to request permission from the Municipal Mayor of Malay to fly your drone. When I went to their office in Boracay, they handed me over a form, which I need to copy on a blank sheet of paper and submit accordingly. Here's a template that you can download. Be sure to fill everything out and print accordingly. You will need this when you request for permit to fly in Boracay.
While you're asking for a permit to fly in Boracay, the issuing party is Malay office so it's up to you if you wish to change the content of the permit to fly it "in Malay, Aklan" instead of "in Boracay". This, logically, lifts the limit to fly your drone in permitted areas like Puka Beach. Note that there are specific areas where you won't be allowed to fly your drone in Boracay. Be sure to check out Airmap for your reference.
Note that their office is open only from Monday to Friday, 9am to 5pm.
Step 3: Submit Form Municipal Mayor's Office office
The office of the municipal mayor of Malay is near Station 1. The office is near Our Lady of Most Holy Rosary Catholic Church, and just above MSWD's office. Head up to the 3rd floor, and look for Anna Marie Daulong. She's the one who is issuing the form and giving instructions on how to pay and secure the permit. If you come to their office in the morning, there's a chance that the one who's supposed to sign the permit (not the Mayor) is still out so you may have to return to their office in the after to get it. Note that upon payment, the office is basically giving you the permit to fly albeit without the actual copy of the permit. This happens when the signatory to the permit is, as mentioned, isn't still around.
Step 4: Pay the fee to the cashier
As of the time of this writing, the permit fee to fly a drone per day is PhP1,600. Be sure to pay this at the cashier located at the 1st floor of the office. As for the breakdown of fee, please refer below:
Registration Fee: PhP500
Special Permit: PhP1,000
Certification Fee: PhP100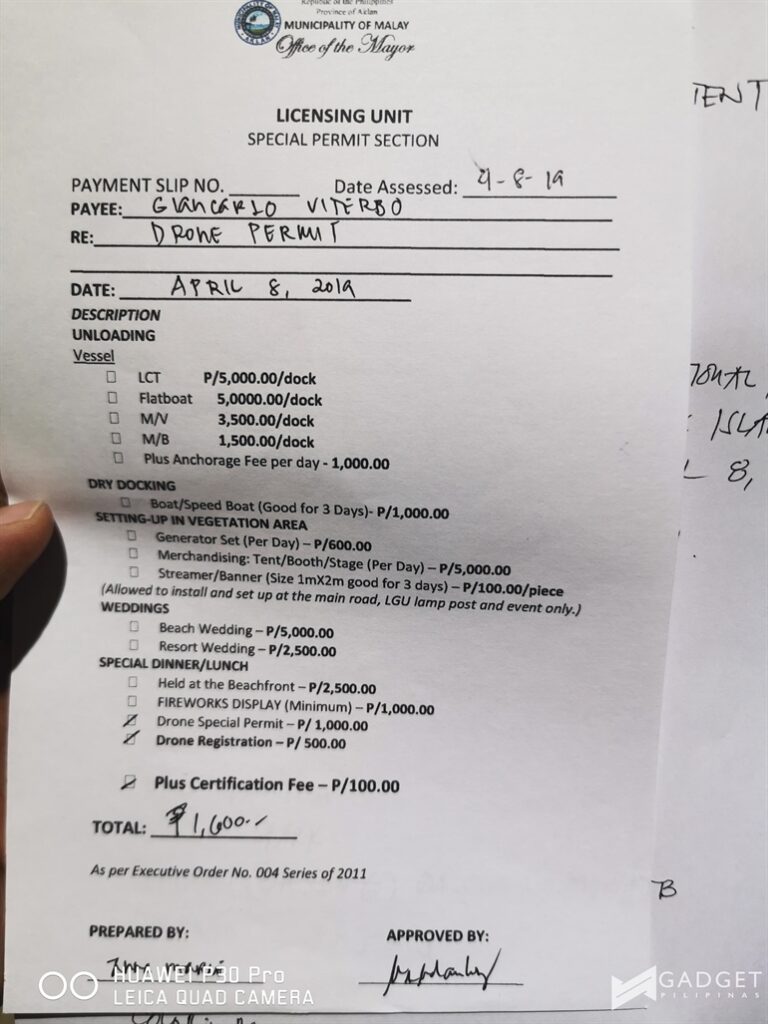 Step 5: (optional) Give your hotel concierge a copy of your permit and receipt
If you're staying in a hotel, I recommend that you give a copy of your permit and receipt to the concierge and ask them to get a copy of it. You will need to original copy so be sure to get it from them. Be sure to bring your permit and receipt if you're going to fly your drone in Boracay. When you start flying your drone, some enforcers may approach you and ask you to stop. They have the right to do so, but I recommend that you politely show them a copy of your permit. Note that the enforcers will ask you stop regardless of permit issued to you if you're flying your drone in a densely populated area.
There you have it! Those are the simple rules of flying your drone. UAV Coach made a pretty extensive list of Do's and Don'ts of flying a drone. Check it out here. Now, check out the video I made from my recent trip.