Last year, we reviewed the ASUS ROG Strix GL504 Scar II, which was nothing short of an impressive gaming machine. Today, we take a first look at its bigger and more powerful brother, the ASUS ROG Strix Scar II GL704. Announced at CES 2019, this beast packs the new NVIDIA GeForce RTX 2070, which brings ray-tracing to the table, offering a more lifelike and immersive gaming experience on top of all the usual goodies.
Specifications
[table id=258 /]
Design
The GL704 sports the usual accents of a SCAR laptop, with camouflage patterns on its body, and a two gradient finish on the lid, divided. The ROG logo is also RGB-enabled – a nice touch to add that extra visual zing.
You get a huge 17.3-inch display, surrounded by minimal bezels, and packed into a 15-inch body. That basically means you get the same portability, and at the same time, more real estate for your content. I still think that a few millimeters off the bottom bezel would've been better, but I guess that's a design limitation.
Talk about the display, you get 144Hz refresh rate, and 3ms response time. To sum that up, you get smooth and fluid visual on just about every title you'll throw at it, and of course, to the benefit of FPS games, which is what this laptop was designed for anyway.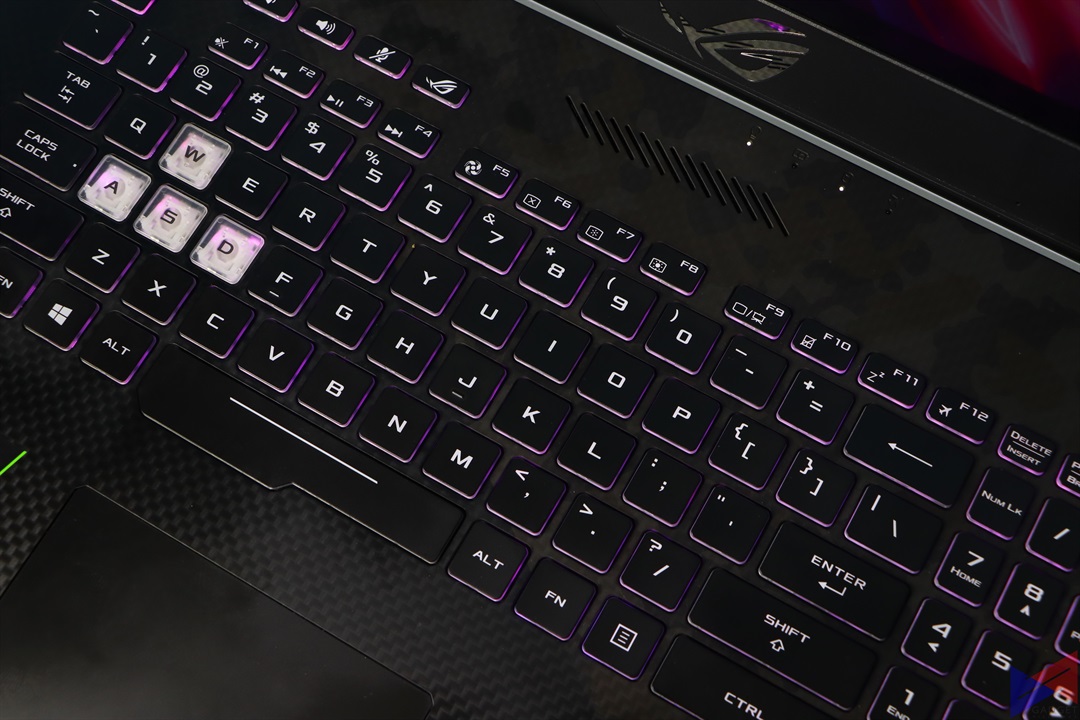 As for the keyboard, you get the same layout as the GL504. There's just enough spacing between keys to minimize mistakes in typing, and the Armoury Crate Key is separated along with the volume buttons and the microphone enable/disable button. The keys are RGB backlit, and you can freely customize the lighting effect on various zones.
The W,A,S and D buttons are highlighted, typical keys that you'd use in an FPS game. Typing feels comfortable, and each key is responsive. It's nowhere near the feel of a mechanical keyboard, but it's more than enough to serve its purpose.
As far as ports are concerned, you get a total of 5 USB 3.1 ports, one of which is a Type-C port, a Mini DisplayPort, an HDMI port, a dedicated LAN port, an SD Card Reader, and an audio jack.
Like the smaller SCAR II, the GL704 also sports the new RGB-enabled bar at its chin. And while it's pretty and all, I still wish that it had other functions, such as perhaps a thermal indicator, or a color-coded indicator of which mode you're on. You know, small things that can be useful, instead of just being there to add visual fidelity.
Performance
Synthetic Benchmarks – 3DMark 8
To emphasize the difference in performance, we pitted the scores of the GL704 to other ASUS ROG Gaming Laptops with last-gen GPUs. The difference in scores aren't really that big, but how does that translate to actual gaming performance?
Synthetic Benchmarks – CrystalDiskMark

The 512GB SSD in the GL704 demonstrates decent read and write speeds. Bootup time is also very fast (under 10 seconds)
Synthetic Benchmarks – Cinebench R15

The RTX 2070-powered machine tops the scores for the OpenGL ranking, while the Intel Core i7-8750H only falls behind on a server-grade processor.
Game Benchmarks
We tested the GL704 in 5 titles, to see how it performs in various genres:
APEX Legends
The Witcher 3: Wild Hunt
Project Cars
Resident Evil 2 Remake
Rise of the Tomb Raider
As seen in the benchmark results, the GL704 managed to perform well across all titles we threw at it. Due to some technical difficulties, we weren't able to try out a game which had Ray Tracing on it such as Battlefield V. But we promise to make an effort to add at least a gameplay video in the future.
Thermal Management
As impressive as ASUS' cooling sounds, the numbers are quite worrying, especially when it comes to the CPU, which went as high as 97 degrees celsius at a point. The good thing is that there weren't any visible clunks in performance despite the high temperature.
Audio
We loved how the GL504's speakers sounded, and it's the same case here. It's loud, minus any distortion, the sound is clear and doesn't resemble someone speaking from a tin can. Bass is present, but not overwhelming, and vocals come across as sweet and crisp.
Software
One of the biggest changes that ASUS made for it software suite is the Armoury Crate, which works like a central hub not only for monitoring your gaming laptop's performance, but as well as making adjustments to the various settings available. The UI has been redesigned to a more straightforward and simple approach, which gets a thumbs up.
You can now monitor CPU and Memory usage for your apps, and free up resources accordingly. No need to open a separate Task Manager.
Since the GL704 has Aura Sync, Armoury Crate also lets you manage the lighting effects across compatible devices. There's even a section for the latest news on ASUS and its products.
Availability
ASUS Notebook products are available in ASUS ROBINSONS ERMITA CONCEPT STORE AND ALL ASUS CONCEPT STORES NATIONWIDE. ROG products are available in Megamall and ROG Concept Stores Nationwide.
Emman has been writing technical and feature articles since 2010. Prior to this, he became one of the instructors at Asia Pacific College in 2008, and eventually landed a job as Business Analyst and Technical Writer at Integrated Open Source Solutions for almost 3 years.