Last September, Vivo launched its newest front runner in the country, the V11. Sporting a new look, a powerful high mid-range processor, AI powered optics, and an in-display fingerprint scanner, this device aims to offer the company's latest innovations, and a premium experience minus the hefty price tag.
Unboxing
Specifications
| | |
| --- | --- |
| Processor | Snapdragon 660 (Octa-Core) |
| RAM | 6GB |
| Storage | 64GB (Expandable) |
| Display | 6.41" FHD+ Halo FullView Display |
| Rear Camera | 12MP (f/1.8) + 5MP (f/2.4) |
| Front Camera | 25MP (f/2.0) |
| OS | Android 8.1 Oreo + Funtouch OS 4.5 |
| Battery | 3,400mAh |
| Other Features | In-Display Fingerprint Scanning |
| | Dual Engine Fast Charging (9V 2A) |
| | AI Scene Recognition |
| | AI Face Beauty |
| | Slow Motion Video Recording |
| | AR Stickers |
| | AI Selfie Lighting |
| | AI Face Shaping |
Design and Build Quality
While still primarily made of plastic, the Vivo V11 does feel like a premium device in the hand, thanks to its slim for factor, and curved back.
The company also deviated from the usual color options, and introduced color fusion. Our review unit was of the Starry Night variant, which utilizes a combination of black and a glittery blue surface, making it look like you're watching stars in the night sky. Mind you, the back panel has a glossy finish which makes it a smudge magnet. It can also get slippery, so I suggest you use the supplied clear case.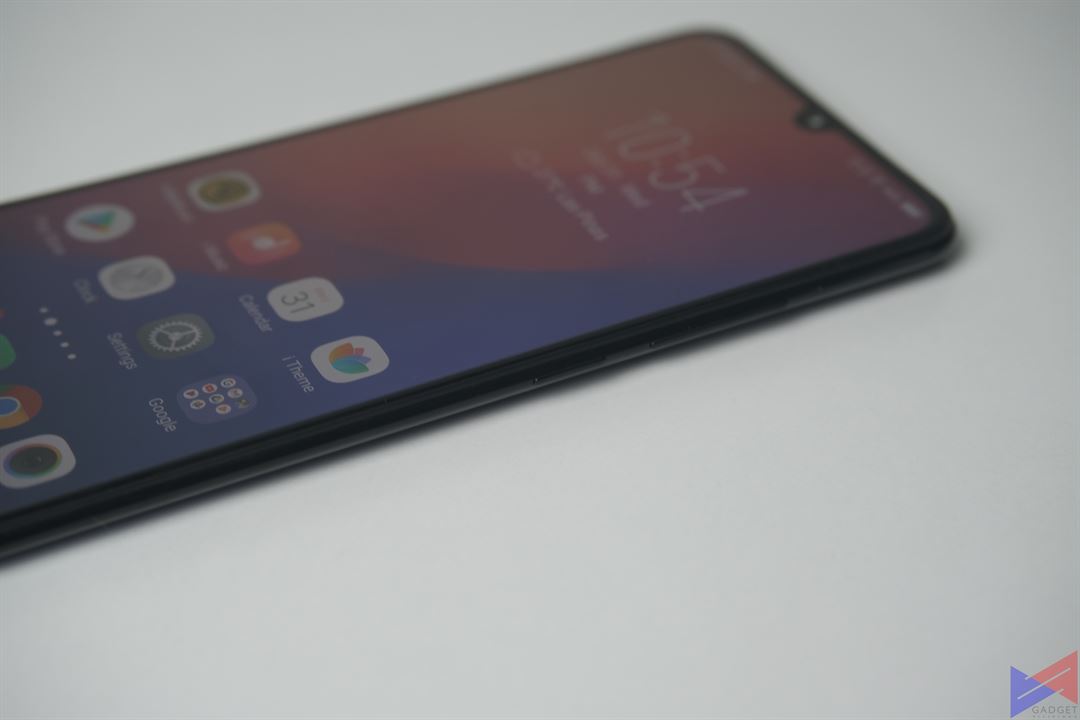 All the buttons are located on right side, while the left houses the triple slot tray.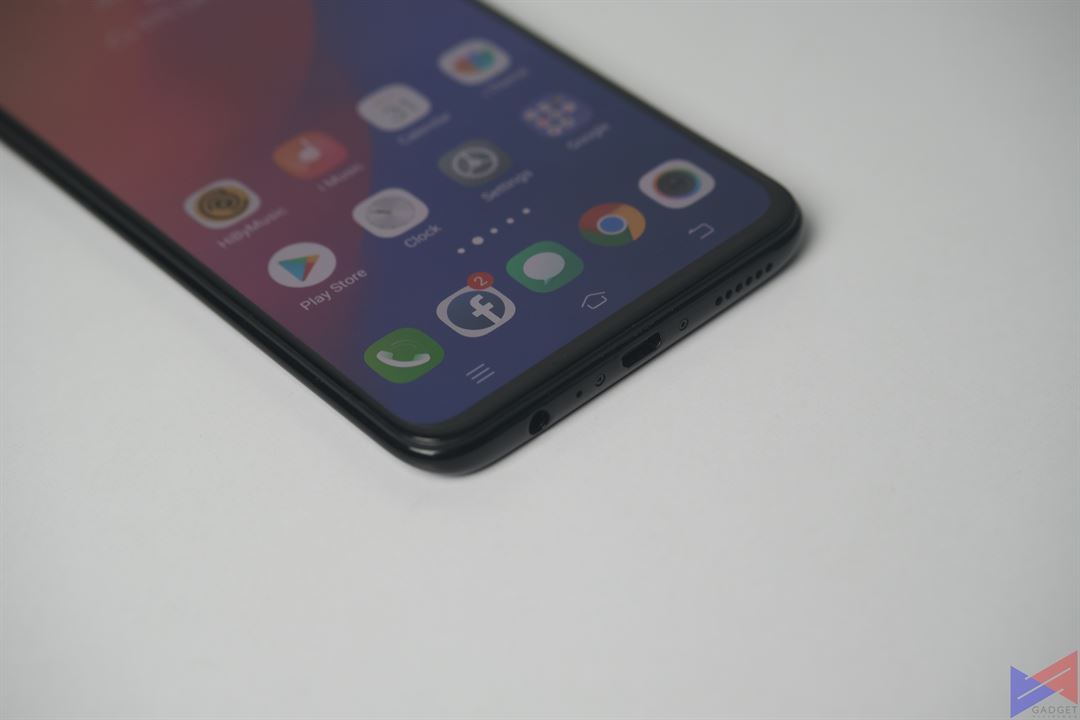 Vivo still sticks to a standard microUSB port, which is starting to feel a bit outdated for a 2018 phone, where competitors are starting to transition to USB Type-C ports. Well, at least you get fast-charging.
Speaking of the display, the V11 utilizes a noticeably smaller notch compared to the V9. Of course, that means you get more screen. And because some apps are still not fully compatible with this kind of display, some notifications, such as in who goes active in Messenger, appear cut off by the notch. What's worse? you can't turn it off like in some other phones.
As far as the display quality is concerned, the FHD+ resolution certainly compliments Funtouch OS, as colors look punchy and vivid. Text looks sharp, and icons don't appear pixelated in any way. Content is also visible under direct sunlight, so long as you turn the brightness to max.
Performance
The Snapdragon 660 is one of the most powerful chips in the 600 lineup, and ideal match for those who demand performance and efficiency. As such, the V11 didn't give me any headaches as a daily driver. Apps open fast, and multi-tasking was a breeze, thanks to 6GB of RAM.
I also tested it with a number of games = PUBG Mobile, Real Racing 3, and Survival Heroes, a game that combines MOBA and Battle Royale elements.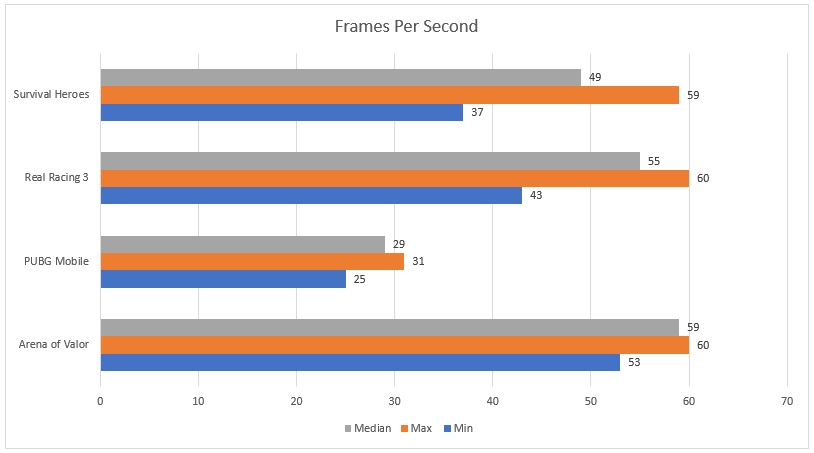 Based on our test results with GameBench, the V11 can handle both Real Racing 3 and Arena of Valor with good framerates. AoV in particular, had HD display and High Frame Rate settings enabled. PUBG Mobile ran well at HD + High FPS settings and , and Survival Heroes will plays generally well at the highest settings (I'd recommend toning it down to high or mid for smoother gameplay though).
Camera
If there's one thing that's improved a lot, and I mean a lot, from the V9, it's the camera. The V11's rear camera was so good, that most of the time, I'd use it for product and stage shots during events. Of course, the quality isn't comparable to a flagship or say a mirrorless camera, but it's perhaps as close as you can get with a mid-range device.
The V11's main shooter has AI Scene Recognition, which means it can optimize the camera settings to whatever you're taking a photo of. It's not always accurate, of course, but it gets it right most of the time. It's also not overly aggressive in enhancing the quality.
The details aren't superb, but for a mid-range device, it's what i'd say surprisingly great. Its backlight HDR also works well when it comes to enhancing less illuminated sections in the photo, and focusing speed is also quite fast.
The depth effect is kind of a hit and miss as far as accuracy is concerned, as even with proper focusing, it tends to blur out parts that aren't supposed to be blurred.
Low-light photos are also quite impressive. So long as you're steady with focusing, you could get detailed, sharp, and blur free shots. I was also impressed as to how it handles multiple light sources in the background.
As far as selfies go, you can do well without its AI beautification, which I feel is a bit too aggressive in correcting blemishes and the like. In low light, the screen flash does help to improve the quality.
Software
I've always looked at Funtouch OS as a very refreshing take on Android, remaining simple, but functional. Honestly, it doesn't give me a lot of room for complaints, but there are a number of them.
You can't for example, set the home screen layout to fit in more icons, but you can fit more on the bottom section. Like, what is that? You can't hide the notch either. Which means you're stuck with cut off notifications on some apps such as Messenger.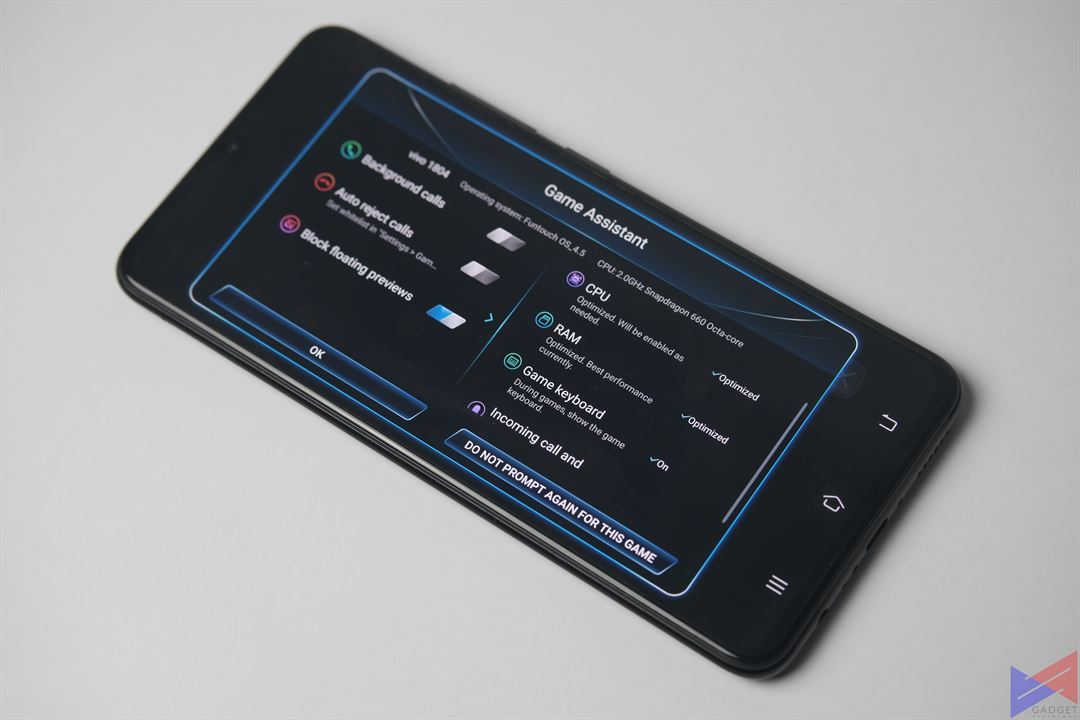 On the bright side, Game Mode works very well to block off notifications when you're playing, while also optimizing the phone's performance. Face unlock also works well, even when there's less than ideal lighting, and is pretty quick.
You also get an always-on display, which is a very nifty tool that offsets the lack of an LED indicator. Using icons, it notifies you when there's a message, or a call that you've missed. You can even schedule it to only appear at certain times.
As far as the in-display fingerprint scanner is concerned, it's still a hit and miss, which can get really annoying in situations when it's the only way you could unlock the device. I also wish that you can use your fingerprint anywhere on the screen as supposed to only at the bottom.
Battery
Running a test of continuous video playback with 50% brightness and 80% volume, the V11's 3,400mAh battery lasted for 13 hours. Quite impressive right? in a more realistic scenario of various activities with mobile data usage, it should last you a full work shift, with a bit of juice left on your trip home. Vivo's Dual Engine quick charge technology can power up the V11 from zero to full in less than 2 hours.
Vivo V11 Review
Our Verdict
Straight out, the Vivo V11 is one of the better mid-range devices out there. For one, it offers features that you wouldn't expect from a mid-range phone, such as fast-charging, an always-on display, and an in-display fingerprint sensor. It delivers good gaming performance, its cameras are unexpectedly impressive, and its got great battery life. There's of course, it doesn't come without downsides. Funtouch OS could use a bit more options for personalization, the in-display fingerprint scanning is a hit and miss, and the phone still uses a microUSB port. Despite all that though, I'd say the V11 is a good value for money for its PhP19,999 price tag. You're getting more for what you pay.
What's Good
Good daily and gaming performance
Impressive camera performance for a mid-range device
Great battery life
Fast Charging
What's Not
Still uses a microUSB port
Software could give more room for personalization
In display fingerprint scanning is a hit and miss
Depth effect accuracy is inconsistent
Emman has been writing technical and feature articles since 2010. Prior to this, he became one of the instructors at Asia Pacific College in 2008, and eventually landed a job as Business Analyst and Technical Writer at Integrated Open Source Solutions for almost 3 years.