We expected this to happen when OPPO's former PR Manager left his post last month to join Realme. After months of speculation, Realme's action to put up Philippine-region Facebook page cemented its confirmation that they are coming to the country.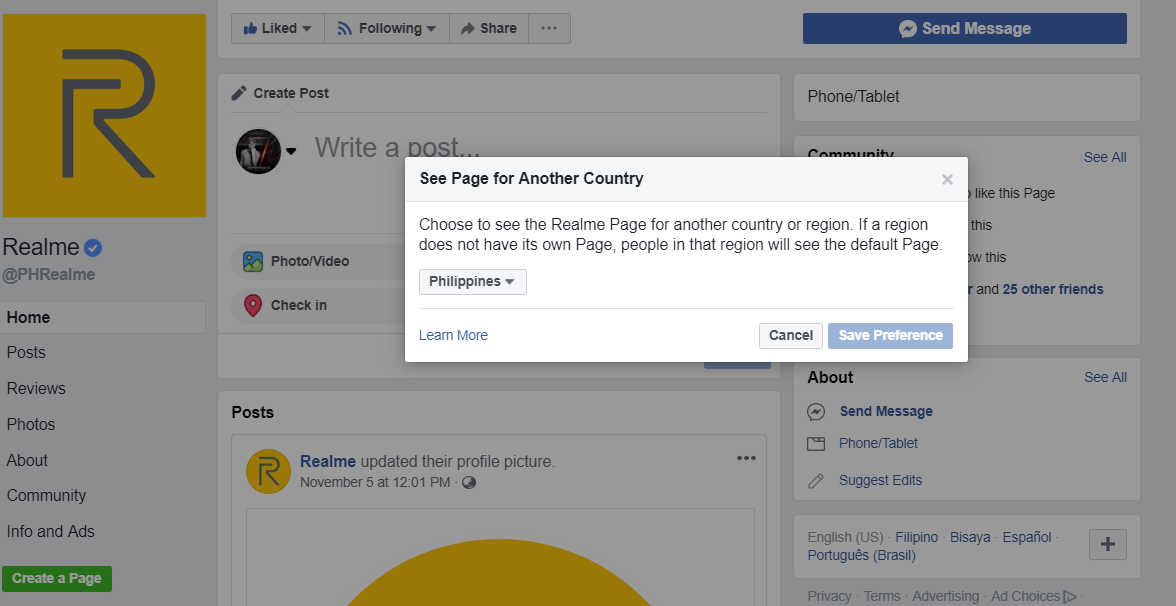 There isn't much to see on the new regional page as they are still preparing their first salvo of promotion in the Philippines. We had to switch our region to Thailand for us to have an idea of what to expect from Realme Philippines once they have established themselves in the Philippines. You can also do this by following the instructions here.
Thailand's market is pretty similar with the Philippines. It isn't a remote idea for their marketing team to pattern their PR and digital strategy in Thailand to our country.
Their first phone to launch in the Philippines is Realme 2 Pro

Whether or not they are going to selling this for PhP9,990 or more, it is undeniable that RealMe 2 Pro is going to be the first smartphone they will launch in the Philippines. The only question now is "When?".
Realme will be going against Huawei's Y and Nova Series
Proud to be Young!
If we are to follow Realme's brand positioning, their products will be heavily marketed to the young and working millennials. This is the same market that Huawei is tapping for their Y and Nova series. The video above is Realme's branding and promotional video. I'm curious about who will be they're tapping in the Philippines as model or influencer.
Collaborations with Lazada
OPPO does not do this type of content on their page. Realme, with their target audience and market might do something like this on their page. They are free to collaborate with their eCommerce partners, blogging advertisers and influencers. I wouldn't even be surprised if Realme will have collaboration with Tamago or Bigo Live video game streamers too to reach a wider and more pinpointed group of audience.
They will heavily use the world "Real" in their marketing spiels, captions and promotions
Why not?! It's a catchy and relevant word for the brand to use. There are a number of ways to use it in their collaterals just like how Realme Thailand does it in their country. The photo above is an invitation for their fans to join their nationwide event.
I cannot wait for these things to unfold in the next weeks. These are mere speculations, but we're thrilled to know what Realme Philippines will actually do to engage with their new fans.
The Filipinos welcome you, Realme!
Gianfranco is the co-founder of GadgetPilipinas.net. He graduated from Far Eastern University. A Psychology student turned tech-savvy. He's currently the HR Supervisor of Blip Media and one of the content producers of Gadget Pilipinas. He enjoys playing competitive video games and binge-watch American TV series.