[vc_row][vc_column][vc_column_text]If you're thinking about grabbing this smartphone as Christmas gift to yourself or to your loved one, be sure to read through this comprehensive review. In case you missed our posts about this smartphone, go ahead and check them all out below.[/vc_column_text][vc_column_text]
[/vc_column_text][vc_column_text]
Build
Huawei Mate 20 Pro's design exceeded my expectations. They made an effort to add extra premium-ness to its build especially with its latest colorway – emerald green. While the one I've got – iris purple – shares similarities with P20 Pro's color, Huawei added contrast to its color to make it appear different from previous designs.
If you follow Wit Rigs on YouTube, you will notice the overall construction of the device is made of metal.  As a device with external materials made of glass, you have to use this with extra care and added protection. The accidental ding on the left side of my device is irrecoverable and while you wouldn't spend much compared to replacing it compared to iPhone XS or XS Max, parts may come hard to come by. The included silicon case in the retail box does the job pretty well, or you can simply by another case from Xunnd via Lazada or Shopee. I wise investment for a smartphone that can send someone to school for a year or more.
Screen
Huawei Mate 20 Pro has more screen real estate than most of the phones we reviewed at similar or higher price point. This is a major advantage of Mate 20 Pro as it retains to have bigger coverage and space without sacrificing the phone's overall size.  It is also good to note that the phone's screen has curved edges, like the one on Galaxy Note 9. There's no function associated with it though apart from aesthetics. Unlike the one from Note 9 where there are gestures that may be used on it, or on OPPO Find X where light wraps around it whenever there's notification, Mate 20 Pro's screen is just all about beauty.
Huawei's latest smartphone does not just have awesome quality but it also has a nifty trick underneath – a fingerprint sensor. This is the same technology found on Huawei Mate RS Porsche Design that was introduced last year.  I love the screen on the Mate 20 Pro as much as I like the one on iPhone XS Max. Each device has its own merit in terms of quality, size and extra features. The advantages of Huawei's star product in terms of screen quality isn't remote from the iPhone; whatever nifty trick Huawei has underneath its screen can be topped by the iPhone's 3D touch technology.
While there are cases of screens that slowly turn green when it takes a bit of heat, the review unit we got does not seem to show any issues at all. If you think that you've got such issue, verify it by doing the following:
Go to a very dark room.
Turn to dimmest brightness. Then, press dialler.
Install OLED Tools. Go to uniformity test. Go to gray color. Set program brightness to 10. Set phone brightness to dimmest.
If you encounter any issues, call Huawei and I'm pretty sure that they will assist you accordingly.
Wireless Network
The new Mate 20 Pro can house 2 nano-SIM cards or 1 nano-SIM card + 1 NM card. It's an interesting take on making use of the other SIM card slot, which is plus a factor on the new Mate. Unfortunately, the NM card isn't available yet as of this writing, but I might get one once it comes out locally.
This is another advantage of Mate 20 Pro compared to other smartphones we tested like the iPhone XS Max. While the latter has more available 4G frequency compatibility, its saving grace is the physical dual SIM slot, which may be very useful for a lot of Filipinos! The iPhone XS Max has more compatible LTE Bands that may be used in Canada, US and Japan but almost all the bands being used in the Philippines are on both devices. The only major advantage of iPhone XS Max is its compatibility with LTE Band 41 (2500) is being used in the Philippines, US and Japan.
Software and Performance
Huawei did an exceptional job in beefing up the software features of the Mate 20 Pro without eating a lot of resources. Most of the features are linked to AI, and you'll be surprised how helpful the features are in real life usage. From being productive to playing mobile games, AI and the software that run in the phone give a pleasant and smooth experience. Camera performance that also has something to do with software is another facet that's worth discussing, but we have a dedicated section about it later.
Mate 20 Pro's impressive performance is attributed to its software and the hardware that makes it run. If there's one thing that you need to focus your attention to when it comes to hardware, get your eyes glued on Kirin 980.
Kirin 980 is the world's first mobile processor to be built on a 7nm chip; that's 6.9 billion transistors in a less than 1 square centimeter. Versus its predecessor, it promises to improve single core performance by up to 75%, and is the first to use the Mali-G76 GPU, which offers up to 46% improvement in graphics performance.
What good is a fast and capable processor if it eats up a ton of power, right? Huawei once again pushed the limits to make the Kirin 980 as efficient as it could be. In fact, it offers up to 58% improved overall power efficiency, which means more up time for you. And take this – it can intelligently adapt and adjust power consumption depending on what you're doing, so you're assured of great battery life with no compromises to performance.
While these things may be technical and marketing jargon for most of us, we thought of putting the performance of the Kirin 980 to the test by playing a few of our favorite games. 3 of the games that we currently play so far would test the capability of the chip and the overall performance of the Mate 20 series. There will be sections that we will pit its performance against last year's Kirin 970 to give you a definitive proof of the current chipset's improvement on the Mate 20 Series.
As stated, we thought of putting the Kirin 980 up for a gaming test; one of the best ways to see how it really performs. Using the Mate 20 and Mate 20 Pro, we'll play three games – PUBG Mobile, Survival Heroes, and Arena of Valor. We'll use GameBench to measure FPS, Memory and CPU usage, as well as battery usage. This is far from the usual synthetic benchmarks that we are used to do.
Oh, and before we forget: at default both Mate 20 and Mate 20 Pro have Performance Mode disabled. In order for us to fully maximize the experience, we did the following things:
Enter "Settings"
Click on "Battery"
Toggle "Performance Mode" on
Performance Mode is now activated
[su_spoiler title="Where to find this?" style="simple" icon="plus-circle"]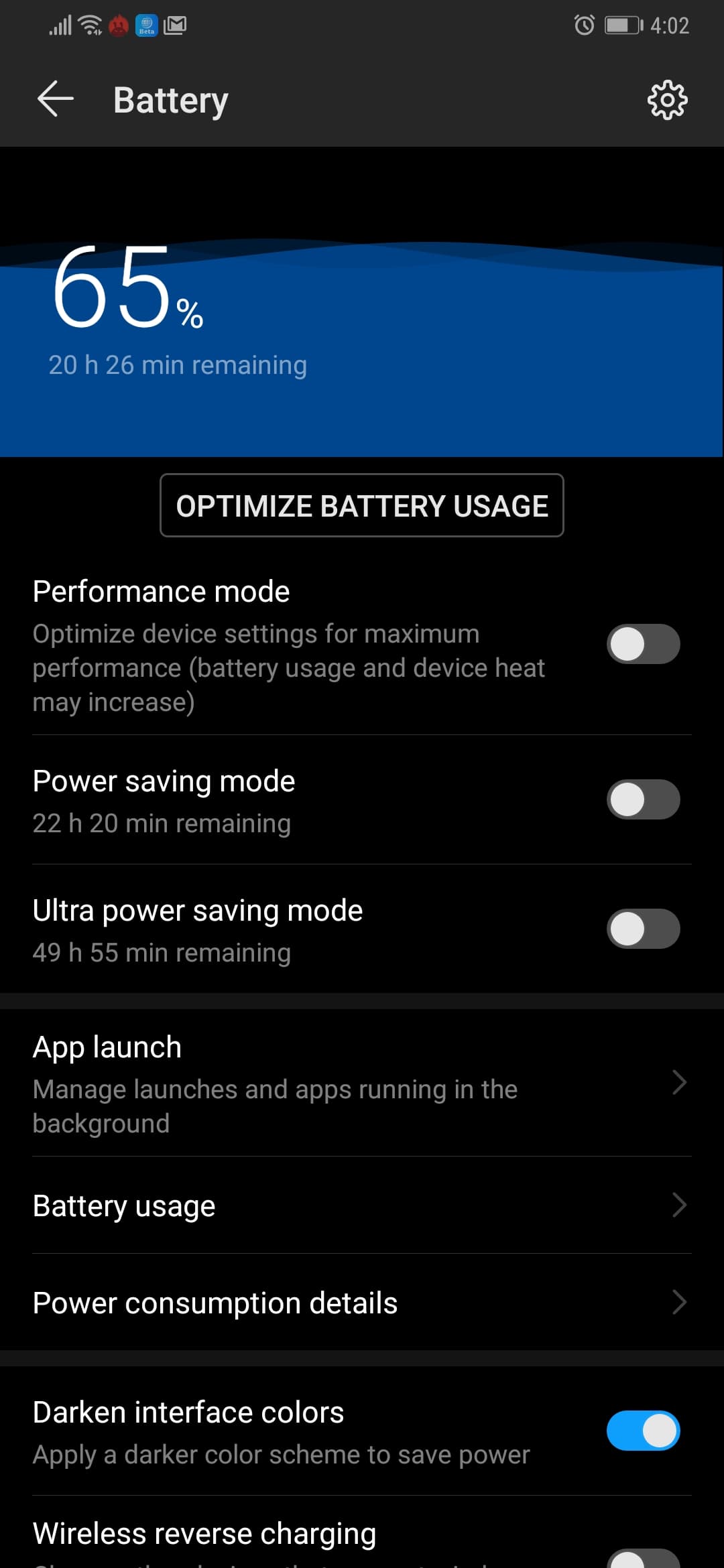 [/su_spoiler]
PUBG Mobile
PUBG Mobile, as of this writing, isn't optimized for the Kirin 980 processor.  We wanted to natively crank up the settings on the Mate 20 and Mate 20 Pro, but could only go Balanced + Medium FPS for the time being. Perhaps, PUBG Mobile doesn't fully support the relatively new Mali G76 on Huawei Mate 20 Pro, but that's something we have to verify from PUBG Mobile Corp. Based on our research, Kirin 980 is the first system-on-a-chip (SoC) to have Mali G76 GPU.
On Mate 20, the phone managed to output a median FPS of 27, which is close to the 30 FPS cap, with 97% stability. This means that the fps is very close to the median for most of the time, which is positive by most standards.
CPU usage peaked at around 40%, while memory usage peaked at 930MB. As far as battery usage is concerned, you should be able to play PUBG mobile for 9 hours straight. Quite impressive power management.
We artificially cranked everything up on Mate 20 Pro using GFX+ Tool for PUBG Mobile. It is a paid application, but it allowed us to entirely play and test the game in maxed out settings. We used it along with Gamebench to measure its gaming performance while disregarding the cap imposed by PUBG Mobile. For reference, here is the custom settings we enabled on GFX+ Tool:
Game Variant: Global 0.9.X & 0.8.x: LightSpeed & Quantum
Resolution: FHD (For gaming phones)
Graphics: HDR
FPS: Extreme: 60FPS (May experience high phone heating)
Style: Colorful
Shadow: Enabled
Shadow Quality: High
Shadow Pixels Resolution: 2048
Shadow Distance: High
MSAA: Enabled
MSAA Level: 4x
Anistropy Level: 1x
Graphics Rendering Level: High
Detail Mode: Enabled
Detail Mode Level: High
Color Rendering Level: Default
Light Effects: Disabled
Memory Boost: Enabled
Safe Mode: Enabled
For your information, there is a high ban rate when using this mod for PUBG Mobile due to offense of cheating due to the modification of the graphics configuration. We do not support this move by PUBG Mobile Corp as the tool only modifies graphics configuration and it helps in playing the game in low-end devices or high-end gaming devices such as Huawei Mate 20 Pro, which PUBG Mobile does not currently support. Our purpose of using this tool is to see how our device can handle the phone and a plea to PUBG Mobile Corp. to bring full support to this device.
Here is the result:
PUBG Mobile on Huawei Mate 20 Pro at cranked up settings performed significantly better than the rest of the flagship devices we recently tested. The median FPS is at its peak (60FPS) with 99% stability. Battery usage was through the roof, however, as the mode we used was highly customized to show the best possible look of the game. RAM usage was also high, but despite running the game at boosted setting, it managed to stay at par with Galaxy Note 9's performance. Average CPU usage, on the other hand, is just 22.58% percent and a peak usage of 42.21%.
Arena of Valor
Kirin 980 shows its prowess here, as even with everything cranked up to max, HD Display enabled, the game ran at at least 60 FPS throughout the duration of the test. The game wasn't even consuming a lot of resources at all, as CPU usage peaked at only 16% on Huawei Mate 20 and 15.05% on Huawei Mate 20 Pro, while memory usage only peaked at 648MB and 711MB accordingly. You should be able to play this game for 12 hours straight at average on both smartphones.
Survival Heroes
A game that taxes even a Snapdragon 660, Survival Heroes was a breeze for the Kirin 980 to handle, with FPS going at 60 or more for most of the test's duration on both devices. CPU usage only peaked at around 20% and 15% on Mate 20 and Mate 20 Pro accordingly, while memory usage peaked at around 570MB and 737MB. The game seems to require more power compared to the others, as you'll only be able to play it for around 5 hours at average. This may have something to do with the game's optimization.
So is the Kirin 980 ideal for gaming? Yes, except for optimization issues in some titles. This isn't exactly the issue on Kirin 980, but game developers should take note of this. It's also top notch in terms of efficiency, as it can give an entire afternoon of playtime, and in some instances, even a few hours more. If that's not enough to make your eyes tired and force you to take a break, then, you're quite a hardcore!
As a chipset, Kirin 980 works efficiently for you as evidently seen in the benchmark results we presented. Imagine it having 2 brains that work individually to work on specific tasks: one for image processing and another one for power and battery efficiency. This is one of the leverages of the Kirin 980 on Mate 20 series, and if you've got one, that's another reason to be really proud of that little powerful computer in your hand or pocket.
Kirin 980 is a powerhouse, but we still find this method enough to test the full capabilities of the Kirin 980 on Mate 20 and Mate 20 Pro.
Camera
The camera of the Huawei Mate 20 Pro produced the best color saturation and contrast among the smartphones we reviewed. What you see on screen (thanks to both devices' OLED screens) are what you see on our monitor set at sRGB setting. I am not a professional photographer, but I must say that I've got my eyes trained to understand how to spot accuracies and I have photographer-friends whom I asked for help to identify which photos are better.
When Night Mode kicks in, Mate 20 Pro works wonders! This supremacy has carried over from the P20 Pro and it will be a shame if Mate 20 Pro failed to top it off. Still, Huawei proved that they have got one of the best smartphones that can shoot great photos in mode.
Mate 20 Pro has the ability to shoot in wide angle. This gives you more options to shoot certain subjects using Mate.
When taking photos with aperture mode enabled on Mate 20 Pro, it excels in many ways: you can recalibrate the aperture at post and depth level is accurate.
The various shooting modes available on Huawei Mate 20 pro gives a more compelling reason to get this over other flagship devices like the iPhone XS Max. If you want to get your money's worth, Huawei Mate 20 pro offers a variety of ways to use your phone as a camera like you've never done before.
Something worth sharing is its ability to take super macro photos, and that's something that I've never seen or tried on a smartphone. Flip the camera, enable Master AI, set the camera at auto mode, and bring the lens as close as you can get, and make magic.
And this is still like scratching the surface of what the Huawei Mate 20 Pro's camera can do!
Huawei Mate 20 Pro's advantage is variability since you've got plenty of shooting capabilities with it. On the other hand, the iPhone takes sharper photos with a balanced level of saturation and contrast at auto mode. Nevertheless, both smartphones take great photos and there's no reason to regret if you have either one of both phones.
Verdict
It's Huawei best smartphone yet, and it may very well be suited as one of this year's best smartphones! The features Huawei tucked on Mate 20 Pro is a culmination of the company's vision to enrich life. AI plays a vital role and it's in the phone to make life simpler, identifiable and enriching. It also at the top of its game when it comes to performance in various aspects: gaming to productivity. At this point, I can't see any reason why you're not yet considering getting a smartphone from Huawei.[/vc_column_text][/vc_column][/vc_row]
Giancarlo Viterbo is a Filipino Technology Journalist, blogger and Editor of gadgetpilipinas.net, He is also a Geek, Dad and a Husband. He knows a lot about washing the dishes, doing some errands and following instructions from his boss on his day job. Follow him on twitter: @gianviterbo and @gadgetpilipinas.