ASUS ROG Phone is officially launching in a few days here in the Philippines, and we're expecting it to be the gaming smartphone of first choice by mobile gaming enthusiasts. Provided that the price is right, ROG phone is, by far and in terms of specifications, the most powerful gaming smartphone in the market.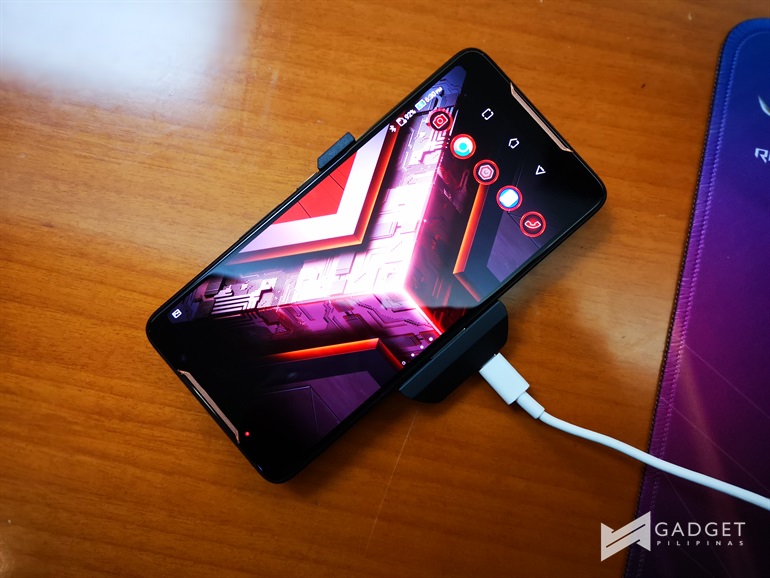 A few days ago, Huawei announced the latest Mate 20 Series, and announced a smartphone that's positioned for gaming. Huawei Mate 20 X is a gaming-positioned device with specifications that sits at the middle of Huawei Mate 20 and Huawei Mate 20 Pro.
During Huawei's presentation, they even boldly claimed that the Mate 20 X is better than the Nintendo Switch. While we're seeing it as a marketing campaign to make a statement their Mate 20 X is positioned for gaming, the claim was not taken very well by a lot of media outlets and Nintendo Switch users.
Let's pull ourselves away from that subject, and zip you back to a better comparison – ASUS ROG Phone vs Huawei Mate 20 X. Both are premium devices and sit at premium price segment.
[table id=187 /]
When we talk about mobile gaming, there are a few major things we focus on: screen, resolution, CPU, GPU, RAM and battery. The rest is important, but the latter specifications are highly relevant to mobile gaming.
Screen
Both devices have similar screen type. AMOLED screens provide an amazing visual experience without being too energy intensive due to not having a backlight. Each content you see on screen are made up of RGB pixels, and if there is no color to project, the screen just simply blocks the light. So, in theory, you save on battery when black is "displayed" as the pixels that represent the absence of light are basically turned completely off.
Winner: Tie
Resolution
Both devices don't seem to favor having 4K displays. Huawei was vocal about it and told us during our trip to their Shanghai HQ that Full HD displays on a smartphone is a far logical implementation that putting a 4K display. It is really more than just having the best screen; as everything is about practicality.
According to How Shu, Senior Director and Head of 5G NR Wireless Connectivity of Huawei if we look into the trend, there are 3 key factors that need to be put into place: content mobility and type. These key factors build a better case for why 5G is going to revolutionize who we live in a fully connected and [digital] connected world. Among the case studies he presented, the one that really piqued my interest was about smartphone and WiGig-Hotspot. This is where Shu explained why Full HD displays on a smartphone is a far logical implementation than putting a 4k display. Our eyes can't technically appreciate the difference between a 4K and full HD on a 6-inch screen with 30cm view distance. In 2020, your smartphone is no longer just a smartphone with 5G, but it's a virtual pipe that can project everything to various screen.
https://gadgetpilipinas.net/2018/07/huaweis-quest-to-pave-roads-to-a-better-future-is-coming-to-fruition/
Huawei Mate 20 X's screen is more immersive than ROG Phone due to its screen-to-body ratio. However, due to the latter phone's extra bezels where the front-firing speakers are housed and for additional grip, and higher pixel density, we're giving this round to ROG Phone.
Winner: ROG Phone
CPU and GPU
Snapdragon 845 on ROG Phone is quite a dated chip compared to Mate 20 X's Kirin 980. As a custom-made version of the SD845 for ASUS, it packs a punch when it comes to overall performance thanks to its speed-binned 2.96GHz processor. This custom SoC theoretically performs faster than the usual SD845 and the mobile-PC compatible SD850.
Kirin 980, on the other hand, is a far newer SoC with a strong emphasis on power, power efficiency, and AI (dual NPU). The Kirin 980 is the world's first Mobile CPU that's built on the 7nm process. Huawei actually took 3 years to figure out a way of mass-producing it, given that each contains 6.9 billion transistors. As far as results are concerned, this new chip is 20% faster than the previous generation, and yet, is 40% more efficient.
If we take the report that Kirin 980 scored 3360 in Geekbench, it makes the device significantly faster the ROG phone. However, we don't rely on Geeekbench and Antutu any more with our benchmarks, because we find Gamebench more accurate as we can see how specific games perform on any device.
If we base solely in terms of iteration and technology inherent to the SoC, Huawei Mate 20 X wins in terms of CPU performance.
In terms of GPU though, the difference in performance isn't theoretically too remote in favor of Adreno 630 on ROG Phone. It has well-thought-out GPU and cooling implementations than Mate 20 X because of its 3D vapor-chamber cooling system, copper heat spreader and a carbon cooling pad. Nevertheless, Mate 20 X's design to optimize its GPU performance is impressive as well. It has the same 3D vapor chamber cooling system and copper heat spreader but does not have a carbon cooling pad.
Winner: ROG Phone
RAM
ROG Phone has 8GB RAM, while Mate 20 X has 6GB. Do not be fooled by the numbers you are seeing though. At the end of the day, what matters most is how the resources are smartly used by the system. Having used the product of more than 3 hours, one of the downsides of ROG Phone is the number of software pre-installed to the system to accommodate its features. ROG Phone has a wide range of compatibilities to accessories, and each time you turn on its X Mode, a specific amount of memory resource will be used for accessories, the game to be played and the operating system. The latter promises to prevent RAM-eating and battery-sapping activities, but we still have yet to see how it really performs in real life.
Keep in mind that Mate 20 X has GPU Turbo 2.0. This means that the phone will smartly configure the device and optimize it for gaming. With GPU Turbo 1.0 on Huawei Nova 3 and Honor Play, a 20-minute round of PUBG Mobile utilizes around 1,100mb of RAM. GPU Turbo 2.0 on Mate 20 X might use the same amount of RAM.
Obviously, ROG Phone has more RAM to spare, but given the sheer number of apps and modules running in the background, the remaining number of RAM might be equal with Mate 20 X. Still, take everything with the grain of salt as we still have yet to see how the retail versions of these devices will perform. Take everything with a grain of salt.
Winner: ROG Phone
Battery Life
The major advantages of Kirin 980 and Mate 20 X are its energy efficiency features and bigger battery capacity. In fact, Kirin 980 has dedicated 2 NPUs to manage resources management, which includes power efficiency. ROG Phone, on the other hand has an inferior battery capacity of 4000 mAh vs Mate 20 X's 5000mAh. The only feature that helps the phone regulate energy consumption is X Mode.
Winner: Huawei Mate 20 X
Which phone can game better?
ASUS ROG Phone was built with gamers at mind. From concept, design and overall branding, ASUS ROG Phone is the gaming phone gamers wanted to have. We've seen and experienced playing games with it, and our basis for picking it is empirical in nature.
Huawei Mate 20 X, on the other, has promising specifications, and can really be a worthy adversary to the ROG Phone. For now, we've got reservations until we've experienced and benchmarked our favorites games on it.
But wait, there's more!
If there is one sure thing that makes the Mate 20 X far better than the ROG Phone, then it is its camera systems. However, we'll talk about that on our next feature. For now, take a peek at the table below, which shows the differences of the phones' cameras.
[table id=189 /] [table id=188 /]
Giancarlo Viterbo is a Filipino Technology Journalist, blogger and Editor of GadgetPilipinas.net, He is also a Geek, Dad and a Husband. He knows a lot about washing the dishes, doing some errands and following instructions from his boss on his day job. Follow him on twitter: @gianviterbo and @gadgetpilipinas.