A few months ago, we went to Taiwan to witness the launch of ROG Phone along with slew of ASUS' new products.  Back then, I didn't realize that ASUS will officially bring it to the Philippines and let Filipinos buy the most sought-after gaming smartphone in the market. 3 months later, during ESGS 2018, I found myself staring at this box I received for our unboxing and review.
There's no better way to do this but to quickly tell you what's inside the box. Like you, I just couldn't contain myself from getting everything out and finally use the ROG Phone. Check out my unboxing experience with Emman of the ASUS ROG Phone.
Its retail box is unlike anything we've seen. Its hexagonal look just doesn't remind of anything we've unboxed before. As this one is part of the ROG line of products, I couldn't help but notice the signature mayan design, which we also found on ASUS Zephyrus. For what it's worth, once you have finished unboxing it, this could sit very well in your gaming den beside your console retail boxes or your precious Nvidia GTX or RTX boxes.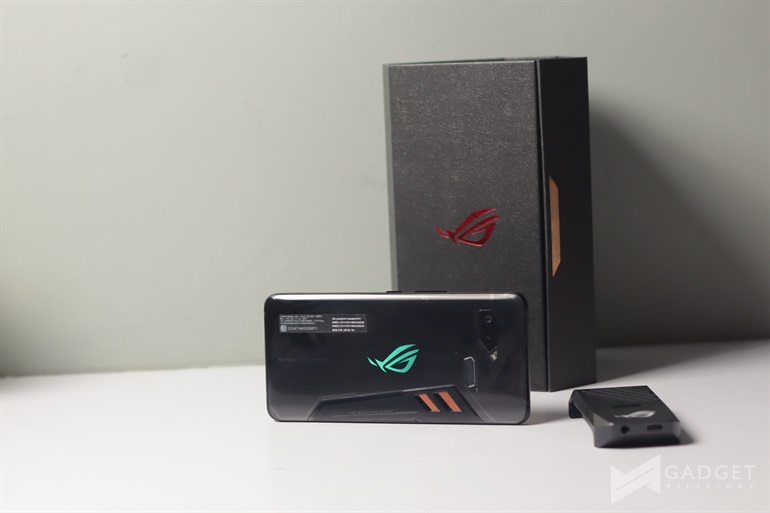 Upon opening the box, you'll find the ROG phone, the Aero Active Cooler on its right side, and another box that contains its accessories. The Aero Active Cooler comes as a standard accessory when you buy an ROG Phone. It's a nifty accessory that aids its special cooling mechanism. We'll talk about this later.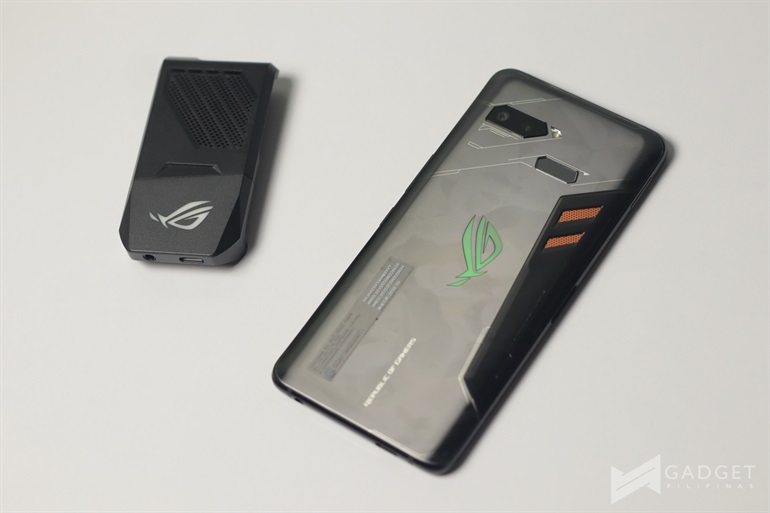 Of course, how can we forget the product that you actually bought – the ASUS ROG Phone. We've covered much about its features on your YouTube channel and Facebook videos, but to the initiated, this smartphone is simply the fastest gaming-dedicated smartphone to date. It features a custom Qualcomm Snapdragon 845 chipset, Adreno 630 and 8GB RAM.
TL;DR – it's really very fast, and compatible games can run up to 90fps. More on this later.
The smaller box beside it contains all the necessary accessories like this beefy ASUS HyperCharge compatible charger, extra accessory slot cover and braided USB Type C cable. Unfortunately, you won't find an included headphone here, but that shouldn't be a problem as gamers usually have their preferred gaming headphone or earphone. Just in case you're interested, you can check out our review of ASUS ROG Strix Fusion 500 on this link.
ROG Phone's design is certainly not for everyone, but its design strikes a reverberating memory of ROG's latest laptop. A true gamer and a fan of Republic of Gamers would appreciate its overall design. Each laser etched lines inspired by the art of Mayan civilization has intrinsic features.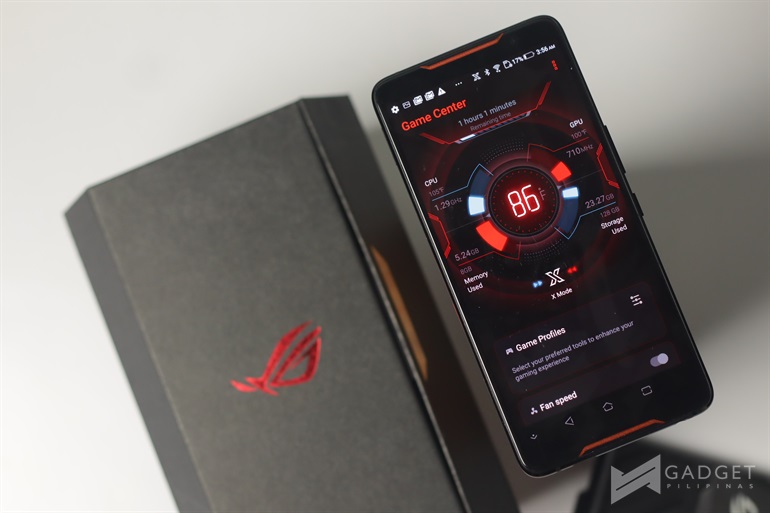 When used horizontally, its air triggers are located where my both index fingers naturally rest when playing games. Moreover, when used vertically, the hidden third trigger can be found just below the accessories slot. If you look closely, there are etched lines where these triggers are located.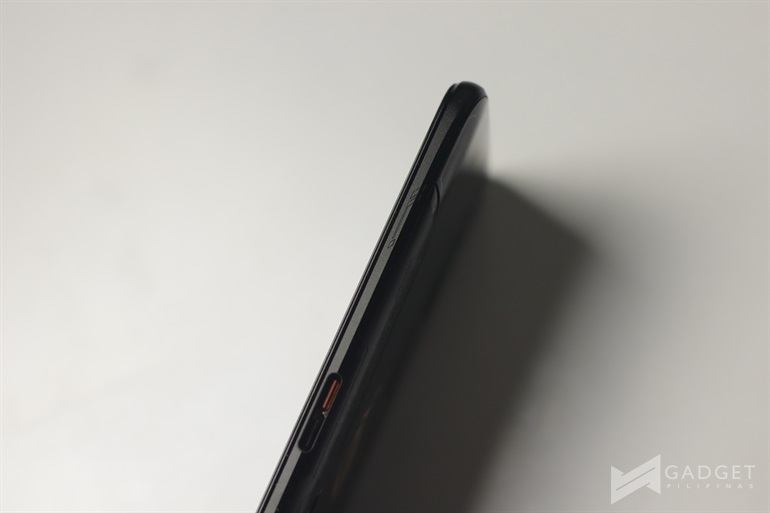 Speakers are front-firing, and you can find them above and below its 6-inch AMOLED capacitive touchscreen display. The phone uses Type C for charging and to connect it to various compatible accessories. There is a secondary accessories slot found on its left side when used vertically, which clearly sets this phone apart from other gaming smartphones.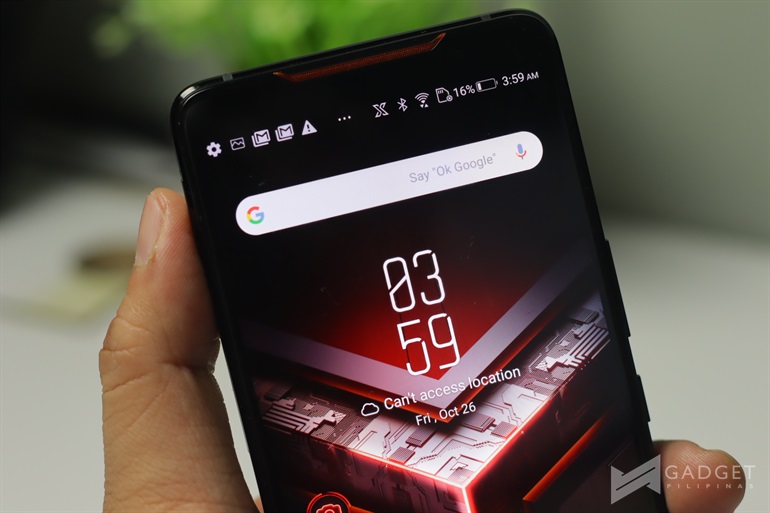 No phone can get anything cooler than ROG Phone's back panel. Its 12MP + 8MP rear camera sits beside the flash and atop its slim and horizontal fingerprint sensor. Its iconic and RGB-loaded logo steals the scene and the Zephyrus-inspired vent design below it.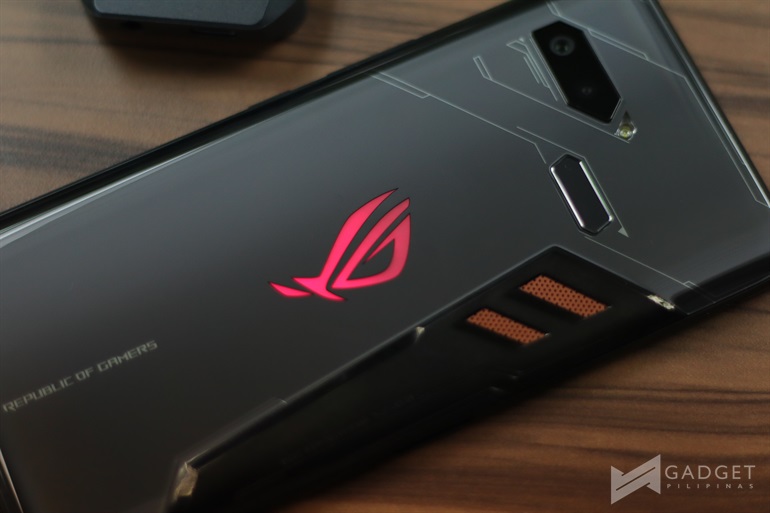 Playing games on the ROG Phone is a delightful experience. I'm not here to compare it to Nintendo Switch, because each device has its own merit; but the ROG Phone stands tall and bold as a gaming smartphone. It dwarfs other smartphones we reviewed, and it might just be our favorite gaming smartphone.
ROG Phone has this neat feature of displaying real-time information such as CPU and GPU usage, plus the actual FPS. This proved to be very useful for me, at least, as it gives me the idea of how the game I'm playing is eating my system resources. When I played PUBG Mobile, it told me that the game on this smartphone consumes about 31% CPU and 43% GPU with X-Mode On. I also noticed that the Aero Active Cooler attached to the ROG Phone is doing its job well as the phone's real-time temperature was around 36-degrees at high settings. This would've been around 41-degrees if I were using a different phone such as Huawei P20 Pro or the Galaxy S9.
X-Mode is the phone's version of ROG Gaming Center. It is complemented by Game Genie, which is surprisingly optimized to work hand-in-hand. When I played PUBG Mobile, Air Triggers may be set up and activated via Game Genie. The latter may be triggered anytime for as long as you're playing a supported game. I tried triggering Game Genie while playing Real Racing 3, and was surprised to not see it in the options.
There's just too much to cover, but I've got little time for now. My hands are sweaty and my mind's filled all the things I want to do with our ROG Phone. For now, we can only give our first impressions, but we'll definitely give you of our thoughts on our full review.
Giancarlo Viterbo is a Filipino Technology Journalist, blogger and Editor of gadgetpilipinas.net, He is also a Geek, Dad and a Husband. He knows a lot about washing the dishes, doing some errands and following instructions from his boss on his day job. Follow him on twitter: @gianviterbo and @gadgetpilipinas.