Blood, mud and steel.
That's what both Jason Connell, Creative and Art Director, and Ryuhei Katari, Producer from Sucker Punch Productions emphasized as the three things that underpin the attention to detail of the studio's first foray in the samurai genre. It's an unexpected albeit pleasant departure from the creators of Rayman and the inFamous series. If previous games were fantastical and over-the-top, Ghost of Tsushima promises realism, due in large part of the insights gained by the Sucker Team from immersing themselves in the location, the tradition and even the religion.
Ghost of Tsushima is heavily inspired by Akira Kurosawa's classic samurai films, where authenticity rules.  Anyone familiar to Kurosawa's films will feel right at home with this game. That aggressive jōdan-no-kamae stance showcased in the duel is accurately depicted – as it should be since the team mo-capped sword-fighting experts. The team also spent a few weeks in the Tsushima Island to learn about the local culture and traditions, and even their religion.
You might think that this game is not for everyone due to the buzz around its authenticity. The photorealistic visuals, the Mogul invasion as the backdrop, as well as the clash of philosophies of characters can be intimidating. One can't be blamed if one assume that this game is just for the hardcore samurai fan. Well, the folks from Sucker Punch is telling us to breathe easy since "fun" is paramount. This means that the game is accessible to the casual-gamer.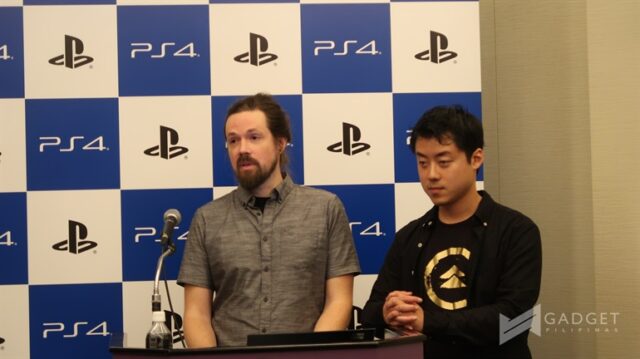 As for gameplay, one can see that one-slash fatal blows are present, again an homage to Kurosawa. This is especially evident with a combat system similar to Batman: Arkham Knight's "FreeFlow" system. The sight of blood gushing out from severing limbs is present as such is a staple of the samurai genre, both in game or film. We don't know yet if duels have that one-slash-you're-dead kind of mechanic but it would be cool to have it and would be extremely rewarding.
With great visuals comes great console stability. So we asked the team ourselves if a PS4 Pro is required to fully appreciate the game. You'll be glad to hear that the development kit used by Mr. Connell himself is based on the standard PS4 so the game should run with no hiccups. That goes without saying that the PS4 Pro can optimize a lot of things like textures and draw distance, but having just the standard PS4 shouldn't discourage anyone from trying out this game.
Ghost of Tsushima is a Playstation 4 exclusive. No release date has been announced as of this writing.
Our Tokyo Game Show 2018 Coverage is brought to you by our brand partners: Huawei Mobile Philippines, PLDT Home Fibr, Smart and Cherry Mobile. Access our coverage here.
Allan Abaca is an avid gamer through and through. Virtually, he is locked-in with his PS4 almost daily and has just introduced the awesomeness of gaming to his two sons.
Next in his sights is PC gaming. The platform which he nows considering going back to after a two decade hiatus.
Oh, and let's not forget the Nintendo Switch...
His psn id is hip2b2