Every now and then, we come across with headphones that are positioned primarily for gamers. Logitech, Corsair, HyperX,  Sennheiser and ASUS Republic of Gamers have been pretty successful in establishing their gaming headphones to their target consumers.
Who is 1More?
A relatively new brand, 1More, has been trying to take a piece of the pie, and has been pretty successful in doing so. For the uninitiated, 1More is a brand that's closely related to a much bigger brand, Xiaomi. In 2014, 3 former Foxconn executives founded the audio company to challenge Apple Inc.'s audio unit, Beats Electronics LLC. Thanks to a huge chunk of investment from Xiaomi Corp. 4 years later, the brand officially arrived in the Philippines thru Quantum Mobile Gears.
1More Spearhead VR is one of the new products that they introduced this year at CES. It isn't shy of features geared for gamers, and has everything it takes to be a competitive alternative to some other gaming headphones by other brands. For starters, it has 50mm graphene composite diaphragm drivers, which gives a large sense of scale and space, and audio realism. It also has a 7.1 channel surround sound engine for total audio immersion, plus a built-in Environmental Noise Cancelling for better multiplayer/communication experience. It certainly has a lot to offer, but we thought of testing one to help you decide if it's a worthy purchase.
[su_spoiler title="Features and What's in the Box" style="simple" icon="plus-circle"]
General
Function: Microphone,Noise Cancelling, Voice control
Type: Over-ear
Wearing type: Headband
Application: Gaming
Compatible with: Computer, Mobile phone
Connecting interface: 3.5mm, USB
Connectivity: Wired
7.1 virtual surround sound engine
50mm graphene composite diaphragm
Dual microphone ENC ambient noise reduction technology
Colorful LED strips on the side
Ports
Package Contents
Headphones
USB Cable
3.5mm Audio Cable
[/su_spoiler]
Design
1More Spearhead VR looks clean and sleek with its minimalist metal frame design. It does not look bulky compared to other gaming headphones, and that's very appealing by our standards. Among all the gaming headphones we tried and used, Spearhead VR's design has the most low-profile look; however, we don't recommend using this as your daily driver for listening to HiFi music on the go. It can look quite intimidating especially the rods on both sides of the cans.
The majority of the parts 1More used on the Spearhead VR is metal: metal rods on both sides, headband, and slider enclosure. The shell that holds the earcups on both sides are made of plastic but made to look uniform to its overall design. I like the fact that they managed to put customizable RBG lights on its outer shell and slider enclosure. This gives the headphone a subtle futuristic look and 'feel' when being used, albeit limited to PC gaming. This can be controlled via the app that is downloadable on their website. We'll talk more about the app later.
The ear pads have left and right labels so you won't get confused when you're about to use it. Pads are quite thin by our standards, but it's enough to avoid sound leaks. However, because of its relatively thin pads, there wasn't enough space between my ear and the driver, which results in having hotspots after long hours of gameplay. My Plantronics RIG 500E is much thicker than the one on the 1More Spearhead VR, at the expense of higher sound leakage and low isolation.
Knobs and controllers are located at the back of the left shell. The volume wheel has 2 articulations for adjusting the volume and the bass level. 1More also added a toggle for the microphone, although I find its location a little awkward. As a headphone made for gaming, 1More thought that it should have 2 connectivity options – via 3.5mm jack and micro USB. If you're into playing games on your smartphone or console, it's best to use the 3.5mm headphone connector; and if you're into PC gaming, use the USB connector. The later allows you to use Windows or 1More proprietary software to control its features.
Software, Sound and Microphone
When using this on your PC, it is recommended to download and use 1More's proprietary software. They built it from the ground up to control the features innate to it. The software includes the driver, which allows Windows to make use of its features like Equalizer and Xear effects:
Xear Smart Volume
Xear Dynamic Bass
Xear Audio Brilliant
Xear Voice Clarity
Xear Surround Max
iMore's app is pretty jampacked with controlls if you know how to access it. Upon checking iMore's app, I thought that the only way to control these effects are via Window's Speaker Properties. I was sure that I downloaded the right application, but it didn't show any settings on its dashboard. I had to go to the headphone's properties to enable and tweak effects accordingly.
And then I discoved that you can further tweak settings by right-clicking on the icon found at the left-side pane of the application. We believe that it's best if 1More can revisit the app's UI and improve it accordingly.
The fact that the driver is installed and I can see the features/effects available at Speakers Properties, that's good enough for me. However, should you wish to customize the color of the RGB lights, the app got you covered pretty good.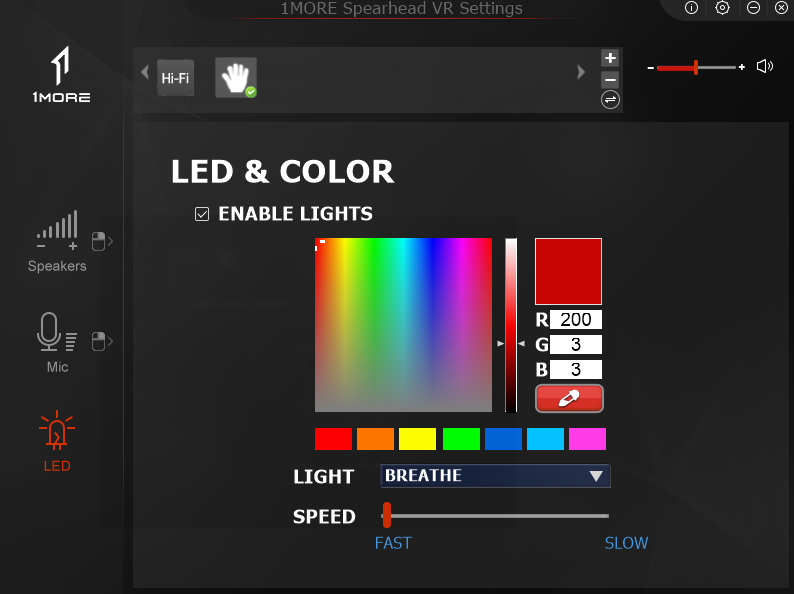 There are currently 3 RGB lighting presets to choose from: constant, breathe and heartbeat. Color and speed may be controlled via the application. My favorite feature is that the RGB light that extends from the left rod reacts to the audio the mic picks up.
Sound, of course, is the main reason why people buy headphones. For a gaming headphone, audio immersion is key and that's something that 1More Spearhead VR excels in.
For a headphone with 7.1 surround sound system that projects out of 50mm drivers, it does the job pretty well especially albeit too warm by my standards. With the equalizer turned off, there's obvious emphasis on the low-end, and the only way to remedy this is to adjust 30-250hz eQ settings. I'm no audiophile, but this tedious task just to listen to my music is a bit of a letdown.
Obviously, 1More Spearhead VR isn't perfect for music but works best for gaming. With all its packed features from XEAR Surround to Dynamic Bass, it is obvious that its function is geared heavily for video games and watching film.
One of the few bloggers who received a review unit is Reg Ramos of DRontheGo.net. When I played a Division with him for quite a number of times, I noticed that his microphone sounded too good, even better than my condenser mic. That's when I knew that he was using a 1More Spearhead VR. A week later, Quantum Global Gears contacted me and told me that they will send a loaner unit.
As expected, the headphone's integrated microphone performs really good without ENC on. One of its most celebrated features, dual mic technology, however, did not perform as expected. With ENC enabled, my recordings did somehow block the noise outside noise-gate but sounded a little too muffled.
Verdict
As an audio enthusiast, I see 1More Spearhead VR as an impressive attempt by the company to make a balanced and well-featured gaming headphone. It's low-end centric quality is fit for gamers, and the fact that you can still tweak the eQ beyond the default make it a good gaming and multimedia headphone.
But is it a worthy purchase? The headphone's price is a bit steep for many gamers. At PhP7,990, there are other headphones from HyperX and Plantronics that offer almost the same feature but at the least cost. 1More Spearhead VR offers different sound emphasis and experience though. Also, the quality of its microphone is tough to beat. If you're after that and you're ready to try a different brand, the time is now to get one.